Get glowing skin, melt away body tension and restore a sense of inner wellbeing with our expert bathtime advice…
1. Add oil to your body – not your bath water
Bath oils help recreate a spa-worthy feel at home while also helping lock in moisture to your skin – but they do leave a mess afterwards.
'Bath oils make your tub slippery and leave a residue even after draining out all the water,' says Lorna Veale, founder of No Secrets Beauty.
Instead, try applying oil to your body before you get into the bath. 'When you apply oil before a bath, you create a barrier between your skin and the water, which reduces the drying effects of the hot water.
'What's more, the water will help seal in the goodness and moisture from your oils, making them easier to absorb.'
TRY IT: No Secrets Bath Jelly (from £18). Massage the plant-based jelly into your limbs. Then, once in the bath, the jelly melts into the water, dissolving into an oil with skin-softening goodness. Oil number Four will give you a spa-like experience with its ylang-ylang, lavender and patchouli.
2. Cleanse and purify with seaweed for glowing skin
Sinking into a bath of seaweed might not sound all that appealing, but it has some serious health benefits. For a seaweed hit, try VOYA Lazy Days Detoxifying Seaweed Bath (£21), which contains hand-harvested, organic Irish seaweed and is based on a 300-year-old seaweed bath tradition.
'Seaweed purifies and balances the ocean,' says Mark Walton, co-founder of VOYA. 'A hot seaweed bath is better than a wet steam sauna because the sea greens rebalance skin chemistry instead of dehydrating it.
'The electrolytic magnetic action of VOYA Lazy Days seaweed helps your body release excess fluids from congested cells and draws out fatty wastes through the skin. It also replaces depleted minerals such as potassium and iodine.'
For best results, soak the seaweed in hot water to rehydrate it and release the alginate properties. Add cool water to ensure a comfortable temperature and release the seaweed from the net if desired. The seaweed can be dried and re-used within three days, and is an excellent garden fertiliser after use!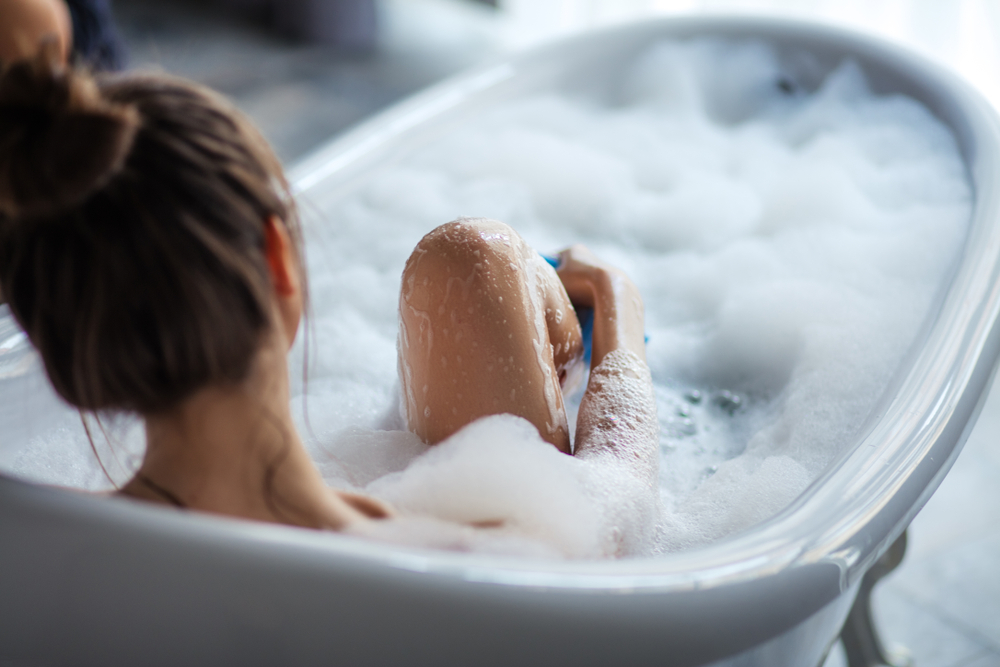 3. Immerse yourself in salts to soothe muscles
You've no doubt heard of Epsom salts, but were you aware of just how good they are for you and your skin? When Epsom salts are added to water, they break down into magnesium and sulphate.
As you bathe, these minerals are quickly absorbed through the skin's porous epidermis, travelling to muscles and blood vessels beneath.
'When it comes to muscle recovery and relaxation, athletes and recovery experts have long been known to immerse themselves in the benefits of Epsom salts,' says Dr Alisha Damani, NHS doctor and founder of The Medic Today.
'There is ample evidence to support the use of magnesium in inducing relaxation, reducing inflammation, as well as supporting muscle and nerve function.'
TRY IT: Head East Natural Epsom Salt 3kg (£14.99) is made from 100 per cent pure magnesium sulphate.
Founded by the directors of Abercore, a British company specialising in sourcing high-quality ingredients, Head East produces high quality, sustainably sourced Epsom salts to promote your physical and mental wellbeing.
4. Try a massage candle for glowing skin
A relaxing bath is nothing without a relaxing candle on the go, and this Beeutiful Body Candle (£18) also doubles up as a moisturiser to give you super nourished, glowing skin.
Enjoy while you're in the bath and then, when you're ready, extinguish the candle, get out of the bath, dry off and then carefully massage the pool of warm soy, beeswax and coconut oil plus essential oils into your limbs for all-over hydration.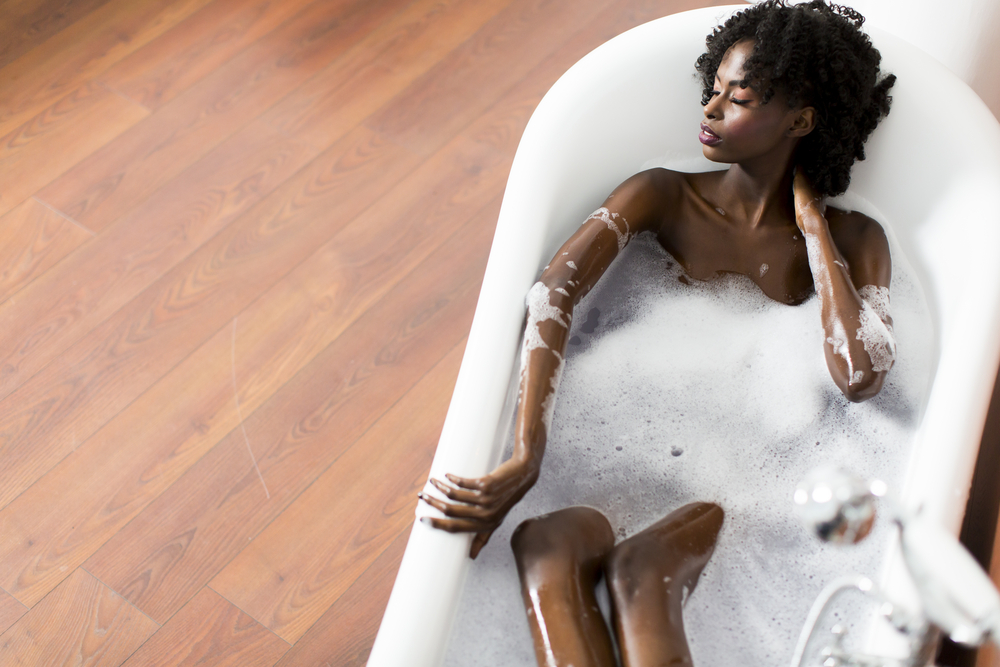 5. Add the right bath soundtrack
According to recent research*, BillieEilish is the most featured artist across bath time playlists, appearing 142 times across the sample of more than 100 bathing playlists.
This was followed by Ed Sheeran appearing 131 times and Ariana Grande appearing 102 times. Other artists in the top 10 included Taylor Swift, Sam Smith, Harry Styles, Adele and Coldplay.
6. Avoid bath bombs to keep skin glowing
We know, these are super fun to watch as they fizz away, but anything that fizzes in a bath can strip your skin of moisture. 'Nothing should fizz in the bath – save the bubbles for your champagne glass!' says Lorna, founder of No Secrets Beauty.
'The main ingredients of bath bombs are bicarbonate of soda and citric acid, which are skin stripping and are actually more appropriate for cleaning your home, not your body!'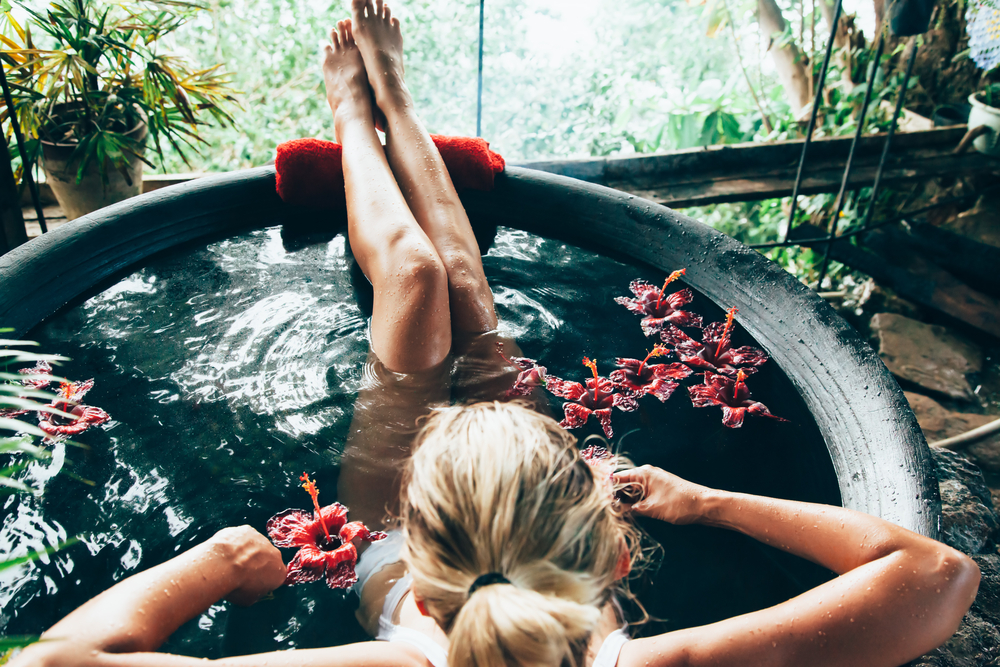 7. Try bubble meditation to relax the mind
'Relaxing your mind is key and I dothis with something I call "bubble meditation",' says Claire Croft, founder of British luxury bath, body and home fragrance brand, Abahna.
'Lie back in the tub, clear your mind and focuso n the bubbles from the bath foam as they move, change form and pop – it's truly mesmerising and helps clear your mind.'
TRY IT: Abahna Mountain Flowers & Spring Water Luxury Bath Foam Decanter (£35) contains wildflower honey, aloe vera and chamomile to create soft, gentle bubbles.
8. Bath dos and don'ts for glowing skin, soothed muscles and a relaxed mind
Create the best bathing experience with these helpful tips by Abahna founder, Claire Croft:
Do leave it 40 minutes or more after eating before having a bath.
Don't have a really hot bath just before bed. This is because high temperatures can increase your heart rate and actually make it harder to sleep.
Do keep your bath water temperature between 38-40°C. This helps stimulate the parasympathetic nervous system and increases the secretion of noradrenaline. This is what you want as it helps calm you.
Don't soak for longer than 20 minutes at a time. This is because extended bathing can dry your skin out and sap energy.
Give them the gift of a perfect bath this Christmas…
The Art of Balance luxury bathing gift set from anatomē (£97) would make the perfect pampering gift for a loved one (or yourself!) this Christmas.
Each beautifully wrapped gift box contains anatomē's best-selling Balance + Stability Essential Oil blend, a soothing candle powered by Geranium Bourbon and Canadian Black Spruce, plus a jar of Balance + Restore bath salts – everything you need for a perfect bath! And relax…