When diagnosed with bronchiectasis, Anne Dockery, 73, from Bristol, was grateful for the bad news because it turned out to be the start of an amazing running adventure…
Words: Kim Willis | Photos: Alex Rotas and ITU MEDIA
Having been a heavy smoker in my youth, by my 40s I was suffering regular attacks of bronchitis and bouts of pneumonia. I was diagnosed with the lung condition bronchiectasis in my early 50s. Bronchiectasis causes lung weakness and vulnerability to infection. It was scary to think each new infection would further damage my lungs.
In 2004, I married an American and moved to Poughkeepsie, New York. My new husband suggested I try running to help strengthen my lungs following my bronchiectasis diagnosis. Reluctantly, I agreed and started running and eventually I began to enjoy it. I actually found it meditative, yet revitalising too.
After a year, my husband entered me into a 5k cross country race, and I had never been so frightened. I didn't know anyone and didn't think I would be able to complete it, but I found the whole ordeal strangely enjoyable. I even won a medal for coming third in my age group. With that, I was hooked. It wasn't just running I loved. It was the camaraderie of the running community. As I soon found out, one of the joys of competitions is a weekend away with friends.
In 2018, I moved back to the UK. I discovered that parkrun is a lovely way to start the weekend and on Sundays I run off-road trails with my running group, a fantastic collective of people of mixed ages and abilities. I'm considerably older and slower than everyone else, but they never make me feel old or slow. They take it in turns to circle back and keep me company and I don't feel bad about it because they're just getting to run even further!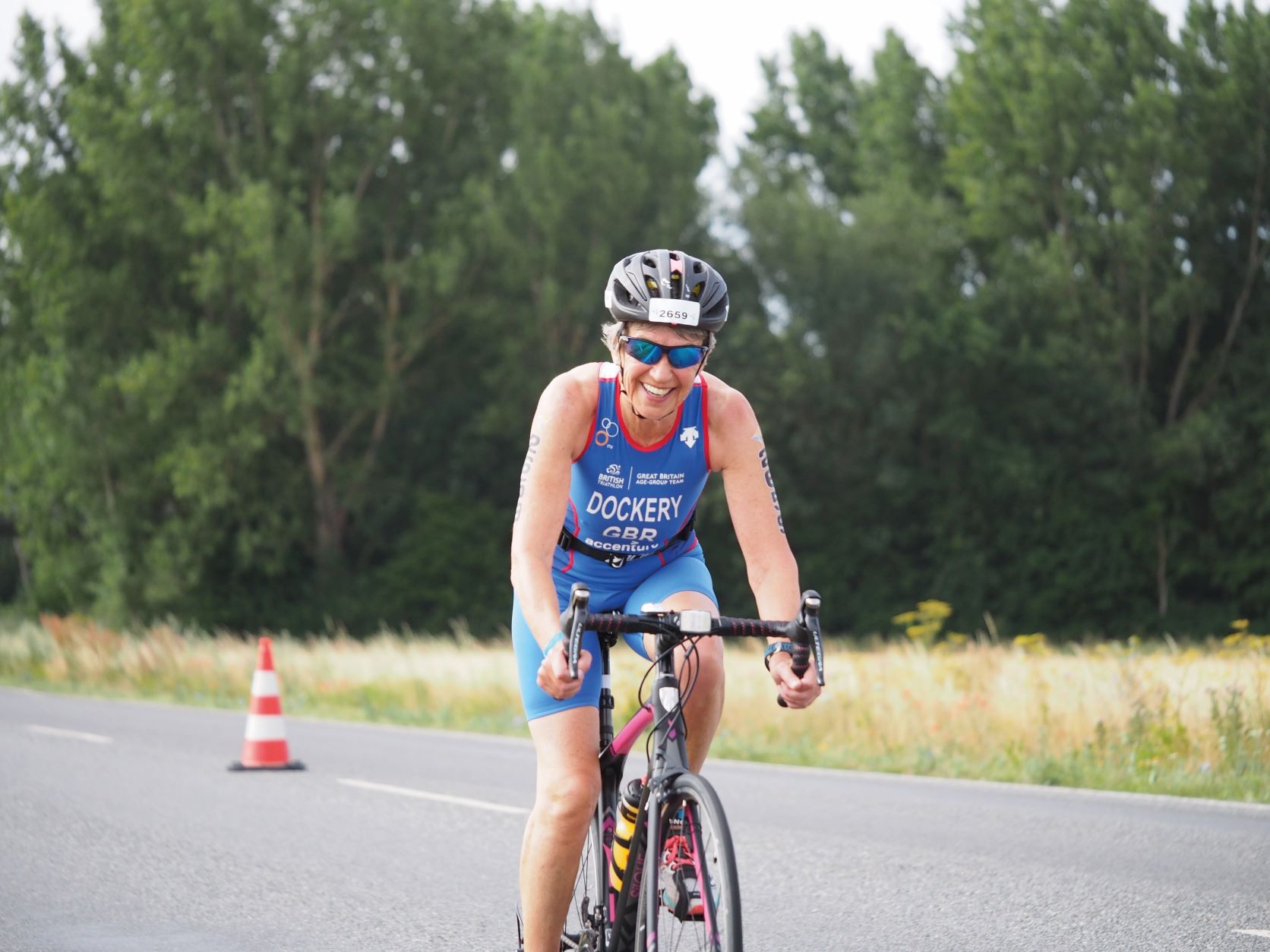 Entering competitions and winning medals
If I haven't got a new aim, I start to feel listless, so I decided to try track running. I was a member of the Team GB gold medal-winning 4 x 400 metre team for the 70-74 age group at the Malaga World Masters Athletics Championships in 2018. Also, I won three individual bronze medals, one for 800m, one for 1500m and another for 5000m. I used to watch the Olympics with my dad and wished he was still around to see me wear the Team GB vest and represent my country.
That same year, I stepped onto the podium to receive a gold medal for winning my age group in the World Duathlon Championships in Denmark. It still makes me tingle when I think I am a world champion, but the medals are a beautiful, thrilling bonus. I enter competitions for the experience, to see friends and find out what my body is capable of.
I've taken part in 10ks and cross-country races. Triathlons are fun, even though I am a lousy swimmer and always last out of the water in my age group. It never detracts from the joy and excitement of taking part. During the lockdowns of 2020, I ran alone and took part in virtual "not parkrun" events. My running coach, Keith, kept me motivated throughout with a weekly schedule of sprints, tempo runs and long runs. These days, I run four times a week and enjoy cycling and swimming sessions as well.
How running helped with my bronchiectasis
I'm now grateful for the bronchiectasis diagnosis because it changed my life – I never would've taken up running. My condition can't get better, but it hasn't got worse, to the surprise of my doctors. I put that down to running. It's given me incredible experiences, kept me fit enough to keep up with my grandchildren, tend to my allotment and live independently. In June this year, I'll be heading to Finland for the World Masters Athletics Championships. The athletes all stay in the same hotel and while we are fiercely competitive on the track, we also support each other.
It's wrong to think that as you get older, you should wind down. If anything, it's a time when you need new dreams and goals. Old age is a privilege and it's never too late and you are never too old to try new things. You might not be able to run 10k straight away, but you can find something you love. I've never been happier than I am these days, and I'm more willing to have a go at things than I was in my 40s. I want to befitter, stronger and more adventurous, the older I am lucky enough to be.
Anne Dockery contributed her inspiring story about bronchiectasis and running to Running Stories: By Runners of All Ages Speeds and Backgrounds, by Jerry Lockspeiser and Andrew Roberts (£8.99, Nielsen UK). All proceeds go to The Running Charity.