While most will take the day off to eat too much and slob in front of the telly, these women make sure even Christmas Day is a day for adventure, movement and fitness!
By Kim Willis
'In last year's lockdown, a Christmas Day swim lifted my spirits.'
Vicky Malmsjo, 38, from Essex, shares how sea swimming is now a vital part of her Christmas traditions.
As an open water swimming coach, I swim outside all year round, but 2020 was my fi rst Christmas Day sea swim. Due to lockdown, I was unable to see my family, so my friend accompanied me for a Christmas sunrise swim, which lifted my spirits.
A week before Christmas, I'd organised a Swimspirational Santa Sea Swim on Seaview Beach in West Mersea, Essex for the members of my private swim group, The Swimspirational Buddies. As 30 swimmers in Santa hats bobbed about in water below 5 degrees Celsius, it was a special moment.
In that lockdown, we were able to meet in groups of up to 30 for organised outdoor sporting events and it felt vital to be together, supporting one another through a strange Christmas. Being around the people that I coach always brings me joy, but even more so at Christmas. I have created a family of open water swimmers and I feel very proud of that.
Find Vicky on Facebook at facebook.com/swimspirationalopenwatercoaching
'I spend Christmas Day walking rescue dogs.'
Susie Winship, 35, from Ipswich, dedicates her time to giving back to the animals at a rehoming centre
Every Christmas for the past seven years, I have spent the day walking the dogs at the Blue Cross rehoming centre where I'm an animal welfare assistant. It's my dream job and I'm always happy to work on Christmas Day, because I get to spend the day with my furry friends.
Last Christmas, most of our dogs were with foster families because of lockdown, so we only had two dogs at the centre. I looked after Elsa, a five-year-old Shih Tzu. She wore her jaunty Christmas bow tie and when we went for a walk around the park, everyone stopped to say hello. She loved the attention!
We always make sure our cats, dogs and other small animals have the best Christmas. There's usually around a dozen dogs in the centre over Christmas and after they've ripped open their presents, we take them on a long walk. Afterwards, the animals enjoy their Christmas treats and lots of cuddles. They give us so much, Christmas is a chance to say thank you for the joy they bring.
You can make a donation to Blue Cross at bluecross.org.uk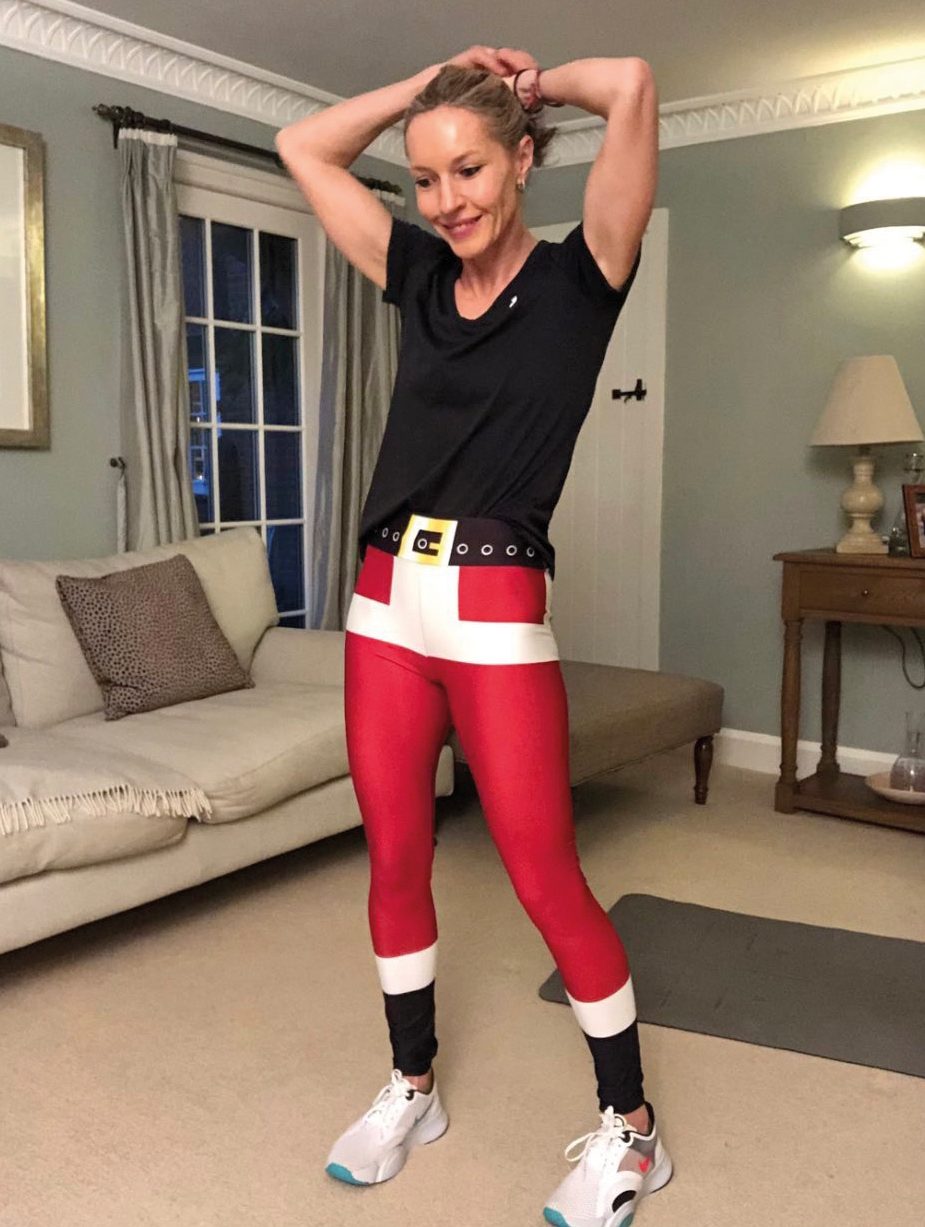 'I have a 6am workout then put the turkey in the oven before anyone else has woken up!'
Caroline Idiens, 49, from Berkshire, reveals why she works out on December 25…
I've been a personal trainer for more than 20 years and I've been the person in my household mos excited about Christmas for my entire life. Even now, I wake ridiculously early wondering if Father Christmas has been.
While my teenagers now sleep in on Christmas Day, I get up at 6am to do a HIIT workout before the day begins. I do 30 exercises in 30 minutes with no repeats, mixing up cardio and strength training. The time flies and it lifts my mood for the entire day, knowing exercise is in the bag already. I'll listen to Christmas songs and enjoy how special it feels to be the only one up and about.
After my workout, I put the turkey in the Aga and feed the dogs before anyone else has even stirred. Christmas should be enjoyed and if you don't exercise, it won't hamper your fitness to have a few days off, enjoying your favourite treats. I exercise because it leaves me energised and that makes Christmas even better.
See Caroline at Instagram.com/carolinescircuits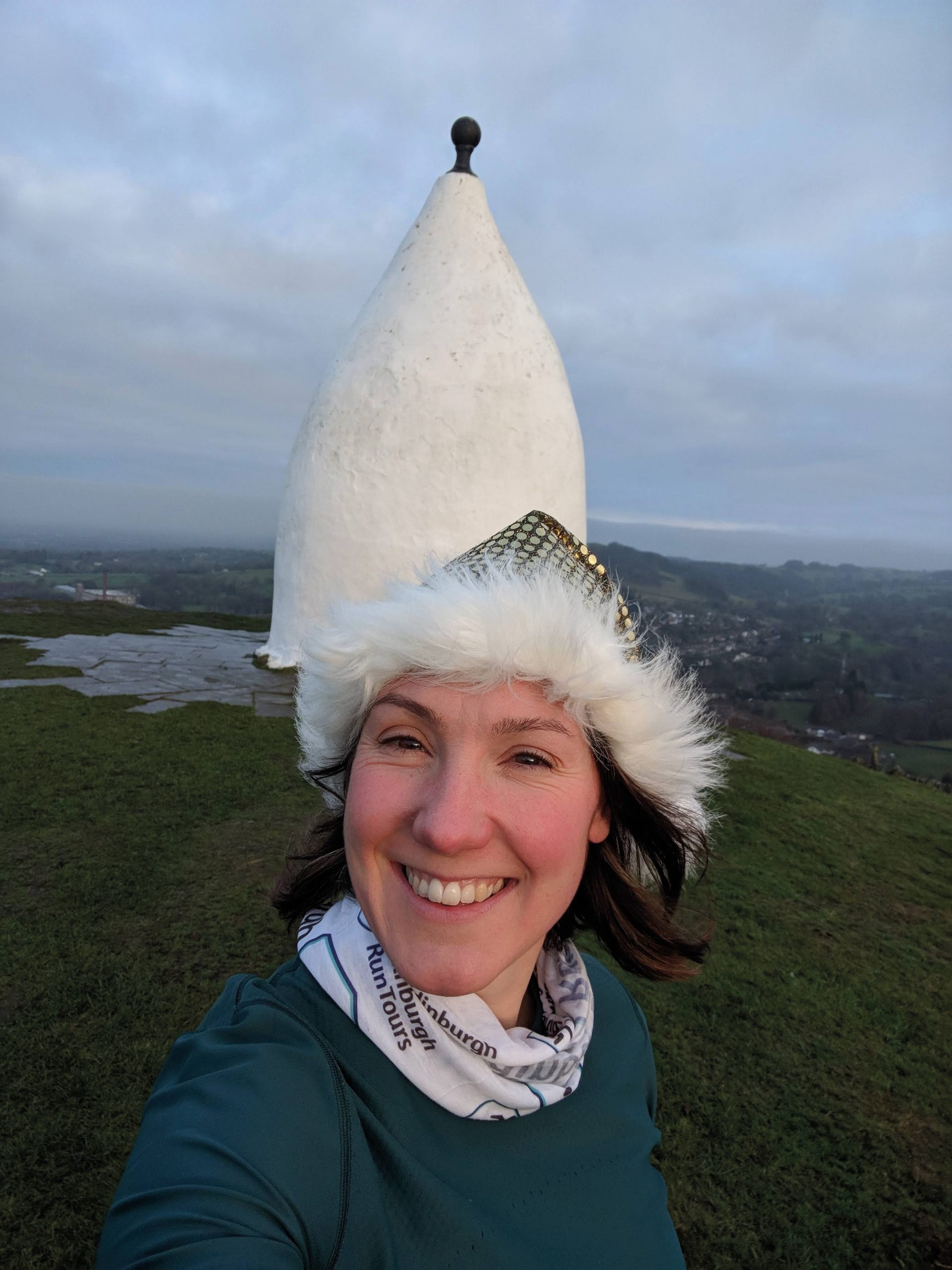 'I run to White Nancy, soaking up the Christmas spirit en route.'
Nicole Wright, 39, from London, shares why this is her Christmas Day tradition.
I spend Christmas at my parent's house in Cheshire. I wake up early on Christmas Day, put on my running clothes and novelty festive hat, then run to the local trig point, White Nancy, on Kerridge Hill. We used to walk there when I was a child, so it reminds me of those happy times.
On Christmas Day, there's always a brass band performing at the trig point. I have no idea where they come from, but I love them. I stop, listen and enjoy for a few moments, before heading back to a house that has erupted into Christmas cheer and chaos, with Mum panicking about Brussels sprouts and Dad winding her up. Thanks to my run, I am ready to join in and make merry.
In 2019, my niece, Carmen, now eight, and nephew, Francis, now ten, made me a Christmas themed sports bra. I love exercise so much, they used to think it must be my job. Actually, I work in finance and spend all day sitting in an office, but they are right, I love to move. I don't run to burn calories and I don't see it as a chore. I run for fresh air, me-time and to soak up the Christmas spirit from all the merry runners and dog walkers I pass en route.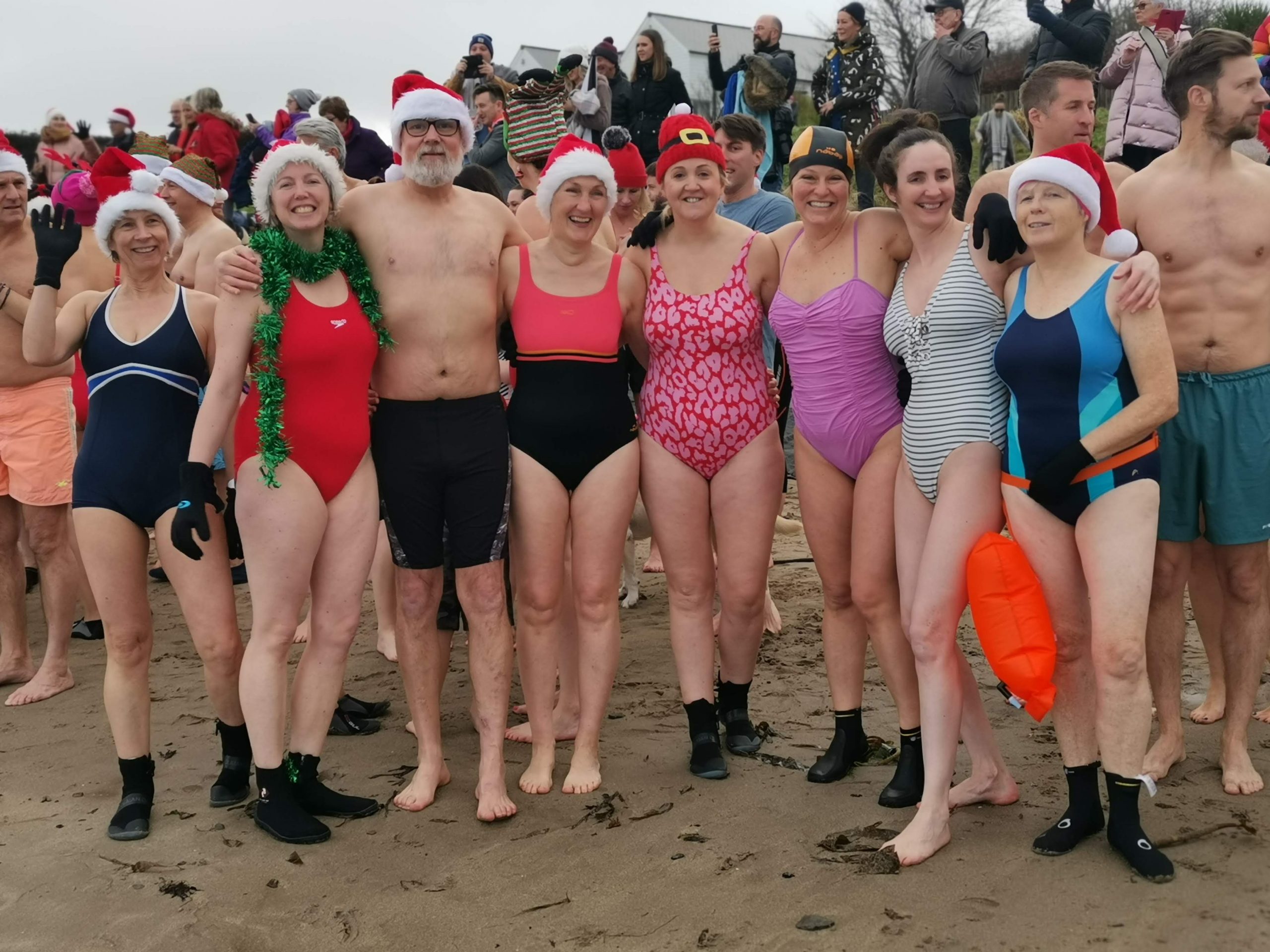 'There's no better way to start Christmas Day.'
Helen Armstrong, 36, from Northern Ireland, on why wild swimming is her favourite part of Christmas celebrations.
9am is the perfect time to meet my incredible community of sea swimmers for a Christmas Day swim – late enough for parents to have time with little ones opening Santa's presents, but not so late that those cooking Christmas lunch get behind on peeling spuds!
My favourite festive swimming memory is singing Happy Birthday to a friend who was born on Christmas Day, surrounded by friends in Santa hats, wearing tinsel and reindeer glasses. I love every sea swim, but on Christmas Day there's an extra air of excitement and everyone is merry and chatty. With daylight hours so short in December, it's great to start the day outside, enjoying a cold-water fix. It balances the rest of the day spent indoors.
When I started my Christmas Day swimming tradition 10 years ago, my friends and family watched from the shore, but as they saw the glowing, happy faces emerge from the water, they were inspired to join in. Now, our collective Christmas Day swim is the highlight of my Christmas celebrations.
See Helen on Instagram.com/thewanderingselkie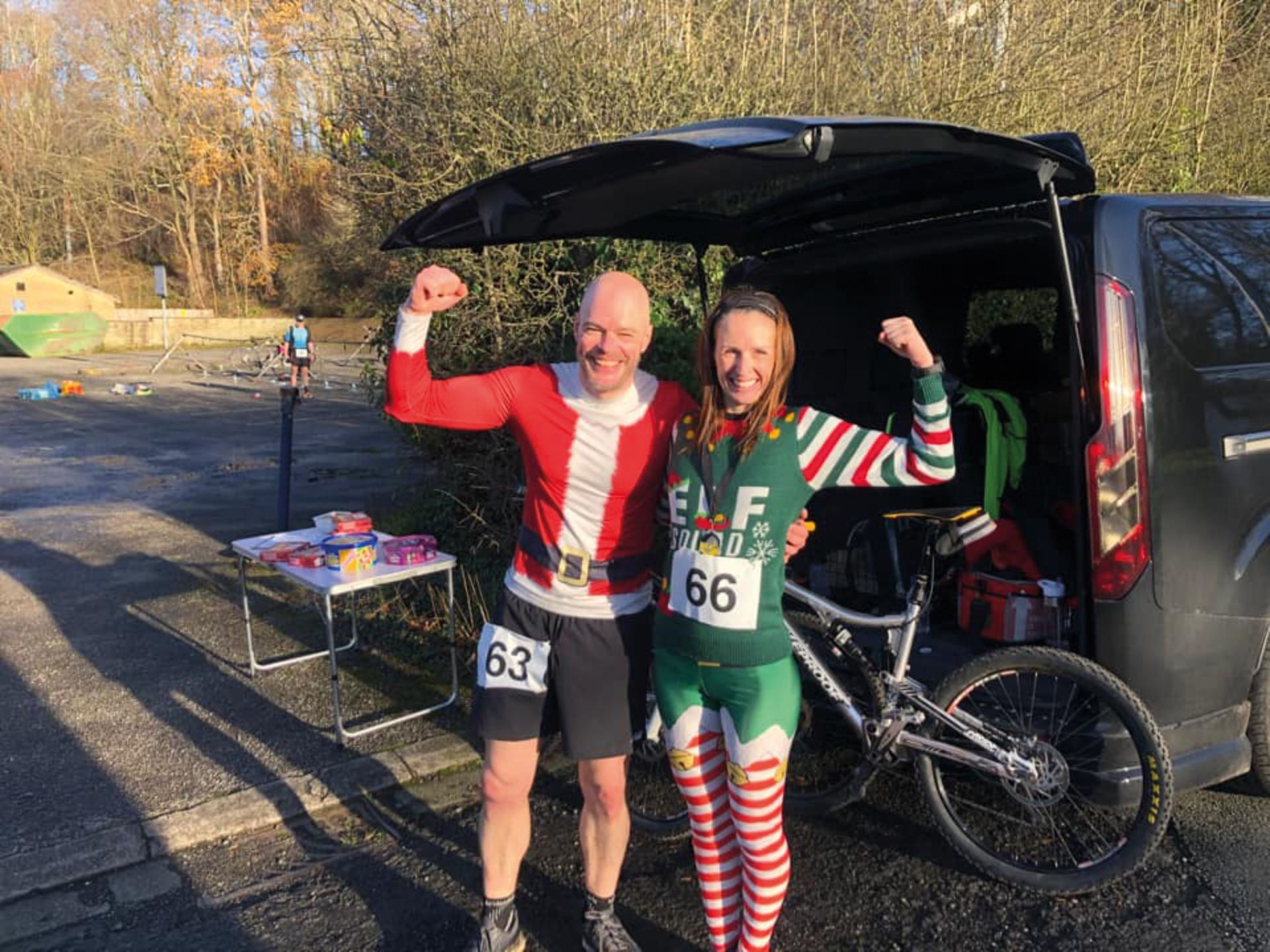 'Christmas makes me anxious, but running clears my head.'
Michelle Kehoe, 45, from Cheadle, shares how running get her through the day…
I love starting Christmas Day with a run. For some reason, I've always found Christmas exhausting; the pressure gives me anxiety. For the past four years, I've started the day running and it's made such a difference. It clears my head and gives me half an hour for myself.
My husband Phil and I also take part in festive-themed events around Christmas, like last year's Run Bike Run, for which everyone else dressed in professional gear and I dressed like an elf! Running is just what I do. It helps me. The only difference at Christmas is my outfit.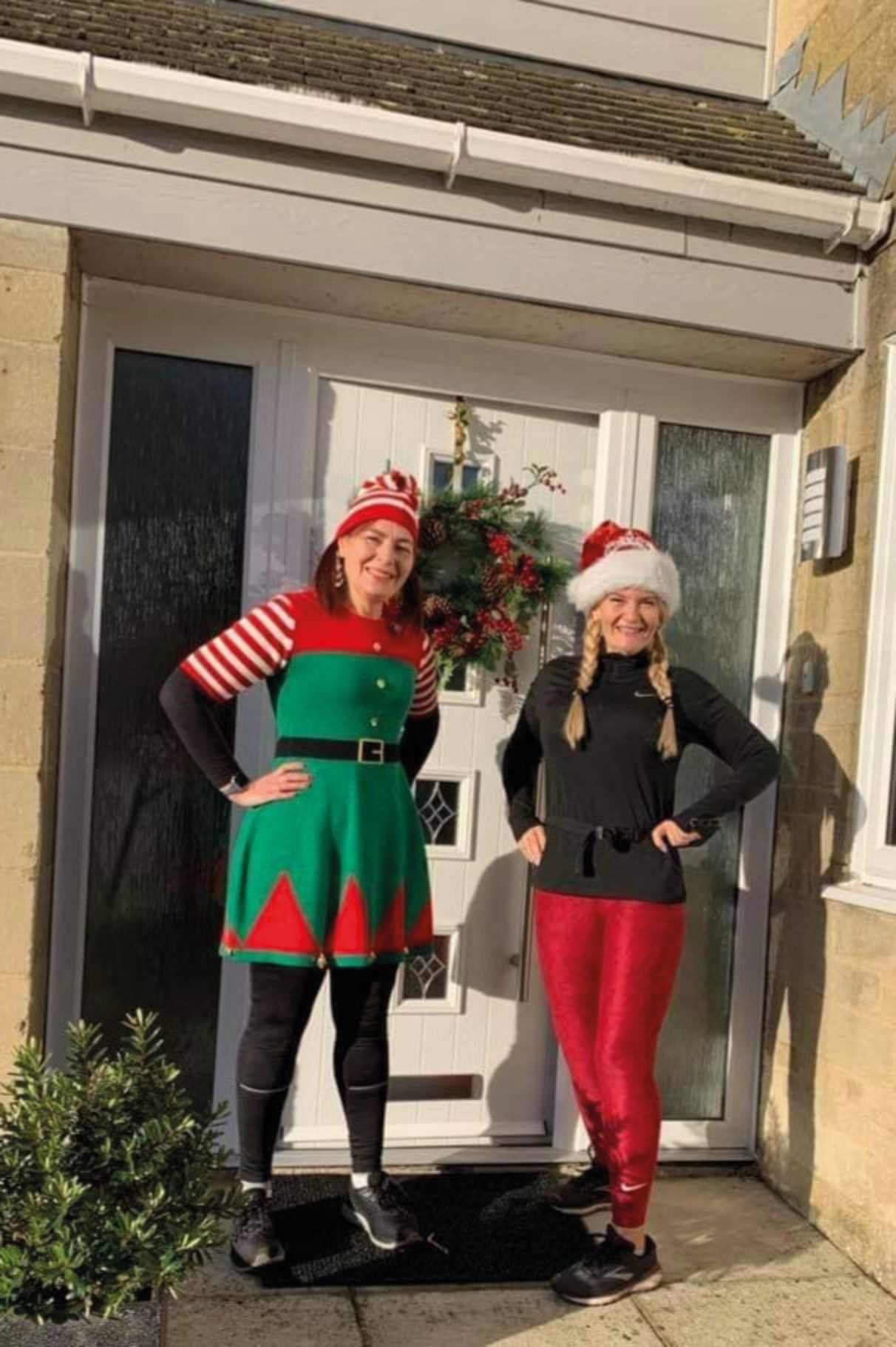 'A jingle bells 5k run gave last Christmas Day some much-needed positive energy.'
Sarah Clark, 50, from Swindon, reveals how running on Christmas morning brings her joy…
As soon as my kids were old enough to sleep in on Christmas Day, I'd spend the morning out running. Two years ago, I met Andrea, 50, through a mutual friend and last Christmas, we ran together.
Andrea is as enthusiastic about running as I am, so we wore Christmas outfits complete with jingle bells on our hats. We ran 5k around Highworth, an area of Swindon famous for its hills, but it was a beautiful day with the sun shining. Boris had just announced no-one was allowed to travel to see their loved ones.
The general mood was grim, but not on our run. People were giggling, smiling, waving and cheering as we jingled our way past them in our snazzy festive outfits. It was lovely to spread much-needed positive energy, then return to our homes with our hearts full of joy, ready to begin the festivities.
Follow Sarah on Facebook at Step by Step with Sarah-Jane.