How much time do you have to cook tonight? This Morning TV presenter and chef, Clodagh McKenna, shares some quick and simple meals for midweek dining made easy…
Quick meal ideas packed with nutrients: SWEET POTATO, FETA & CARAMELISED RED ONION FRITTATA – 30 minutes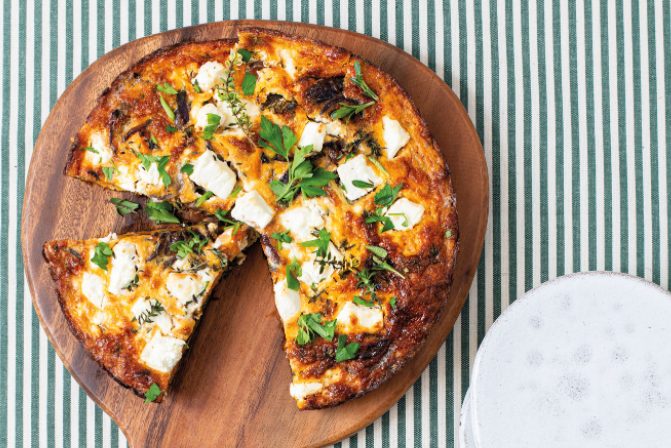 Heavenly caramel-like sweet potatoes with creamy feta and sweetened red onions – this frittata is epic in flavour! This fast meal idea is simple to make with easy-to-buy ingredients, yep, it's a stress-free night of deliciousness.
Serve it hot, warm or cold, and a slice is fantastic the next day, too. One word of advice: don't overcook the frittata, otherwise it will be dry.
Ingredients:
1 tbsp butter
1 tbsp olive oil
300g sweet potato, peeled and cut into 1cm cubes
1 garlic clove
1 tsp thyme leaves, plus small sprigs to serve
2 red onions, thinly sliced
1 tbsp balsamic vinegar
1 tbsp flat-leaf parsley, chopped, plus extra to serve
6 eggs, large, beaten and seasoned liberally
125g feta cheese
Method:
Bring a large saucepan of salted water to the boil and cook the sweet potato for 8-10 mins or until tender. Drain well.
While the potato is cooking, heat the butter and olive oil in a large, ovenproof frying pan over a medium heat and add the red onions. Fry the onions for 8 mins until nicely caramelised and soft. Add the garlic, thyme and balsamic vinegar and fry for a further 2 mins until the garlic is fragrant and the vinegar has evaporated.
Stir the parsley through the onions, then scatter the sweet potatoes around the pan.
Pour over the beaten egg and swirl it around to fully cover the base of the pan. Break the feta into chunks and scatter over the egg. Cook over a low heat for 5-6 mins until the sides and the underside of the frittata are starting to look set.
Transfer to a hot grill for 3-4mins or until the top of the frittata is golden and it is set all the way through. Scatter over some thyme and parsley to serve.
Yay for vitamin A: Sweet potato is high in beta-carotene, which converts to vitamin A once consumed. Plus, roughly one medium potato counts towards one of your five-a-day, unlike white potato. Tip! Add a drizzle of olive oil just before serving to increase your absorption of beta-carotene.
Healthy and quick meal ideas bursting with beetroot: WARM LENTIL SALAD WITH GOAT'S CHEESE – 10 minutes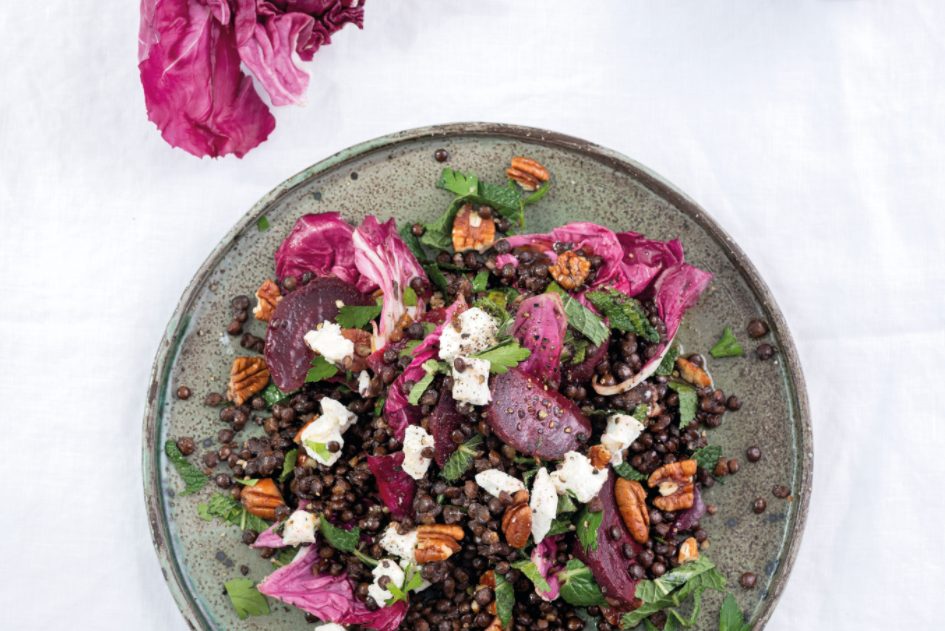 How gorgeous does this salad look? Made from lentils that you can store in your cupboard (a good staple to have in there) and livened up with juicy, sweet beetroot, sharp chicory, creamy goat's cheese and vibrant fresh herbs. It's a really filling salad, which is healthy and a no-fuss, no-stress meal idea.
Ingredients:
1 tbsp olive oil
1 garlic clove, crushed
½ tbsp rosemary, finely chopped
250g Puy lentils, pre-cooked packet
2 beetroots, roasted, halved and cut into wedges
½ radicchio, roughly torn
50g soft goat's cheese, broken into large chunks
50g pecans
1 tbsp flat-leaf parsley, roughly chopped
1 tbsp mint, roughly chopped
For the dressing:
1 tbsp sherry vinegar
1 tbsp maple syrup
2 tbsp extra virgin olive oil
Method:
Heat the oil in a medium pan over a medium heat, add the garlic and rosemary and gently fry until the garlic is just turning a light, golden colour. Stir in the lentils and warm through. Season to taste.
To make the dressing, whisk all the ingredients together and season with salt and pepper to taste.
Toss the dressing, beetroot and torn radicchio leaves through the warm lentil mixture and transfer to a serving dish.
Scatter over the goat's cheese, pecans, parsley and mint, and serve.
LOWER BLOOD PRESSURE WITH BEETROOT: Beetroot could lower blood pressure, according to new research. High blood pressure patients who drank a glass of beetroot juice a day had blood pressure levels back in the 'normal' range by the end of the study.
It's down to the high levels of nitrates in beetroot, but don't boil as dietary nitrate is water soluble. Steaming, roasting, or drinking in a juice all have a positive effect.
Spicy, substanstial, super-quick meal ideas: POACHED EGGS IN 'NDUJA TOMATO SAUCE WITH BUTTER BEANS – 10 minutes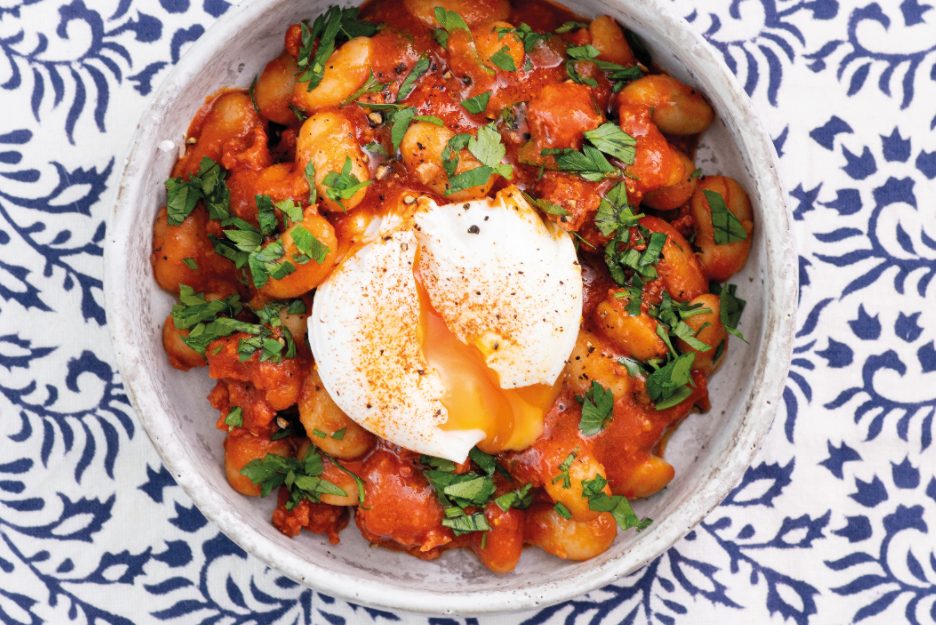 If you haven't tasted 'nduja before, now is the time! It's a delicious, spicy, spreadable pork sausage from Italy that you can buy in a jar and store in your fridge (once opened). Add to a rich tomato passata along with garlic, cumin and smoked paprika to create a spicy, rich tomato sauce. A runny egg on top, with butter beans, makes it a more substantial supper, while still being a super quick meal idea.
Ingredients:
1 tbsp olive oil
2 tbsp 'nduja
1 garlic clove, crushed
½ tsp ground cumin
½ tsp smoked paprika, plus extra to serve
150g tomato passata
1 tsp balsamic vinegar
2 eggs, large
400g butter beans, canned, drained and rinsed
1 tbsp flat-leaf parsley, chopped
Method:
Heat the olive oil in a medium saucepan over a medium heat. Add the 'nduja and fry for 1 min, breaking it up with a spoon as it cooks. Add the garlic and fry for 30 secs until fragrant. Then, add the spices and stir together for a further 30 secs. Pour in the passata and balsamic vinegar, stir well and simmer for 5 mins.
Meanwhile, poach the eggs in boiling water for 4 mins.
Add the butter beans to the sauce, stir through to warm and season.
Spoon the beans into two bowls, top with a poached egg and finish with a sprinkle of smoked paprika and salt and scatter over the parsley.
Recipe swap! If you can't find 'nduja, then substitute with diced cooking chorizo. For a vegetarian alternative, add ½ tsp of chilli flakes to the tomato sauce instead of the 'nduja.
Quick, meat-free meal ideas for the whole family: TURBO TEMPEH TACOS – 20 minutes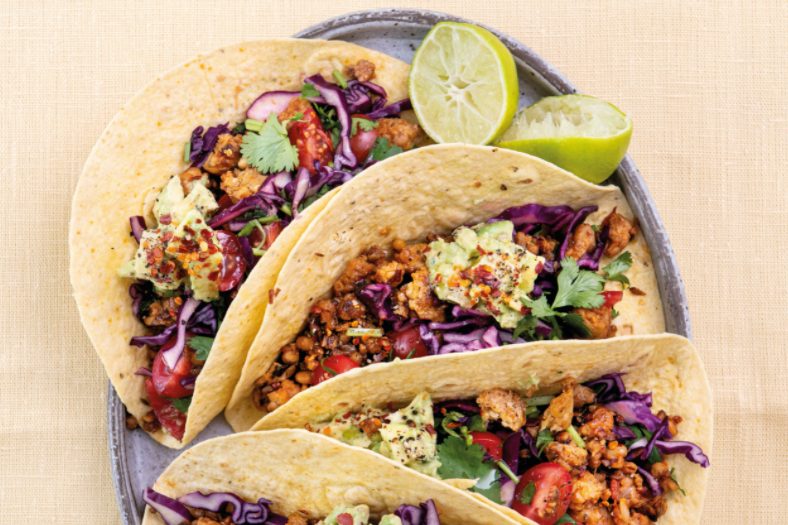 Family taco night in just 20 mins! This quick meal idea is so fun, easy to whizz up and looks fantastic. I am using a vegan alternative in these tacos called tempeh, which is a plant-based protein that originated in Indonesia. Unlike tofu, it has a meaty, firm texture and yummy nutty flavour.
Ingredients:
1 tbsp olive oil
1 onion, finely chopped
2 x 200g packs of tempeh
1 garlic clove, crushed
½ tsp chilli flakes
1 tsp smoked paprika
1 tsp ground cumin
½ tbsp maple syrup
1½ tbsp light soy sauce
4 soft corn tortillas, warmed
To serve:
½ red cabbage, thinly sliced
200g cherry tomatoes, quartered
2 avocados, ripe and mashed with a squeeze of lime juice
Small bunch of coriander, leaves picked
Pinch of chilli flakes
1 lime, sliced into wedges
Method:
Place the tempeh in a bowl and crumble into small chunks using your hands.
Heat the olive oil in a large frying pan over a medium heat. Add the chopped onion and fry for 3 mins until softened. Then, add the tempeh and fry for a further 5 mins until slightly golden.
Add the garlic and fry for 30 secs until fragrant before adding the spices, soy sauce and maple syrup. Stir everything together and fry for a further 2 mins. Season to taste.
Spoon the tempeh mixture into the warm tortillas, along with the red cabbage, tomatoes and mashed avocado. Top with a scattering of coriander leaves, chilli flakes and a squeeze of lime juice, and serve.
DID YOU KNOW? Tempeh is high in protein and low in carbs. It also tends to have more protein than tofu, with 15g of the stuff in an 84g serving of tempeh compared to 6g in the same serving of tofu.
RELATED: Click here for more quick, easy and healthy vegetarian meal ideas!
Quick meal ideas from Japan: JAPANESE TEMPURA WITH SOY DIPPING SAUCE – 20 minutes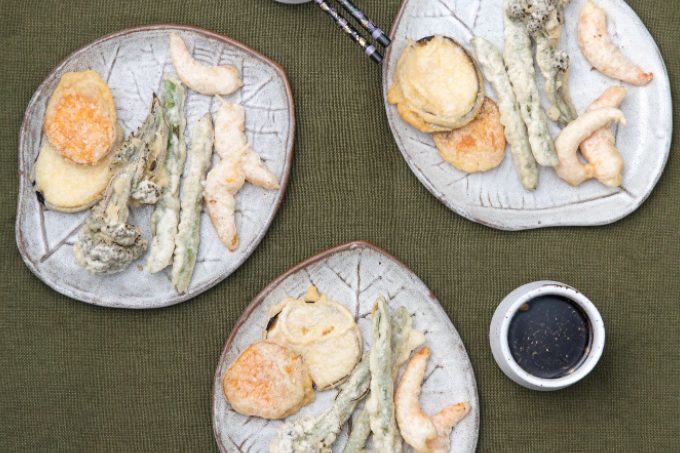 One of the most simple and delicious Japanese dishes, tempura is a light batter that is deep-fried to create a crispy coating. The trick is to make sure you don't coat the vegetables or prawns too heavily, and the oil should be very hot so you get that delicious crispiness that is essential for this dish
Ingredients:
Vegetable oil, for deep frying
1 sweet potato, peeled and cut into3-4mm slices
4 sprouting broccoli spears
½ aubergine, cut into 5mm slices
6 asparagus spears, woody ends trimmed
6 king prawns, peeled
For the tempura batter:
100g plain flour
100g cornflour
160ml ice-cold sparkling water
1 ice cube
For the dipping sauce:
2 tbsp light soy sauce
2 tbsp mirin
1cm fresh ginger, peeled and grated
2 tbsp rice wine vinegar
Method:
Preheat the oven to 140°C/120°C fan/gas mark 1.
To make the dipping sauce, combine all the sauce ingredients in a small bowl and mix well. Set aside.
To make the tempura batter, place the flour, cornflour and a pinch of salt in a large bowl. Gradually whisk in the ice-cold sparkling water and add the ice cube.
Heat the oil for frying in a large saucepan or deep-fat fryer to 190°C.
Dip the sweet potato slices briefly into the tempura batter, shake off any excess batter and lower into the hot oil. Be careful not to overfill the pan. Fry for 2-3 mins until light golden. Remove with a slotted spoon and drain briefly on kitchen paper before transferring to a lined baking sheet. Place in the oven to keep warm.
Repeat with the remaining vegetables, cooking one type at a time and transferring to the oven.
Finish by frying the prawns (don't keep these in the oven or they will overcook) and serve immediately with the tempura vegetables and the dipping sauce on the side.