With watercress in season in the UK from the end of April to the end of October, it's the perfect time to try these mouth-watering watercress recipes from Dorset baker and blogger, Lizzie Crow, to get more of this superfood ingredient into your meals!
The classic peppery hot kick associated with watercress is down to high levels of a naturally occurring compound, phenethyl isothiocyanate (PEITC), which has also been scientifically proven to help prevent certain cancers, and to aid post-exercise recovery by preventing DNA damage.
Watercress is packed with more than 50 essential vitamins and minerals, and gram for gram it contains more calcium than milk and more vitamin C than an orange! A banana, known for its folate content, actually contains less folate than watercress and the same is true of broccoli and vitamin E.
Discover how to get more of this tasty superfood into your diet with these watercress recipes from Dorset baker and blogger, Lizzie Crow…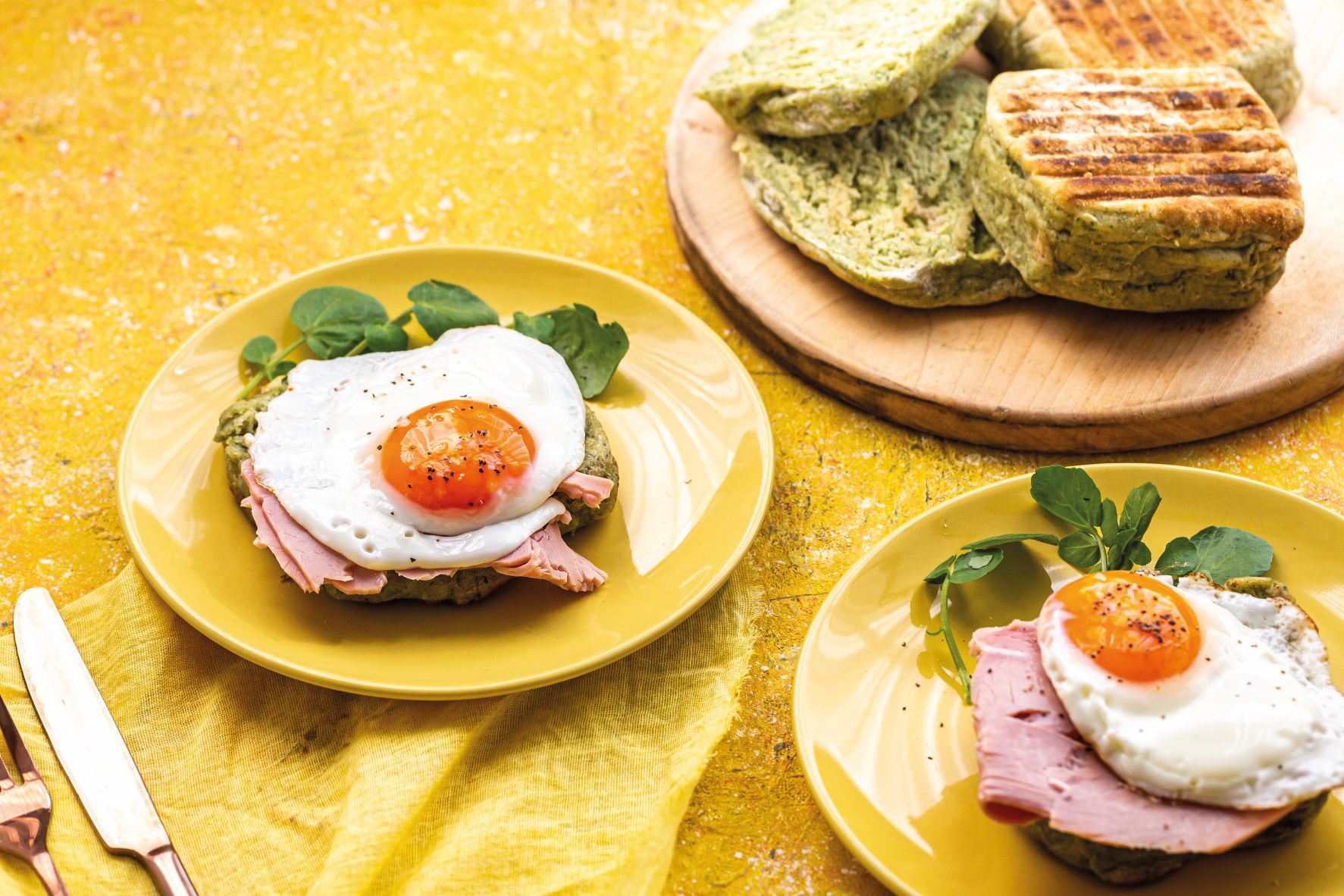 Watercress muffins recipe
These traditional English muffins contain a surprising savoury twist of iron-rich watercress. Serve them split and toasted with butter, or topped with eggs and ham for lunch.
Makes: approx 8 muffins
Preparation time: 30 mins (plus proving)
Cooking time: roughly 50 mins
Ingredients:
325ml milk
7.5g dried yeast
1/2 tsp caster sugar
450g strong white bread flour
200g watercress
1 tsp salt
1 tbsp butter, melted
Method:
Heat the milk until it's lukewarm then add the yeast and sugar. Stir together and set aside to froth for 10 mins. Meanwhile, chop the watercress very fine, ideally in a blender.
Put the flour, watercress and salt in a large bowl. Mix the yeasty milk into the flour along with the melted butter and stir for a minute. In the mixer or by hand, knead it for 4 or 5 mins, or until the dough is smooth and elastic but still soft. Put it in a bowl and place it somewhere warm, covered with a cloth or cling film. Leave to prove for 45-60 mins or until one-and-a-half times its original size.
Line a baking sheet with parchment. Lightly grease a frying pan or griddle.
Turn the dough out onto a lightly floured surface and roll to about 2.5cm thick. Cut into 8 pieces with a 10cm pastry cutter. Dust with more flour and place on the prepared baking sheet and leave for about 30 mins.
Warm the frying pan or griddle over a medium heat. Once it is hot, add two muffins and leave to cook for about 7 mins each side. When you flip them, they should be gently browned on the outside – turn the temperature down if they are browning too quickly. You will know when they are cooked by tapping them – they will sound hollow when done.
Transfer to a cooling rack while you finish cooking the remaining muffins.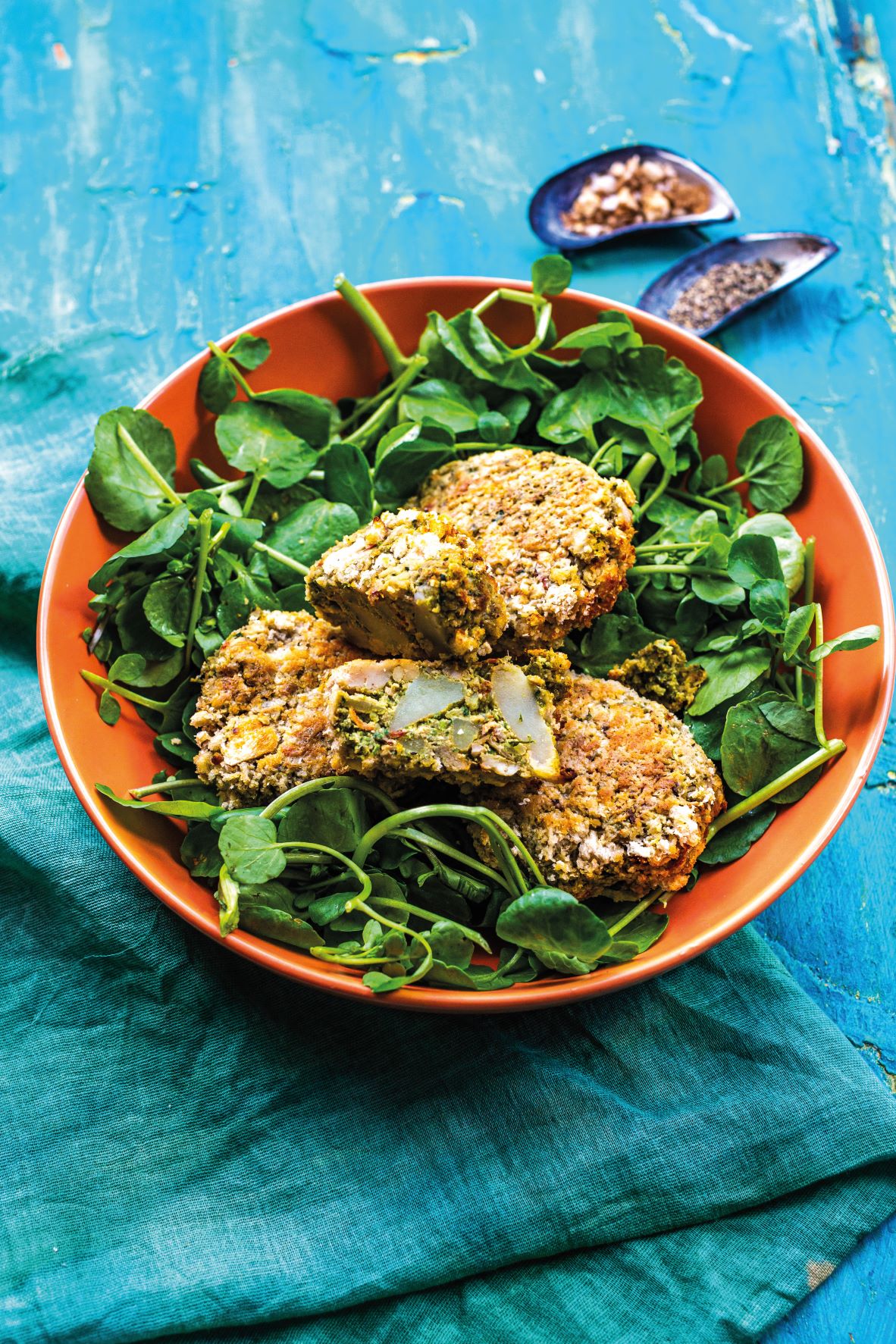 Crab and watercress cakes recipe
The joy of simple crab cakes is that they can be made at lightning speed then set in the fridge to firm up, ready for cooking as needed.
Makes: 6
Preparation time: 30 mins (plus one hour resting in the fridge)
Cooking time: 15 mins
Ingredients:
250g brown crab meat
200g boiled potatoes, peeled and roughly mashed
100g watercress, chopped finely
1 tbsp mayonnaise
Salt and pepper
For the crumb coating:
Method:
Put all the ingredients for the crab cakes in a small bowl and mix well, adding salt and pepper to taste.
To prepare the coating, beat the egg in a bowl. Put the breadcrumbs on a plate and season well.
Take a generous tablespoon of the crab mixture and shape it into a small ball in your hand – do this gently as the mixture will be fairly soft. Dip it in the beaten egg and straight into the breadcrumbs, turning to ensure it is evenly coated. Repeat with the remaining mixture.
Put the crab cakes in the fridge to firm up for at least an hour.
When ready to cook, heat the oven to 200 degrees C, 180 degrees C fan, gas 6. Arrange the crab cakes on a parchment-lined baking tray and bake for around 15 mins. They will be ready when lightly browned.
Serve with mayonnaise and salad, or new potatoes. To make a watercress mayonnaise, stir 1 tablespoon of chopped watercress into 3 tablespoons of ready-made mayonnaise.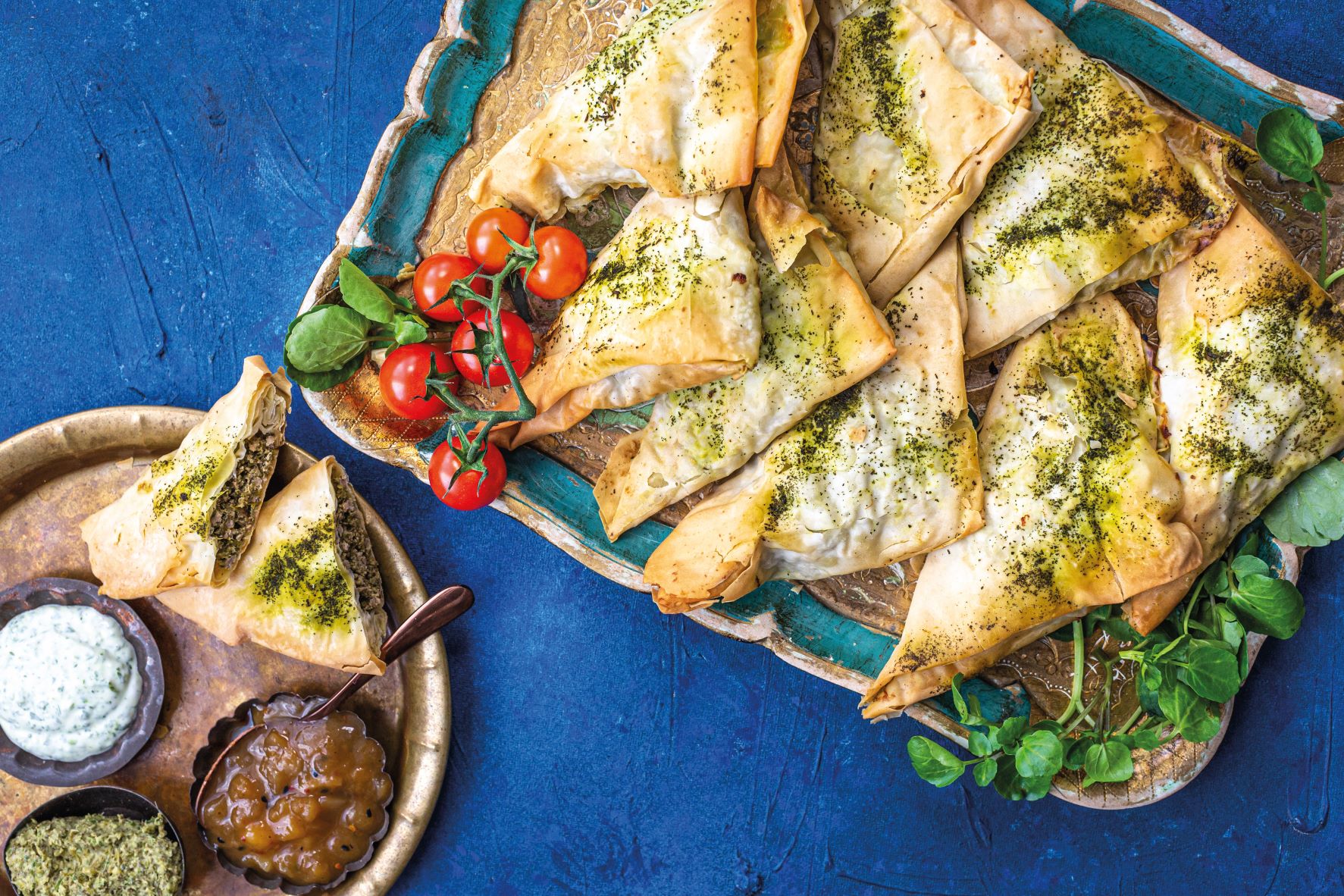 Lamb and watercress samosa recipe
Samosas make a perfect appetiser, light supper or even snack. Here the minced lamb is cooked with a rich, garlicky watercress purée that is also used as a sauce for serving.
Makes: 10
Preparation time: 25-30 mins for lamb filling; 30 mins to shape the pastries
Cooking time: 12-15 mins
Ingredients:
For the watercress sauce:
Sunflower oil
2 onions, finely chopped
3 cloves garlic, finely diced
400g double cream
400g watercress
Salt and pepper
For the samosas:
400g lamb mince
1 packet filo pastry (10 leaves)
25g butter, melted, for brushing
Dried watercress powder or black sesame seeds, for sprinkling
Method:
To make the watercress sauce, heat 2 tablespoons of sunflower oil in a saucepan over a medium heat, add the onions and cook for around 5 mins or until soft and translucent. Add the garlic and cook for a further minute. Pour in the cream and simmer until it reduces by about half.
Add the fresh watercress, cover and cook for 1 minute. Remove the pan from the heat, put the lid on and leave for a further 10 mins. Purée using a blender or food processor. Add salt and pepper to taste.
Next, heat a little more sunflower oil in a pan and brown the lamb mince quickly all over. Add three-quarters of the watercress sauce (keep the rest for serving) and cook gently for 5 mins. Leave to cool completely.
To shape the samosas, lay the pastry on a work surface and fill each sheet, one at a time, keeping the other sheets under a damp tea towel so that they don't dry out.
Brush one sheet with melted butter and cut in half lengthways. Put one half on top of the other to give a double layer of pastry. Put a spoonful of filling towards the top right-hand corner of the strip and fold the left corner over to make a triangle, pressing the edges together.
Repeat this triangular folding all the way down the strip until you are at the end of the pastry and all the edges are sealed. Trim away any excess pastry. Brush the top of the samosa with butter and sprinkle with dried watercress powder or black sesame seeds.
Repeat with the remaining filling and pastry to give 10 samosas. You can bake them straight away or chill the uncooked pastries in the fridge until you are ready.
Heat the oven to 200 degrees C, 180 degrees C fan, gas 6, and bake the samosas on a baking sheet for 10-12 mins or until gently browned. Serve with the remaining watercress sauce and some chutney, if liked.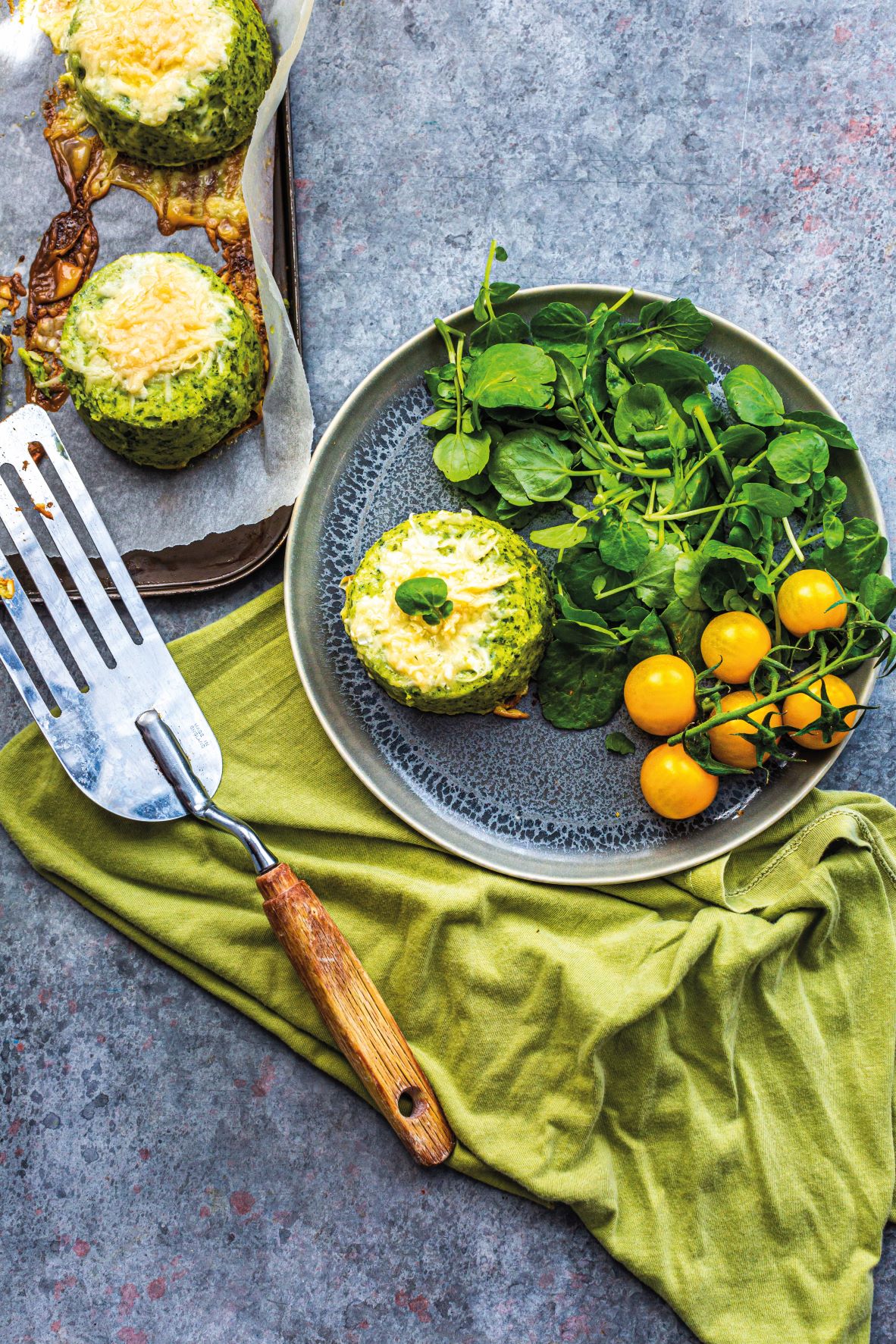 Twice-baked watercress soufflés recipe
Light, fluffy and full of tasty watercress, these soufflés can be made with any well-flavoured cheese. They're great for guests as you can make the soufflés the day before serving, then simply whip them out of the fridge, turf each one from the ramekins and pop them in the oven for the second baking.
Serves: 6
Preparation time: 40 mins
Initial cooking time 15-20 mins
Final bake 10 mins
Equipment required: 6 x 150ml ramekins
Ingredients:
425ml milk
1 medium onion, sliced
1 bay leaf
2 black peppercorns
125g watercress
100g butter, plus extra for greasing
100g plain flour
1 tsp English mustard powder
4 eggs, separated
30g cheddar, grated
150ml double cream
Method:
Put the milk, onion, bay leaf and peppercorns in a small pan and place over a low heat. Bring gently to the boil then take the pan off the heat and leave to infuse for 20 mins.
Meanwhile, chop the watercress until very fine – ideally, in a blender. Grease the ramekins.
Melt the butter in another small pan and add the flour. Mix well and cook for 1 or 2 mins. Strain the infused milk through a sieve into the pan. Cook, stirring, for a couple of minutes or until the sauce has thickened – if you end up with lumps, pass it back through the sieve.
Off the heat, mix in the mustard, egg yolks and watercress, and check the seasoning.
In a large bowl, whisk the egg whites until stiff then gently fold into the watercress mixture. Divide the soufflé mixture evenly between the ramekins and pop in a strong roasting tray.
Add boiling water about halfway up the sides of the dishes. Bake for 15-20 minutes at 180 degrees C, 160 degrees C fan, gas 4, or until set but still have a little wobble. Cool, then refrigerate (up to two days).
To reheat, turn the soufflés out onto an oven-proof tray. Sprinkle with the cheese and spoon the cream over. Bake at 220 degrees C, 200 degrees C, gas 7 for 10 mins or until golden brown and puffy. Serve immediately with a crisp green salad.
Watercress and vanilla cake with cream cheese frosting
The astonishing addition of watercress adds a deliciously peppery note to the vanilla flavour of this light cake. Teamed with a cool cream cheese frosting, this cake will be well received by children and grown-ups alike. It really is important that the butter and cream cheese are at room temperature before mixing, otherwise the frosting could be lumpy.
Preparation: 45 mins
Cooking time: 50-60 mins
Ingredients:
For the cake:
125g watercress
285g sunflower oil
325g caster sugar
5 medium eggs
375g self-raising flour
2 tsp vanilla extract
For the frosting:
100g butter, preferably unsalted (room temperature)
50g icing sugar
200g cream cheese (room temperature)
Edible flowers to decorate (optional)
Method:
Heat the oven to 180oC, 160oC fan, gas 4. Grease and line a 20cm square tin or a 23cm round tin.
To make the cake, chop the watercress until very fine – ideally, do this in a blender. Put it in a mixing bowl with the rest of the cake ingredients and beat until well incorporated. Try not to over stir – otherwise, the cake may not rise as well as it could.
Pour the batter into the prepared cake tin and bake for approximately 50-60 mins. The cake is done when a skewer inserted in the centre comes out clean. Set the cake aside to rest for 15 mins before removing it from the tin. Leave on a cooling rack until cold.
To make the frosting, beat the butter and icing sugar until pale in colour then gently fold in the cream cheese until evenly mixed.
Spread a lovely thick layer of cream cheese frosting over the top of the cake. I like to decorate with a few edible flowers, such as violas or rose petals.
Lizzie Crow is a professional baker, writer and recipe developer who's the proud recipient of four Great Taste Awards. She bakes in a Grade-II listed cottage between the Jurassic Coast and The Ridgeway, making use of local, seasonal Dorset produce. Find out where she sells her wares at lizziebakingbird.co.uk. Find Lizzie on Instagram at @lizzibakingbird.