From French thalassotherapy to Turkish hammams, soothe your mind, body and soul with these bathing rituals from around the world…
When you're feeling stressed, you can reconnect with your body and mind in the simplest of ways – by taking a bath, inspired by different bathing rituals from around the world. 'Bathing is one of the most reassuring, accessible, proven types of self-care,' says spa and wellbeing expert Suzanne Duckett, author of Bathe (£16.99).
'It's not just about pampering though, balneotherapy – the practice of bathing – has proven health benefits. Being in the warmth can improve circulation, help muscle aches, support your nervous system, reduce stress and anxiety and ease coughs and colds. It can even help to burn calories. Bathing really is a magic bullet.'
It's also an ancient ritual, one that traditionally – from Roman baths to Middle eastern hammans – went beyond mere cleansing to a social activity that benefitted body and spirit. We're not suggesting you invite your friends round to bathe, but you can certainly transform your evenings into ones of indulgence by incorporating a few of these traditional rituals.
Below, we've explored four different bathing rituals from around the world. We've also shared some top tips and product recommendations to help you recreate the experiences at home…
French bathing rituals: try healing thalassotherapy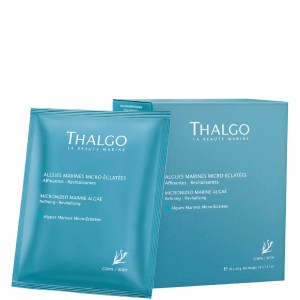 In the 19th century, French seaside towns started to promote the concept of thalassotherapy. The name comes from the Greek word for sea, and it's the ocean's rich bounty of minerals and trace elements, such as magnesium, potassium, calcium sulphates and sodium, that are utilised in these treatments. This is alongside marine ingredients such as seaweed, salt and mud.
'One of the easiest things you can do is invest in seaweed powder. The trace elements are ideal for muscle and joint complaints,' says Suzanne. Seaweed has long been used to aid skin conditions. French marine brand Thalgo's Micronised Marine Algae (£38) contains three varieties of algae to purify and soothe.
Or mix things up by pouring Epsom salts into your bath. The magnesium sulfate they contain helps to relieve muscle pain. A 20-minute soak in Dr Teal's Pure Epsom Salt Detoxify & Energize with Ginger & Clay (£7.99) will not only ease achy bits, but the ginger helps to energise.
You can experiment with different temperatures too. 'Splashing your skin with freezing water then immersing yourself in a warm bath can have spa-like benefits,' says Suzanne. Cleanse with Faith In Nature Hand Made Soap With Wild Harvested Seaweed (£1.99) or use their Seaweed & Citrus Body Wash (£5.80), before rinsing and patting skin dry to help it retain the minerals. Finally, slather on Arran Apothecary Seaweed & Sage Body Lotion (£14) to lock in moisture.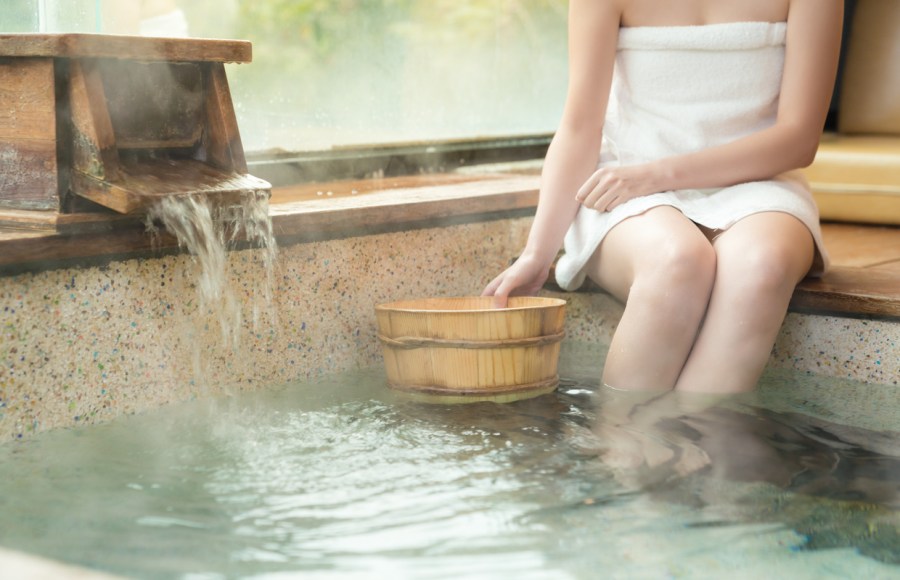 Japanese bathing rituals: the meditative Onsen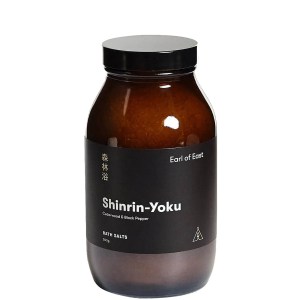 Of all the bathing rituals from around the world, many of us are familiar with the Japanese Onsen. Bathing is an integral part of daily life in Japan. Not just for practical purposes, bathing is thought to cleanse the mind too. 'It's a very calm experience, where you meditate or simply focus on a flickering tea light. A connection with nature is really important in Japan,' says Suzanne.
Cleansing is the essential first step. At an Onsen (a Japanese communal bathing facility) you would sit on a stool and scrub before getting in the tub. Follow the principle at home with Glossier Body Hero Exfoliating Bar (£12), which features finely milled, biodegradable bamboo powder to gently slough away dead skin cells. It also contains hydrating aloe leaf juice replenish moisture.
Rinse, then prepare for a soak by lighting Honest Skincare Japanese Yuzu Candle (£30) This features a blend of essential oils including the ancient Japanese citrus fruit yuzu. Next, bathe in a tub infused with the Earl of East Japanese Bathing Ritual Shinrin-Yoku Bath Salts (£24). Japanese baths are traditionally made out of cypress wood: these aromatic bath salts feature notes of cedarwood alongside uplifting eucalyptus and black pepper to help clear your mind and recreate that traditional Onsen aroma.
Finally, apply the luxurious Elemis Japanese Camellia Body Oil Blend (£40). This is enriched with camellia and sweet almond oils to leave skin feeling super soft.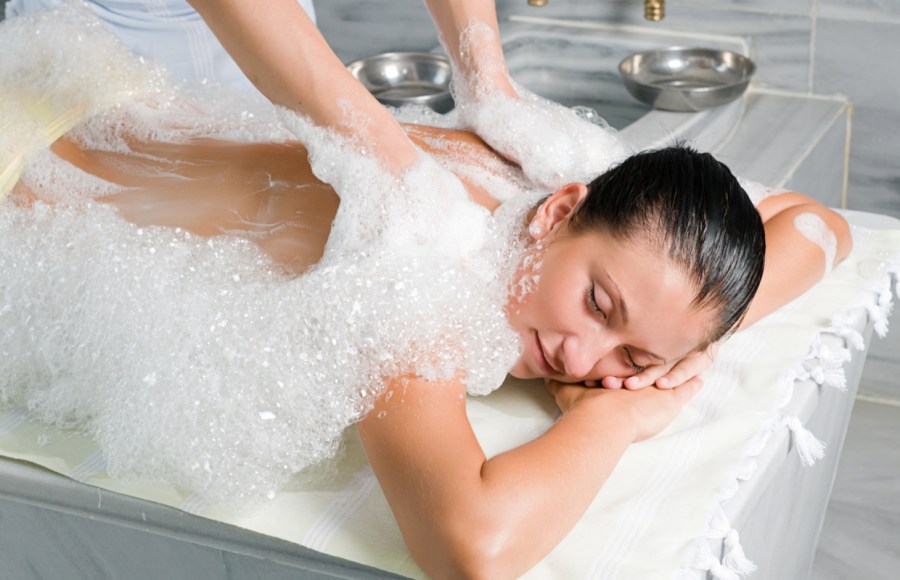 Turkish bathing rituals: the purifying hammam
While the history of the hammam can be traced back to Ancient Rome, it endured far longer in the Middle East. Here, it became part of everyday, communal life. The hammam was a place to socialise and purify. 'The word "hammam" means "heating up" in Arabic,' explains Suzanne. 'It involves a warm, steamy atmosphere combined with massage techniques. You can recreate a hammam at home by running just the hot tap of your bath, closing the bathroom door and waiting 10-15 minutes for the room to become steamy and for your bath water to cool down enough to get in.'
Add your favourite oils or use a diffuser such as Primavera Myrtle Turkish Organic Essential Oil Purifying (£7.05). The steam will open your skin's pores, which will help clear congestion. Massage in Rituals The Ritual of Hammam Black Soap (£9.50), a paste-like product containing stimulating eucalyptus oil, with an exfoliating Kessa Glove (£6). This is a traditional glove found in Turkish baths, used to help to rid skin of impurities.
Slathering your whole body with mud, hammam-style, can get messy but your face can benefit from AHAVA Purifying Mud Mask (£28.20). This mask is formulated with a unique blend of dead sea mud, minerals and botanical extracts to unclog pores and absorb excess oil while hydrating the skin. Finish by applying argan oil, such as Moroccan Oil Pure Argan Oil (£48.16) all over your face and body. It's rich in antioxidants, essential fatty acids and vitamin E to moisturise the skin.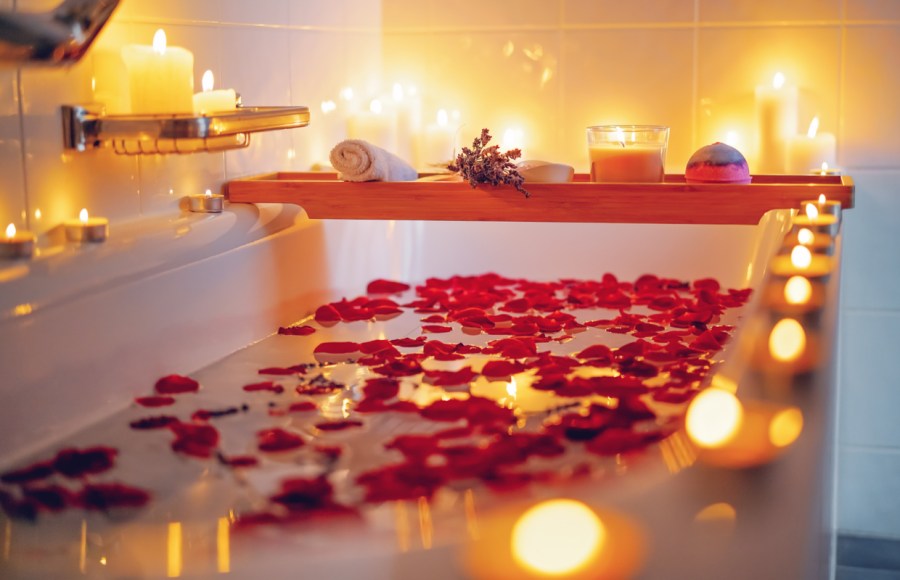 Indian bathing: warming ayurvedic rituals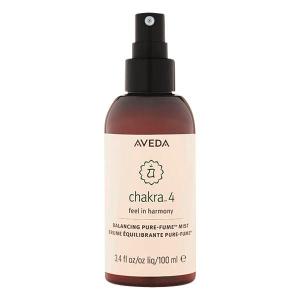 Bathing isn't just for the end of the day. Ayurveda, which developed more than 3,000 years ago in India, describes bathing as a therapeutic activity. For some, this is best practised first thing. 'A morning bath can be really helpful in getting you up and going,' says Suzanne. If weekdays are a rush, try it at the weekend.
The first part of the ritual is Abhyanga, a daily self-massage with warm oil. As well as enhancing circulation, it's the perfect way to warm your body. Traditionally, the massage uses sesame oil. However, we don't recommend using cooking sesame oil! Instead, try Primavera Organic Sesame Oil Body Oil (£7.05).
Warm it first by standing the bottle in warm water. Then, massage into your skin, from your feet to your forehead. Allow the oil to sink in while you practice deep breathing. Follow with a warm bath infused with milk, honey and rose petals. Swirl in 50g milk powder, a handful of dried rose petals, and a couple of drops of rose essential oil.
To cleanse, Urban Veda Reviving Body Wash (£7.99) continues the rose theme. Finally, rinse with cool water, and while damp, spritz with one of Aveda's Seven Chakra Balancing Body Mists – Chakra 4 Feel In Harmony (£30) is a blend of sandalwood, mandarin and palma rosa.
Words: Natalie Millman | Images: Shutterstock