Many of us strive for a sparkling, pearly-white smile, but professional teeth whitening isn't exactly cheap. Feel more confident when you smile thanks to the latest expert tips and budget-friendly products for teeth whitening at home…
Though the best way to whiten teeth is by professionally approved whitening products, there are many ways you can achieve a whiter smile at home without them, according to Dr Hanna Kinsella, cosmetic dentist at Kiln Lane Dental in St Helens and founder of Icy Bear.
Below, we've rounded up 5 top tips for preventing staining on your teeth, along with the best budget-friendly products to safely and effectively whiten your teeth at home…
5 ways to prevent staining on teeth
1. Limit the coffee, tea and red wine
For starters, be aware of your food and drink. 'Coffee, tea and red wine can quickly cause yellow or brown stains to form, so small things like being aware of avoiding these drinks if possible, or drinking these through a straw may help keep teeth white and avoid stains,' says Dr Hanna.
2. Avoid cigarettes
The nicotine in smoking can also stain teeth, so it goes without saying to avoid cigarettes for whiter teeth! Try to cut down or quit if you're a smoker – alongside your oral health, quitting smoking is hugely beneficial for your overall health and wellbeing too!
3. Don't brush your teeth too hard
Dr Hanna also recommends that instead of brushing teeth aggressively with a hard grip, try holding your toothbrush at the end and use a grip as if you're holding a pen.
'This will reduce pressure to the brush and the teeth, therefore protecting them from damage. Brushing properly can also help remove yellow stains,' she says.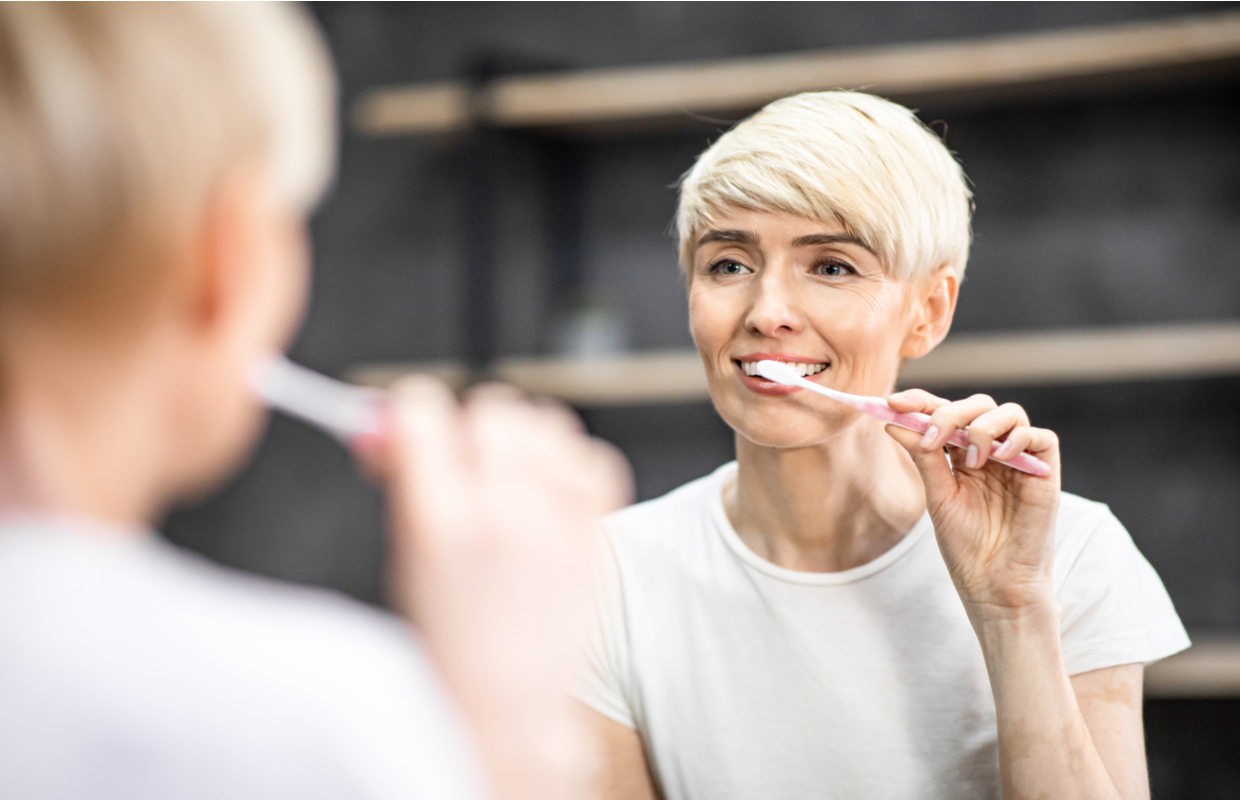 4. Eat strawberries!
And the one DIY hack we wished we'd known years ago? Strawberries can whiten teeth! 'Strawberries contain malic acid, which is a natural tooth whitener,' explains Dr Hanna.
'Obviously don't go too hard on the strawberries, and don't rub them on the teeth or keep them against the enamel for too long, but a healthy amount of them can help with whitening.'
In the same vein, apples are a great way of cleaning the teeth (in some form) as long as not eaten too aggressively as the rough edges of crispy food like apples can help remove bacteria from teeth.
5. Drink water between meals – and always floss!
Dr Hanna also recommends always having at least one glass of water after eating meals as it's 'a natural cleaner and can help remove bacteria from the teeth' and to never skip flossing.
'Flossing is that step everyone forgets, but it has many benefits,' she says. 'It can remove some staining in between teeth and brighten the smile, as well as help with overall oral health.
Whiten your teeth at home with these at-home whitening products…
Icy Bear Diamond Dust Whitening Toothpaste (£17.99) contains diamond dust to reduce surface stain and polish the enamel surface, while Icy Bear Whitening Strips (£39.99) are dissolvable and have been shown to whiten teeth up to seven shades after 14 consecutive treatments.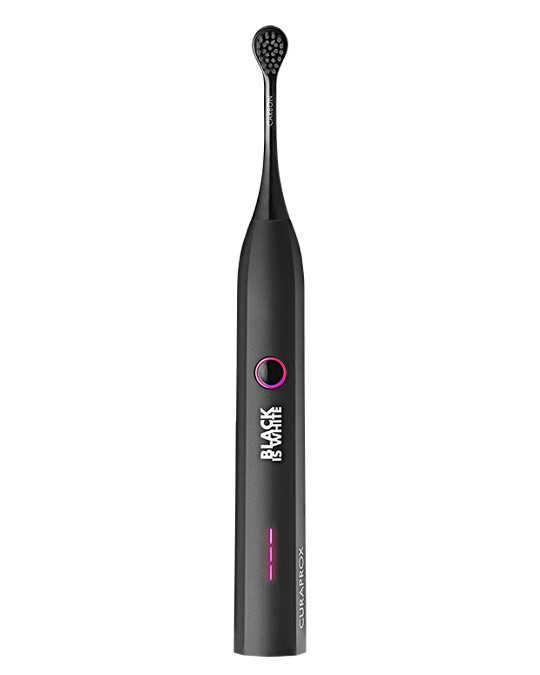 CURAPROX Hydrosonic Black is White (£125) has three cleaning levels and 60 minutes of brushing time in one charge. The activated carbon in the brush heads help remove discoloured particles, while the ultra-fine CUREN filaments (instead of conventional nylon) wrap around each tooth for a deep clean.
L.A. PACIFIC Gum Health Enzyme Whitening Toothpaste (£12) contains CBD, aloe vera and vitamin E. The enzyme interacts with the sugars in your mouth to create a natural bleach, while Pacific sea salts polish. And this toothpaste is dry clean only as water dilutes the effectiveness.
hello epic whitening activated charcoal fluoride toothpaste (£3.49) whitens gently without peroxide, but be warned – the activated charcoal means your teeth turn black while using! The mint and coconut oil freshens breath, while the fluoride helps prevent cavities.
MySmile by Dr Uchenna Whitening Pen (£23.99) contains phthalimidoperoxycaproic (PAP), a non-invasive ingredient that oxidises and brightens stains, while mica provides a sparkling finish. Dab onto teeth to boost your smile before a family photo!