Welcome to the first ever Top Santé haircare awards! This month we're featuring all the winners and runners-up of our hair categories (look out for bodycare later this year). They've all been trialed by a panel of women aged 35 to 75, who tested them for a number of weeks to determine which products were the most pleasant to use and, most importantly, achieved the best results.
By Natalie Millman
Best shampoo & conditioner for fine hair

Designed for fine hair that may be experiencing thinning or loss, this Ayurvedic-inspired range thickens each strand, strengthens and protects from breakage without weighing hair down.
Henrietta, 40s: 'Amazing! My hair felt fuller and was brilliant the next day too. I'll definitely be buying these!'
Flat hair gets a boost with this gentle formula – each product helps to repel dirt and oil to keep it looking cleaner for longer and to highlight natural body.
Emily, 40s: 'These felt high-end. I only needed to use a very small amount to get the desired effect, especially the conditioner, which was lovely and thick. The condition of my hair definitely improved – it's much softer and shinier – plus it had more volume without being greasy or lank.'
Best shampoo & conditioner for curly hair

Curls are moisturised and not stripped of their natural oils thanks to a blend of avocado and kukui oils, which helps to detangle, add shine and reduce frizz. No mineral oils, sulphates, silicones, parabens or paraffin are in this vegan friendly formula.
Tamara, 40s: 'The shampoo lathered nicely and rinsed well so was pleasant to use and left no build up in my hair. They smelled like a tropical holiday and gave me nice, defined curls.'
This 97 per cent natural formula is vegan friendly and free from sulphates, parabens, petrochemicals, silicone and mineral oils. The bamboo helps to strengthen, while the coconut nourishes and leaves curls shiny and more manageable.
Hazel, 30s: 'These had a lovely scent and I loved the green credentials. They were easy to use and left my hair soft and fresh. My curls stayed in control reasonably well and I would definitely use it again.
Best shampoo and conditioner for frizzy hair

This new range is infused with elastin protein and argan oil to control frizzy hair for 24 hours. It not only protects against humidity, but also detangles and makes hair easier to handle.
Karen, 40s: 'I loved this shampoo! It felt so rich and creamy that, on my first use, I picked the bottle back up to check I hadn't used the conditioner by mistake! Yet it still produced a great lather. After using this and the gorgeous smelling conditioner, my regular halo of fuzz was visibly reduced!'
Despite being sulphate free, the shampoo lathers up nicely to cleanse hair, while the conditioner smoothes hair without weighing it down to tame frizz and boost all-round glossiness.
Claire, 40s: 'A sweet nutty aroma and silky texture made applying these products a delight, and my hair felt truly pampered. It stayed smooth and "behaved" all day, despite some drizzle tempting the frizz! My hair felt nourished whilst being clean enough to cope with alternate-day washing.'
Best shampoo and conditioner for coloured hair

These contain a nourishing, protective blend of hydrolysed quinoa to fight fade, plus organic rose oil and peach to revive hair so it's left stronger and looking brighter.
Katherine, 40s: 'These made my hair feel really light, like I'd just come out of the hairdressers – I loved them! My hair colour looked richer and glossy, and the lovely fragrance lasted all day.'
This mild, SLS/SLES-free shampoo contains sunflower seed extract to help prevent colour fade and wheat protein to protect against environmental aggressors, while the conditioner contains pro-vitamin B5 to strengthen colour-treated hair from within.
Claire, 40s: 'These protected my colour well. They were easy to apply, had nice packaging, and felt really nice on my scalp – the conditioner felt like an expensive face moisturiser! My hair was left shiny and very clean.'
Best shampoo and conditioner for grey/white hair

Specially designed for grey hair, this range contains a unique formula that blends Pro-V, jojoba oil and antioxidants to help neutralise yellow and brassy tones and soften wayward strands.
Lynn, 60s: 'These were both easy to apply; I liked the thick, creamy lather of the shampoo and that I didn't need to leave the conditioner on – I prefer to be in and out of the shower quick! They left my hair shiny and soft, plus more manageable and looking thick, not flat or wispy. The affordable price is an added bonus.' 
Grey hair can sometimes look a little dull, so these products have been designed to brighten and increase shine. While the violet formulas look a little scary, they don't leave purple tones on your hair but instead improve manageability and enhance glossiness.
Catherine, 60s: 'I enjoyed using this product! My hair looked instantly fresher and brighter after just one use, and it felt soft, silky and light. I'd buy it again.'
Formulated for white and grey hair, this shampoo is gentle enough for everyday use but contains a detoxing complex to neutralise pollutants, plus white truffle to moisturise. The conditioner is also strengthening and shine-enhancing.
Patricia, 60s: 'The flip-lid makes this easy to use. The thick shampoo felt creamy and silky, and you don't need to use too much. I liked that the shampoo was creamy white and not purple like others.'
Best shampoo and conditioner for afro hair

These heroes help encourage hair growth by nourishing and strengthening damaged hair plus balancing scalp pH, while reducing breakage and nourishing curls.
Gabrielle, 30s: 'The shampoo is great for removing product build-up, while the conditioner is hands down the best leave-in one I've ever tried. It locked in moisture really well, improved definition, didn't weigh my curls down or cause any crunchiness. A little goes a long way, so a tub this big will last a long time.'

Treat your curls with this tropical, nourishing blend of coconut oil, sweet honey and citrus oil, which hydrates hair and tames frizz and flyaways. It's a sulphate-free formula that keeps curls bouncing and smells delicious.
Julietta, 40s: 'The shampoo made my hair feel clean and look shiny while I loved the conditioner – after using a wide tooth comb through it, my natural curls were forming beautifully. I'd buy this in the truck load if I could, so I would never run out! My hair loved it and looked shiny and healthy.'
Best shampoo and conditioner for dry hair

Wonder ingredient Manuka honey replenishes dry hair and lends antibacterial properties to keep your scalp healthy in this beauty combo. They work together to soften and leave hair feeling thoroughly conditioned.
Jacqui, 40s: 'Both these products had a wonderful texture and left my hair feeling clean and really soft and nourished. Plus, they're excellent value for money.'

This duo treats dry, thirsty hair to quenching avocado, coconut, tamanu, monoi and rice bran oils. Shea butter, aloe and flaxseed also improve elasticity and shine. Both offer a grounding fragrance of vanilla and sage.
Claire, 40s: 'I loved these! Both the shampoo and conditioner were rich and creamy, really helping to detangle and smooth. My hair was really soft and shiny – I was even asked by friends if I'd just been to the hairdressers!'
Free from sulphates and silicone, these products are enriched with olive oil and olive tree leaves to nourish, and a complex of cedar, lavender, camomile, lemon and eucalyptus oils to soothe and purify.
Laura, 40s: ' These were nice and light with a fresh aroma that stayed most of the day. Not much lather, which was to be expected with sulphate-free, but they left my dry curls well-defined with no frizz.'
Best deep-conditioning mask

Dry hair gets a boost from this vegan conditioning treatment that contains plant-based emollients, aloe vera and spirulina to strengthen, restore and nourish. It comes in a squeezy, 85 per cent biodegradable pouch.
Gemma, 30s: 'I loved this product; the use of the pouch and consistency of the product meant you used the correct amount. It smelt lovely, and I only had to leave it on for five minutes and the end result was soft, shiny hair! I will continue to use and buy this.'
Inspired by Ayurvedic therapy, this pre-shampoo treatment not only boosts hair elasticity, moisture and hydration but also harnesses rose and lychee for their calming benefits.
Katherine, 40s: 'This smelt divine and made for a really relaxing experience – it was like a treat for both me and my hair! My locks and scalp felt in really good condition for ages afterwards.'
Best treatment for fine/thinning hair

This leave-in treatment contains caffeine, panthenol and niacinamide to increase the thickness of each strand for fuller-looking hair straight away. It also protects against breakage and makes hair more manageable.
Alison, 40s: 'This really thickened my fine hair – it felt voluminous! The packaging looked high end and the pump action was easy to use. I'd definitely use this before a special occasion.'
With caffeine and pea sprout to stimulate, hyaluronic acid to hydrate, and wheat sprouts and soy to improve condition, this light serum, with no parabens, sulphates or mineral oil, leaves hair feeling fuller and stronger.
Niky, 40s: 'Easy to apply with the pipette, this serum soaked straight in without leaving any grease. It smelled amazing and made my hair look healthy and thicker.'
Best detox treatment for dry scalp

Soil Association-certified and made with 99 per cent natural ingredients including fennel seed oil and aloe vera, this treatment gently soothes sore and sensitive scalps prone to irritation.
Jacqui, 40s: 'This was wonderful – it soothed and calmed my scalp from the first couple of uses.'
Gentle anti-fungal ingredients tackle dandruff while rosemary oil, menthol and ginger extracts soothe itchy scalps. Lactic acid exfoliates the top layer of dead skin cells while salicylic acid removes dead cells and excess sebum.
Claire, 40s: 'This had a lovely subtle smell of rosemary and menthol, and was cooling on my sore scalp. It's a creamy, serum-like consistency and you only need a tiny amount so although it's expensive, it would last ages.'
Best volumiser

This alcohol-free root spray bigs up volume at the roots and nourishes follicles, helping to boost growth and reduce hair thinning. It cleverly combines care with big results.
Natalie, 40s: 'This is a great root-lifting product! It's easy to use and has a pleasant fragrance. When sprayed directly at the roots and blow-dried in sections, my hair had a real boost, which lasted two days and with a good shine! I'd really recommend this.'
This mist contains thickening resins to boost roots and help hair look bigger. As well as providing lift, it smoothes and makes hair more manageable when styling.
Henrietta, 40s: 'I wanted big hair and this delivered! It still looked great the next day too, plus I only needed a little bit for a big effect so it's economical.'
Best de-frizzing styling product

This can be used to style and condition hair with myriad benefits, including reducing frizz and introducing smoothness, reducing split ends, detangling and boosting shine. It also has a pleasant coconut and mango fragrance.
Karen, 40s: 'Genuinely the product I've been searching for all my life! It allows me to embrace my natural wave, but does away with the accompanying frizz that usually forces me into the vicious cycle of straightening and frizz-inducing heat damage. I loved that it acts as a heat protector, too.'
A 97 per cent natural serum with sweet almond extract, wheat bran extract and argan oil, this moisturises and strengthens to prevent flyaway, frizz and makes hair look glossy.
Janine, 40s: 'Easy to apply, with a nice scent, a little goes a long way. It made my hair shiny and frizz-free after blow-drying. It doesn't make your hands feel sticky after use either, and an added bonus is it's vegan friendly.'
Best hairspray

A blend of botanicals makes up this mineralising spray that's ideal for fine hair. It creates body and texture, produces lift at the roots, plus sleeks down any frizz. Brown sugar and rum give a fresh scent plus shine.
Michelle, 50s: 'I found this more effective to use on my damp hair rather than when it was dry – it really helped to hold my curls effectively.'
Enriched with alpha keratin 60ku to bind and restore damaged hair while protecting from frizz and humidity. Pea protein, the Indian herb gotu kola and vitamin B5 protect and give shine, while the citrus blend of essential oils keeps hair smelling fresh.
Niky, 40s: 'This was easy to apply with a fine spray. The smell was fresh and although it felt light on my hair, it lasted all day.'
Best shine booster

With sustainably sourced coconut oil to boost shine and Tahitian monoi oil to soften, plus marula oil to tame frizz, this serum instantly deeply hydrates hair and bigs up the gloss factor.
Shelagh, 60s: 'The aroma was very gentle – not too much coconut – and it gave my hair a great shine and didn't leave it looking or feeling oily. I liked the fact it uses ethically sourced ingredients.'
This golden finishing mist contains light-reflecting technology, as well as vitamins C and E, baobab and bamboo to revive dull hair and add brilliant shine without weighing hair down.
Patricia, 60s: 'I thought I might end up with gold all over my hair after using this but not so – instead, it gave my hair a lovely shine plus it felt so soft. It has a subtle woody scent.'
Blended with natural oils including coconut, avocado and olive, this weightless styling oil restores moisture, protects from heat and leaves hair looking smooth and shiny.
Catherine, 50s: 'This dry oil tamed flyaways, and the handy spray dispenser provided an even distribution. I liked that it multi-tasked as a heat protector, too.'
Best root coverage

Available in five shades, this spray touches up the greys in seconds. It's quick to dry plus water resistant so stays put until you shampoo out. Contains no ammonia, peroxide, sulphates or parabens.
Angela, 40s: 'This is the best root cover I've ever used – it sprays on evenly, covers really well and doesn't leave my hair feeling as though it has a product on it, unlike many others, which can feel like you've used firm-hold hairspray.'
This vegan-friendly formula is available in six shades. It blends and covers up greys in seconds and lasts until hair is next washed.
Natalie, 40s: 'This covered my roots but was also easy enough to cover up the stray long greys too!'
Editor's choice: Best eco haircare brand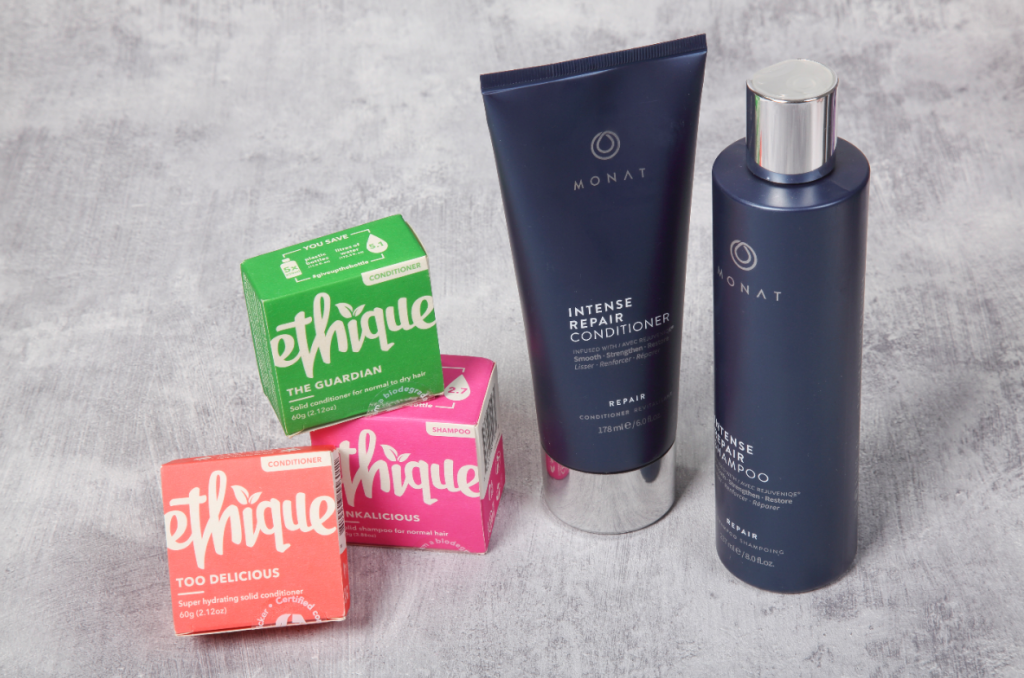 Editor Katy Sunnassee selected her top hair saviours for this award, putting the spotlight on natural, ethical and environmentally friendly brands.
Winner: MONAT (from £28)
MONAT only launched into the UK in 2018 but it has been storming both the hair and skincare scene. formulas combine the best of nature with cutting-edge science, including botanical oils that work in harmony with each other. all products are vegan, as well as free from: parabens, SLS/SLES, cyclic silicones, BHT, DEA/MEA, phthalates, triclosan, phenoxyethanol, plastic microbeads, formaldehyde releasers, harmful colours and fragrances, and any petroleum derivatives.
Editor Katy: 'The Intense Repair Shampoo is thick, creamy and uplifting thanks to an invigorating blend of lime, bergamot, rosemary and peppermint.'
Highly commended: Ethique (from £11)
Ethique is the only company in the world devoted solely to producing handmade solid beauty bars in place of liquid beauty products. The zero-waste handmade product range encompasses concentrated face, hair and body products that last up to five times longer than their bottled counterparts. Even the sleeves are 100 per cent compostable and recyclable.
Editor Katy: 'Ethique (French for 'ethical') only creates products that are cruelty-free and vegan – and made with ingredients that are 100 per cent sustainably sourced and Fair Trade, meaning no palm oil, parabens or animal by-products. the bars lather up well and leave my hair squeaky clean!'
Readers' choice: Favourite haircare range
We asked you to vote on our website for your favourite haircare brand and thousands of you logged on to let us know your favourites! And we can announce that your winning brand is…
As advertised online and on social media, one lucky entrant has won all the products featured in this article! The whole haul is worth more than £800! Congratulations to Joanne Ogden who will receive all of the above. the products will soon be on their way!