Welcome to the results of the Top Santé Skincare Awards 2019! For the past few months our panel of testers, all aged 35-75, have been using the shortlisted products and we're featuring the winners and highly commended ones. They tested them to decide which were nicest to use, best value for money and, importantly, achieved the best results!
Cleanser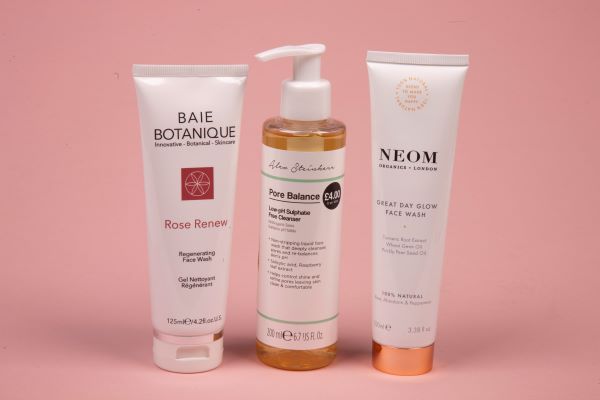 With rose water, rose absolute and rosehip seed oil, this delicately fragranced gel brightens and regenerates skin as it cleanses and removes grime. It also contains vitamin C and green tea to protect your skin.
Zoe, 40s, says: 'Refreshes and cleanses really well. Since using this, my skin feels like it's in better condition – it's less dry and less prone to red patches on my cheeks.'
Packed with natural actives including turmeric root extract, wheat germ oil, prickly pear seed oil and mandarin, rose and peppermint essential oils, this gorgeously scented light face wash minimizes the appearance of pores and gets skin glowing again.
Hazel, 30s, says: 'This smells lovely, has a light texture and does give a glow-like appearance to your skin after use. It lathers well with water and feels soft as you use it – a little goes a long way.'
It might be cheap as chips but this cleanser is no lightweight – it's formulated with proven actives including salicylic acid to get results. Tackles both shine and blackheads without stripping your skin.
Angela, 40s, says: 'The gel goes on easily, with a slight foam effect, but not too much that it's hard to rinse. My large pores were left looking more refined, and my skin felt thoroughly cleansed and fresh but not dry.'
Shortlisted
Murad Prebiotic 4-In-1 MultiCleanser (£38). This contains prebiotic powder and sugars to balance your skin's microbiome as it melts make-up and dirt.
Priori Naturally Enriched Cleanser (£40). Turmeric, green tea, liquorice, honey and aloe vera cleanse, calm and heal your skin.
Toner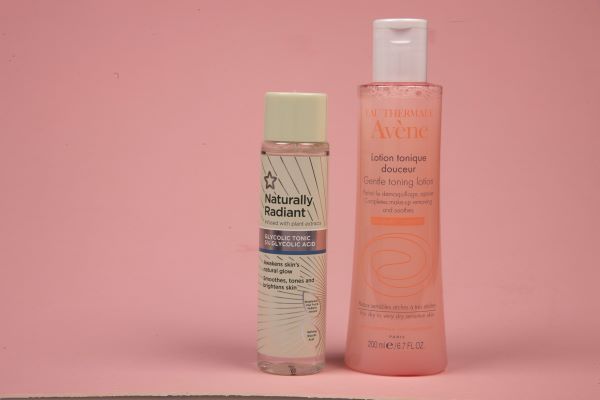 Toners have got clever – this super affordable one contains a high concentration of glycolic acid to fade pigmentation and even skin tone, plus vitamin C-rich kiwi fruit and mulberry extracts to brighten.
Janine, 40s, says: 'I wasn't expecting much from this product because of the price but I am really impressed – my skin feels fresh and clean and it looks brighter and my pores appear smaller.'
If you've previously found toners too harsh, this gentle formula is ideal for both sensitive and dry skin types. It helps remove any make-up left over after cleansing, then soothes and prepares your skin for your chosen moisturiser.
Jo, 40s, says: 'This was unlike any toner I've used before – it didn't dry out my skin like others have as it contains no alcohol. My skin felt refreshed and clean, plus it's great value for money.'
Shortlisted:
Caudalie Vinopure Clear Skin Purifying Toner (£18). Ideal for combination or blemish-prone skin, this natural toner refines with salicylic acid and grape seed polyphenols.
A'kin Rose Moisture Rich Mist Toner (£12.50). A refreshing blend of rose essence and aloe vera, this spritz calms, soothes and tones skin.
Tropic Vitamin Toner Pore Refining Mist (£14). A blend of aloe vera juice, cranberry seed extract, and vitamins B3, B5 and C –wipe off or leave to soak in.
Moisturiser – Day
This multi-tasking moisturiser targets fine lines to soften, smooth, hydrate and gives a healthy glow. Contains vitamins B3, C and E, plus aloe vera, sunflower seed, macadamia, olive and sesame seed oils.
Natalie, 30s, says: 'I love this product! It's a fantastic daily-use moisturiser with a subtle sparkle that gives an instant glow! It applied well, evened out any dry patches and my skin felt hydrated but not greasy.'
As you'd expect, this cream contains lashings of vitamin E to hydrate your skin but also features niacinamide (vitamin B3) to minimise the appearance of blemishes and pores, plus vitamin C to brighten and hyaluronic acid to nourish.
Alison, 40s, says: 'This little pot of day cream smells lovely. I could feel the refreshing cucumber and it made my skin feel fresh and nourished, exactly how it had been described!'
Shortlisted:
Baie Botanique Rose Renew Anti-Ageing Regenerating Face Cream (£32). Anti-ageing rosehip smoothes and protects while glycolic acid encourages the production of elastin and collagen.
Priori Illumination Treatment (£61). A natural formula that reduces the appearance of fine lines, sunspots and uneven skin tone thanks to turmeric complex and liquorice.
Bea Step 5 Collagen Complex Cream (£44). A wonderfully rich cream that's just the ticket for dry or mature skin, it reduces fine lines and repairs skin by encouraging cell renewal.
Moisturiser – Night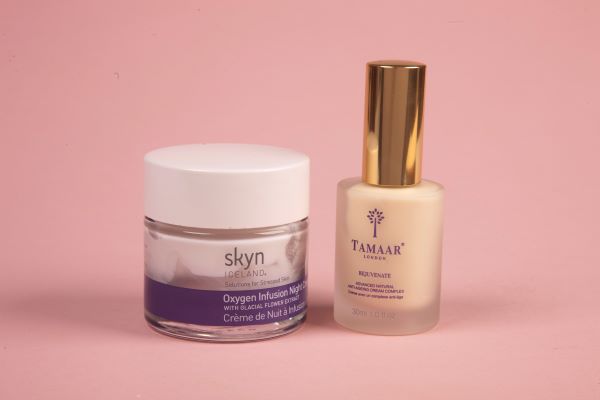 Wonderfully soothing on cool autumn nights, this light cream provides a warming sensation on application before the microencapsulated oxygen, Iceland glacial water, arctic berries, rice peptides and white willow bark get to work, calming inflamed skin and relieving from stress.
Henrietta, 60s, says: 'This product isn't cheap but the results are so impressive it's worth every penny. You only need a small amount and it instantly leaves your skin feeling hydrated and tighter in a good way. Anything that firms up my skin as I sleep is genius!'
Tamarind seed extract is a key ingredient in Tamaar's range of products where it's used to brighten and moisturise. In this cream, it's combined with date palm extract to boost collagen and boost your skin's natural defences.
Karen, 40s, says: 'I was seriously impressed with this product as it delivered on its ambitious claims to reduce signs of ageing. It genuinely seemed to visibly reduce the appearance of my fine lines and fledgeling wrinkles!'
Shortlisted:
Algenist Genius Sleeping Collagen (£88). As well as locking in moisture while you're sleeping, this smoothes and reduces the appearance of fine lines.
Diego Dalla Palma Time Control Moonlight Cream (£37, marksandspencer.com). This contains mineral-rich moonstone extract to help regenerate skin, and delivers a multivitamin complex to aid skin repair.
001 Skincare London Amino Acids & Lipids Recovery Cream (£85). A combination of shea and cocoa seed butters and plant-based oils such as lavender and patchouli help rejuvenate your skin.
Eye Rejuvenator – Day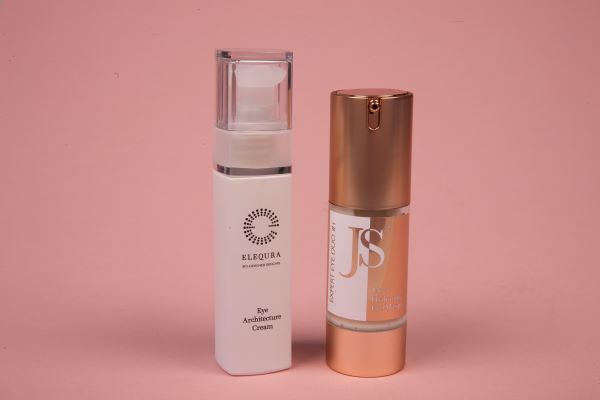 Regenerating oatmeal, healing aloe vera and antioxidant vitamin E work together to tone, moisturise and brighten delicate under-eye skin and to make you look less tired – hallelujah!
Lynne, 50s, says: 'The ultimate eye cream, this uses natural ingredients that don't cause my extremely sensitive skin to react. It really does nourish the skin and feels like a luxury treatment.'
Peptides, tamarind seed extract and an algae complex are the key players in this multi-tasking cream that hydrates, protects and reduces the appearance of fine lines, dark circles and puffiness.
Zoe, 40s, says: 'This eye cream was very easy to apply and sank into my skin, quickly leaving it feeling smooth and moisturised. It improved the appearance of my skin – fine lines and dark circles were less visible.'
Shortlisted:
Voya Bright Eyes Regenerating Eye Crème (£39.50). Seaweed extracts and antioxidant-rich seed and fruit oils tighten skin and decongest dark shadows and puffiness.
Natura Siberica Snow Cladonia Eye Serum (£11.75). The snow cladonia, a Siberian plant, in this serum contains usnic acid to regenerate, while the hyaluronic acid plumps up.
Gatineau Age Benefit Integral Regenerating Eye Cream (£67). This is a light blend of marine and caviar extracts to boost collagen production and rebalance, and to improve micro-circulation.
Eye Rejuvenator – Night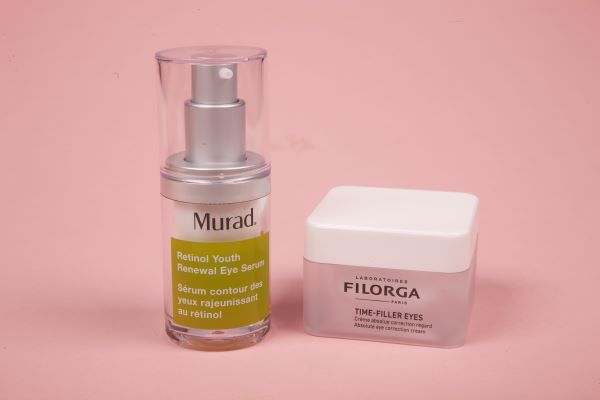 Containing a triple whammy of anti-ageing retinol – including a fast-acting retinoid and a slow-release retinol – this serum makes a beeline for fine lines. It also contains a marine kelp complex to lift and brighten dark circles.
Diana, 60s, says: 'This serum immediately felt cool and refreshing on my skin and after using it for a few days, my skin felt firmer and the dark circles had reduced. My wrinkles are beginning to smooth out too – I'll definitely keep using this!'
As well as smoothing crepey under-eye skin and plumping up and lightening under-eye hollows, this cream contains a complex to tackle upper eyelid sagging. You can apply it near the root of your lashes too to strengthen them.
Jane, 50s, says: 'My eyes felt wonderful after application and after a few days my wrinkles were less noticeable – even my husband said I looked healthier, which is a miracle!'
Shortlisted:
Caudalie Premier Cru The Eye Cream (£49). Contains a who's who of effective ingredients: hyaluronic acid to hydrate, caffeine to reduce puffiness, avocado oil to nourish and resveratrol to firm.
Alpha-H Liquid Gold Firming Eye Cream (£52). One to turn to if you'd like to brighten your eyes – it contains illuminating diamond particles and antioxidant brighteners such as cucumber and white mulberry.
SkinSense by Abi Cleeve (£26). This formula contains 0.05 per cent encapsulated retinol to plump and diminish fine lines.
Facial Oil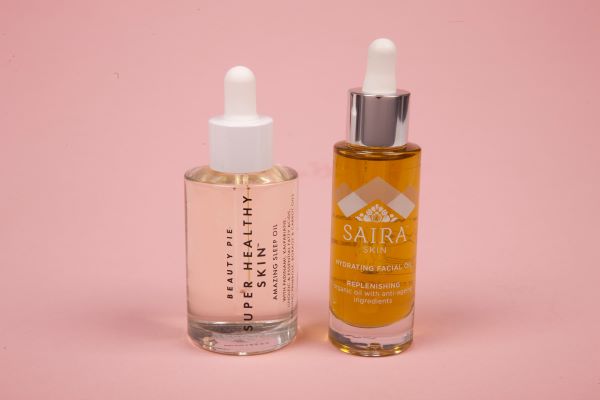 Add a few drops of this lightweight oil directly to your skin or combine with your night cream and let the algae extracts improve the appearance of skin firmness while the vitamin-rich apricot kernel, carrot, evening primrose and sesame oils hydrate.
Emily, 40s, says: 'The pipette gave a quick application and the understated, citrus fragrance didn't linger on the pillow. My skin felt extra moisturised compared to when just using a night cream, and by the morning felt nice and soft.'
Inspired by Himalayan wisdom, this anti-ageing oil contains organic oils such as mulberry, fig, pomegranate, apricot kernel and sweet almond to nourish plus 19 essential oils including neroli, cedarwood, black pepper, cinnamon, rose and orange to calm and soothe.
Lynne, 50s, says: 'This absorbs very quickly into your skin to leave it feeling plump, supple and smooth. Using it under foundation gives you a dewy look.'
Shortlisted:
This Works Stress Check Face Oil (£40). A therapeutic fragrance of neroli, patchouli, lavender, vetivert and chamomile, and botanical oils to nourish and calm.
Kiss The Moon Love After Dark Face Oil (£48). Formulated with mature skin in mind, this contains a sleepy blend of rose, frankincense and ylang ylang oils, plus rosehip seed to rejuvenate.
Emma Hardie Brilliance Facial Oil Overnight Treatment (£39). A beautifully fragranced blend of palma rose, orange, mint, vanilla, geranium, chamomile, lemon, rose, lavender to balance and intensely moisturize.
Serum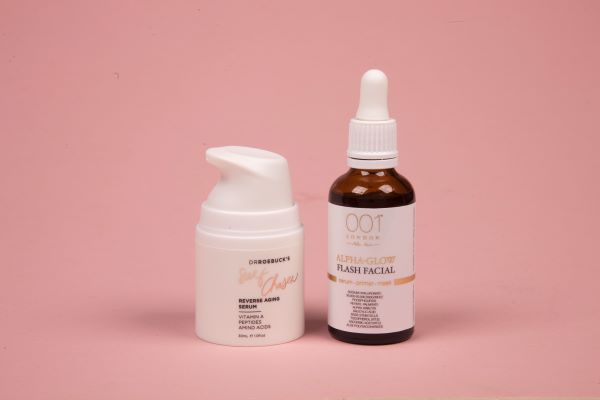 This gel serum promises to deliver that youthful Aussie spirit courtesy of vitamin A and amino acids to stimulate collagen production and reduce the appearance of fine lines, plus peptides to smooth and plump up the skin.
Claire, 40s, says: 'This smells like sunshine! It's lovely and light, absorbs fast and one pump is enough for full face and neck. I noticed a reduction in fine lines and my skin was definitely brighter and more glowy. Would buy again.'
More than a serum, this can be used as a primer and a mask thanks to its nine superhero ingredients that simultaneously target four main skincare concerns: dehydration, collagen depletion, pigmentation and inflammation.
Gill, 60s, says: 'I absolutely love this. Only three drops per application go a long way. It has a beautiful rose fragrance, which reminded me of my childhood and long summer days. I'm sure it brightened my skin, plus it has a cooling effect.'
Shortlisted:
Vitamin Injections Vitamin B Miracle Serum (£39). Ideal for combination or oily skin – with niacinamide (vitamin B3) to reduce the appearance of blemishes.
Korres Wild Rose 15% Vitamin C Advanced Brightening Bi-Phase Booster (£46). Powerful antioxidants vitamin C and wild rose oil both help brighten and even skin tone.
The Body Shop Roots of Strength Firming Shaping Serum (£32). Soya oil, a rich source of fatty acids, ginger and ginseng, moisturise, strengthen and firm skin, as well as smoothing fine lines.
Face Mask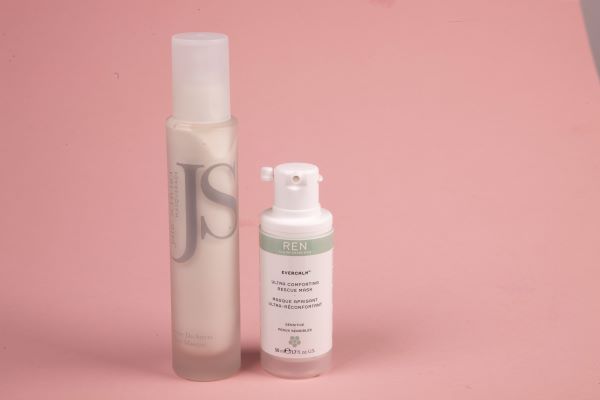 Stress can make your skin look dull and unbalanced so this clever mix of French clay, witch hazel, rosehip and vanilla is just the ticket for decongesting, balancing sebum production and repairing. Leave on for up to 15 minutes.
Diana, 60s, says: 'I really liked this as it was quick to use and my skin felt amazing afterwards. Unlike other masks, this didn't dry and tighten on my face and after washing it off my skin was left feeling soft and looking radiant.'
This mask is like a cosy blanket for sensitive skin, with its white mushroom extract to protect against irritation and arnica to soothe. As well as calming and moisturising, it strengthens your skin's natural barrier function.
Katy, 40s, says: 'This was just what my dry skin needed! Comforting and creamy, it sank into my parched complexion. My colleague commented the next day about how good my skin looked!'
Shortlisted:
Tropic Deep Hydration Soothing Cooling Mask (£20). Australian superberries brighten skin and the cream-gel formula provides an intense moisturizing hit.
Vida Glow Red Algae Marine Collection Antioxidant Rich Hydration Mask (£37.95). Red algae, grapeseed and coconut oils, cocoa and shea butters and green tea deeply hydrate, repair and protect dry, flaky skin.
Antipodes Aura Manuka Honey Mask (£31). Manuka honey draws moisture to your skin and helps retain it, plus is a natural anti-inflammatory – use this mask to treat blemishes and condition.
Lip Rejuvenator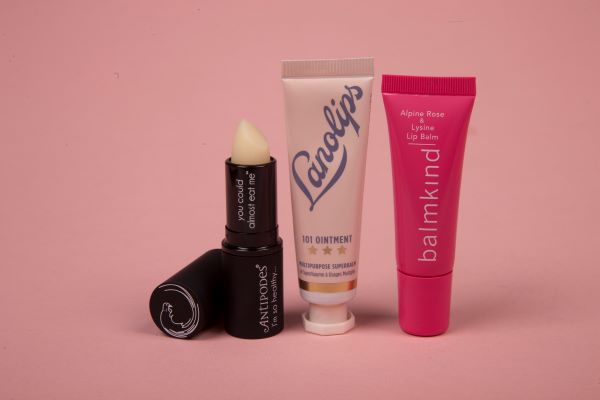 As its name suggests, this hydrating balm is more than just a lip moisturiser – the pure lanolin balm can tackle the driest of cuticles and nails, the most cracked heels and the sorest of cold-ridden noses as well as relieving chapped, flaky lips.
Claire, 60s, says: 'This moisturised my lips well and can go over lipstick to make lips shine. It's also useful for patches of dry skin and cuticles. Pampering in a tube!'
Kiwi seed gives lips a burst of omega-3, and vitamins C and E to soften and protect against water loss while avocado oil moisturises and stimulates collagen production. It also has a nice, fresh kiwi fruit fragrance!
Alison, 50s, says: 'This is a lovely, natural balm and so much nicer than petrochemical-based products.'
Lip specialist Balmkind eschews mineral oils in favour of fruit and flower oils to deliver moisture. Alpine rose is an anti-inflammatory while lysine is an amino acid that helps encourage collagen production and elasticity. Liquorice root soothes and brings a touch of sweetness to the balm.
Lizzie, 60s, says: 'Smells and tastes nice and it absorbs really well, leaving lips feeling soft and slightly moist.'
Shortlisted:
Vida Glow Red Algae Marine Collagen Nourishing Lip Balm (£11.95). Sweet almond, coconut and castor oils hydrate, while shea and cocoa butters soften and marine collagen stimulates collagen and elastin production.
Tropic Lip Fudge Plumping Lip Conditioner (£12). Contains 26 plant extracts to restore and protect dry, cracked lips.
Lip Product with SPF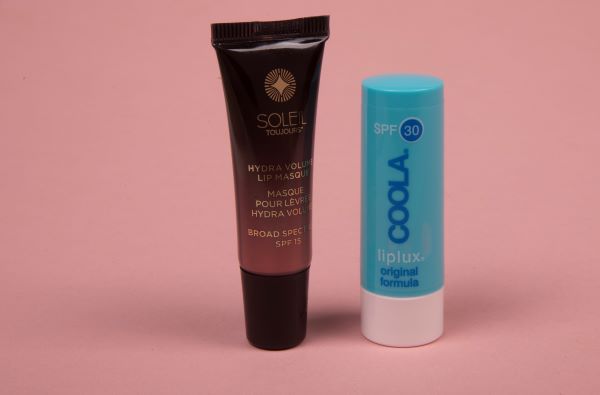 Aussie brand Coola knows how to protect skin from harmful rays, and this high-factor lip treatment uses raspberry, coconut, jojoba, sunflower and avocado oils plus shea butter and aloe vera to give lips a protective antioxidant blast.
Yvonne, 50s, says: 'This was very effective, moisturised my lips and smelled lovely. It comes in a big fat sticks so lasts quite a while.'
Available in six colours, this cream contains a mineral filter, zinc oxide, to block UVA and UVB rays to protect lips from burning and from cell damage. Hyaluronic acid, sunflower seed and coconut oils plus red algae, vitamin C ester and vitamin E help to retain moisture and fill fine lines.
Jane, 50s, says: 'Wow – this is the most amazing lip product I have ever used. It feels wonderful on my lips, which are so moisturised and plumped. I will buy this product forever!'
Shortlisted:
EOS Pink Grapefruit Active SPF30 (£6.50). Offers 80 minutes of sweat and water resistance, this is enriched with jojoba oil and shea butter to soften and hydrate.
Balmkind Alpine Rose & Lysine Lip Balm SPF20 (£13). Free from mineral oil, this contains fruit and flower oils and extracts, plus hydrating oat lipids and calming liquorice.
Exfoliator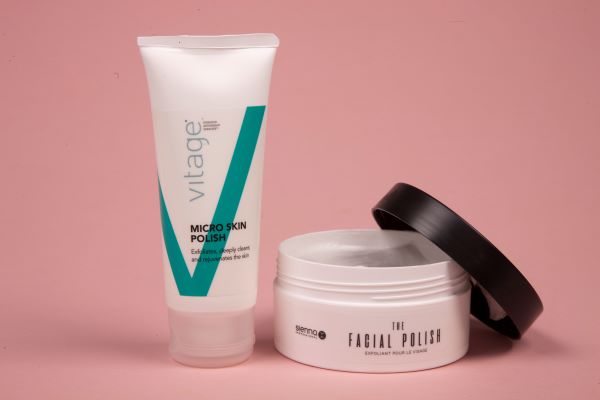 Volcanic rock minerals slough away dead skin cells with the help of pomegranate enzymes and a fruit acid blend of bilberry, sugar cane, sugar maple, orange and lemon, which encourages cell renewal. This can also be used as a mask that's left on for five minutes before massaging and rinsing off.
Becky, 40s, says: 'This is a lovely product – it really gets rid of all the dry skin cells, leaving my skin feeling smooth and refreshed.'
Micronised diamonds and pearl powder physically remove dead skin cells, refine skin tone and leave it feeling smooth and ready for your next layer of skincare. It's suitable for all skin types and can be used 1-3 times a week, depending on need.
Angela, 40s, says: 'I loved that it contains micronised diamonds and pearls – it made me feel pampered! My sensitive skin felt deeply cleansed and brighter. A little goes a long way so it lasts a long time, making it good value for money.'
Shortlisted:
Kate Somerville Exfolikate Intensive (£72). A powerful blend of papaya, pineapple and pumpkin enzymes, lactic and salicylic acids and silica both physically and chemically exfoliate and smooth out your skin.
Dermalogica Daily Superfoliant (£55). This powder transforms into a paste that resurfaces your skin courtesy of AHA acids, while charcoal purifies and red algae protects against pollutants.
Voya Luminosity Refining Radiance Exfoliator (£39). Using pineapple and seaweed enzymes, this gentle exfoliator not only shifts dead skin cells but reduces the appearance of pores.
Sunscreen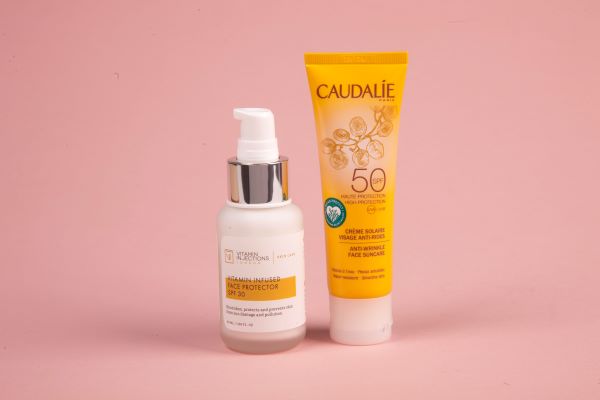 Zinc oxide and titanium dioxide protect against the sun's rays while alpha arbutin protects against pollution and reduces the appearance of pigmentation. Vitamins C and E help condition and nourish skin while you're in the sun.
Yvonne, 50s, says: 'I loved this – it felt nice to use, moisturised my skin and left it with a healthy glow. It had none of the hard-to-rub-in problems of some facial skincare plus it didn't irritate my eyes, which I find some other SPFs can.'
A marine-friendly formula, this filters high levels of harmful UVA and UVB rays. It's a joy to use courtesy of the organic grape water, which soothes and helps keep the formula light, plus the frangipani flower fragrance brings on the summer vibes.
Karen, 40s, says: 'This soaked into my skin instantly, and I was able to apply my regular make-up on top as usual, without clogging. My skin didn't get greasy as the day went on, and was able to breathe. I was pleasantly surprised by the price.'
Shortlisted:
REN Clean Screen Mineral SPF30 (£30). Protects courtesy of zinc oxide, which acts as a physical shield for your skin, and yellow passion fruit seed extract, which help promote your skin's defence system.
Avon Anew Solar Advance Ultra Matte SPF50 (£10). This mattifying formula doesn't leave your skin feeling greasy like so many high factors can plus it's tinted to help your skin look glowing.
Ultrasun Face Mineral SPF50 (£26). This light, natural formula is certified organic and is free from preservatives and perfume, making it ideal for sensitive skins.
Skin-toning Gadget
This small device combines red light therapy with massage and heat to help your skin cream penetrate more deeply. It's designed to stimulate fibroblasts that contribute to collagen production.
Katy, 40s, says: 'This is super-lightweight. The soft drawstring pouch makes it portable too. It vibrates on contact making it safe and effective. I also use it on the line on my forehead. It really makes a difference and I'll keep using it!'
Highly Commended: BeGlow TIA (£199)
This device uses dual-pulse technology to cleanse and massage your skin. It comes with a hygienic, replaceable silicone brush head and there's a titanium surface to massage in moisturiser and rejuvenate your skin.
Yvonne, 50s, says: 'This made more of a difference to my skin than anything I've tried. From first use my skin felt softer and over the following weeks it just looked fresher. It's a beautifully designed little gadget that's a pleasure to use.'
Editor's Choice: Best Green Beauty Brand 2019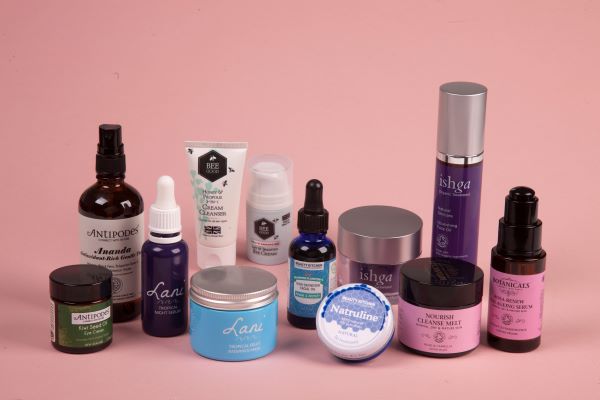 This British brand is a certified B-Corporation, company, leading in terms of sustainability, equality and using business as a force for good. you can send back your empties to be washed and reused, cutting down on waste.
Katy says: 'I love the products in this range, especially the lip balm in a tin, which looks similar to its un-natural counterpart but contains no petroleum. The cleanser is rich and nourishing – great for my dry skin. Top ingredients in the range include micro-algae and seaweed, Abyssinian oil, white clay and coconut oil.'
Highly Commended: Ishga (from £19.50)
Ishga uses organic, hand-harvested, Hebridean seaweed in their products, which is abundant in vitamins, minerals, amino acids, antioxidants and eFAs to offer hydrating, skin-renewing properties. It also uses potassium and magnesium-rich spring water from the Isle of Lewis. The brand has Soil Association accreditation and is against animal testing.
'The rich night cream and serum were among my favourite products from this Scottish-made range. The serum really did smell of the sea and had a more watery texture than other serums I've used but it left my skin looking smooth and dewy the next morning! These will be ones I'll continue to use.'
Shortlisted:
Antipodes – Grown and made in New Zealand, these products contain mostly organic ingredients, including Vinanza grape, avocado oil, kiwi seed oil and manuka honey. 'Antipodes was one of the original natural beauty pioneers, paving the way for brands to come. The cleansers are fantastic.'
Botanicals – Glass jars and bottles are used for most products; any plastic is recyclable. All packaging is either compostable or recyclable, too. 'This range is 100 per cent natural and organic and hand-crafted in Leicestershire. The shea butter used is sourced from Africa providing work to women there. The serum and toner are my faves.'
Bee Good – Ingredients are sourced from UK beekeepers and farmers. They're all free from synthetic colours, mineral oil, silicone, SlS and SleS and parabens, and there's no bee venom or royal jelly, the extraction of which is harmful to bees. 'The lip balm, eye cream and moisturiser are my faves from this light, yet nourishing British range.'
Lani – This small, handmade skincare range contains food-grade ingredients and is free from parabens, synthetic fragrances, silicones, mineral oils and animal-derived ingredients. 'Everything is in glass bottles or jars and is also water-free. I loved using the fruit-based exfoliating powders that do away with dull, dry skin.'
Readers' Choice:  Favourite Skincare Range
This beauty range has impressed our readers, who voted online, with its enriching products made with natural ingredients. The Herbalife formulas are made with vitamins, botanicals and extracts and the brand takes great pride in the quality and traceability of its ingredients. The range includes a soothing aloe cleanser, a berry scrub and a herbal toner along with a line-minimising serum and a replenishing night cream.