Struggling to stick to an exercise regime? Tennis star Judy Murray shares her top tips on overcoming barriers and finding motivation on your fitness journey…
By Judy Murray
A summer of sporting success
Summer 2021 will be remembered as one of national sporting success. We came together and watched new – and existing – heroes and sheroes emerge and triumph at the Olympics, the Paralympics, the Euros and the Grand Slams.
I was obviously captivated by the achievements of Emma Raducanu in New York and by our sensational GB athletes in Tokyo, who reminded us all of the importance of opportunity, teamwork, determination, ambition and dedication.
After such an inspiring summer of sport, it is great to see more and more people of all ages, stages and backgrounds trying out new activities from skateboarding and cycling to climbing and tennis.
We couldn't have had a more perfect lead up to National Fitness Day last week, which was a time to come together to break down the barriers that stop us moving more, helping us reap the many and varied mental and physical health benefits that regular exercise can offer.
"National Fitness Day was a time to come together to break down the barriers that stop us moving more." – Judy Murray
So, let's get up, get out and get active doing something we enjoy with people we enjoy being with. For me it's either a leisurely cycle with friends, a dog walk or a bop around the kitchen to my favourite (70s) tunes.
I'm a huge believer in the power of sport and physical activity to bring people together. As an ambassador for the Nuffield Health Healthier Nation Index, I am keen to ensure that everyone is able to improve their own physical and mental health, at every stage in their life and whatever their circumstances. And whilst the summer has hopefully had a great impact on encouraging people to get moving, there is still a long way to go.
Barriers to fitness motivation
That said, it is not surprising that during the last 18 months we have found it harder than ever to be motivated to move. Overnight, our lives changed – possibly forever – and we spent almost all of our time within the confines of our homes. I willingly admit to finding it far too easy spending way too much time on the sofa surfing Netflix and reaching for a glass of wine or an extra chocolate biscuit when boredom set in!
Interestingly, data from the Index showed that one in four over 55s had not done any exercise over the past year. Sometimes I find it hard to motivate myself on cold Scottish mornings. To overcome this I arrange to go swimming, walking or cycling with friends so we can integrate our daily fitness routines with a good old chinwag over coffee afterwards.
1 in 4 over 55s had not done any exercise over the past year.
41% of people surveyed also said their mental health is worse than a year ago. If you are feeling down and you go to speak to a doctor, almost always their first piece of advice is to get out in the fresh air and take some exercise. My tip is to take a friend with you and leave your phone at home.
The combination of fresh air, exercise and socializing can help to clear your mind, lower your blood pressure, lower your heart rate, help with sleep problems and reduce anxiety and depression, and help you to manage stress, especially if you are sharing your problems with a friend.
The health of your mind and body are intrinsically linked and studies are increasingly acknowledging the many and varied benefits of social connections.
The link between exercise and mental health
I spend much of my time sharing my passion for sport with kids, teens and adults. There is a lot more information, action and education available now so it's encouraging to see that the younger generation are much more aware of the link between the benefits of exercise for mental health.
I am concerned that many of our older population have not yet got to grips with this, perhaps because mental health was often a taboo subject in their youth and not discussed as openly. I hope that the strength shown by many role models recently, such as Simone Biles in withdrawing from the Olympics, will be a turning point for sportspeople and beyond to prioritise their mental health.
But I think it sends a really important signal to everyone – that strength can come from acknowledging struggles. I would encourage everyone to focus on what and who makes them feel good, and include that into their daily routine.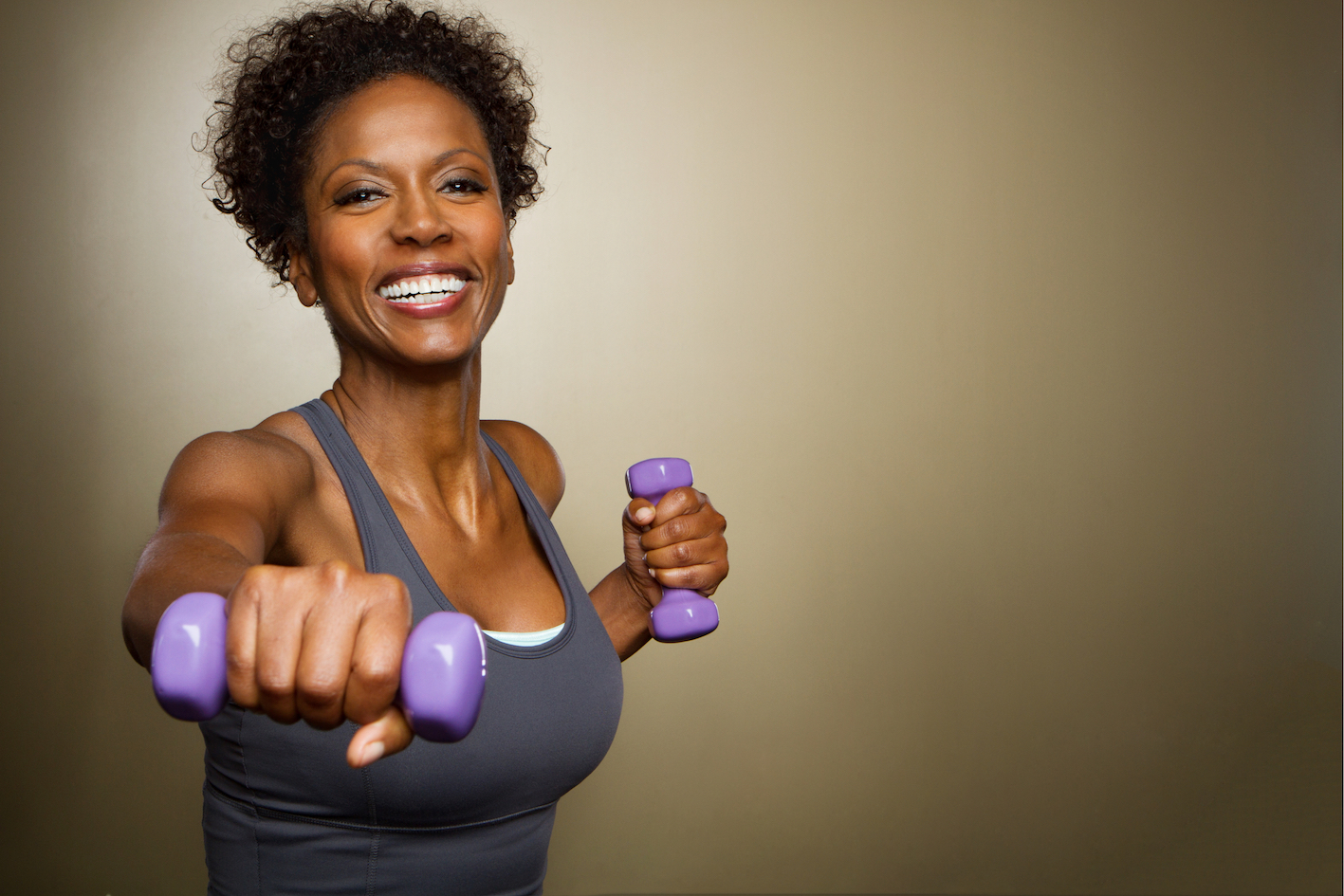 Finding motivation for fitness
The Index found that lack of motivation or energy was another big barrier to fitness, especially for women. In my experience I have found that intrinsic fitness motivation is the most important kind of driver. So, don't focus on how you look – rather on how exercise makes you feel.
Mixing up my routine, challenging myself to try new things and learn new skills helps me stay upbeat, engaged and alert. When lockdown hit one of the first things I did was buy my mum an iPad do simple dance type exercises to YouTube videos in her kitchen to keep active and energised.
Throughout my own life I have enjoyed all sports, especially team sports. My time on Strictly Come Dancing gave me a new love of exercising to music. I know the new season is about to start, so why not find a virtual dance class, visit your local ballroom or Zumba class?
Fitness does not have to involve sweat, lycra or pain. It's about finding something that's fun and doing what you can, when you can in an environment that allows you to thrive.
"Fitness does not have to involve sweat, lycra or pain. It's about finding something that's fun" – Judy Murray
This time of year always feels like a natural time to reset. So, after a successful National Fitness Day let's all make a promise to ourselves that we will take stock, reset, get together and invest in our physical and mental health.
But let's not stop there. Let's encourage our family and friends to do the same! That way, we will all be ready to enjoy our new freedoms as we leave the lockdown blues behind!
Nuffield Health's digital hub is packed full of resources and expert advice aimed at supporting families and communities to come together again, helping to look after one another's health and wellbeing.