Tired of resolving to go on a strict diet in January? We don't blame you. It's cold and windy enough without going hungry, too. But hitting refresh on your eating habits needn't be restrictive with this healthy meal plan, says dietician Lola Biggs…
Come January, many people often make a bunch of new year resolutions, commonly centred around what they are eating. Festivities from the month before can take their toll on your eating habits, and you may feel overindulged.
Taking a moment to revamp your diet and be mindful of what you are eating during this time can only be a good thing. However, putting in place an intense and highly restrictive eating plan and major diet changes is not a good idea.
During this time, the days can be cold and light, and warmth can be scarce. This can affect your mood, which in turn effects your eating habits, frequently leading to you reaching for warming and comforting foods, not light and cold salads.
Also, during this time your nutrient resources can take a dip, especially vitamin D3, which is essential for balancing mood and immune system, among many other things.
Revamping your eating plan for January with spices such as turmeric, fresh herbs, omega-3 sources, including oily fish, and protein-rich plants such as nuts, seeds, beans and pulses can provide the body with the needed post-festivities nutrient boost while being a good base for comforting recipes.
Low-calorie, extreme shifts in diet have also been linked to reduced immunity in the short term, which is a no-no in the bleak winter months. Stick to nourishing, warm soups, wholesome curries and subtly spice-roasted root veggies, alongside slow-release carbohydrates.
By revamping rather than restricting, you are more likely to stick to these healthy diet boosts long term, and the body will thank you for it. Try this healthy meal plan to fill your January with nourishing nutrition…
7-day healthy meal plan
Revamp your eating habits with this healthy meal plan by Lola Biggs, dietitian at natural health supplement brand Together Health – it's one resolution you'll find easy to stick to!
Monday:
Breakfast: Heat up in a pan a handful of jumbo rolled oats with 1 tsp of cinnamon, 1 Together Health Curcumin & Whole Turmeric Root (£9.99) capsule (emptied), 1 tsp of coconut oil and a pinch of salt. Add a cup of water and 1/2 cup of milk/ milk alternative and simmer until oats are soft. Serve with 1 tbsp of raw honey and sprinkling of coconut flakes.
Lunch: Put fresh or tinned mackerel into a bowl and squeeze over half a lemon, then add in a handful of chopped spinach, salt and pepper, 1 tbsp of live yoghurt and 1 tsp of capers. Toast the rye bread and top with the mackerel mixture. Add toasted pumpkin and sunflower seeds for an extra omega hit.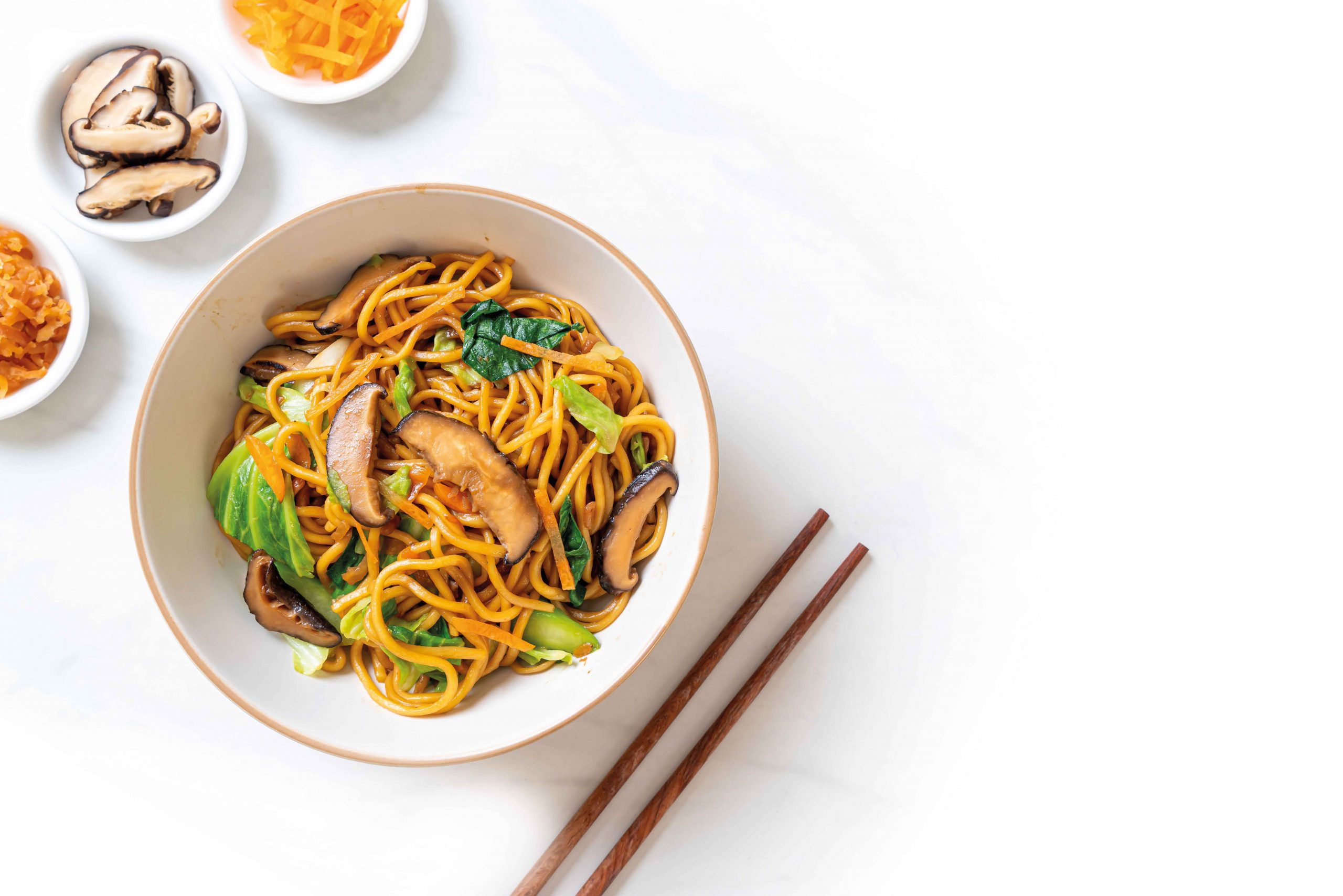 Dinner: Cook some noodles according to pack instructions, rinse with cold water and set aside. Bring a wok to high heat and drizzle in some sesame oil. Add sliced shiitake mushrooms, red onion, broccoli, ginger, 2 garlic cloves and 1 chilli. Add 1 tbsp of soy sauce and some sesame seeds, toss vigorously, then add the noodles. Serve with a squeeze of lime juice and roasted peanuts.
Tuesday:
Breakfast: Grate 1 apple with skin on into a bowl, squeeze in half a lemon and mix. Grill 1 slice of rye bread and spread a generous amount of calcium-rich sesame tahini. Spread apple mix onto toast and eat warm.
Lunch: Baked butternut squash and toasted seeds with sautéed kale (serves 2)
This midday meal packs a flavoursome punch and makes a great addition to any healthy meal plan…
Ingredients:
1 butternut squash
Olive oil, for drizzling
1 tbsp honey
½ tsp cumin
1 tbsp sesame oil
½ garlic clove, crushed
Two handfuls of kale
Pomegranate molasses, optional
Method:
Preheat the oven 200°C/180°C fan/gas mark 6. Cut the squash in half, deseed and season the flesh with salt, pepper, a drizzle of olive oil and 1 tbsp of honey. Bake for 45 mins until soft.
Meanwhile, wash the pulp from the seeds, add to a bowl and sprinkle with salt and pepper, a good drizzle of olive oil and cumin. Mix and add to a baking tray. Roast in the oven for 15-20 mins, turning over halfway through and remove when golden. Set aside for 5 mins before serving.
In a skillet or frying pan, heat 1 tbsp of sesame oil, 1/2 a clove of crushed garlic and two large handfuls of kale. Toss around the pan, coating with hot oil to sauté, then put either a lid on the pan or a large plate on top and reduce the heat.
Remove the baked squash from the oven, top with the sautéed kale and sprinkle with the roasted butternut squash seeds and a drizzle of pomegranate molasses!
Dinner: Make a veggie chilli using 2 garlic cloves, half an onion, 1 chilli, 1 tsp of turmeric, 1 tsp of smoked paprika, a tin of chopped tomatoes and a cup of water. Next, add some polenta in a slow stream to a pan of simmering milk and water and cook until tender. Remove from heat, stir in some olive oil and Greek yoghurt. Serve with the chilli.
Wednesday:
Breakfast: In a non-stick frying pan, bring half a tin of chopped tomatoes to a simmer with a glug of olive oil. Add salt and pepper and a handful of spinach and wilt for 1 min. Make two gaps in the sauce and crack two free-range eggs into them. Leave for 1 min, then grate some cheese on top and finish under the grill for 2 mins.
Lunch: Create a soup with 1/2 a diced onion, 2 celery stalks, chopped, and 2 garlic cloves, crushed. Soften in a pan, then add 1 tsp each of cumin, turmeric, cinnamon, coriander and mild chilli powder. Add tinned tomatoes and two chopped carrots. Bring to simmer, then add 1/2 a drained tin of butter, kidney and borlotti beans. Cook for 45 mins on low heat, then serve with 1 tbsp of crème fraiche and fresh herbs.
Dinner: Make spelt crepes by whisking together 1 cup each of spelt flour, water and milk/milk alternative, 1 egg and a pinch of salt. Grate 2 carrots and 1 courgette and add to a bowl with 2 handfuls of spinach. Season and add some nutmeg, feta and a squeeze of 1/2 a lemon. Make the crepes in a pan with coconut oil. Add 2 tbsp of the veg mixture on one half of the crepe, folding over and sealing.
Thursday:
Breakfast: Potassium and banana pancakes (serves 2)
Start your day on a healthy (and tasty!) note with these scrummy pancakes…
Ingredients:
100g rolled oats
1 banana, ripe
One egg
1 tsp baking powder
1 tsp raw honey, optional
Method:
Combine rolled oats, 1 ripe banana, 1 egg, 1 tsp of baking powder and a pinch of salt in a blender or food processor and blend until smooth and thick.
Over a medium-high heat, fry a spoonful of the mixture at a time in 1 tsp of coconut oil, until golden brown on both sides and cooked through. Set aside and keep warm on a plate. Repeat until all the mixture has gone.
These are often sweet enough, but for added guilt-free indulgence top with 1 tsp of raw honey for extra immune-boosting benefits.
Lunch: Cook some wild rice as per pack instructions. In a separate pan, toast some flaked almonds, then chop up 3 dried apricots with fresh mint. Once the rice is cooked, drain, and set aside. In a skillet,  heat a glug of olive oil, add some turmeric, grated ginger and roasted cumin. Add the rice, apricots, mint and almonds, and heat through. Squeeze over 1/2 a lemon and toss together. Serve with Greek yoghurt.
Dinner: Fry some sliced halloumi in a non-stick pan, drizzle with olive oil and fresh lemon juice and pepper. Toast two pitta bread pockets, slice in half and fill with generous amounts of houmous, roughly chopped spinach and the cooked halloumi.
Friday:
Breakfast: Sauté a handful of sliced mushrooms with salt and pepper and a glug of olive oil. Chop any fresh herbs to hand – parsley and tarragon work well – add to pan with 1 tbsp of crème fraiche and mix well. Serve over sliced toast.
Lunch: Preheat oven to 200°C/180°C fan, and place peeled, fresh beetroot, cut into quarters and drizzled with olive oil, a splash of balsamic vinegar and seasoning, in the oven for 25-35
mins. Make quinoa as per pack instructions and set aside. Toast a handful of raw cashew nuts and add 1 tbsp of tamari paste to coat them and serve with the quinoa and beetroot.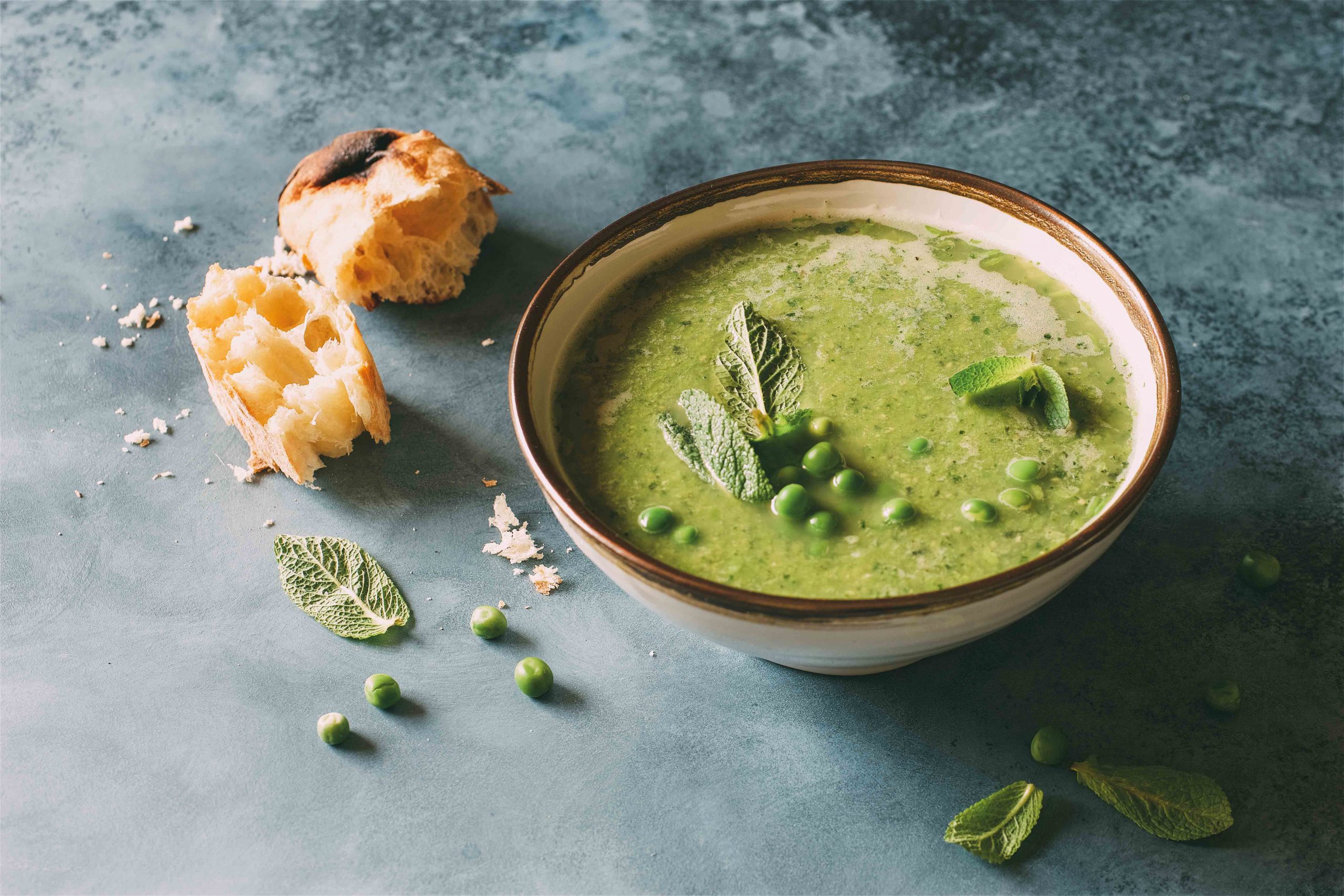 Dinner: Easy, peasy pea and mint soup (serves 2)
Whip up this simple soup for a cosy and satisfying meal…
Ingredients:
Olive oil, for cooking
1 onion, chopped
2 garlic cloves, crushed
140g frozen peas
500ml vegetable stock
Handful fresh mint
2 tbsp Greek yoghurt
Soda bread, toasted
1 tbsp houmous
Method:
Add a glug of olive oil to a saucepan and add 1 chopped onion and 2 cloves of crushed garlic. Once softened, add two cups of frozen peas and stir, seasoning well with salt and pepper.
Add 500ml vegetable stock and simmer for 15 mins. Then blend half of the liquid mixture with roughly chopped fresh mint and 2 tbsp of Greek yoghurt.
Mix the blended half back into the saucepan, with the remainder left in the pan. Stir till evenly mixed and serve with toasted soda bread topped with a dollop of houmous.
Saturday:
Breakfast: Add 1 cup of uncooked quinoa to a pan, with 1 tsp of cinnamon, 1/2 tsp of nutmeg, a pinch of salt and 1 cup of milk alternative. Bring to the simmer and continue to cook on low heat like you would porridge. Serve in a bowl and top with grated pear.
Lunch: Preheat oven to 200°C/180°C fan. Rub olive oil and salt onto a medium-large sweet potato and pierce 10 times with a sharp knife. Bake for 45 mins or as long as you can wait. In the meantime, finely chop up any fresh herbs to hand and mix into 2 tbsp of cottage cheese and potentially some sultanas for a fruity twist.
Dinner: Preheat oven to 200°C/180°C fan and roast 2 salmon fillet foil parcels made up of a dash of olive oil, lemon juice, spinach leaves and seasoning for 15-20 mins. Meanwhile, simmer tinned butter beans, parsley and a cup of vegetable stock in a saucepan. Serve the beans with the foil parcels and some steamed green beans.
Sunday:
Breakfast: Grill some vine tomatoes in the oven, drizzled with olive oil and herbs. In a frying pan, add 1 tbsp of coconut oil, 1/2 tsp each of cumin, coriander and turmeric, and seasoning. Then, stir in some crumbled tofu. Cook over a medium-high heat for 10 mins. Serve the tofu scramble with the tomatoes and brown bread.
Lunch: Make a vegan curry with 3 garlic cloves, 2 tbsp of ginger and 1/2 an onion, mixed with 1/2 tsp each of cumin, turmeric, coriander and curry powder in a cup of water. Add drained canned chickpeas, with 1 tin of chopped tomatoes. Simmer for 30 mins. Add 1 tbsp of creamed coconut, stirring for 5 mins. Serve with wild basmati rice.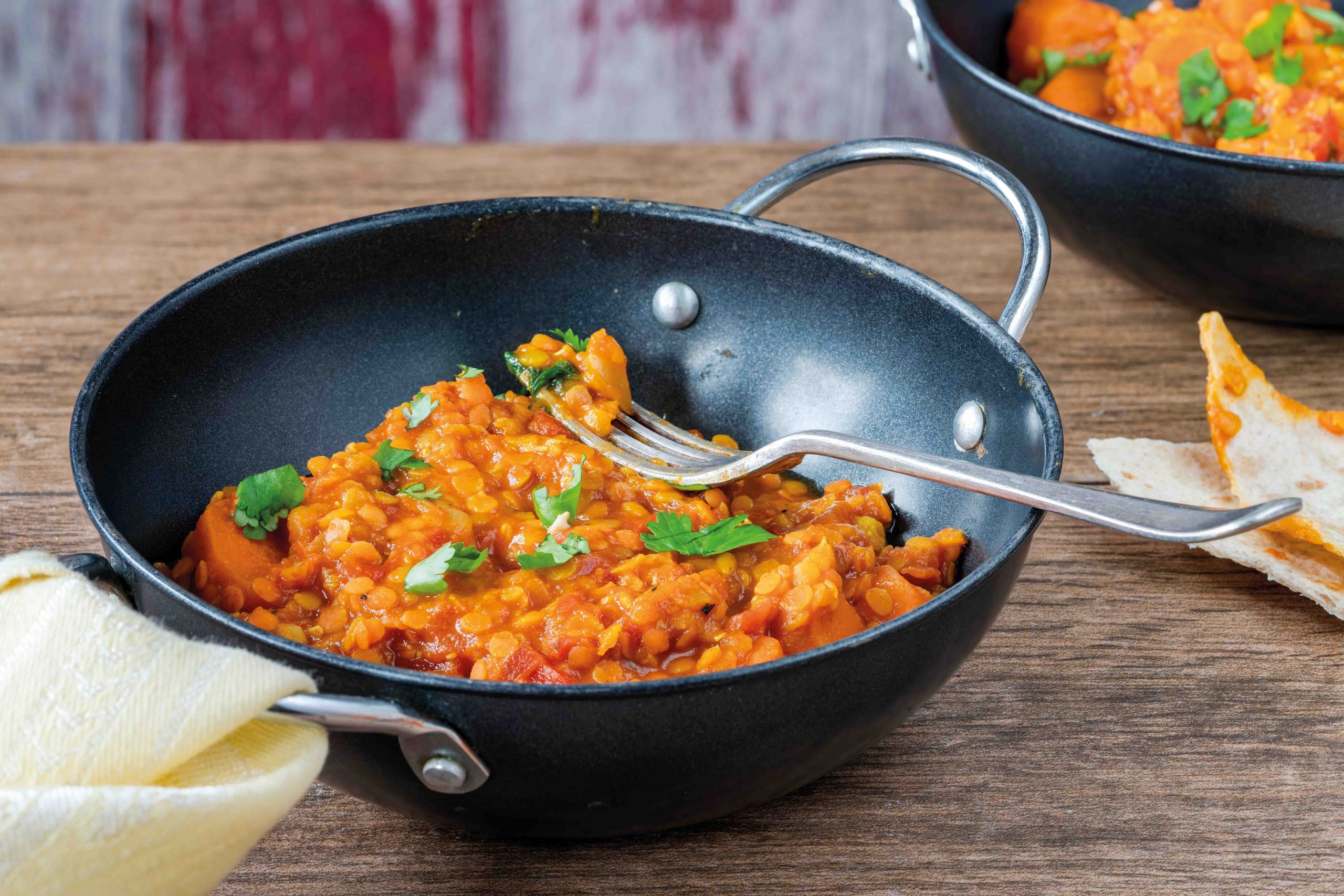 Dinner: Comforting red lentil dahl (serves 4)
This warming dahl is the perfect warming January meal to finish out this healthy meal plan…
Ingredients:
1 onion, diced
1 chilli, finely diced (or use dried chilli flakes)
2 garlic cloves, crushed
1 tsp cumin seeds
1 tsp mustard seeds
One and a half tsp garam masala
1 tsp coriander seeds
1 tsp turmeric
250ml vegetable stock
400g can of chopped tomatoes
200g red lentils
400g can of coconut milk
Two handfuls of spinach
1 lemon, juiced
Live yoghurt, for serving
Method:
Gently fry 1 diced onion in coconut oil until soft, then add the crushed garlic and sliced chilli (or dried chilli flakes).
Add 1 tsp each of cumin, mustard and coriander seeds to a mortar and pestle and crush to a powder. Add these, as well as the garam masala and turmeric, to the frying pan, stir together and cook for 1 min.
Next, add the hot vegetable stock, canned tomatoes, the dry red lentils and can of coconut milk to the plan. Stir well and simmer for about 15-20 mins, until thick.
Add two big handfuls of spinach and juice of 1 lemon to the plan. Stir until the spinach has wilted. Serve the dahl and top with extra chilli and dollops of live yoghurt.