Does your digestive system tend to suffer as a result of overindulgence during the Christmas period? Keep these gut-supporting supplements to hand to help alleviate any digestive issues and bloating…
Ease stomach cramps caused by Christmas overindulgence
The Organic Pharmacy Digestaid Tincture (£16) eases digestion and promotes the normal function of the digestive system. This is thanks to a formula that includes peppermint, ginger, chamomile, fennel and lemon balm.
Soothe your gut and recover from tummy bugs faster
Inessa Advanced Biotic Complex (£38.99 for 30 capsules) contains 50 billion live organisms from seven strains, including five billion saccharomyces boulardii cultures. This provides effective and soothing gut support.
The delayed-release capsules mean the live cultures get to where they're needed most, without being damaged by stomach acids. Plus, you don't need to store them in the fridge, unlike other probiotics.
Speed up your digestion to combat Christmas overindulgence
Enzymedica Digest Gold (£10.99 for 45 capsules) helps the digestive system work efficiently and effectively thanks to a blending process called Thera-blend. This incorporates multiple variants of specially selected enzymes, such as amylase, lipase and cellulase.
These enzymes help break down different food groups at various stages of the digestive process, giving you more energy overall.
Support your liver when overindulging at Christmas
A.Vogel Milk Thistle Complex Drops (from £10.85) are a combination of milk thistle, artichoke, dandelion, peppermint and boldo to help protect the liver and, ultimately, support digestion.
Milk thistle has liver-protecting properties, while artichokes are a great source of fibre and peppermint soothes.
Relieve bloating caused by Christmas overindulgence
Head East Probiotic Digestion Plus (£24.99) provides relief from gastrointestinal conditions and helps rebalance the gut microbiome, thanks to a multi-strain, six billion CFU formula.
Using DRcaps Technology, which makes the capsules resistant to low pH environments, such as the stomach, the live bacteria strains – including Lactobacillus and Bifidobacterium – are protected in their delivery to the intestine. This ensures maximum absorption.
Keep things moving at Christmas
Innermost The Digest Capsules (£18.95 for 60 capsules) contain a combination of prebiotics, such as acacia fibre, and probiotics, such as Lactospore, to promote a healthy gut microbiome.
There's also digestive enzymes (amylase, lactase, cellulose, lipase and protease) and ginger root extract to improve digestion and reduce bloating.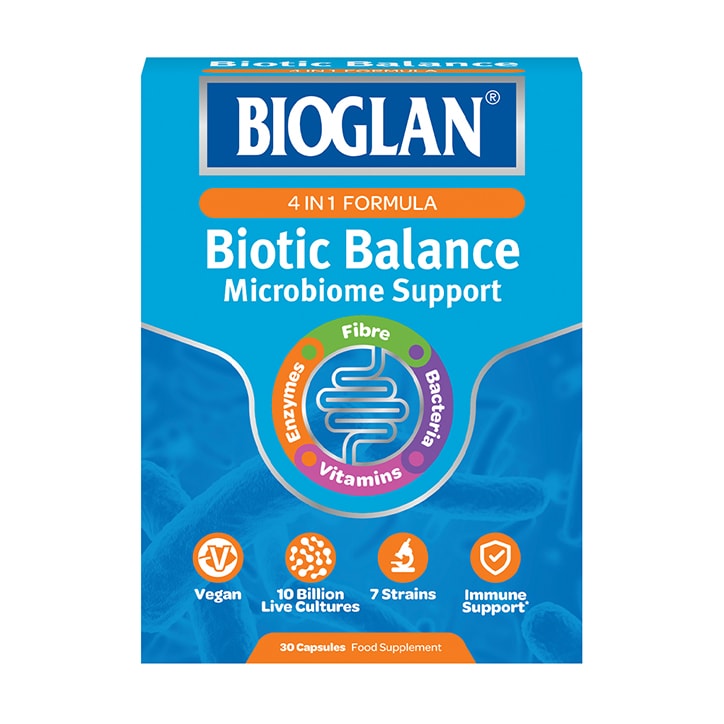 Support your microbiome
Bioglan Biotic Balance Microbiome Support (£29.99 for 30 capsules) is a blend of 10 billion high-quality live cultures from seven different strains, including Bacillus, Lactobacillus and Bifidobacterium.
Bioglan combines this with prebiotic fibre, digestive enzymes – which help with food digestion by breaking down carbs and fats – and features key B vitamins, including B12.