Snacking can be tricky when following the keto diet – however, there are plenty of low carb snack ideas, recipes and swaps you can incorporate into your day. Nutritionist, author and keto expert Pauline Cox gives you the skinny on low-carb snacking…
Words: Pauline Cox | Images: Gary Lewis and Shutterstock
Britain is a nation of snack-lovers! Whether it's dunking a digestive into a cup of tea, enjoying a bag of crisps or nibbling on a chocolate treat, all-day grazing has become synonymous with modern life. A regular supply of carb-heavy and highly sweetened foods has become a ritual for keeping you free from feeling 'hangry' (irritable due to hunger). But what about low carb snack ideas for anyone following a keto diet?
When you transition to a lower-carb way of eating – allowing your blood sugars to normalise and insulin sensitivity to optimise – your body can turn to the reserves of fat stored in your body for fuel. Fat burning is actually blocked when insulin levels creep up. This is why a lower-carb approach to eating can be so effective for shifting stubborn weight. As you become a more effective fat-burner, your blood sugars stabilise and so do your hunger levels.
On average, you store 150,000 calories of fat as fuel on your body. This treasure trove of fuel becomes open for business once your insulin levels lower and blood sugars end their rollercoaster highs and lows. However, effective fat burning doesn't happen overnight. While training your body to start burning stored body fat, you may feel the need for a little snack support. You may even find that with a very active lifestyle, higher levels of exercise or a slim physique with less fuel to burn, you require a higher level of healthy carb intake, particularly from nuts, starchy vegetables and fruit, along side a higher healthy fat intake.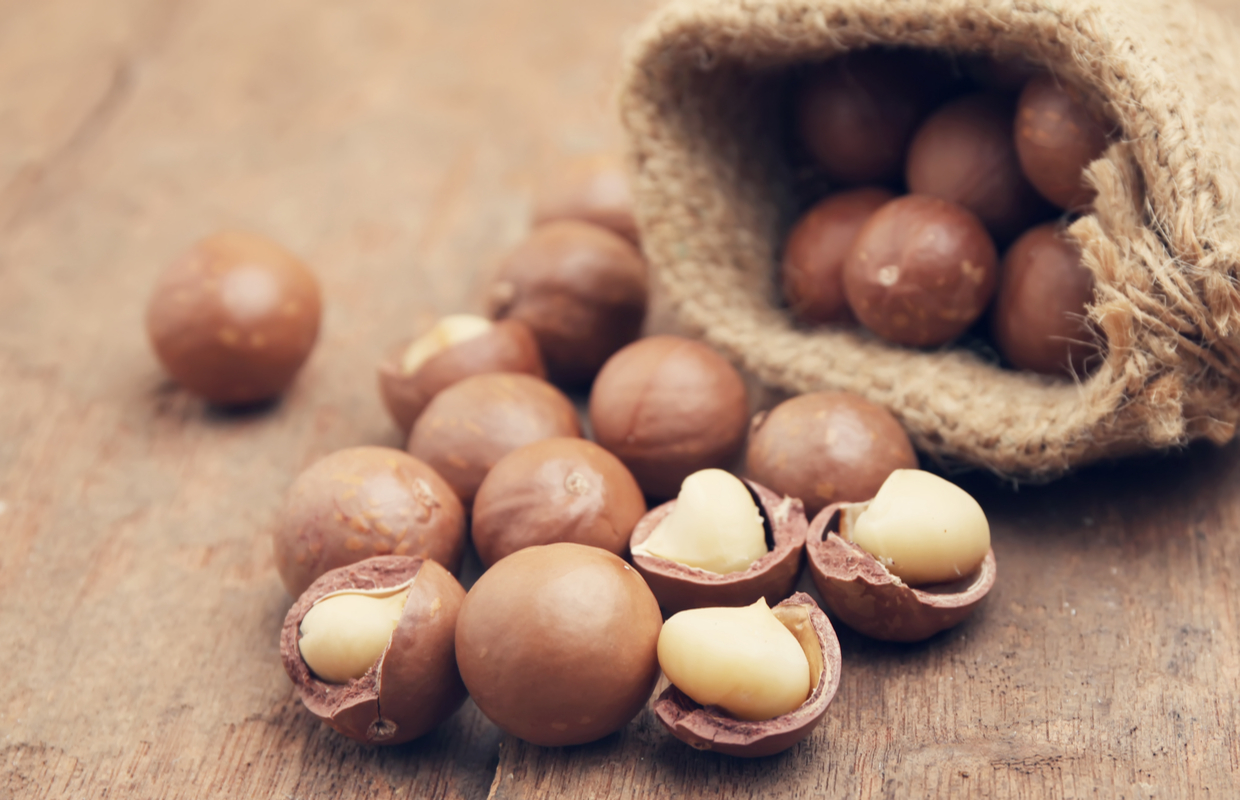 5 best low-carb keto snack ideas
When choosing snacks, beware of keto convenience foods, which can be highly processed and leave you wanting more. Instead, naturally low-carb snacks will keep your blood sugars stable but your energy levels high. Below are my top five nutrient-dense, on-the-go keto snacks ideas to keep you bursting with energy without wanting to eat more…
Nuts
I adore nuts… they are packed with magnesium (perfect for building progesterone), a great source of healthy fats, fibre, and are low in carbs. Macadamia nuts are king of the keto nuts…however, Brazils, pecans, hazelnuts and almonds are fabulous, too.
Dark chocolate
Oh, how I love dark chocolate…a powerhouse of nutrients. Dark chocolate is a super source of blood-sugar-stabilising fats, antioxidants and minerals. The darker the better. Aim for 80 per cent cocoa and above.
Dried meat
Biltong, an air-cured meat immersed in vinegar and spices, is a super convenient and healthy snack on-the-go. High in protein and iron, it's an ideal post-workout option, or perfect pocket food for a long walk. But watch out for added extra ingredients such as sugar and preservatives.
Kale Crisps
These vegan, cheesy veggie crisps are both nutritious and delicious. Dairy-free, flavoursome and a super source of B vitamins, eating your greens has never been so satisfying!
Seaweed sheets
Seaweed sheets are rich in iodine (great for thyroid health), low in carbs and high in flavour. Not as filling as nuts, but ideal for when boredom eating comes knocking.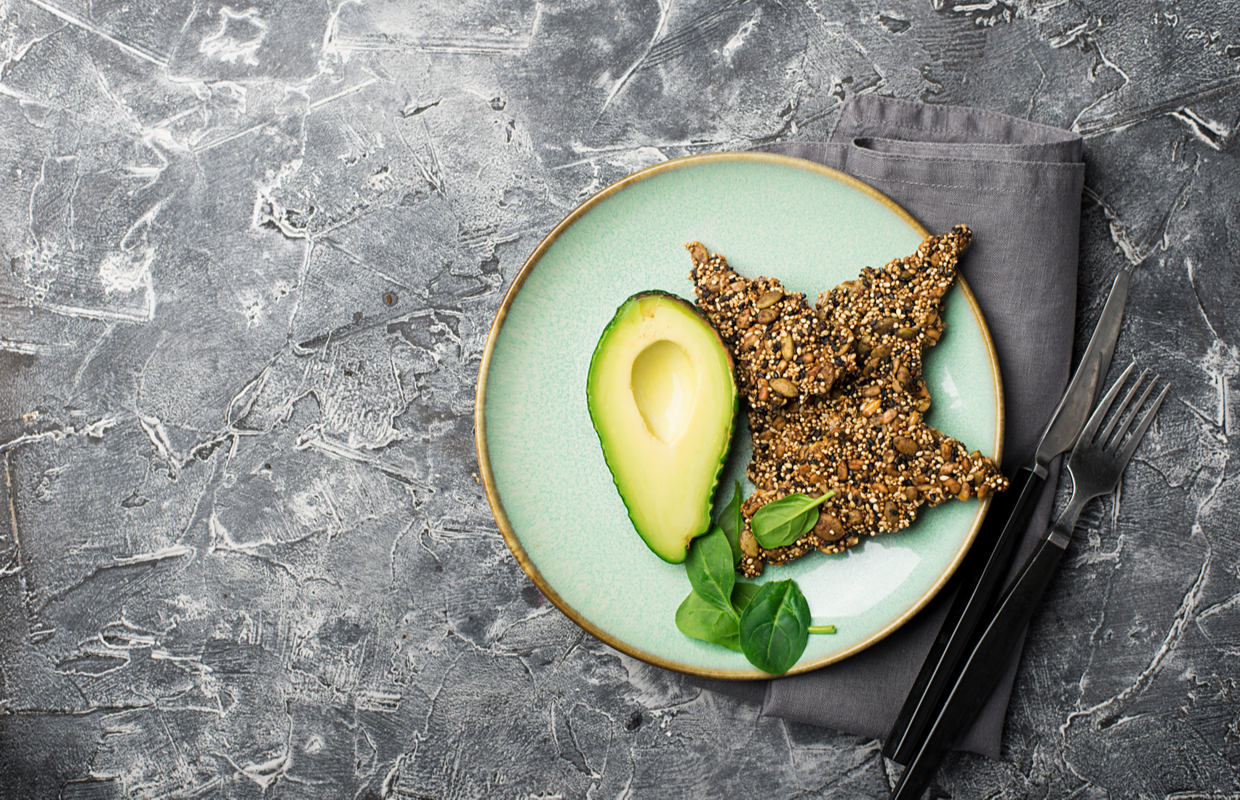 3 keto swaps for conventional snacks
When you're relaxing at home, having a good selection of healthier snacks easily available can stop you popping the Pringles. Here are my home snacking essentials….
Swap biscuits for keto crackers
Packed with seeds, spices and a satisfying crunch! Add a little nut butter or some raw sheep's cheese, such as Roquefort, for extra flavour and healthy fats.
Swap crisps for mashed avocado and salt
Delicious, satisfying and healthy! Boiled eggs are another absolute fridge essential. Keeping a bowl of pre-boiled eggs in the fridge, with a lovely runny yolk for extra goodness. Add a sprinkle of Himalayan rock salt. Such a simple and nutritious snack for at home, at work or on-the-go.
Swap sweets for coconut-based puddings
Rich and flavoursome, high-protein coconut is bursting with healthy fats and tastes naturally sweet. Click here for a decadent, dark chocolate, low-carb mousse to ease your sweet tooth cravings!
To source healthy, low-carb and keto snacks and more, visit sowandarrow.com. You can also find Pauline Cox on Facebook where she has a group, Healthy Keto & Low Carb Living.