Nutritionist Rob Hobson reveals the key foods, nutrients and recipes you need for stress relief, along with a week-long meal plan to help you rediscover relaxation…
Could certain foods be the answer to lasting stress relief? Stress is a perfectly response in your body, and most of us experience it at some point during the day. It's not necessarily bad as it can help you deal with pressures, such as meeting a deadline at work, speaking in public, or avoiding an accident. Stress becomes an issue when it lingers due to unhappiness at work, relationship issues, illness or trauma.
Long-term stress can have a severe impact on your health, contributing to weight gain, high blood pressure, sleep issues, memory issues (brain fog), digestive issues, fatigue and a weakened immune system. Continued raised cortisol levels can increase fat in the belly area, which is associated with insulin resistance and an increased risk of type 2 diabetes and cardiovascular disease. Cortisol has also been shown to increase the satiety hormone leptin and hunger hormone ghrelin, increasing the desire to eat.
What is stress?
Stress is the feeling of being overwhelmed or being unable to cope with mental or emotional pressure. The biological response to stress is known as fight-or-flight. This triggers the release of chemicals and hormones, such as adrenaline and cortisol, that make your heart beat faster while also diverting blood to muscles and essential organs in the body.
How stress affects your eating habits:
Your mood can be affected by stress and this can influence your lifestyle choices. Some people react to stress by eating more than usual or binging on food, which can lead to weight gain and impact on mental health. Stress may also reduce appetite, causing some people to skip meals. This can result in low blood sugar, fatigue and poor nutrient intake, which will lower mood. Stress may also reduce the motivation to eat healthily, contributing to you not eating enough fruit and veggies.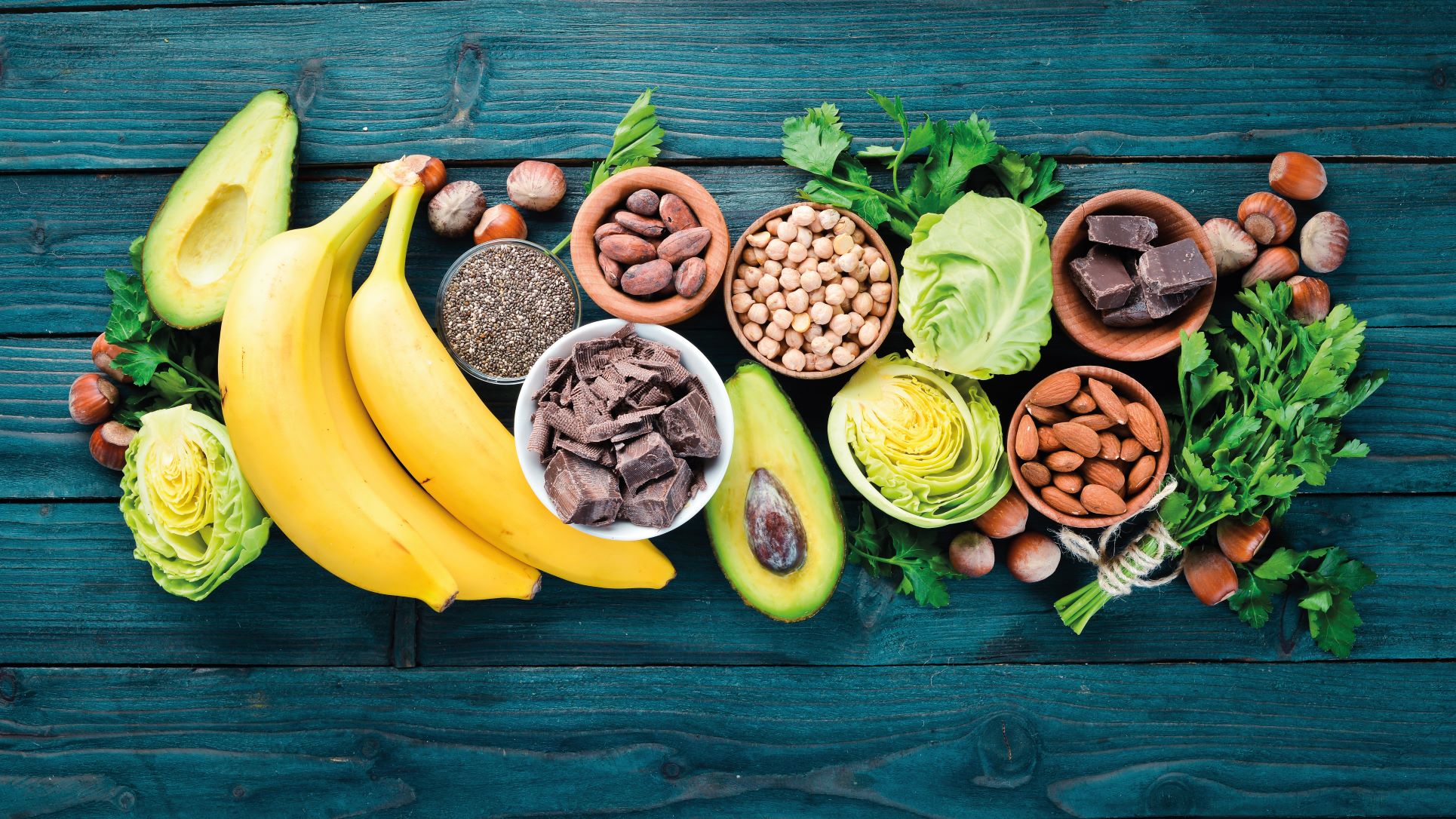 Top 5 foods and nutrients for stress relief
Include plenty of these mood-enhancing foods and nutrients in your diet to find relief from prolonged stress…
MAGNESIUM
Required for hundreds of chemical reactions that support vital processes in your body, this mineral is found in foods such as seeds, dark green leafy vegetables, oily fish, avocados and wholegrains. It's thought to help with stress by increasing levels of GABA (gamma-aminobutyric acid), which is a neurotransmitter that blocks impulses between nerve cells and the brain. Magnesium helps to dampen overstimulation in the brain that can increase anxiety.
Magnesium levels can become quickly depleted during stress as your body tries to use more magnesium to support bodily functions such as those of muscle and bones. But if it isn't used, then it's excreted from the body. This can create a vicious cycle as stress reduces magnesium levels and deficiency increases anxiety and low mood.
B VITAMINS
These support a healthy nervous system as well as converting food into energy within the body. Vitamin B6, found in oats, beans, lentils, oily fish, and soya foods, is used by the body to make serotonin. This neurotransmitter influences mood and helps the body cope in times of stress. This group of vitamins is more readily depleted during stress. They are involved in biological processes that modulate your stress response, so getting enough of them in your diet is vital.
During stressful times, it's worth taking a B Complex as you're likely to become depleted of these vitamins. Try Healthspan High Strength Vitamin B Complex (£9.95).
IRON
Found in foods such as meat, dark green leafy vegetables, beans, pulses, and lentils, this is another nutrient that should be a focus of your diet for stress relief during difficult times. Low levels are particularly prevalent amongst women in the UK. Suppose you are skipping meals or not eating a nutrient-rich diet because of stress and anxiety, then, you'd be at significant risk of deficiency. Low levels of iron can lead to low mood, which makes it more challenging to deal with stress.
TRYPTOPHAN
This is an essential amino acid involved in the production of serotonin in the brain. Research suggests that a diet rich in tryptophan may help with mood disorders such as anxiety, which is closely related to stress. This amino acid may also help with sleep. So, it's crucial for those experiencing prolonged stress as serotonin is converted to melatonin (the sleep hormone) in the brain.
Foods rich in tryptophan include seeds, nuts, soy, poultry, oily fish, eggs, oats, beans and lentils. Combining these foods with carbohydrates can help with tryptophan uptake, making it the main important food group when seeking stress relief.
OMEGA-3
Early research suggests omega-3 fatty acids may help to regulate cortisol levels in your body. These essential fatty acids, which are found in oily fish such as salmon, mackerel, trout, and sardines, are also known to help reduce inflammation in the body, which is exacerbated by your high stress levels.
7-day meal plan for stress relief
Try Rob Hobson's week-long meal plan to help you incorporate the best foods for stress relief into your diet. Time to feel relaxed and more in control…
MONDAY:
Breakfast: Porridge oats made with milk (dairy or alternative) topped with sliced pears and chopped walnuts.
Lunch: Salad made from canned tuna, shaved fennel and canned white beans dressed in olive oil and lemon juice. See full recipe below.
Dinner: Chickpea and sweetcorn vegan burger served in a brioche bun with avocado salsa and fresh salad.
TUESDAY:
Breakfast: Breakfast smoothie made with frozen berries, oat milk, oats and probiotic yoghurt.
Lunch: Frittata (baked omelette) made with onions, garlic, kale, edamame beans and coriander, topped with sunflower seeds. Served with salad.
Dinner: Grilled fillet of salmon served with a light quinoa salad of radish, cucumber and fresh herbs with an olive oil and balsamic dressing.
WEDNESDAY:
Breakfast: Porridge of quinoa and oats, topped with a homemade berry compote. See full recipe below.
Lunch: Pesto chicken salad with couscous, grilled chicken, pesto sauce, cucumber, spring onion, sundried tomatoes and salad leaves.
Dinner: Prawn risotto made with spelt, flavoured with saffron and including red peppers and peas. See full recipe below.
THURSDAY:
Breakfast: Shakshuka baked eggs in a spicy tomato sauce. See full recipe below.
Lunch: Super greens soup using spinach, kale, broccoli, courgettes, ginger and coriander.
Dinner: Vegetarian chilli made with mixed canned beans, chilli powder, tomatoes and peppers, topped with avocado.
FRIDAY:
Breakfast: Two boiled eggs served on wholegrain bread, topped with mashed avocado and lime juice.
Lunch: Salad of lentils, roasted veg (sweet potato, courgette, carrot, red onion), cumin seeds, mint, parsley, served with dressing of tahini, yoghurt, garlic, turmeric and lemon juice.
Dinner: Salmon and chickpea tray bake with cherry tomatoes, curry paste and yoghurt, served with wholemeal flatbreads.
SATURDAY:
Breakfast: Wrap of thin omelette made with eggs, oats and parsley, filled with cooked mushrooms, tomatoes and spinach.
Lunch: Wrap filled with Cajun spiced chicken, red peppers, black beans, lime juice, avocado and yoghurt.
Dinner: Wholegrain egg-fried rice with peas, broccoli, red peppers, ginger, soy sauce and lime juice.
SUNDAY:
Breakfast: Homemade breakfast bars made with oats, cashew nuts, dried fruit, seeds and honey.
Lunch: Smoked salmon and avocado salad with coriander, coconut milk, spinach, spring onion and lime juice dressing.
Dinner: Roasted squash and tofu curry with tomatoes, served with lime and coconut yoghurt.
Foods for stress relief: 4 recipes to try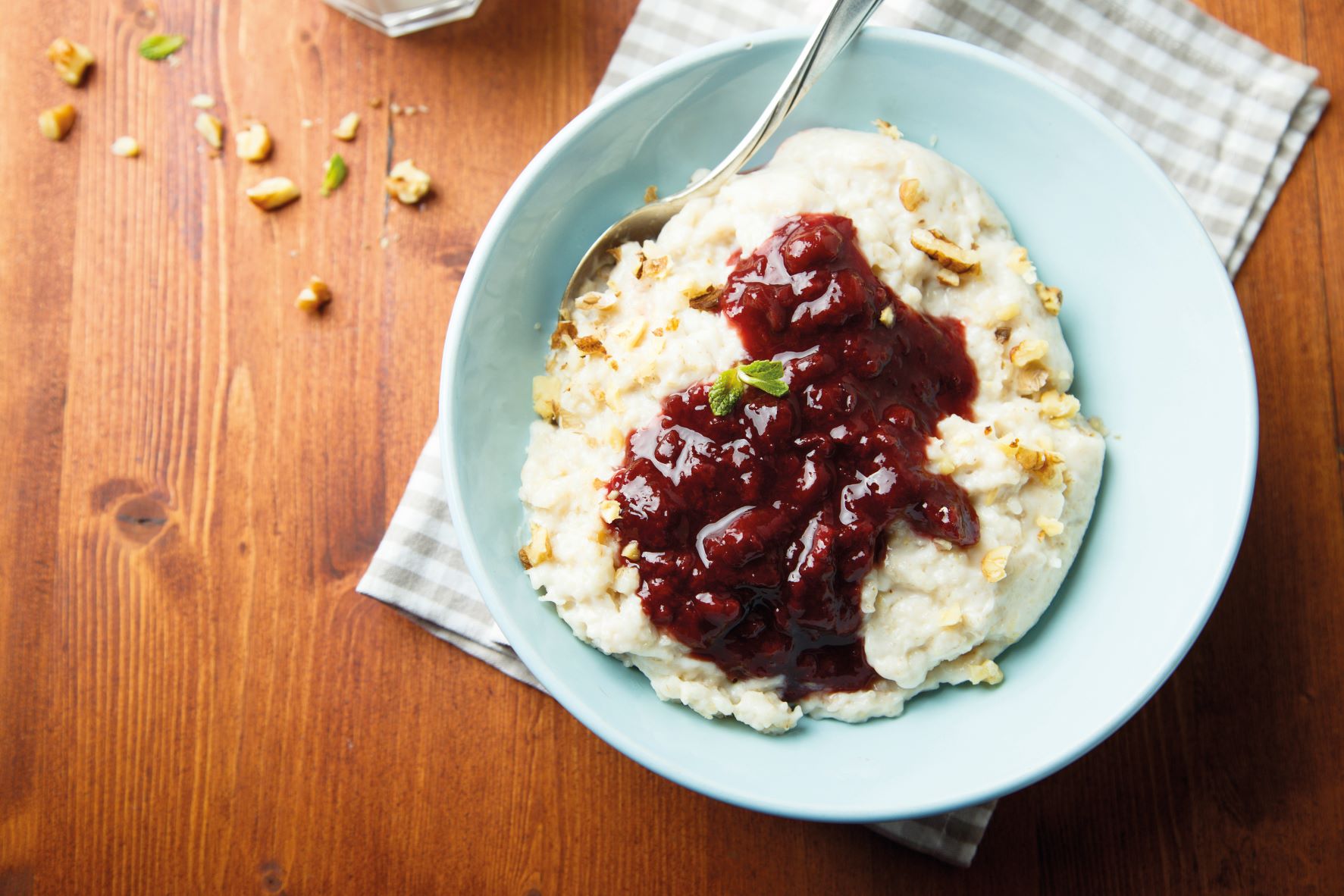 Quinoa and oat porridge with blackberry compote
Serves 2
Ingredients:
50g quinoa
100ml water
250ml soya milk combined with1 vanilla pod
1 pear
100g raspberries
1 tsp honey
1 pinch ground cinnamon
100g jumbo oats (gluten free)
Method:
Place the uncooked quinoa in a saucepan and cover with the water and soya milk. Bring to the boil on a medium heat and then turn the heat to low and simmer for 15 mins.
While the quinoa is cooking, make the compote. Peel the pear and remove the core. Then finely dice and place in a small saucepan with the raspberries, honey, cinnamon and a splash of water.
Bring to the boil on a medium heat, then turn the heat to low and simmer for 10 mins. Once cooked, remove from the heat and allow to cool slightly.
Once the quinoa is soft, add the jumbo oats to the pan and stir for 3 mins until completely warmed throughout. Add more oat milk if you prefer a wetter porridge. Serve the porridge immediately into bowls and top with the compote.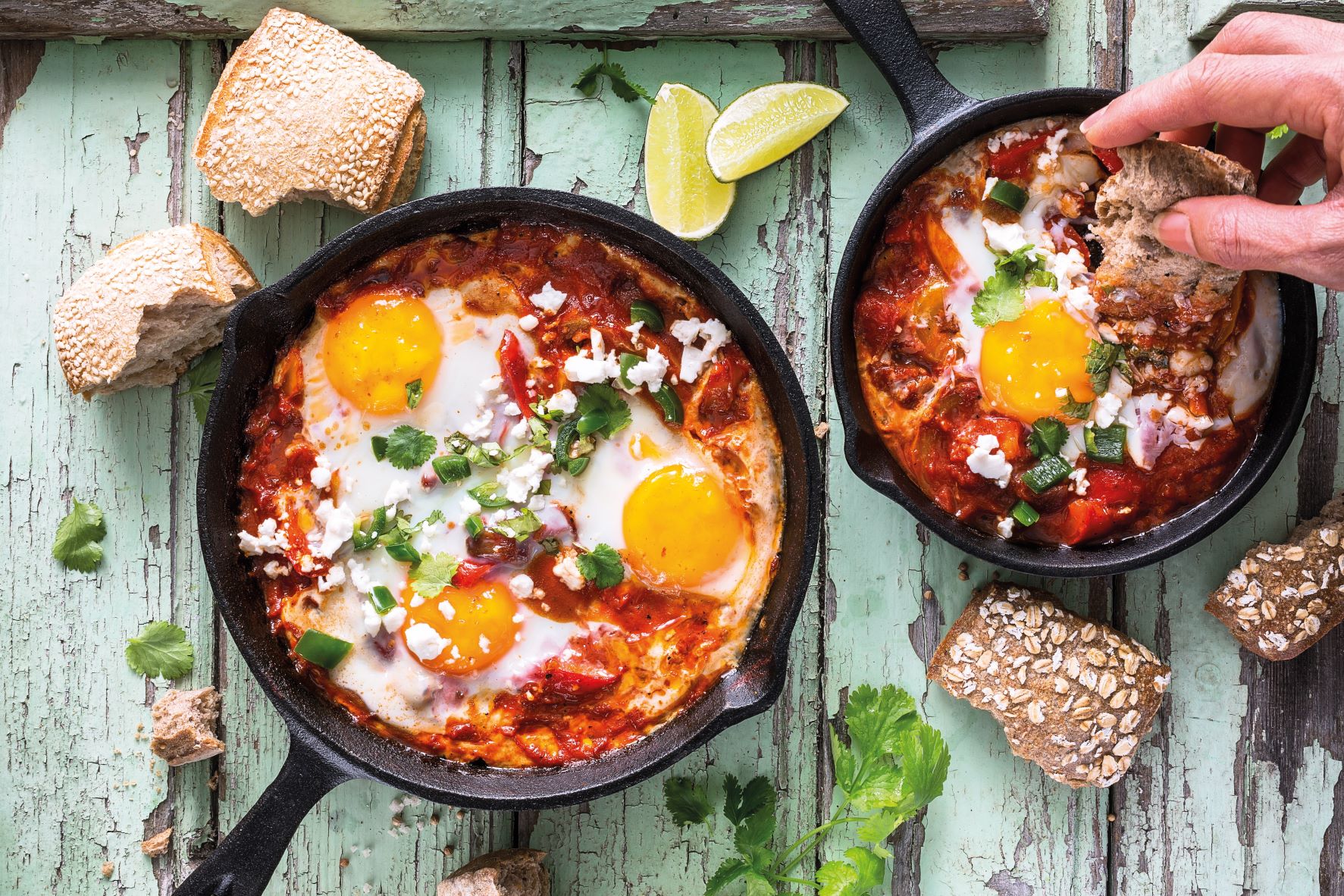 Shakshuka baked eggs
Serves 4-6
Ingredients:
2 tsp extra virgin olive oil
1 tsp fennel seeds
1 onion, finely diced
2 garlic cloves, finely chopped
2 red peppers, cut into strips
1 pinch saffron
2 tsp smoked paprika
2 tins chopped tomatoes
Salt
Black pepper
6 eggs
Method:
Heat up the oil and add the fennel seeds, cooking for 1 min.
Add in the onion and garlic, and cook for another 3 mins.
Add in the peppers, spices, tomatoes, salt and pepper. Cook for 25 mins until the peppers are soft (you will need to add more water as you go).
Make small wells in the tomato sauce and drop in the eggs, then put the lid on and cook for 5 mins until the whites of the eggs are cooked.
Serve with spinach or gluten and wheat-free toast.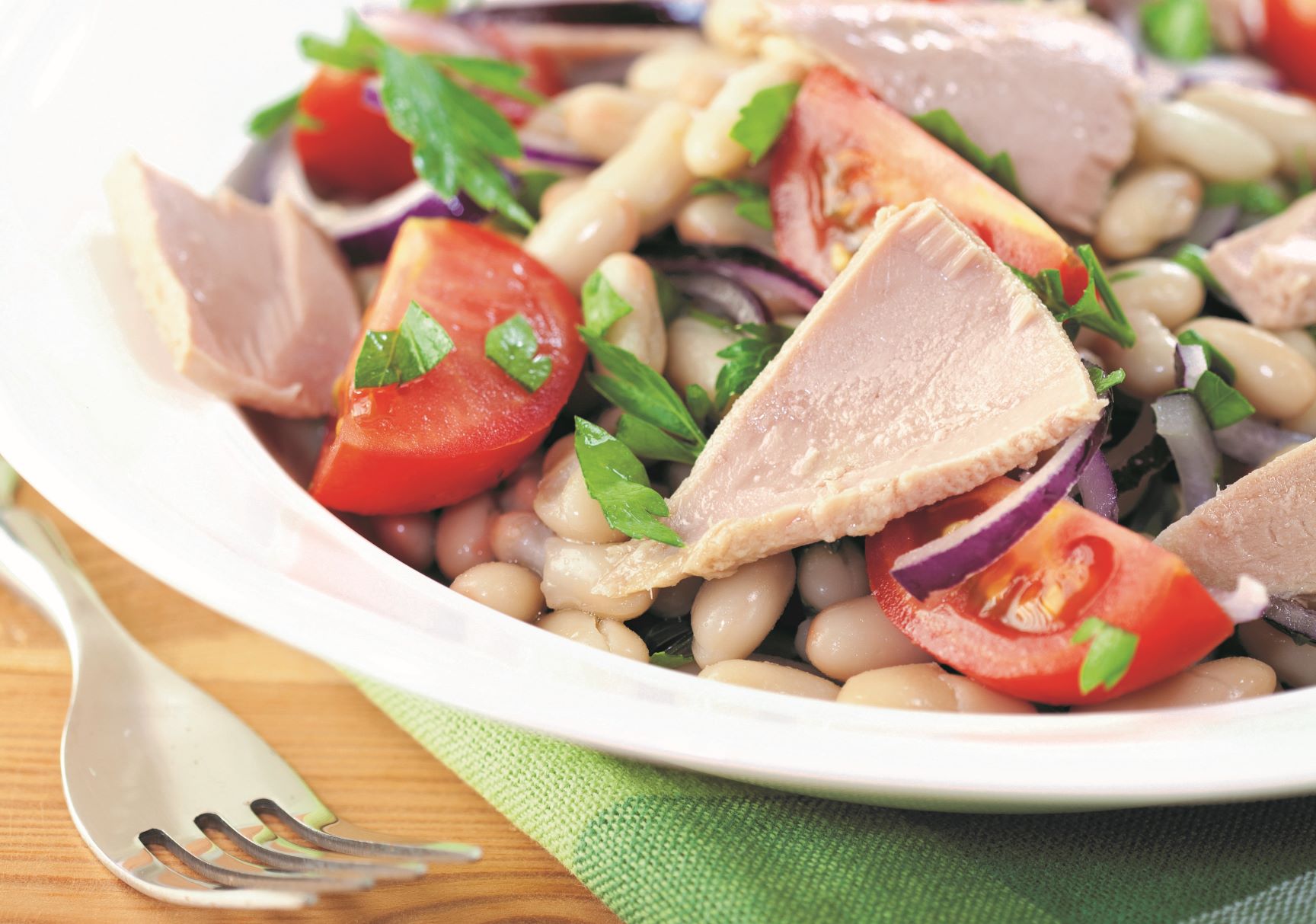 Tuna, fennel and bean salad
Serves 2
Ingredients:
2 tsp pumpkin seeds
400g can of cannellini beans, drained
1 small handful of dill, finely chopped
1 small handful of parsley, finely chopped
½ cucumber, core removed, cut into quarters and thinly sliced
1 small fennel bulb, sliced very thinly
½ red onion, thinly sliced
6 pitted black olives, sliced
6 cherry tomatoes, halved
1 can of tuna, drained
2 tsp extra virgin olive oil
1 lemon, juiced
Black pepper
Method:
Toast the seeds in a dry pan.
Add all the ingredients to a bowl and then divide between two plates.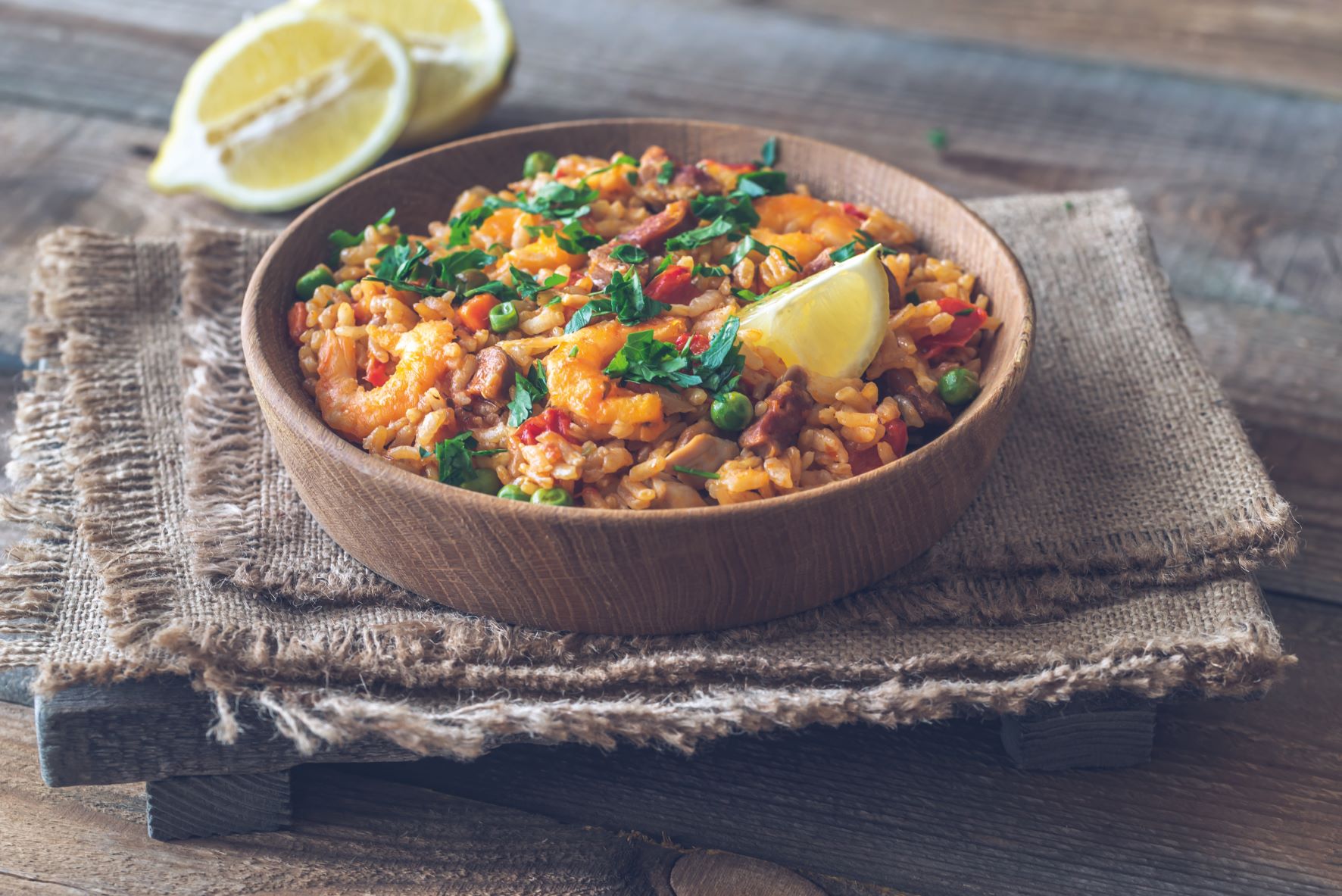 Prawn and saffron spelt risotto
Serves 4
Ingredients:
900ml chicken stock
Pinch saffron
2 celery sticks, finely sliced
1 large onion, finely chopped
1 chilli, finely chopped
4 garlic cloves, crushed
1 lemon, zested
4 tomatoes, chopped
1 red pepper, deseeded and chopped
250g pearled spelt
250g raw, peeled prawns
200g frozen peas
1 small handful parsley, finely chopped
1 small handful coriander, finely chopped
Method:
Make up stock and add saffron. Heat oil in a large pan.
Add celery, onion, chilli and garlic, cook on low for 5 mins.
Add lemon zest and chopped tomatoes, as well as the chopped pepper. Cook for 10 mins until combined.
Stir in spelt and stir for 1 min.
Add stock and cook on a low heat for 25 mins until tender. You may need to add more stock.
Stir through prawns and peas, and cook for a further 3 mins.
Turn off heat and stir through the herbs.