Need an escape from your day-to-day life? Find your flow again with Down to Flow Escapes, says writer Beth Fletcher.
If there was ever a time when 'getting away from it all' was a necessity, this was it. Don't get me wrong, I love my family, my home and my dog, but thanks to – you know what – they're at home ALL THE TIME.
Working from home has meant we can't get away from each other and, despite taking up scentscaping (look it up in the October issue of Top Santé for more on this self-care trend), no amount of lavender-scented candles can take me away from my four walls completely.
A much-needed retreat from my home office
So, a retreat was very much called for, but while I enjoy the odd yoga class, I'm not a die-hard yogi and didn't want a retreat completely dedicated to it.
This is where Down to Flow Escapes comes in. As the name suggests, the escapes focus more on 'flow' than simply on one thing, such as yoga, and take in a variety of exercises and activities, including walking and journalling, to get you back into the flow of things.
The escape I joined was called Daydream, which was fortuitous, since the place where the retreat was held was an interior decorator's dream. Located in the heart of Somerset, the retreat was housed in converted barns, with a kitchen cum dining room cum relaxation area to rival anything seen on Grand Designs.
Arriving at the Daydream wellness retreat
On arrival, we were greeted with fruit-infused sparkling water and lunch (I'm always a fan of anywhere that prioritises food). The weather just about held for us to enjoy lunch outside, overlooking the Somerset hills, and was a medley of salads, rice bowls and seasonal veg, created by chef Woody Pyke, who prioritises cooking with fresh, British produce and creating nutritious meals with minimal food waste.
Lunch was also a time to get to know the owners of Down to Flow Escapes, Molly and Dylan, who quickly put you at ease with their relaxed attitudes and welcoming smiles.
Day 1: journalling, yoga and fine dining
We spent the afternoon journalling with Dylan, who as a South African rugby player slash yoga instructor happy to talk about anxiety issues (all the while sporting a black eye courtesy of a weekend rugby match gone wrong), definitely did not conform to stereotypes.
Of course, yoga did feature on the retreat, but Molly, our first yoga instructor of the evening, went easy on us and was on hand to either push us a little further or correct our postures when needed.
The first day finished with Dylan leading a yin yoga session, which I'd tried only once before, so was a little apprehensive. Fortunately, Dylan took the time to get to know everyone's level of experience and any injuries we might have, before leading us into a relaxing yoga session that soon had me melting into the floor (or grass in this case).
Dinner was another opportunity to get acquainted with my fellow guests, as well as Molly and Dylan (and Molly's mum who helps out on the odd retreat).
With joints and muscles relaxed and feeling rather supine, I wasn't sure I'd manage to stay awake long enough for dinner, but the three-course feast of burrata and peaches, melt-in-the-mouth lamb and chickpeas and a chocolate dessert, washed down with Bloomsbury sparkling wine from Ridgeview Wine, more than held my attention for the duration of the evening.
Day 2: fitness, food and flying high
The next day began with a high-energy workout, which included a mix of bodyweight exercises and interval training. Dylan led the workout and was on hand to make any necessary adjustments or make alternative suggestions for people, so that everyone could participate, no matter their level of fitness.
After, I was more than ready for breakfast, which was a gorgeous spread of granola, yoghurts, stewed fruits and seeds, with Woody on hand to cook eggs for those who wanted them.
It was then onto a walk around a nearby lake, which, while longer than anticipated, was nice and leisurely and was a good opportunity to talk to other guests (there's something about walking and talking that I find truly relaxing and meditative).
At the end, we were rewarded with an enormous picnic spread laid out by Molly and Woody, and we all tucked into hearty doorstopper sandwiches and banana bread on the edge of the water.
A sky-high surprise
We had the afternoon to ourselves, but had a prompt 5pm call time to gather again in the courtyard where a surprise awaited us. Told only to dress warmly and that the surprise would leave us feeling 'sky high', we reassembled at the requested time with added layers on and more than a couple of apprehensive looks shared.
The surprise? A hot air balloon flight, courtesy of Fly Away Ballooning, which I was definitely not expecting and didn't know I wanted to do until I found myself in a basket with four others floating among the clouds. Silence stretched between us as we took in the view, awed by what we saw.
If I'd thought walking around a lake was calming, it's nothing compared to sailing over the hills, fingers trailing the air and no engine to break your thoughts (even the occasional blast of fire above your head becomes meditative).
The evening ended with another feast, cooked on a barbecue outside, as we all excitedly reminisced over our hot air balloon flight. Molly told us they try to add in some kind of surprise on all of their retreats, something you'd never expect, and I think it's a nice touch. I wholeheartedly believe in the recuperating power of a retreat, but they are at risk of becoming formulaic. This is one way round that.
Final day: deep breathing and deep tissue massages
On the morning we're due to leave, Dylan takes us through some final movement and breathing exercises, determined to ensure we leave with something we can take back with us, be it a quick stretch to ease neck tension or breathwork that can be done before bedtime, not to mention an interesting belly breathing exercise for waking yourself up in the morning, which you can use to replace your morning cup of caffeine.
Dylan swears by it, but he also swears by a cold shower every morning, so I'm not entirely convinced – until I try it. The repeated quick puffs of air in and out definitely get my heart pumping and I make a mental note to try it when I get home.
The morning wraps up with a back massage by Tim at Myoset. I'm sure I'm not alone when I say it has been years since I'd last had a massage (thanks pandemic) and I'd forgotten how beneficial they were, for your body but also your mind. Using Puresport CBD Muscle & Joint Balm, Tim works out the kinks in my back, easing tension in my shoulders I didn't know I had.
With a banana smoothie in one hand and goody bag in the other, I take my leave from the wellness retreat. As I drive down the winding roads taking me out of Somerset and my dreamy few days away, I Google the closest service station where I can refuel and get a caffeine fix. But once there, I only get petrol, deciding against my usual cappuccino. Belly breathing really does work, it turns out.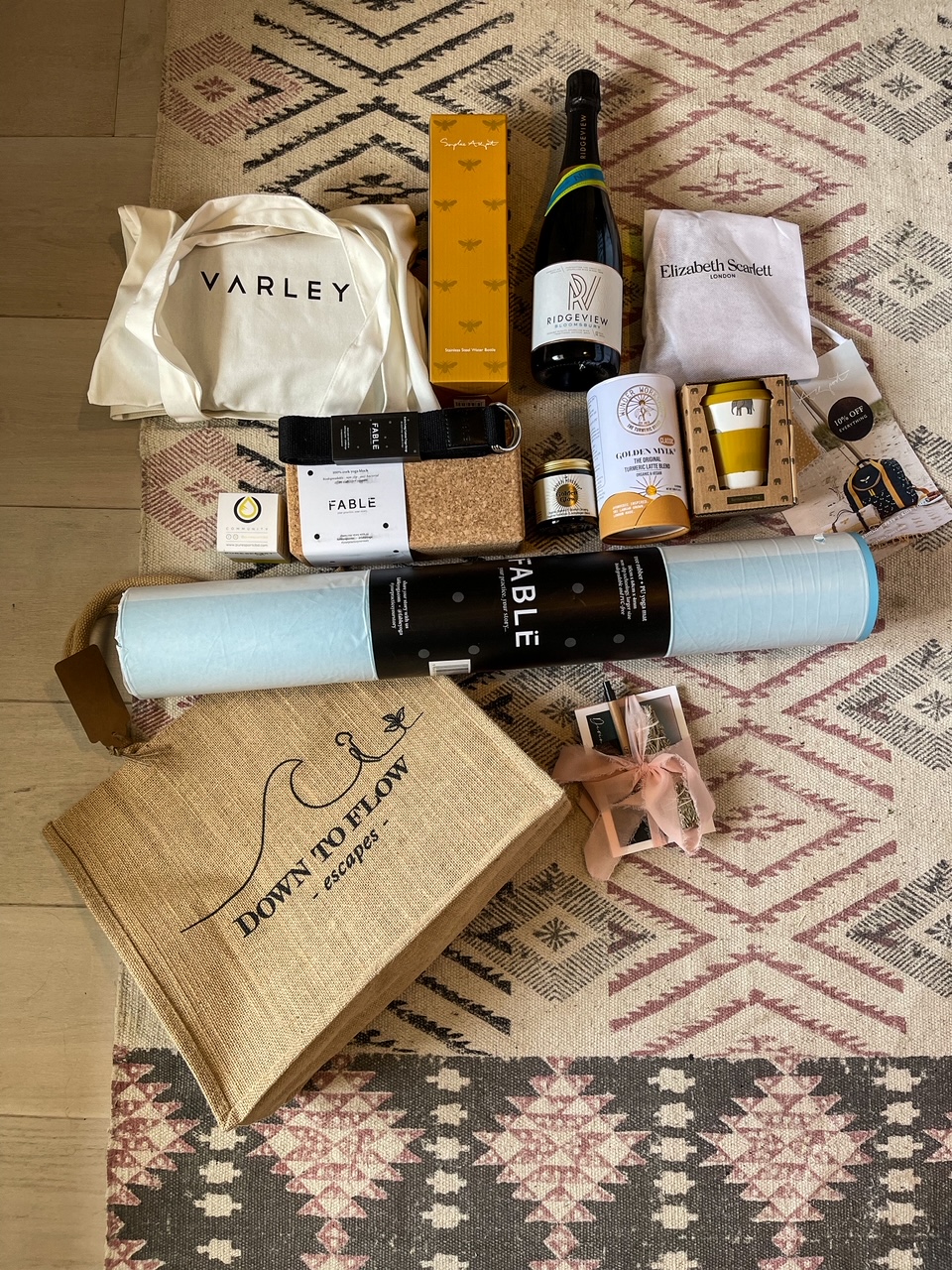 In my wellness retreat goody bag:
Book your next wellness retreat with Down to Flow!
Upcoming Down to Flow Escapes include:
– Island Play. Taking place between December 28 and January 3 in Sri Lanka, this retreat allows you to go off the radar and enter your own little paradisiacal island! When you're not flowing on the mat, you can explore the great outdoors and discover local beaches and caves.
– Rise & Release. Taking place between April 5 and 11 in Portugal, this wellness retreat aims to dig deep into your psyche through movement, adventure and abstract art.
– Playing with Motion. Taking place between May 14 and 20 in the UK, this 'Playing with Motion' retreat aims to challenge you through movement and cold-water therapy. Combining farmyard fitness with runs through the countryside, this promises to be an explorative fitness escape like no other.
You can also attend a yoga class at Down to Flow's Flow Culture Studio, based in south-west London.