Top Santé Editorial Director, Katy Sunnassee, visited The Windmill Suffolk for a birthday celebration to remember – here's her review…
Want a secluded, romantic getaway with a difference? And to get some perspective on life while you're at it? You'll be able to do both while up above the clouds – almost! – at The Windmill Suffolk. It was once a working windmill but is now a converted, luxury B&B not far from the town of Lavenham in Suffolk.
Increasing numbers of unusual buildings – lighthouses, windmills and the like – are being turned into accommodation, giving people plenty of choice if looking for a quirkier getaway than the regular hotel offering.
When you think of self-catering though, do you think of a place much less luxurious than a hotel? I know I do, or at least I did until I visited The Windmill Suffolk, as it's like having your own private, high-end (no pun intended!) boutique hotel all to yourself complete with modern conveniences and luxuries.
The adult-only property sleeps a maximum of four (two double rooms) but will accommodate only two guests at a reduced rate. And, even if there are only two of you, you'll still get The Windmill all to yourself.
I took my husband there for his birthday earlier this year and he was blown away – as were my parents a few months later, as I booked it again for my mum's birthday.
Keep fit while you relax
From memory I think there are 48 or 50 steps from the ground to the top level, or "pod" which houses the living quarters. There, you can relax in style on slouchy velvet sofas and cushions and watch the 48-inch curved TV (lots of things are curved, out of necessity), or simply sit back and enjoy the view either from the west-facing window – great for sunsets – or the east-facing balcony. There's also a decent telescope for all you star gazers and bird watchers.
A mini fridge keeps your drinks cool, saving you having to traipse back down to the ground-floor kitchen for a refill, and champagne glasses are also on hand.
Being increasingly absent-minded these days, I would often forget something and be walking up and down the stairs to the bedroom, bathroom or kitchen. But my goodness – how good is that for your health?! Where else can you get luxury accommodation that forces you keep fit? It's one way to work off all the birthday cake on arrival…
Plan a birthday celebration at The Windmill Suffolk
Which leads me to why The Windmill is such a great location for a birthday or perhaps a proposal. You can opt to add on one or more food, celebration or wellness packages, including one where the entire bedroom or bathroom is filled with huge metallic balloons, luxury chocolates on the bed, and a birthday cake (you choose the flavour) on arrival in the kitchen along with a bottle of bubbly.
There's also a package that includes a large balloon with flowers made to look like a hot-air balloon, which is apt as you're up in the sky, with words of your choice. And another for afternoon cream tea complete with cakes and sandwiches. I booked the latter two for my parents, and they informed me via WhatsApp chat, while they sat out in the garden the next day, that the afternoon tea had kept them full for the rest of the day so they hadn't needed to venture out to find dinner.
My no-fuss hubby wouldn't have wanted balloons, so I opted for a gluten-free cake and champers, and also the wellness package: two super-soft, fluffy white robes in the room, which you get to take home, plus a visit to the nearby Weavers Spa in Lavenham for treatments (admittedly this was just as much for me as it was for him! I love a massage).
Co-owner and designer of the interior, Natalie, who lives with her husband, Steve (who built and renovated The Windmill!), in the farmhouse next door, is super friendly and makes sure all elements of your booking are organised. She greets you on arrival, shares the code to get in (there is no key, so you can't accidentally lock yourself out!) and shows you around, making sure you know how everything works, including the induction hob and TV, plus some tips on filling the bath…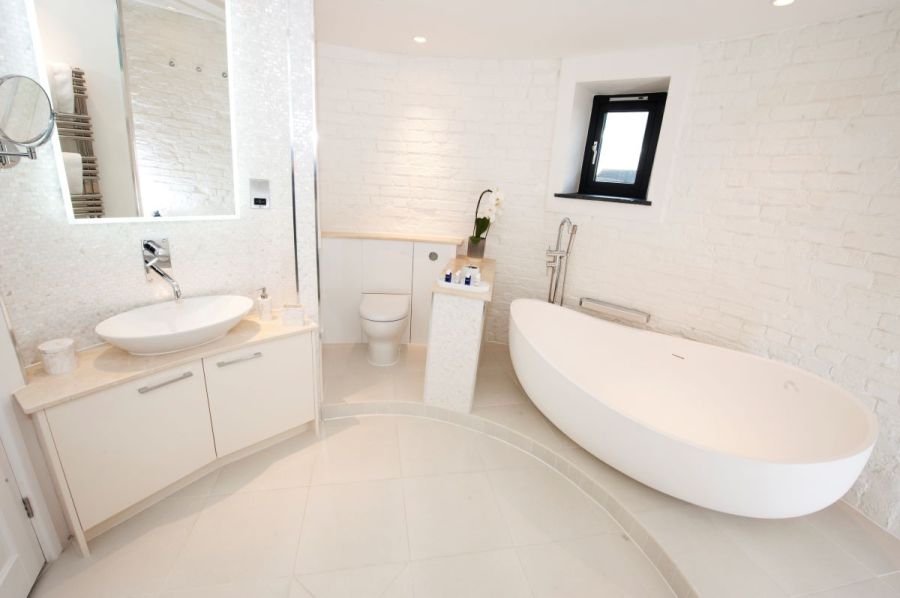 Luxurious bathroom 
Which brings me on to the bathroom. The stand-alone white bath is ginormous! It takes a while to fill, which is why Natalie advises not attempting to have two separate baths back-to-back as it would take too long. It's definitely designed for two as if you're under six foot you can't actually lie back without slipping down under the water. You need another body to prop up against. But then if you're on a romantic break, you're not going to be bathing alone anyway, are you? (nudge nudge wink wink).
There is also a shower which has a lovely little window right next to it so you can watch the field of wheat or corn – I wasn't sure which – blow in the breeze. Elemis toiletries are there for your convenience as well as lovely huge towels. Hair dryers are in both bedrooms, so you really needn't bring much at all from home other than phone chargers – there are sockets for them near the bed.
Speaking of the windows, one of the nicest parts of staying at The Windmill is getting to see a different view as you climb the stairs, looking out in various directions and from varying heights. I did this a fair bit as I'd often come out of the bathroom and head in the wrong direction up or down the stairs, forgetting which floor I was on and having to go back, so would stop for a quick view.
The bathroom is on the floor between the two bedrooms, so if you are staying with friends and you wake up needing to wee in the night, do remember which way to go! Fear not though, ladies with weak bladders, of which I am one, as there is also a loo on the ground floor opposite the entrance, so if you arrive back from a walk and are bursting (and haven't done a "nature wee"!) you needn't climb 25 or so stairs!
Silence is golden
Weather dependant, you can dine al fresco on the patio and private garden, while the terrace balcony on the fourth floor is perfect for sitting and star gazing. I regretted not sitting out there longer – ashamedly we were lured in by the TV – on the clearest night of our stay, as the silence was astonishing; I literally don't think I've ever "heard" such silence outdoors, save for the call of a bird here and there, and an occasional car winding its way along the country roads. But when all of nature is silent, which it mostly of the time past sunset, and the cars have dwindled, there are literally no sounds to hear.
The only people for whom it's not suitable are those with a fear of heights (obviously), people in wheelchairs – due to the nature of the old building and the narrow stairs, it's not suitable for either a stairlift or lift – people with severely limited mobility who may struggle with all the steps, and, as mentioned, anyone under age 18.
Our son was very upset to learn that he couldn't come with us, especially when he saw the pictures. But I can see why it's adults only – you just wouldn't want to let a child loose around a fourth-floor open balcony, or go haring up and down stairs, which our son loves to do at home.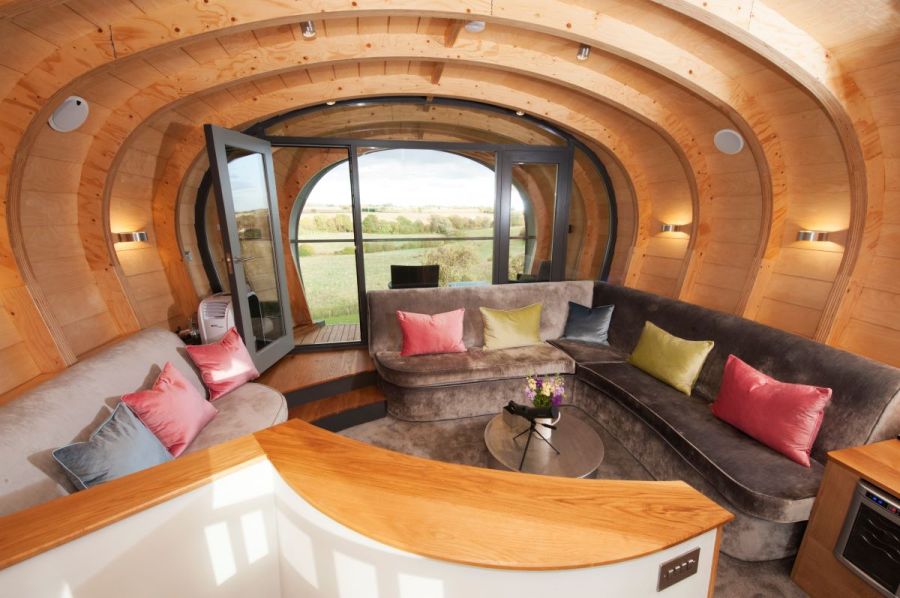 The Windmill Suffolk: our verdict
All in all, The Windmill Suffolk is incredible, and I'd book again in a heartbeat. It's got everything you need, including cereal, bread, milk and tea for breakfast, and the novelty factor is 10 out of 10 – as is the element of surprise if you can manage to a) keep it a secret and then b) arrive from Lavenham and don't miss the turning into the road, so you can literally turn in and are faced with this imposing structure.
Tip: if approaching from Lavenham and following sat nav, slow right down once you get to the small cluster of houses on the right as the gate is literally just past the white farmhouse, where the owners live. The Windmill is completely hidden from view until then, so it can be a surprise. I overshot the entrance so had to drive further on and turn around, by which time we could then see the black mill in the field so I missed getting to go 'ta da!' and seeing it for the first time right up close.
But from whichever direction you approach, The Windmill Suffolk is simply sublime and will no doubt surpass all your expectations and will quickly feel like your luxury home away from home. Be warned though, it books up very quickly!
Prices start at £925 for a two-night break. Visit thewindmillsuffolk.com for more information and additional add-on packages including cream tea and a gourmet food hamper for two (£195), celebration balloon, cake, champagne and flower (£225), and spa treatments, robes and champagne for two (£315).