Cold and flu season is well and truly upon us. Discover the best supplements for a stronger immune system, to protect yourself against germs and viruses this winter…
Have you been struck by the sniffles? It's that time of year again: when every conversation is overshadowed by a symphony of coughs and sneezes. With lots of germs going around, you might be wondering how you can protect yourself and feel your best this winter.
While 'boosting' your immune system is a bit of a myth, there are certain diet and lifestyle changes you can make to ensure your immune system is functioning properly, so it can effectively fight off germs and viruses.
We've rounded up the best supplements for a stronger immune system, to help you arm yourself against the lurgy this winter…
7 best supplements for a stronger immune system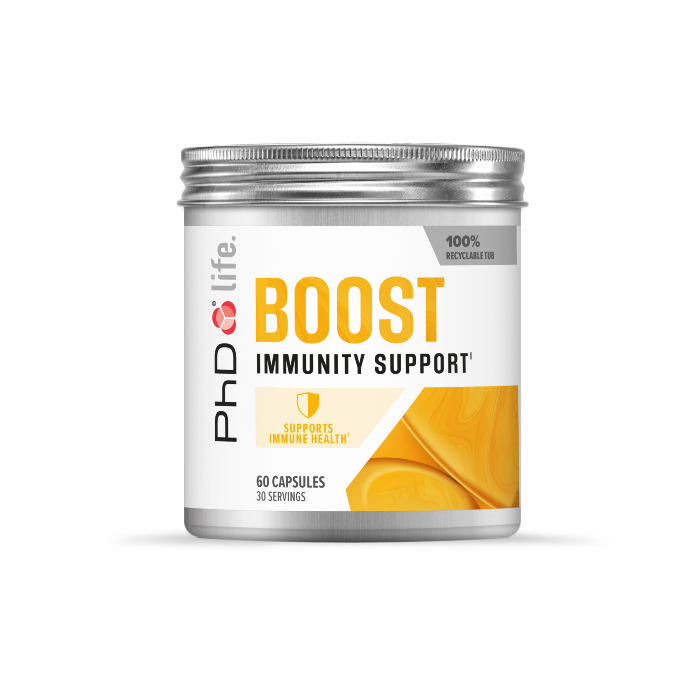 A great all-rounder! PhD Life Boost Immunity Support (£20 for 60 capsules) delivers a combination of vitamin C, zinc, selenium and iron. It also contains quercetin, beta glucans and ginger root extract to contribute to the normal function of the immune system.
The capsules are a great way to ensure you are getting all the correct nutrients you might not get through food and drink alone to support your immune system through winter.
Good for your gut. Rejuvenated Immune Complex (£20 for 30 capsules) combines a blend of prebiotics and probiotics. It will boost the digestive system and, in turn, help support your immunity.
Elderberry, astragalus, acai and turmeric are just a few of the immune-boosting ingredients, and probiotics include acidophilus, which are bacteria that populate the digestive system with 'good' microorganisms and help crowd out harmful substances.
Convenient and easy to use! BetterYou D3000 Vitamin D Oral Spray (£8.45) provides a fast, convenient alternative to tablets and capsules.
Vitamin D is essential when it comes to supporting a healthy immune system, which is your body's first line of defence against infection and disease. Plus, this great-tasting spray is contained in a bottle made from recycled waste and is fully recyclable.
Contains immune-supportive lactoferrin. Forever ImmuBlend (£18.19 for 60 tablets) is high in vitamins C, D and zinc to support the body's defence system.
Other key ingredients include maitake and shiitake mushroom powder and lactoferrin. These can further help protect against infections from bacteria and viruses.
Provides targeted support of your body's defences. Inessa Immunity Complex (£22.99 for 60 capsules) contains antioxidant-rich black elderberry, high-strength vitamins C and D3, zinc, selenium and reishi and chaga mushrooms. You'll also find beta glucans, which increase your body's resilience and optimise your immune system's performance.
Vegan-friendly and free from gluten, just two capsules a day give you your optimal amounts of both vitamins C and D.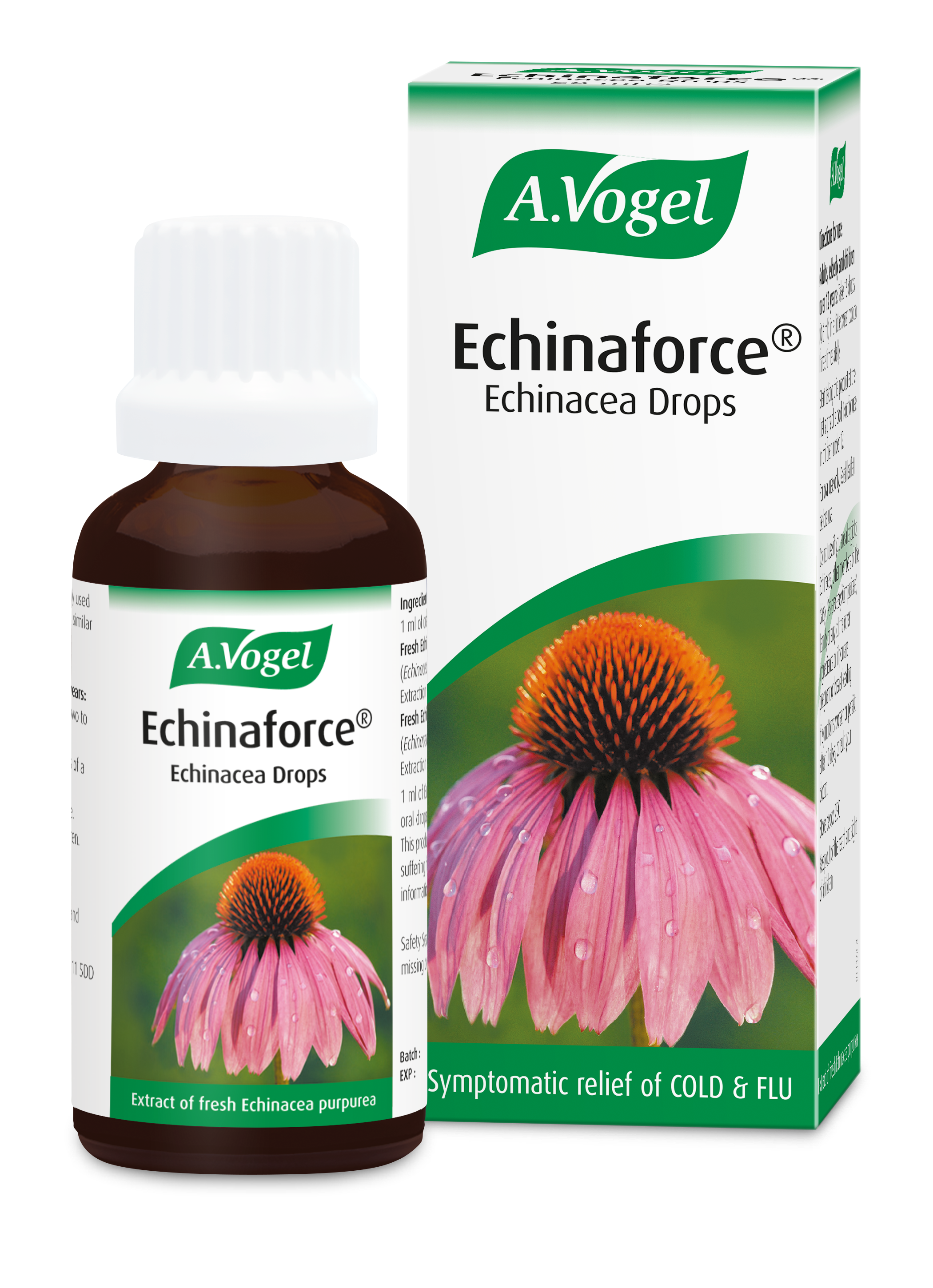 Ward off respiratory infections. There are now 31 published clinical studies showing how echinacea not only helps reduce your chances of catching a respiratory tract infection (RTI), but if you do get one, will help reduce the severity of symptoms. It can also reduce the incidence of secondary complications, such as sinusitis, bronchitis and pneumonia.
We recommend the A.Vogel Echinaforce range, which contains fresh echinacea extract. Choose from Tablets (£4.99) Chewable (£6.50), Drops (£4.50), Lozenges (£2.25), Throat Spray (£10.99) and the Hot Drink (£10.99).
Click here to find out more about the immune-boosting benefits of echinacea!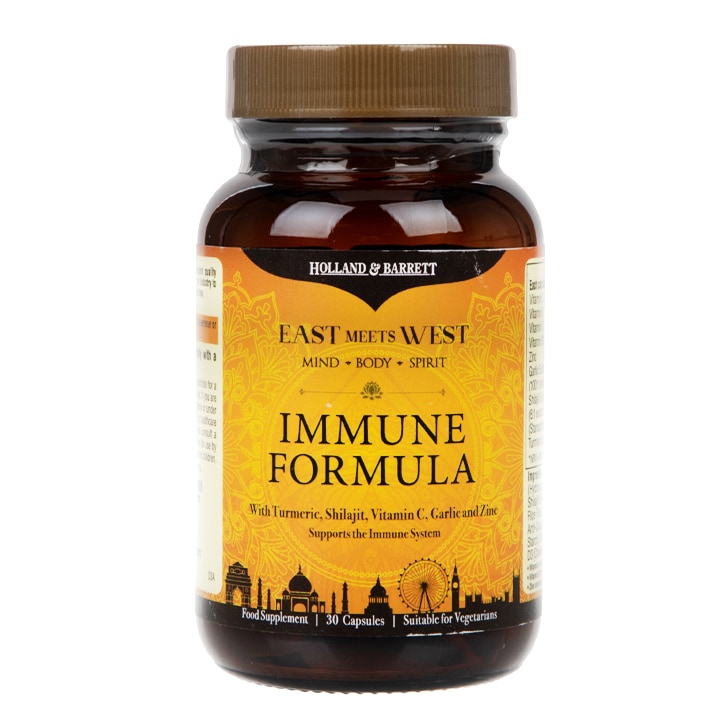 Powered by herbal remedies. The East Meets West immune Forumla (£14.99 for 30 capsules) supports the immune system with vitamins C, D, B12 and Zinc.
The supplements, which are suitable for vegetarians, also utilise the power of traditional herbal remedies. This includes garlic, turmeric and shilajit.
Shilajit is a sticky black mineral-rich resin, formed from decaying plant matter It is rich in fulvic acid, which can strengthen immune response, reduce oxidative stress and fight inflammation, according to lab tests.