This winter, everyone will no doubt be more focused than ever on ways to stay well. And with a plethora of natural remedies to help support you, we take a look at new research on echinacea for colds, flu and an overall immune boost…
It may not be a miracle panacea, but it could be well worth adding echinacea (full name: echinacea purpurea) to your medicine cabinet.
Echinacea and respiratory tract infections
There are now 31 published clinical studies showing how this humble herb not only helps reduce your chances of catching a respiratory tract infection (RTI), but if you do get one, will help reduce the severity of symptoms. It can also reduce the incidence of secondary complications, such as sinusitis, bronchitis and pneumonia.
How can I strengthen my immune system?
Adults usually catch 2-4 colds per year and for children the number is higher. The stronger your immune response, the better your chances of fighting off a virus before you even develop symptoms. However, everything from stress to inactivity weakens this response.
'The key to staying well lies, first and foremost, with eating a healthy diet and getting enough exercise and sleep,' says immunologist and founder of A-IR Clinical Research, Dr Ross Walton. However, he says, taking echinacea could provide benefits. 'Echinacea has been shown to reduce frequency of common cold symptoms developing.'
Can echinacea stop recurrent colds?
Trials involving 755 volunteers at the former Common Cold Centre in Cardiff found echinacea reduced the development of recurrent colds by as much as 59 per cent. Catching a cold in the first place is annoying, but there's nothing more frustrating than a lingering blocked nose and sore throat.
However, in the same research studies, echinacea reduced the duration of symptoms, 'and the need to use painkillers also fell by over half,' adds Dr Walton.
Infections associated with the upper airways (nose, sinuses, throat) and lower airways (lungs) trigger a significant number of hospitalisations, particularly in winter.
Yet analysis of six clinical trials, involving almost 2,500 participants at the Royal Society of Medicine, found that echinacea extract could reduce recurrent RTIs by a whopping 35 per cent. It also halved the risk of complications, such as bronchitis and pneumonia.
Echinacea is as effective as flu medicine, Oseltamivir
Oseltamivir, an anti-viral medicine also known as Tamiflu, is the current "gold standard" treatment for flu. 'However, limitations regarding side effects and the emergence of drug-resistant flu strains really highlight a need for alternative treatments,' explains Dr Walton.
Research published in the journal Current Therapeutic Research showing that echinacea (combined with black elderberry in a hot drink) can make a considerable difference is promising.
'In this study, Echinaforce Hot Drink was as effective as Oseltamivir in shortening flu symptoms and reducing respiratory complications. It also had fewer side effects,' says Dr Walton.
Can echinacea help with covid-19?
A study published last year in Virology Journal found that fresh, whole plant, liquid extract of echinacea could help reduce replication of various strains of coronavirus in the airways, including Sars-Cov-2.
Further research is needed, stresses Dr Walton. International clinical trials investigating the efficacy of this echinacea purpurea liquid extract against a spectrum of coronaviruses have now been commissioned.
Best echinacea supplements to try for colds
Research conducted by University College London found that some echinacea supplements don't contain the right herb, the right part of the plant, or don't display the dosage on the ingredient labels.
Make sure you look for a product with the Traditional Herbal Registered (THR) logo, to ensure reliability. This logo indicates approval by the UK's Medicines and Healthcare products Regulatory Agency.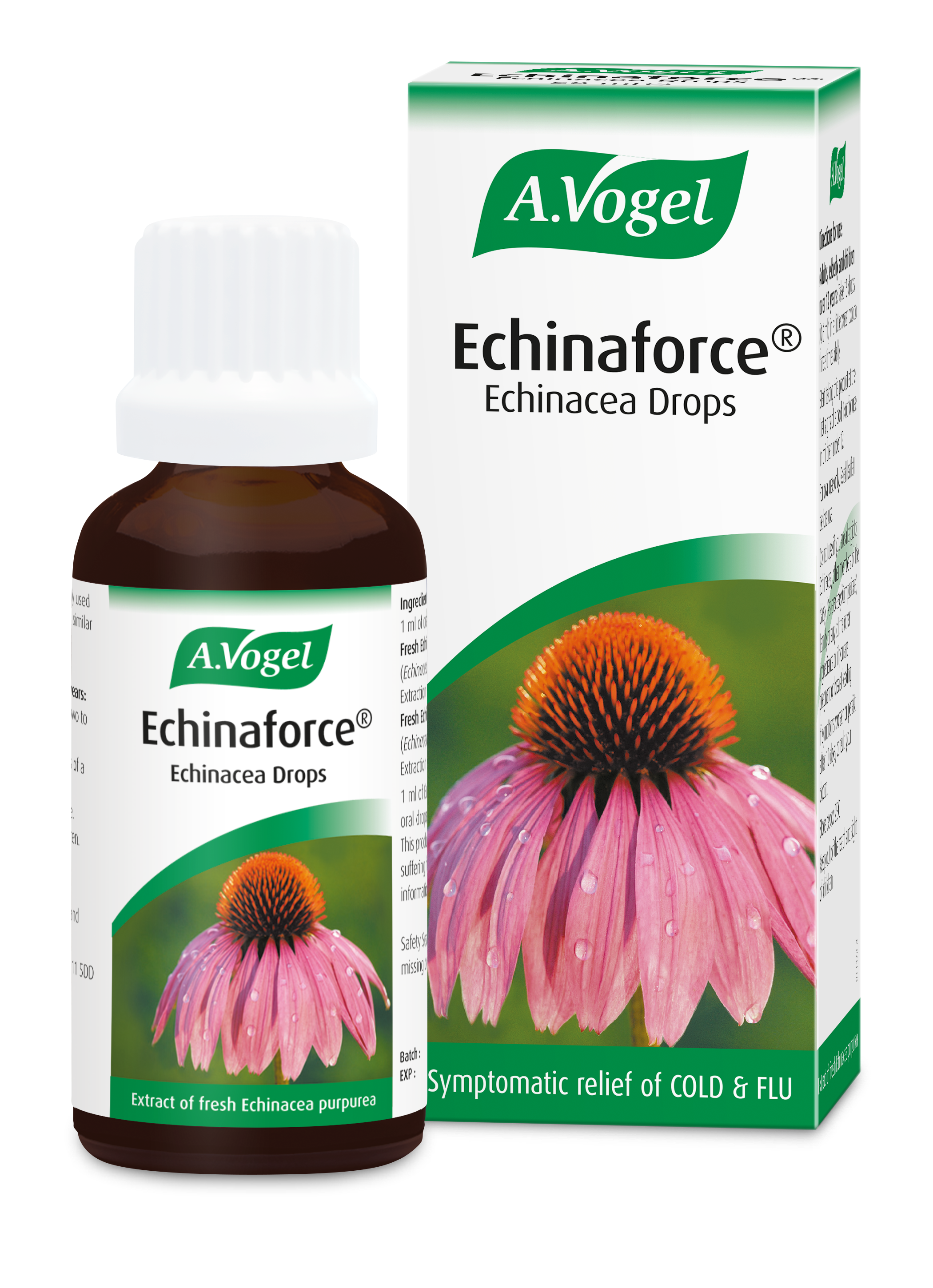 We recommend…A.Vogel Echinaforce range, which contains fresh echinacea extract. Choose from Tablets (£4.99) Chewable (£6.50), Drops (£4.50), Lozenges (£2.25), Throat Spray (£10.99) and the Hot Drink (£10.99).
Is fresh echinacea better than dried?
When it comes to the type you buy, you should look for fresh extract. In research trials, fresh echinacea extract offered 10 times more anti-viral activity than the dried herb found in many other products.
The anti-inflammatory action of the root combined with the anti-viral properties of the herb strengthens the immune system. It also protects against symptoms when infection occurs.
Is echinacea safe for kids?
Currently, UK guidelines restrict echinacea supplements to children over 12. However, European clinical trials involving younger children found those given chewable echinacea had a third fewer cold and flu episodes compared to those given chewable vitamin C. Symptoms were less severe and shorter lived – on average, three days shorter than the vitamin C group.