Mindfulness and wellness journals can be a great tool for practicing gratitude, reducing stress and boosting your positivity. We've rounded up our favourite ones to help you pause and reflect as the year draws to a close…
Mindfulness journals are a great tool in the journey to a more positive, mindful and peaceful life. A Day of Gratitude Journal (£22) is a simple and effective to help you to create a clutter free canvas for reflecting on the positive aspects of your life.
Start each morning by listing 3 things you feel grateful for, finish each day by reflecting on the positive moments that occurred.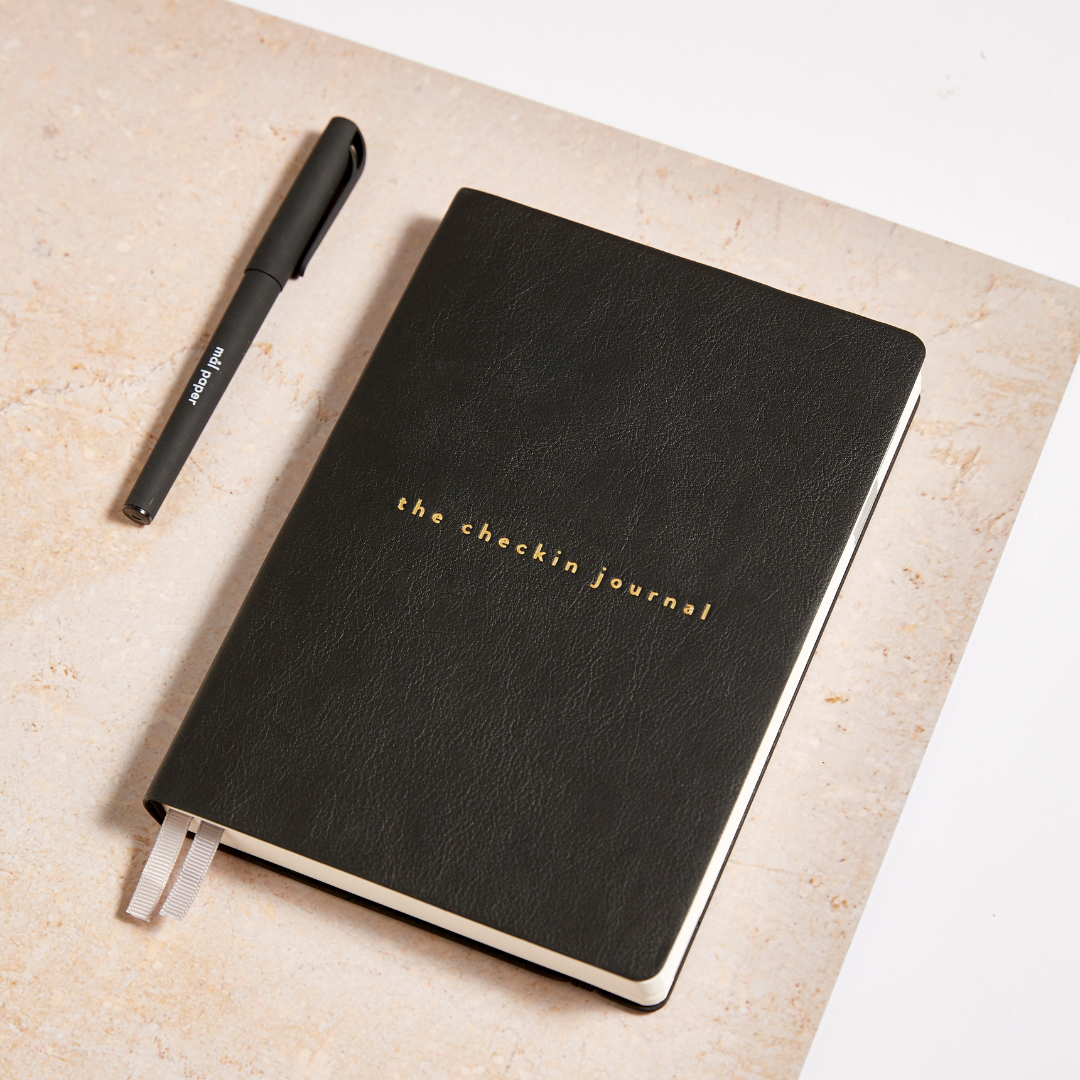 The Checkin Journal (£23) is the result of a collaboration between Matt Johnson and Mål Paper. It is the perfect mindfulness journal for helping you connect with yourself.
Start your day by checking in and listing three emotions that you're feeling in that moment. Next, make your list of daily tasks. Then, finish off your day by checking out.
This simple journal can help you to become more aware of yourself and your thoughts with the simple daily activity of checking in. Plus, for each journal sold, Mål Paper donates £2 to mental health charity, Mind.
Take yourself on a 12-week journey of self-care, gratitude and daily positivity with The Positive Planner (£22). This wellness journal encourages you to make journaling and mindfulness an everyday practice.
You'll find sections dedicated to daily intentions and reflections, a mood checker and gratitude as well as loads of useful tools designed to enhance positivity and manage your wellbeing. There's also everyday organisational extras such as meal planners, shopping lists and monthly diary spreads.
Make time for yourself with the daily wellness journal from Papier (£24.99). Start and end each day with a fresh mindset, set intentions and take note of the things that make you feel good.
Inside of this wellness journal, there are 12-weeks of pages for reflecting on your mindful goals and things you're grateful for. There's also space to record daily habits, meals, water intake and sleep.
Papier always sources paper from Forest Steward Council (FSC) certified forests. Plus, the plastic-free packaging is 100 per cent recyclable.
Following the success of the mindfulness journals for children and teenagers, The Happy Self Journal has now launched a journal for grown-ups (£22.40)! The mindfulness journal contains 3 months of daily journaling pages plus a section at the beginning that contains playful but thought-provoking questions about yourself
It's the perfect tool for enabling you to carve out some time for yourself by giving you the space to reflect and the structure to make it a daily habit. This journal will be available from January 2022 and is currently available to pre-order.
One of the trickiest tasks we ever face is that of working out who we really are. If someone asks us to describe ourselves, our minds tend to go blank. We can't just sum ourselves up. We need prompts and suggestions and more detailed enquiries that help tease out and organise our picture of ourselves.
The 'Who am I?' mindfulness journal (£15) is designed to help us create a psychological portrait of who we are with the use of some unusual, oblique, entertaining and playful prompts. The book is filled with exercises to help us develop our self-understanding within key areas of our lives, including work, sex, compassion and relationships.
Reduce stress and anxiety with the End of Day Wellness Journal from echor (£19.99). This semi-guided notebook explains the benefits of some powerful psychological mindfulness exercises. This includes gratitude, affirmations and reflections. Throughout the journal, you'll find handy prompts reminding you to consider each one in your day-to-day life.
Plus, it's also environmentally conscious with sustainably sourced paper certified by the Forest Stewardship Council (FSC). 
Designed to work as profound beginning or end of the day reflection, the 6-month Bees Knees Journal (£37.50) encourages daily, weekly and monthly reflections to help you weather life's challenges. It also offers space to forgive, challenge, let go and remind ourselves we are moving through.
It is filled with prompts to spark more joy in your life. However, it does not skirt around pain with positivity. Instead, it offers a template for you to guide yourself through difficult emotions gently and honestly. Plus, Bees Knees creates each journal in the UK with eco-friendly materials.
Some say that daily gratitude is the secret to happiness. With 365 days of prompts to encourage reflection and a positive outlook, this mindfulness and gratitude journal from CGD London (£34) is designed to help you deal with the stress of everyday life, be more grateful through reflective journaling, and focus on the positive things in your life.
We love the pink textured vegan leather cover, complete with beautiful gold detailing. Plus, it's also got a pink cotton ribbon marker so you don't lose your page!
Developed in partnership with Mind, the mental health charity, each page of this gorgeous mindfulness journal (£4) has been thoughtfully crafted and it includes activities, drawing prompts, contemplative quotes and lots of space for you to write about your own thoughts, feelings and experiences.
At only £4, these mindfulness journals are budget-friendly option for boosting daily gratitude, positivity and wellness. Plus, it would make a great stocking filler for a loved one!