TV and radio presenter, Lisa Snowdon, 50, shares her skincare and beauty tips as well as her love of weight training and walking for wellbeing…
Lisa Snowdon's skincare routine and Ciaté London collab
'I'm a bit of a beauty junkie and love my beauty routine. Skincare can be a lovely way to afford yourself a moment of self-care, which is so important. Using a cleansing balm gives you the opportunity to slow down and make a ritual of it, massaging it in and doing some deep, breaths at the same time. Remember to incorporate your neck as well!
'At night, I double cleanse – you have to if you've worn SPF and make-up – then I layer on some serums and retinols. I love oils, too! My skincare can change throughout the year as well as throughout the month, due to hormonal changes.
'Face massage is great for your skin as it improves circulation and muscle tone. If you wake up and are looking really puffing, or tired, use a gua sha tool or roller to iron out wrinkles and puffiness – it helps drain toxins down to your lymph nodes and wakes up the skin.
'I also do it when watching TV, working on my neck and lower face. It's so good for having a firmer, plumped up complexion. I'd rather sit doing that than be half watching TV and half staring down at my phone scrolling, as that leads to 'tech neck'!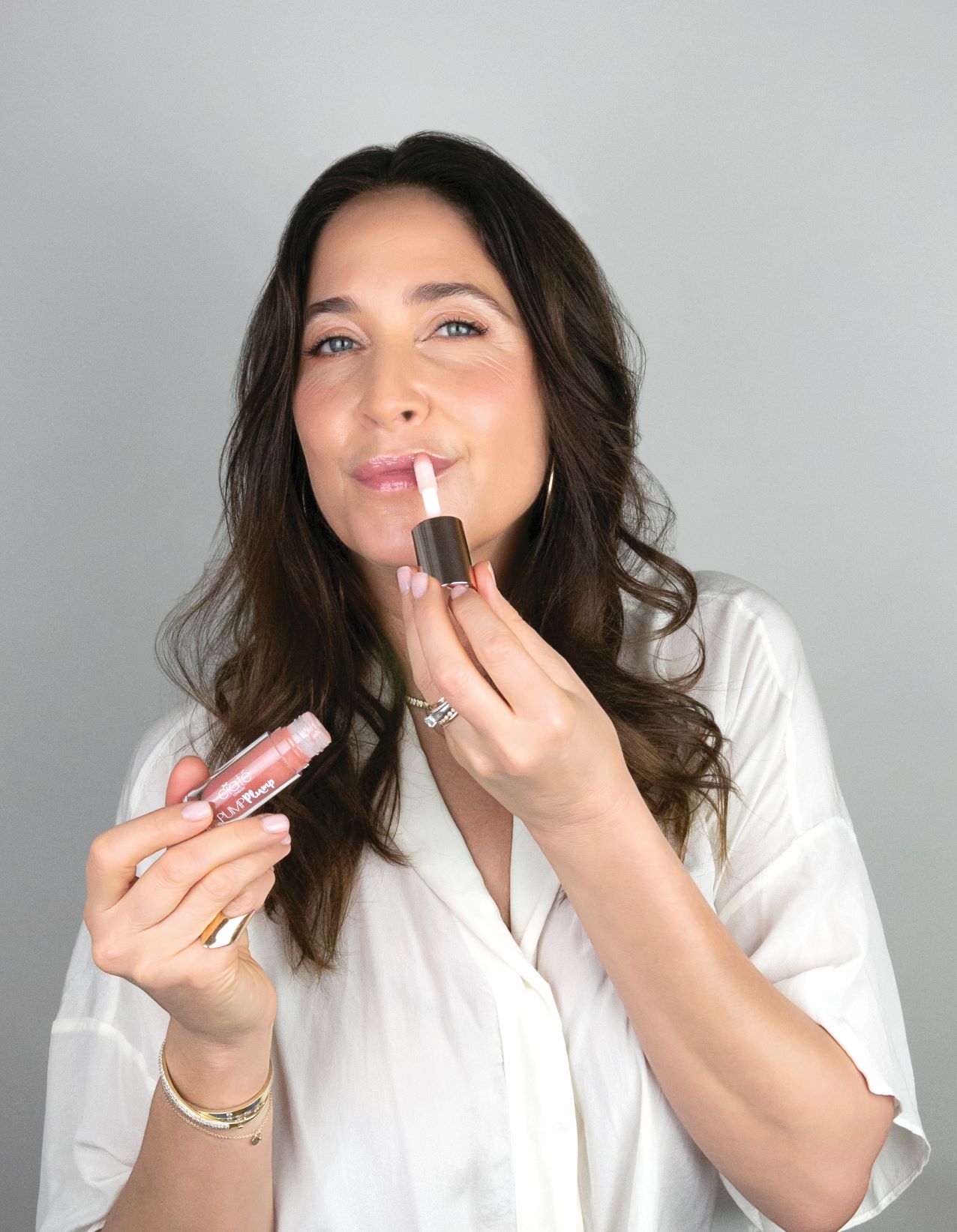 Lisa Snowdon: 'Face massage is great for your skin as it improves circulation and muscle tone.'
'I love LED face masks and have a domed one that goes all the way around, with blue, red and yellow lights. And that is amazing for skin rejuvenation, healing, soothing and boosting collagen. I absolutely love it. It takes around 30 minutes, so I'll listen to a podcast at the same time.
'I do my cleansing and serum routines religiously, twice a day. I am all about increasing moisture, glow and luminosity in a dewy, natural way. Getting older, you sometimes lose that dewiness, so I love to use products that pump up the hydration and plump my skin. I also wear less base and powder and instead go for highlighters. I teamed up with Ciaté London in January to do a limited-edition make-up box that contains products that really help add luminosity – I'm all about the glow!
'In the morning, after my skincare routine, I use a tinted moisturiser. This is followed by concealer underneath the brow bone, on my dark circles, and to cover up any redness. I try not to use concealer where the skin creases as it can make wrinkles look worse if it gets a bit cakey throughout the day. Then I use the Ciaté Dewy Skin Vitamin C Glass Glow Primer (£28) and dab it on as a highlighter to reflect light, soften fine lines and minimise pores. It contains antioxidants so it's like skincare!
Lisa Snowdon: 'I am all about increasing [my skin's] moisture, glow and luminosity in a dewy, natural way.'
'I struggle sometimes with the liquid liner because my eyes have changed a bit and are not so symmetrical. I do still love that flick you get from liner, though, so I attempt to do it if I have time. I'm all about lashes. The Ciaté mascara in my box adds lovely length and thickness as it's got tiny fibres in it.
'Another way to get that eyeliner look when you're a bit older is to use eyeshadow: get a thin, flat brush, dab it into a dark eyeshadow and then dot it along your lash line. Powder is more forgiving than a liquid but you can create the same illusion. If you mess it up, you just take your cotton bud and it's easily rectified!
'If you're going to do a strong eye, don't do a strong lip – you can't do both together! My lips get dry so I love using the Ciaté Pump Plump Lip Plumping Gloss (£20) as is adds a really beautiful sheen.'
Lisa Snowdon on breathwork and wellbeing
'Breath work really sets me up for the day. I started doing it during the first lockdown of March 2020, and I continued it as it's a really nice way to set you up for the day. Because sometimes life is hectic, isn't it? If you can find five minutes to just sit there, check in with yourself, do a body scan, then focus on your breathing for five minutes and calm it down, that's a really good start to the day. Especially if you've got something big or scary to do, such as an interview or confrontation with your boss.
Lisa Snowdon: 'Find five minutes to just sit there, check in with yourself, do a body scan, then focus on your breathing.'
'I also really love grounding myself by walking outside with bare feet. It has so many health benefits. If you've got even a little bit of grass near you, stand on it barefoot for a few minutes, either at the end of the day or in the morning, or both. It's especially good if you're stressed, as it helps calm everything down, lower your heart rate, etc. So that's good – a good bit of grounding.'
Lisa Snowdon's weight training journey
'I always thought you had to run and really pound the pavement to get fit and lose weight. But I absolutely hate running! I do like the feeling afterwards though, but during the run I'll be thinking 'this is terrible, why am I doing this?'. I'm now really into weight training, which gives me a real buzz. I never thought I'd be one of those 'ladies that lift', but it is amazing.
'Weight training is good at burning fat and it does build up a sweat. It's also about coordination so it's good for your brain as well as your booty! And it helps combat stress and helps you sleep better, too. Weight training is so good for women as we get older. But even if you're in your 30s, start now and get ahead of the curve because bone density gets worse with age and weights help build strong bones.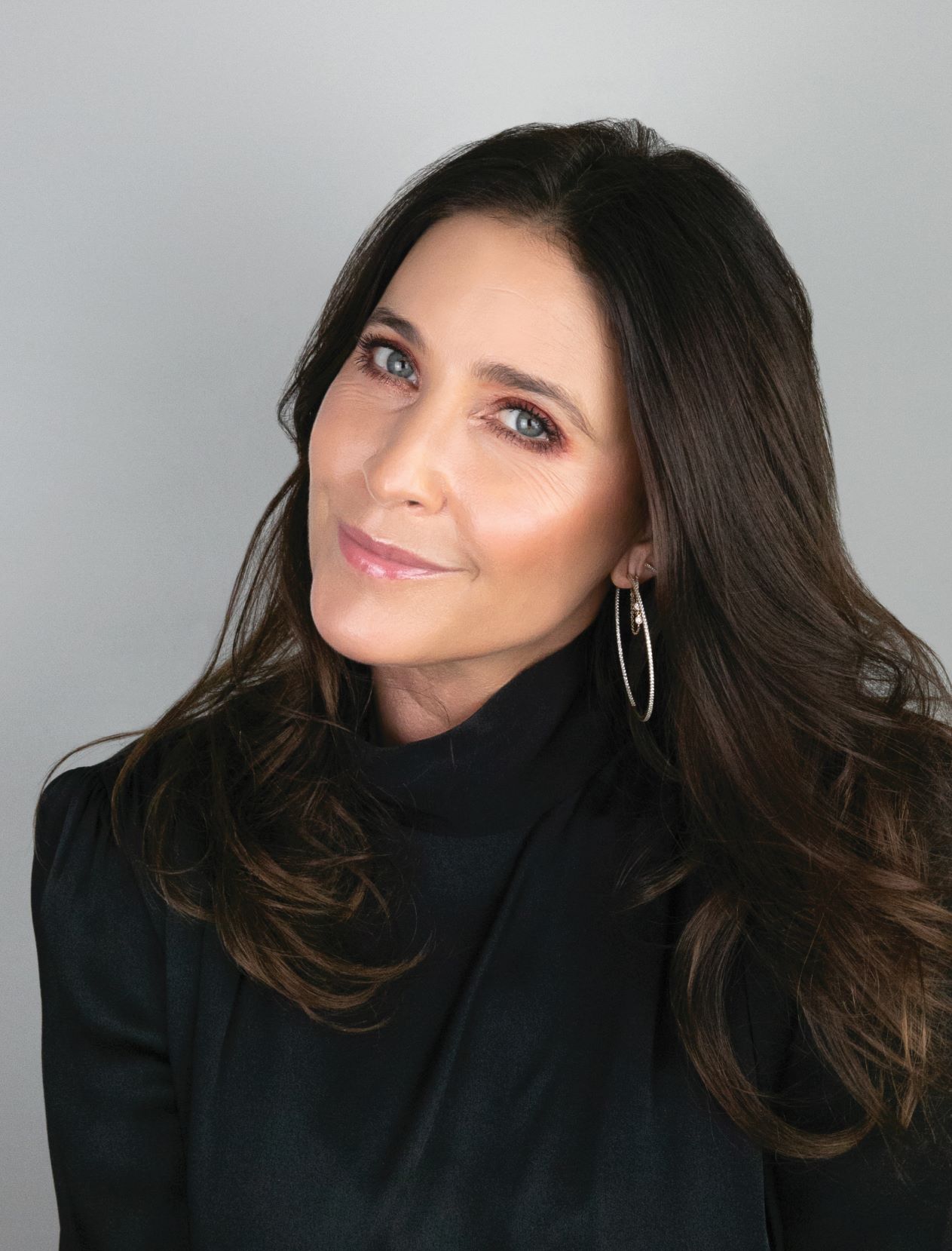 Lisa Snowdon: 'Weight training is so good for women as we get older because bone density gets worse with age.'
'Muscle tone is also crucial as, the more muscle you have, the more you will burn fat and the healthier you'll be. I've got some weights at home but I'm much more of a gym fan and like to do weights there. They have more equipment, and I do a one-to-one training session, so I know I'm not doing anything wrong or going to hurt myself.
'Having a trainer helps as you need to lift in the right way. But it's super fun once you get going. It's exciting and a challenge to see how you can progress. Recently I've managed to fit in four exercise classes a week. These vary from Pilates to circuits, where we're on bikes, then jumping into boxes, doing planks on a ball, a bit of TRX stuff and then a bit of weights.
'I like to mix it up and keep my body guessing. I also did my first BodyPump class when I was working in Dubai earlier this year. For the next three days I was in agony! But I loved it as you keep moving for the whole 45 minutes. The trainer's body was insane – very inspirational. Her bum was insanely pert!'
Lisa Snowdon on nutrition and intermittent fasting
'I do intermittent fasting a couple of days a week. This means I won't eat in the morning until, perhaps, midday. But everybody's different. Some people need to eat first thing, but this way works for me. I found that by having that slight calorie deficit a couple of times a week, it helps.
'Today, for example I started off taking my live bacteria drink first thing in the morning, for gut health – that's something that also gets affected by the menopause. Then I have hot water with lemon. I take collagen, too, as I think that really helps with my skin as well as my hair, nails, tendons – everything! Then I might have a green tea and go to the gym, then drink lots and lots of water before eating at midday.
'I also have just two meals a day, a couple of times a week, and I try to have dinner earlier. This means I don't eat too late at night and I try not to eat a heavy meal in the evening. I make lunchtime my big meal. If I go out for dinner that goes out the window though! But I do try to limit alcohol if I go out, as it has so many hidden calories.
Lisa Snowdon: 'I take collagen, as I think that really helps with my skin as well as my hair, nails, tendons – everything!'
'Water really helps your skin and energy levels, too. I drink loads of water to help flush everything through. It also helps you to not feel as hungry as well. If you're trying to avoid snacking, have a big glass of water as that can sometimes help. I've always got a bottle of water with me – I use one of those metal reusable ones. I literally pee all day but I don't care; it's good to drink loads!
'I've been told that sugar is more addictive than crack cocaine! I'm an all-or-nothing person with chocolate so I can't just have one, I will want to eat loads! Once you're eating it, your body just wants more. The only way to stop craving it is to cut it out completely. If you do a week without it, you'll be fine. The first few days are hardest at mid-afternoon, when you want a snack, or in the evening, but I just go to bed earlier.
I've managed to cut it out a couple of times in the past and the first week is always the hardest. But then life is for living – it has to be about balance. I think there's also that risk that if you do get too restrictive with yourself, you'll just want things more. So, you can't always deny yourself.'
Lisa Snowdon on the healing power of nature
'I love being around plants – I've got them everywhere. There are hundreds in my house and I have some in every room. The conservatory is like a jungle! I also love taking care of them – it feels good for my soul. And then, obviously, being in the garden is precious. I moved back to this house six years ago and it hadn't had that much love in the garden for a while. It needed a whole load of landscaping. George [Lisa's partner] and I did it together and it's been a labour of love.
'Every weekend we'd be digging, getting rid of the prickly bushes, then planting beautiful colourful plants. When you nurture and care for something in nature it just has this rewarding feeling, like connecting to the universe. I'm quite of spiritual like that. I grew up in the countryside and would walk in the fields and in the woods. I love being around big old trees and seeing birds.
'I think as I've gotten older, I'm turning more into my nana. She was always really into her gardening, as was granddad and my mum and dad. I always try to get in a walk at the weekends. It's also good to put away your phone when you're walking in nature. Sometimes I'm guilty because I take pictures and George tells me to put my phone away and just to look around and take it all in. Those moments are so good for your mental health.
Lisa Snowdon: 'When you nurture and care for something in nature it just has this rewarding feeling, like connecting to the universe. I'm quite of spiritual like that.'
'If ever you're feeling down, get yourself out for a walk, out into a green space; just sit, look and listen to what's going on in nature. I know some people say they are too busy, but try getting up earlier or taking a longer walk to the supermarket. Even if you do just 15 minutes of walking, it's going to help.
'I do aim to do 10,000 steps each day. You gotta keep moving! Especially if you've sitting at a desk all day. So many of us have offices at home now. We've become really stagnant over the past two years. So you've got to try to get out – even just for a walk around the block!'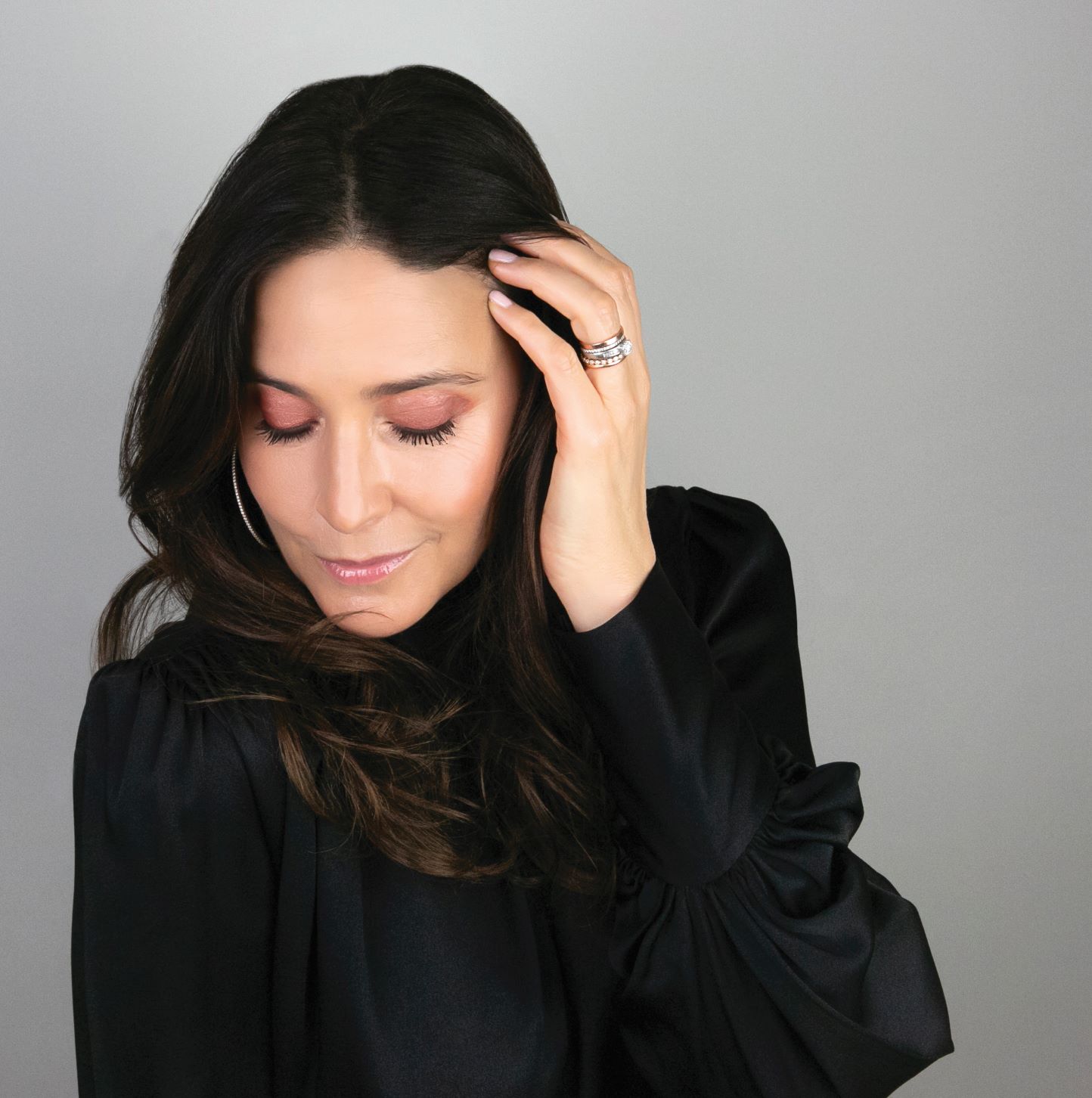 What advice would you give to your younger self?
'I try not to regret because that's such a wasted emotion. But, if I had to look back over the first half of my life and give any advice, it would be to know your own self-worth. So then when you get yourself into situations where you may be around toxic people and it doesn't feel right, rather than stay with it because you think you don't deserve better, you'll be more likely to leave – and save yourself a lot of heartache and sadness.
'Listen more to your instincts as they are never wrong. Whether it's a bully at work, a boyfriend, a friend, just check in with yourself. If things don't sit well with you, know you deserve better. It took me until my mid-forties to learn to love and accept myself for all my quirks and weirdness. Self-acceptance is key as we're in our bodies for a lifetime. So, I think you have to be kind to yourself.
'It's never too late to start looking after yourself. I'm embracing my fifties – it feels really good! Fifty is the new 30! I did a Self-Care Sunday Insta Live about looking after my neck, cleansing and using products to help it, and some people were like 'I wish I'd done that. It's probably too late for me now'. But it's not too late. It's never too late to start exercising or take start looking after yourself.'
Lisa is an ambassador for Ciaté London – find the beauty range at ciatelondon.com. Lisa also helped to promote the Red Nose Day 2022 T-Shirts, which you can buy at tkmaxx.com.
Words: Katy Sunnassee | Images: Ciaté London