Many women find that as they go into the menopause, their libido begins to drop and sometimes sex becomes less comfortable or pleasurable. If this sounds familiar, you're not alone. As many as 'three quarters of women feel their sex drive has reduced and more than fifty percent of women report that they struggle to have an orgasm' once they enter menopause.
There are many reasons as to why libido can decrease during the menopause. One of the most common is vaginal dryness. Approximately one in three women will experience vaginal dryness at some stage during their life. This is due to a change in oestrogen which causes a decrease in mucus-producing cells that keep the vagina elastic. This then results in a thinning of the vaginal lining and the tissues become dry. This reduction in natural lubrication can make penetrative sex uncomfortable and even painful for many women.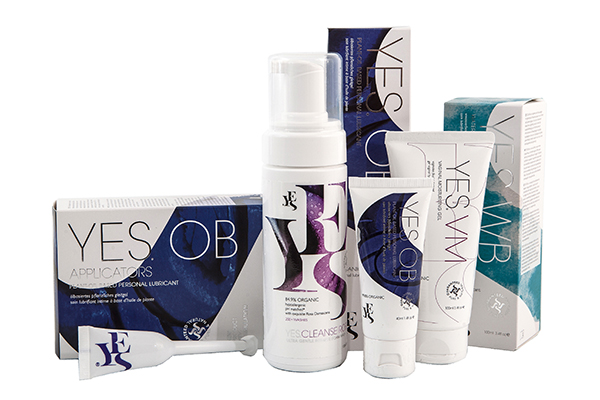 Luckily there are ways to address the problem. Using a natural vaginal moisturising gel like YES VM can help to alleviate vaginal dryness. A clear, natural iso-osmotic vaginal moisturiser, YES VM is matched to the vaginal pH and hydrates intimate tissues as and when needed, providing natural relief from vaginal dryness and atrophy. When used regularly, YES VM will restore the natural protective acidity of the vagina. YES VM is compatible with natural rubber latex and polyisoprene condoms, and is also available on NHS prescription.
Certified organic lubricants
Our range of certified organic, natural water-based and plant-oil based lubricants are also extremely hydrating and nourishing for the vaginal tissues, making sex for those experiencing symptoms such as vaginal dryness and irritation, infinitely more comfortable and pleasurable. YES personal lubricants offer discretion, as they draw no attention to themselves through smell, taste or colour.
For maximum glide and protection, we recommend that you try the 'double glide' method, combining YES OB our rich and long-lasting, plant-oil based lubricant with YES WB, a discreet and incredibly hydrating water-based lubricant. Apply YES OB first and then layer YES WB on top to create a sublime and lasting glide whilst protecting your delicate tissues. (Nb. Please note that YES OB is NOT condom compatible but YES WB is compatible with natural rubber latex and polyisoprene condoms).
YES DG (£16.99) contains a 100ml tube of YES WB and 80ml tube of YES OB. Available to purchase at www.yesyesyes.org
Sponsored content