Whether you're after a last-minute present for an eco-warrior, or you're looking to be more planet-friendly yourself this Christmas, we've rounded up the best sustainable Christmas gift ideas that are overflowing with green eco-credentials…

This vegan leather lunch bag from Tabitha Eve (£15) is a stylish and sustainable way to store and carry food on the go, whether you're on a romantic picnic or a quick lunch break.
The vegan leather is made from wood pulp, synthetic latex and cotton. Synthetic latex is used instead of natural latex as it's more stable, meaning this lunch bag will last for years to come!
Help your loved ones store their food in festive and sustainable style this Christmas with the Festive Beeswax Wraps from Annabel James (£14.95).
These eco-friendly wraps are a great reusable alternative to single-use plastic clingfilm. Plus, they are washable, compostable, naturally anti-bacterial and made with 100 per cent pure cotton.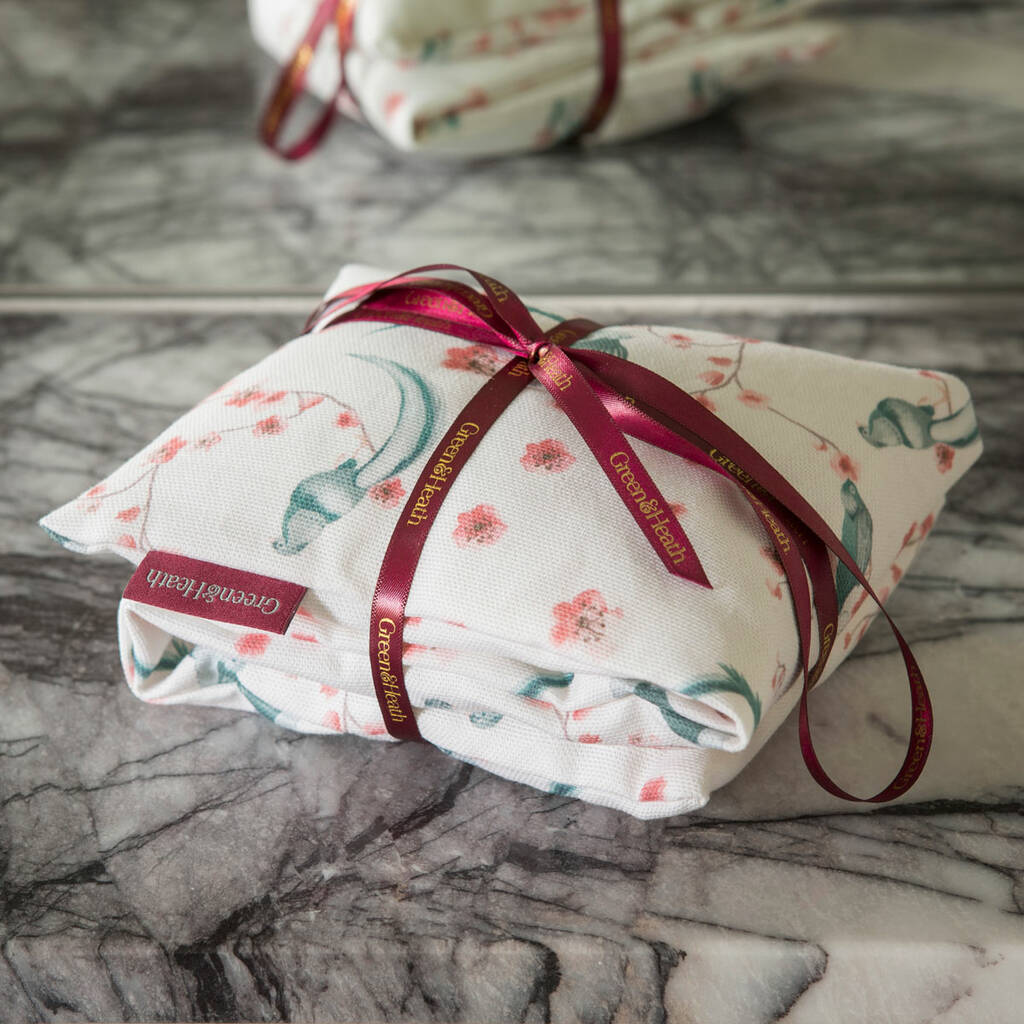 We all have that one friend who seems to be perpetually cold. Keep them cosy on chilly winter's evenings with the Green & Heath Wheat Warmers and Hot Water Bottles (from £24.95).
Green & Heath creates each cosy product using locally-sourced and sustainable materials, including British Wool. Plus, the wheat bags have real lavender inside, making them a great sleep aid, too!
Design By Nature Dried Flower Bouquets (from £55) are the perfect statement piece for any home. Plus, dried flowers can last for 3 years (or more!). This makes them a more sustainable option than cut flowers, which often only last for a week.
Get the keen crafter in your life kitted out for their next upholstery project with the PT Eco fabric collection from Prestigious Textiles (from £23.52 per metre).
Perfect for creating your own cushion covers or curtains, the fabrics combine stylish design with sustainability, thanks to the composition of recycled polyester and sustainably grown organic cotton. There's also a huge range of patterns available, from subtle neutral shades to bold botanical prints.
Denby Pottery (from £8) creates handmade ceramics and tableware in a wide range of beautiful designs and colours, all using sustainable and locally-sourced clay.
To cut down on waste, the company recycles and reuses its moulds and clay waste. Plus, Denby is the first UK tableware manufacturer to claim zero process waste to landfill. This helps to save 600 tonnes of CO2 emissions every year. The perfect sustainable Christmas gift for any home!
Get ready for some eco-friendly Christmas parties with the House of Marley Get Together Duo Speakers (£179.99)! These stylish speakers are crafted using sustainable materials including Bamboo and REWIND™ Fabric, which is made from recycled materials including organic cotton and hemp.
The wireless and rechargeable speakers also offer great sound quality, Bluetooth connectivity, and 20 hours of playback for easy listening on-the-go. A perfect sustainable Christmas gift for anyone who loves cranking up the tunes!
The Winter Spice Candle from Emma Alington (from £22) will add a gorgeous festive fragrance of orange and cinnamon to any home.
Each candle is made using sustainably sourced essential oils and GM-free soy wax, plus the packaging is fully recyclable. Emma Alington also offers candle refills, so you can reuse your container again and again!
Bamboo'em Cups and Coconut Bowls (from £11.99) are the perfect sustainable Christmas gift for the eco-friendly warrior in your life.
Handmade by skilled artisans in Southern Vietnam, the zero-waste crockery is made from reclaimed wood, coconut shells and bamboo. Unlike plastic, these will eventually biodegrade, leaving no trace behind and causing no harm to the environment.
The Eco Warrior Face, Hair and Body Gift Pack (£8.99) includes 4 mini bars: one for washing your hair, one for gently cleaning your face, one for exfoliating, and one for shaving. Perfect for anyone looking to make their beauty routine greener!
The range is plant-based, cruelty-free, plastic-free, and 100 per cent vegan-friendly. In addition, both the packaging and the soap is eco-friendly and biodegradable. Plus, the formulation is totally free from detergents, SLS, sulphates, alcohol, parabens, sorbates, silicones and synthetic preservatives.