Science is beginning to understand what so many of us know instinctively: that being near water is wonderful for our wellbeing.
During the pandemic, Luisa Carugati, 47, found solace in nature. Adjusting to homeschooling her son, Luigi, six, and working on Zoom, Luisa was in danger of technology fatigue, feeling cooped up and stationary at home all day.
But before work or after, alone or with Luigi and her partner Steve, Luisa would head to the Hackney Marshes canal to walk, run or just sit for a while for her hour of exercise.
'It was non-negotiable,' Luisa says. 'I had to structure time near water into every day because it was, and still is, a fundamental part of my wellbeing. I would feel like something was missing if I didn't get to the water's edge.'
Water is important, even in an urban area
A nutritionist with The Really Healthy Company (healthy.co.uk), Luisa encourages her clients to seek out nature as part of a rounded approach to wellness. She does the same for herself.
'Our life choices affect our cellular health and the happiness we get from nature trickles into our cells,' she says. While water is often associated with life at the seaside, Luisa believes it's even more important if you live in an urban area.
'I couldn't live in London without the canal. When I've finished running alongside it, I spend half an hour sitting near Fish Island. It's a big, tranquil expanse of water with a bridge and four islands. Afterwards, I always feel focused, calm and clear-headed, with a rooted connection to the natural world.
'I absolutely love the sea, but I wasn't able to get to the coast during lockdowns. But even at the canal, I can forget I'm in a city and disassociate myself from all the concrete. It's like taking a mini holiday, every day.'
Luisa is not alone. A survey by Discover Ferries revealed that 66 per cent of us feel like we've been on holiday when we've spent time by the water and that 77 per cent find time spent by water relaxing. For many, nature provided respite from the chaos of the pandemic. While so much was closed, green and blue spaces were open and free.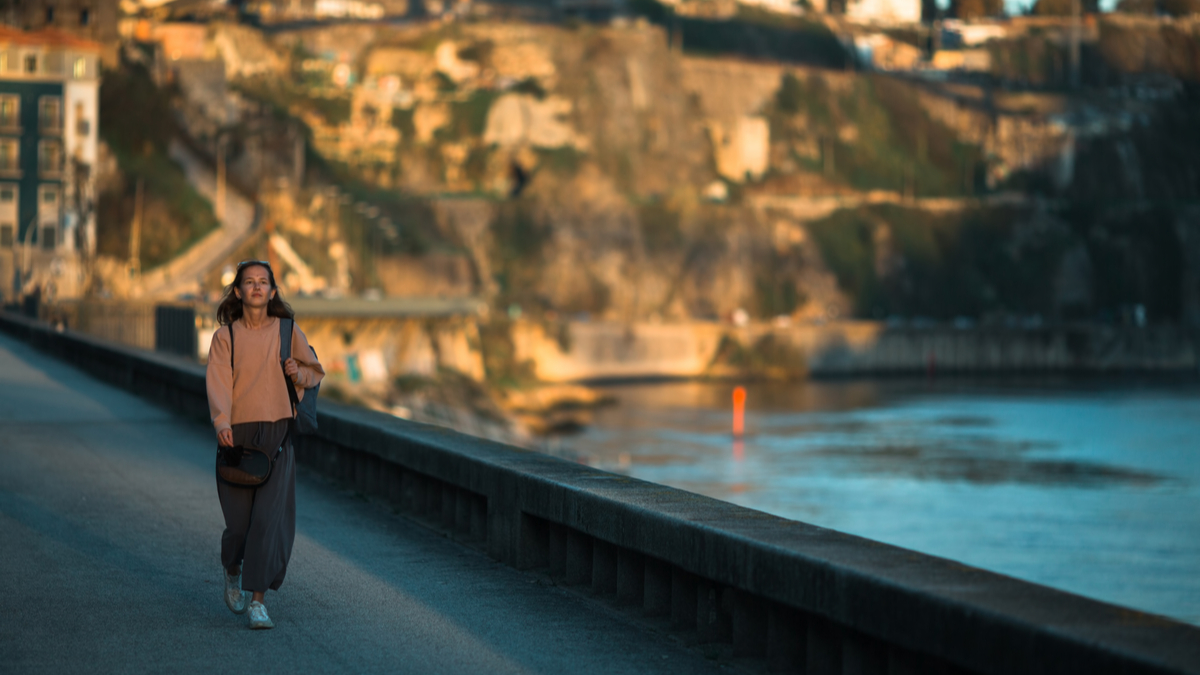 The benefits of blue
According to Dr Catherine Kelly, academic, wellbeing practitioner and author of Blue Spaces: how & why water can make you feel better (£11.99, Welbeck Balance), "blue space" describes all the watery places in our world, from the sea to lakes, rivers, canals, waterfalls, streams, ponds, and fountains.
Dr Kelly has devoted her career to understanding the science of water and wellbeing. 'Human beings have long sought out therapeutic landscapes for solace, stillness, and rehabilitation, and in our busy worlds, with so much value placed on productivity, time beside water offers an antidote,' she says.
While the connection between "green" landscapes and mental health is well documented, researchers are increasingly intrigued by how "blue spaces" induce a positive mood, reduce negative feelings, and help us feel present, energised, and connected. 'Many of us live in "red" mode, feeling stressed, worried, and anxious. When the brain is in "blue" mode, we feel calm and mindful,' says Dr Kelly. 'Water can help you with your self-care very simply, as just being near water connects you to yourself once more.
'One of the elements of neglecting self-care is when we disconnect from ourselves, especially our bodies. Have you ever avoided doing anything about your own physical fitness, diet or nutrition, because you feel overwhelmed by stress or time constraints? Being near or in water allows you to gently slow down your busy thoughts and come back into your body in a way that no other natural space can do.'
Effortless mindfulness
Research shows that even looking at views of water reduces your blood pressure and the presence of stress hormones cortisol and adrenaline. Blue spaces offer effortless mindfulness, an opportunity to let go and be present, focusing not on what you left at home but, instead, on the soothing sight and sounds of water. Being in nature and by water improves your wellbeing because there is a healing effect of looking at, or being in water.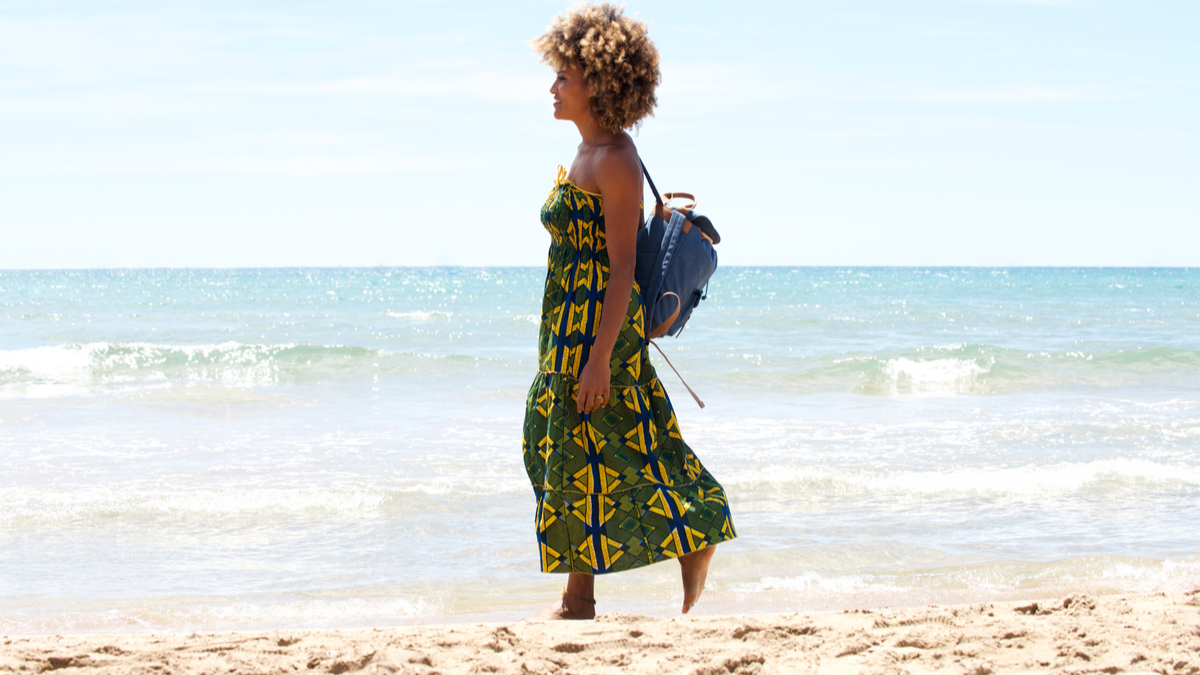 'Blue spaces help regulate the activity of the brain's amygdala, the anxiety and panic centre, because water allows your attention to drift involuntarily and, therefore, more peacefully, rather than being forced or directed,' explains Dr Kelly.
'Blue space is more than a neutral backdrop, though – it's alive not just with its own wildlife and vegetation, but with you and your emotions. It changes the neurological patterns of your brain, leaving you feeling more calm, peaceful and happy.'
A source of happiness
When restrictions started to ease in March, Michelle Maslin-Taylor, 40, from Lightwater in Surrey, dropped her kids at school and drove 50 miles to Hayling Island. 'I needed to see the sea,' says Michelle. 'The moment I arrived, a feeling of calm and happiness washed over me. I walked along the beach, gazing at the water, listening to the waves, and left feeling renewed, creative and focused.'
Michelle struggled with anxiety and depression throughout her teens and 20s and, reflecting now, realises she wasn't spending much time in natural spaces or near water during that time.
'When my depression got really bad, I quit my job and moved back home. I got a new job in a converted water mill and, during my lunch break, I'd sit by the stream in the village,' she says. 'I began to feel a sense of peace I'd been longing for.'
Now a yoga teacher and owner of Live Happy Live Healthy (happyhealthy.today), Michelle has developed a host of tools to nurture her mental health, but the greatest one she says is being near any natural space of water.
A sense of freedom
'When we moved house 11 years ago, we chose our home because it was within walking distance from a country park that had a lake. Nearby is Virginia Water, where there's a beautiful waterfall I regularly sit and watch. When I look out over a vast expanse of water, I feel a sense of freedom, and that's never been more important than in the past year, with our lives so restricted. There's so much for my senses to enjoy – watching the ripples, listening to the trickling water – it's easy to bring myself out of my thoughts and into the moment.'
Many blue space enthusiasts depend on water for their wellbeing, whether the feeling is intuitive, imperative, or both. 'Water can help with rehabilitation and chronic pain management, but it's what happens in your mind when you are in a blue space that is critical,' says Dr Kelly.
'If wellbeing is about the balance between body, mind and soul, then a "blue soul" seeks the internal homecoming offered by blue spaces, which we love, value and need.'
Benefits are physical, psychological and social
Blue spaces also create the opportunity to improve your wellbeing on three important levels: physically, psychologically and socially.
'Your physical wellbeing is boosted by walking or playing beside water, or by swimming, kayaking, surfing or paddle boarding and improving cardiovascular wellbeing,' adds Dr Kelly.
'Your psychological wellbeing improves, too, as you breathe more deeply, which has a calming effect on your body and brain. Worries ease as you direct your gaze to the surface of water.
'The third improvement is to social wellbeing. Following a river path, sitting by a pond, and listening to the sounds of water helps you relax, but it is also something people often do with families, a friend, or a community group. This helps reduce loneliness and isolation, and keeps people connected to others, to the natural environment and to ourselves.'
Dr Kelly concludes: 'Water has so much to teach us about ourselves. We may try to manage, divert and control water, but ultimately it will find its own way. It can be wild, calm, quiet, loud, hot, cold, ever-changing, and ever-flowing. Just like us.'