Welcome to the results of the first ever Top Santé Bodycare Awards! All the bodycare products have been trialled by a panel of women, each aged 35+, who tested them for at least four weeks to determine which ones were the most pleasant to use and, most importantly, achieved the best results!
Bodycare Awards: Best deodorant

An aluminium salts-free, roll-on deodorant that has a subtle, herbal fragrance to restrict odour. You can feel confident about staying fresh after applying this.
Katie, 40s: 'Keeps you feeling fresh all day and it's so nice not to have the synthetic smells that many deodorants have.'
Formulated for sensitive skin, this hypoallergenic deodorant can soothe skin irritated from hair removal. It's free from alcohol and aluminium salts, and contains natural ingredients to neutralise the formation of odour.
Hazel, 40s: 'Really effective, this dries quickly and does a great job. The smell is lovely but more subtle than other brands.'
Shortlisted:
Bodycare Awards: Best foot scrub

This foaming cleansing pebble is made of white sands and volcanic ash to gently but thoroughly buff away dead skin, plus it contains peppermint and eucalyptus to invigorate.
Claire, 40s: 'I absolutely adore this. It's easy to use in the shower and the granules smooth and nourish your feet while the aroma is subtle but pleasant.'
Fine, volcanic pumice and natural fruit acids combine to dissolve and exfoliate dry, dead skin to leave your feet smooth and rejuvenated.
Henrietta, 40s: 'This promises a spa experience and that's what you get. The fragrance is evocative of being at a spa and my feet feel soft and moisturised.'
Shortlisted:
Bodycare Awards: Best foot cream

Designed to be applied at night, this cooling cream contains urea, lactic acid and almond oil to remove dead skin cells and hydrate, plus freshening eucalyptus and menthol.
Katherine, 40s: 'This works brilliantly, giving me lovely soft feet after each use – I even use it on my hands too. The fragrance is revitalising.'
Made up with 25 per cent shea butter, this rich cream not only nourishes skin but soothes, reduces roughness and repairs.
Angela, 40s: 'Despite being a thick cream, this sinks in well and isn't greasy. Gives incredibly soft and smooth feeling feet.'
Shortlisted:
Bodycare Awards: Best body serum

Rich in omega oils to nourish, turmeric for radiance and balloon vine to soothe, this serum strengthens the natural moisture barrier of skin and evens skin tone.
Angela, 40s: 'Beautiful product that comes in a spray bottle. It melts into my skin easily and creates a lovely, soft glow and improves tone.'
Although lightweight, this serum contains a powerhouse of heroes including hydrating hyaluronic acid, a collagen-boosting peptide, micro algae to tighten and Hawaiian sea plant to stimulate cell renewal.
Hazel, 40s: 'Feels nice on your skin, soaks in well and intensely moisturises.'
Shortlisted:
Bodycare Awards: Best cellulite product

A luxurious blend of aromatherapy oils to detox and stimulate. Massaged in, it enhances circulation to help flush out trapped fluid for lighter-feeling legs.
Angela, 40s: 'This noticeably firms my skin and improves the quality of its surface. It smells beautiful – you could use it for the scent alone.'
A 100 per cent organic blend of herbs and essential oils, this contains green tea, rosemary, mint and lemon, which stimulates circulation and helps eliminate toxins.
Caroline, 30s: 'This little bottle looks high end, and the oil makes my skin feel firm and smooth.'
Shortlisted:
Bodycare Awards: Best self-tan

A hydrating cream that contains marine mineral extracts and just a hint of colour to subtly build up a glow in four to six hours without any streaks.
Monica, 40s: 'A little goes a long way and delivers a flawless, golden, streak-free look. It lasts really well too.'
This nourishing moisturiser contains plant melanin, which works with tan-accelerating DHA to create a glow in four hours. Jasmine, rosewood and ylang ylang provide a lovely fragrance.
Caroline, 30s: 'The cream is coloured so you can see where you've applied it and it goes on smoothly. After using it I've received positive comments on the colour of my tan!'
Shortlisted:
Bodycare Awards: Best neck product

Luxury ingredients include black caviar extract to boost cell repair and collagen production, plus active gold to enhance penetration into the skin. Hydrating hyaluronic acid and protective ceramides complete the formula.
Nicky, 40s: 'This feels rich and nourishing and makes my skin look fresher, hydrated and illuminated. Gorgeous product!'
Undoubtedly pricey yet this contains peptides and plant stem cells that increase collagen and elastin production to tone, define and firm. Sweet almond proteins soften and leave skin feeling silky.
Monica, 40s: 'This has a beautiful citrus, creamy vanilla fragrance and after using it at night, I can feel and see a visible difference in the texture of my skin in the morning. Although it's expensive, I would buy it as it's effective.'
Infused with CBD compounds to encourage cell renewal, smooth and strengthen the structure of the skin. This light serum is packed with vitamins A, B, D and E and antioxidants.
Jacqui, 40s: 'This feels rich and creamy when you apply it but soaks in instantly. Leaves skin feeling amazingly soft.'
Shortlisted:
Bodycare Awards: Best body bar

Handmade using traditional cold process methods, this soap contains natural shea and coconut butters and has a gorgeous vanilla, orange, patchouli and saffron fragrance.
Henrietta, 40s: 'Fabulous scent that both me and my husband love. It lathers up really well and leaves my skin feeling soft.'
Ideal for sensitive skin, this healing soap reduces irritation and is gentle enough to also be used on the face. Alongside chamomile flower extract, it contains plant-based glycerin and essential oils.
Philippa, 40s: 'This lathers well, makes my skin feel nice and has a lovely scent. I'll buy this again.'
With a fresh fragrance of organic orange, lemon and lime, this soap contains hemp oil to prevent skin from drying out, plus coconut, olive and jojoba oils. Vegan, organic and Fairtrade ingredients.
Hazel, 40s: 'This lathers to soft, soapy suds that leave your skin feeling smoothe and fresh – it makes washing your hands a pleasant experience!'
Shortlisted:
Bodycare Awards: Best bath product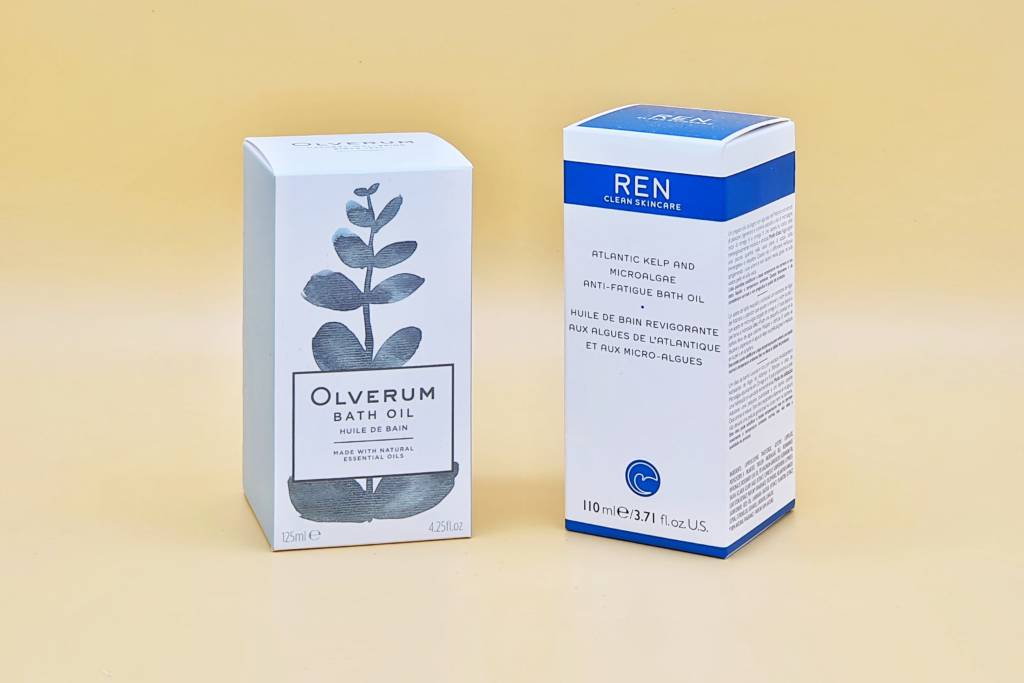 This aromatic blend of essential oils, including Siberian fir, eucalyptus, lemon, rosemary and verbena, helps both body and mind unwind and relax, making it perfect before bed.
Janine, 40s: 'A little goes a long way. It makes the entire bathroom smell gorgeous – relaxing and soothing and I had a great night's sleep after using this pampering oil.'
Atlantic kelp, plankton extracts and microalgae oil offer up magnesium and omega 9 oils to nourish and condition skin, detoxify and help ease fatigue
Jacqui, 40s: 'This has a lovely relaxing fragrance. It leaves my skin feeling hydrated but not greasy at all! Great product that helps me feel calmer.'
Shortlisted:
Bodycare Awards: Best exfoliator

This natural body exfoliator uses crushed grape-seeds to gently but effectively scrub skin. Essential oils of lemon, lemongrass, rosemary and juniper berries give an energising boost.
Natalie, 40s: 'The particles are robust enough to last, rather than washing away on contact with water and it produces a creamy texture. It tackles dry areas of skin well – I love it.'
The combo of exfoliating sugar and nourishing shea butter helps to slough away dead skin cells and leave skin smooth. It has a subtle nutty scent.
Ali, 40s: 'This is a great, well designed product. It's not too coarse – just the right consistency – and smells lovely.'
Shortlisted:
Bodycare Awards: Best body wash

This creamy wash contains plant-based cleansers, quince seed extract to stimulate the skin's defences and pure essential oils for a burst of freshness.
Zoe, 40s: 'This has a lovely, lemony fragrance – it reminds me of being on holiday!'
Ideal for sensitive or itchy skin, this oil contains omegas to protect the skin barrier, niacinamide to soothe irritation and prebiotic sugar to balance the microbiome. It produces a soft foam.
Claire, 40s: 'This removed the dry, eczema patches on my arms after three or four days of use. It makes a lovely creamy lather and yet doesn't leave the shower slippery – it's fantastic.'
Shortlisted:
Bodycare Awards: Best body oil

An invigorating oil that can be also be used in the bath or as a massage oil, the blend contains organic shea butter, African water mint, ginger and activated charcoal.
Geraldine, 60s: 'Beautiful smell and the mint is immediately invigorating. The dispenser is great and the oil leaves no sticky residue.'
An artisan blend of jojoba, apricot kernel and sunflower oils and neroli, patchouli and sweet orange essential oils, this is made in small batches to preserve the botanical properties. Perfect for dry skin.
Tamara, 30s: 'This smells totally lush and it absorbs easily too.'
Shortlisted:
Bodycare Awards: Best hand cream

This anti-ageing formula contains 98.8 per cent ingredients of natural origin, including Damask rose and witch hazel hydrosols to moisturise. Sandalwood, mandarin, grapefruit, cedar and sweet vanilla notes give it a luxurious scent.
Emily, 40s: 'By far the loveliest hand cream I have ever used! You only need a small amount to get the benefits but it noticeably makes my hands smoother. And you get a waft of the gentle scent throughout the day.'
Plants including mimosa, verbena, chamomile, marshmallow, calendula, lemon balm and rosemary team up with unctuous shea butter to repair and protect hardworking hands.
Yvonne, 50s: 'This smells gorgeous. It takes a while to work in, but really does the job and makes my hands feel protected. Perfect for hard-working hands.'
Shortlisted:
Bodycare Awards: Best body moisturiser

Calm, soothe and soften your skin with this delicately fragranced cream containing extracts of sea lavender and samphire, macadamia oil and oat kernel extract.
Gemma, 30s: 'This smells amazingly fresh, glides on to my skin and is quickly absorbed. It leaves my skin hydrated all day.'
Dry and sensitive skin loves this hydrating, fragrance-free hero that combines allantoin, arnica extract, Baobab seed and buriti oils, squalane and shea butter to replenish the skin's moisture barrier.
Katie, 40s: 'I love this moisturiser – it's ideal for everyday use, absorbs quickly and leaves no residue or scent. I'll buy this.'
This NATRUE-certified body butter has a whipped texture and is packed with calendula, chamomile, sunflower seed oil and cocoa and shea butters to moisturise, plus rosemary and chamomile essential oils.
Natalie, 40s: 'Just like the original Skin Food, this body butter version has a gorgeous herbal scent and cocoons my sensitive skin.'
Shortlisted:
Bodycare Awards: Editor's choice – Best Green Beauty Brand
Winner: Weleda (weleda.co.uk)
First founded in 1921 in Switzerland, Weleda was inspired by the work of scientist Rudolf Steiner and pioneering female doctor Ita Wegman who developed a range of products made with entirely natural ingredients.
Some very strong values are at the heart of Weleda, guiding actions and informing decisions, including our holistic approach to health and wellbeing. It strives to enhance the positive and reduce the negative impact on the planet, growing its own plant ingredients organically using strict Demeter-certified biodynamic methods.
Weleda sets challenging environmental standards and seeks long-term solutions to protect the environment, regenerate land, and build sustainable projects and partnerships through ethical business, with profit as the result not the goal.
Over the decades Weleda has become the largest global manufacturer of certified natural and organic cosmetics and wellbeing products, with Weleda companies in 52 countries around the world today, and over 50 long-term organic fair trade farming partnerships globally.
Every single one of Weleda's natural and organic cosmetics is NATRUE-certified, guaranteeing the highest standards of naturalness, gentle and sustainable production processes and environmentally-friendly practices, without mineral oils, silicones or petrochemical derivatives, free from micro plastic beads and liquid plastics, and cruelty free.
Weleda is one of just two beauty brands worldwide (and the first in Europe) to obtain the new UEBT certification for sourcing with respect. In order for a brand to be certified, the UEBT looks at its entire sourcing system to verify that biodiversity is conserved, ingredients are sourced sustainably, and that all partners along the supply chain are treated equitably and paid fairly.
 Highly commended: Tropic (tropicskincare.com)
Tropic Skincare is a 100% natural, vegan and cruelty-free beauty brand with products packed full of the most premium, exotic ingredients. From humble beginnings Susie Ma began her Tropic journey at the age of 15 when she started selling homemade body scrubs at Greenwich Market to help her mum pay the bills. Since its official launch in 2013, Tropic now sells more than 100 award-winning, vegan and cruelty-free products across skincare, body care, hair care and make-up.
Tropic aims to create a healthier, greener and more empowered world. The company is certified CarbonNeutral and has partnered with United World School.
Every Tropic product is packed full of the freshest, most nutritious natural ingredients to nourish and transform your skin. Each powerful, natural ingredient is sustainably sourced from tropical destinations around the world such as Australia, Madagascar and Brazil.
In 2019, Tropic sent zero waste to landfill, and is helping customers live a lower impact lifestyle with a packaging returns initiative available for some products already.
All Tropic products are freshly made in the UK certified with, The Vegan Society, Cruelty Free International and PETA as a 100% cruelty-free brand.
Shortlisted: