Thought intolerances were just something linked to various trigger foods? Think again. It turns out cosmetics and skin creams can also cause allergies. Luckily, a swathe of new, clean beauty heroes is coming to the rescue. Discover the most common irritants found in skincare products plus the best allergen-free beauty brands to try for sensitive skin..
If your skin glows an unwelcome shade of red or becomes sore and puffy after using skincare products, you could be one of the 44 per cent of Brits who suffer from allergies, according to Allergy UK. It doesn't matter how pricey your beauty product is, if you're allergic to one of the ingredients – you're going to have a skin flare-up.
The good news is beauty brands are recognising this issue. Now, many skincare brands are offering top-quality ranges, which are allergen-free and fragrance-free, specifically designed for people with sensitive skin that's prone to flare ups.
Food allergens in skincare products
'We have conducted research that demonstrates evidence of a direct link between topical application of skincare products and the development of food allergies,' says Dr Celia Zubrinich FRACP, allergist and immunologist at Monash University and Alfred Hospital. Concerns regarding the presence of food and fragrance allergens in skincare are not new.
Back in 2004, researchers examined the unwanted effects of food ingredients such as milk, soy, wheat, egg, peanut, tree nuts, herbs and other food allergens in skincare products. In 2016, another study showed that nearly one-in-four patients at a contact allergy medical unit were there due to allergic reactions caused by cosmetics.
In 2019, a study looked at 283 cosmetic items. Researchers expressed concern about the 'cocktail effect' of using multiple products with lots of potential allergens. This was alongside the cumulative effect of being overexposed to any one ingredient in multiple skincare products. Up to 60 per cent of everyday cosmetics and skincare contained allergenic ingredients, according to the study.
In 2020, another study reviewed 276 skincare items and found 156 allergens in them. Of these, 65 were almonds, 35 were wheat, 24 were soy, 16 were oats, 13 were sesame, two were milk and two were peanuts.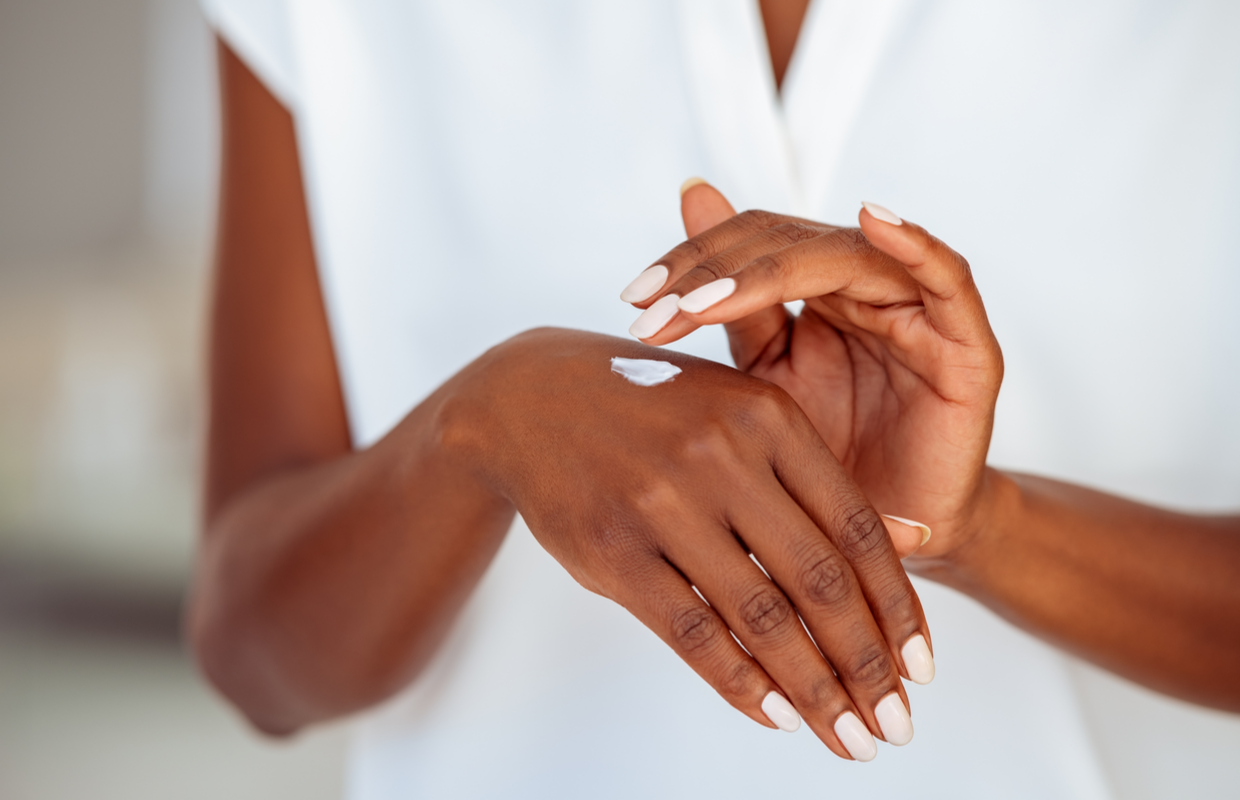 Are natural and organic skincare products better for sensitive skin?
You'd think natural and organic skincare would fare best when it comes to allergens After all, they're often free from artificial colours, parabens, sodium lauryl sulphate and other potential irritants. But that's not always the case. Products labelled 'natural' or 'eco' can sometimes contain more food allergens than those not labelled natural.
One such ingredient is essential oil, which many skincare brands use to add natural fragrance. Although these oils have many positive properties – such as aiding sleep and helping calm your nerves – a surprisingly high number of people can have allergic reactions to them.
More than 150 fragrances have also caused contact allergies, such as dermatitis. These include: citronellol, dihydro-citronellol, hexyl cinnamal, hydroxycitronellal, alpha-isomethyl io-none, linalool and methyl 2-octynoate.
Common irritants found in skincare products:
The following fragrance ingredients are common irritants with allergic potential. Be sure to avoid them if your skin is prone to flare-ups..
Amylcinnamal
Amylcinnamyl alcohol
Benzyl alcohol
Benzyl benzoate
Anisyl alcohol
Benzyl cinnamate
Benzyl salicylate
Cinnamyl alcohol
Cinnamal
Citral
Citronellol
Coumarin
Eugenol
Farnesol
Geraniol
Hexyl cinnamicaldehyde
Hydroxy-citronellal
Hydroxy-methylpentylcyclohexen-ecarboxaldehyde
Isoeugenol
D-Limonene
Linalool
Methyl heptin carbonate
3-Methyl-4-(2,6,6-tri-methyl-2-cyclohexen-1-yl)-3-buten-2-one
Oakmoss and treemoss extract
2-(4-tert-Butylbenzyl) propionaldehyde
Best scent-free skincare products for allergy-prone skin
So, if your skin has a tendency to flare up, and you suspect the skincare products you're using could be causing it, why not try stripping things back to basics? Both new and well-established brands are creating fragrance-free and allergen-free skincare. So, we've rounded up some of the latest and best…
Oodee: allergen-free skincare products that won't cause flare-ups
'If you wouldn't eat something you're intolerant or allergic to, why would you put it on your skin?' asks Karen Harwood, founder of Oodee, a new allergen-free skincare brand dedicated to creating super-clean products that won't cause intolerances or skin flare-ups.
Instead, the products use flavour technology called Allergen Neutral. This means the scent is created from plant-based single aroma compounds, which are lab-designed not to trigger allergies. For example, caraway seeds contain a single molecule that, when extracted, has the taste and smell of spearmint, but without the associated allergens of spearmint oil.
The aromas do not contain any of the 82 common allergy-causing fragrances and have zero trace of essential oils. Star ingredients include prickly pear extract, rice protein, biodynamic shiso and buckwheat sprouts.
The range avoids allergens responsible for 90 per cent of all reactions. This includes gluten, dairy, eggs, nuts, sulphites, sesame and fish. Plus, they are also free from 26 fragrance allergens and other known skin irritants, including sulphates, parabens, silicones, synthetic colours, polyethylene glycol (PEGS) and all animal-derived ingredients.
Aurora Perfecting Serum from Oodee (£65) is an ultra-light serum with vitamin B3 and biodynamic shiso sprouts to protect, plump and boost luminosity.
Halo Purifying Foaming Cleanser from Oodee (£24) is a lightweight whipped cream cleanser with rice protein and prickly pear to purify, protect, and hydrate.
Nova Illuminating Moisturiser from Oodee (£55) is supercharged with a potent mix of vitamin C and buckwheat sprouts, known to lighten and improve luminosity, to leave your skin looking brighter.
Cultured Biomecare range: probiotic skincare to support the skin barrier
Cultured Biomecare designs its products from the ground up, to respect and support your microbiome and skin barrier. This 'biome-first' philosophy means all products contain only ingredients and actives that have been meticulously selected for microbiome and skin barrier affinity.
Products are either preservative free or use a counter-preservative that ensures microbiome disruption is minimal compared with normal preservative use. In addition, the formulations are 'ph perfect' for the microbiome, skin barrier and acid mantle. Plus, they are 100 per-cent cruelty-free and vegan-friendly.
Biome Calm Cream from Cultured Biomecare (from £19) is packed with prebiotics, postbiotics and ferments to deeply hydrate and soothe. It contains fermented mushroom extract to reduce flushing, plus a micro-algae complex to strengthen your skin barrier.
Biome One Mask from Cultured Biomecare(from £16) is an exfoliating jelly mask to gently lift away dead skin to reveal a brighter, rejuvenated complexion, while supporting your microbiome and the skin's barrier function.
Vitality Cleansing Milk from Cultured Biomecare (£29) uses micellar technology to remove sebum and make-up while respecting your skin's barrier function. With prebiotic microalgae to rejuvenate the skin, it also contains stable vitamin C to brighten
Urtekram Fragrance-Free range: gentle cleansing for sensitive skin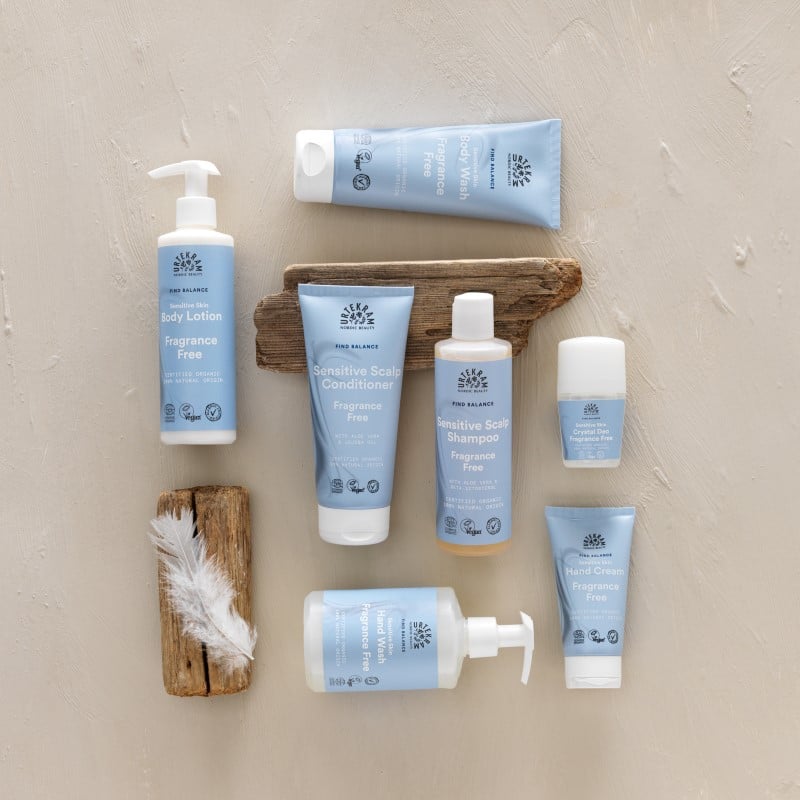 Find Balance, the new fragrance free range from Urtekram, is an allergy certified beauty care collection for sensitive skin and scalps. The brand creates each product using carefully selected gentle ingredients. These are specifically chosen to help allergy-prone skin and hair and feel smooth and refreshed.
Ingredient highlights include aloe vera, shea butter and natural oils. Plus, the products are certified by Ecocert Cosmos Organic for containing 99-100% natural origin and vegan ingredients.
Words: Alison Hardinge | Images: Shutterstock