Just because you're following a meat-free diet, doesn't mean you should be missing out on the satisfying crunch of the quintessentially British B.L.T. Try this vegetarian E.L.T. (egg, lettuce, tomato) sandwich recipe – complete with tasty basil mayo! – from the British Tomato Growers' Association for a nutritious and satiating lunch option – perfect for a picnic in the park!
This is the simplest of combinations, but it really works. Something magical happens when a boiled egg and a juicy British tomato meet – especially when you add some crunchy lettuce and herby basil mayo.
What is an E.L.T.?
Taking inspiration from the classic B.L.T. sandwich recipe (bacon, lettuce, tomato), the newer E.L.T. is a vegetarian alternative, where the bacon is replaced with egg. The egg can be in any format – from scrambled or fried to hard-boiled or poached. We personally think the hard-boiled eggs work best!
How many calories are in an egg, lettuce and tomato sandwich?
Filled with salad and healthy protein, an egg, lettuce and tomato sandwich packs a satisfying and nutritious crunch. When going all out, with full-fat mayo and white bread, the calories will be a little higher. If you're looking to make your sandwich a little leaner, try opting for whole-meal bread and low fat mayo.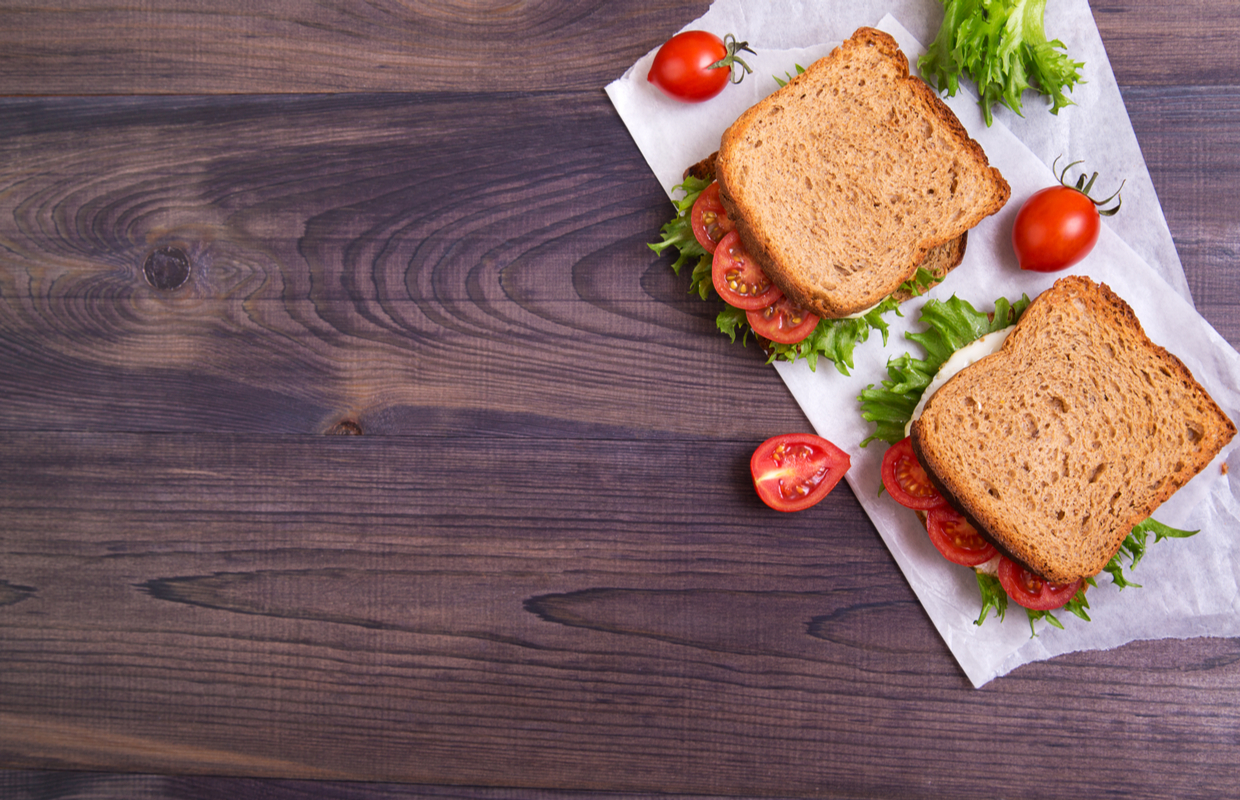 Vegetarian E.L.T. (egg, lettuce tomato) sandwich recipe
Makes 2
Ingredients for a vegetarian E.L.T.:
4 medium eggs
100g shop-bought mayonnaise (or make your own!)
½ tsp Dijon mustard
Handful of basil leaves
4 slices of white sandwich bread or baguette
4 little gem leaves or other lettuce leaves
1 big, ripe tomato, thickly sliced
How to make a vegetarian E.L.T. sandwich:
Bring a small pan of water to the boil and simmer the eggs for 10 mins before draining and cooling under cold running water. For this recipe, you're aiming for a hard-boiled egg with a slightly tender yolk. You want it to be structurally sound for stacking purposes, but not so hard that the yolk turns to powder!
Meanwhile, place the mayonnaise, mustard and basil leaves in a cup and use a hand blender to blitz until you have a bright green mayo.
Peel the shells from the hard-boiled eggs, then cut into thick slices. Spread both sides of the bread with mayo, then layer up with the egg, lettuce leaves and tomato slices. Slice the tomato and season it with a little salt, then sit the other piece of bread on top and cut in half. Serve with your choice of crisps – salt and vinegar is a particularly good match!
Enjoy! Why not throw on your prettiest summer dress and pack your sandwiches up for a picnic in the park? Nothing says summer like an E.L.T. sandwich in the sunshine!
Words: The British Tomato Growers Association | Images: Shutterstock