Top Santé editorial director Katy Sunnassee heads to Cora Cora Maldives on Raa Maamigili island for some much-needed down time (and lots of food!)…
Need inspiration for your next getaway? Then consider a trip to the Maldives, where the sun shines almost all year round and the calming sea will instill you with a sense of calm.
Cora Cora Maldives is a fairly new resort on the sand-fringed, private island of Raa Maamigili, surrounded by a calm 100-hectare lagoon, rich with vibrant corals and fish. You can swim to the gorgeous house reef from the beach or take boat trips to bigger reefs and deeper waters. The seemingly endless Indian Ocean is your playground.
Back on land, you can explore 375,000 square metres of palm trees, butterflies, exotic birds, and white sand beaches. The five-star contemporary resort has 100 villas all with expansive views of the sea, with some overwater and some on the beach – take your pick and soak up the scenery on your doorstep.
Non-motorised water sports are included in the Premium All-Inclusive plan, which is applies to all guest, as are all exercise classes, outdoor movies, island museum tours and lots of other activities in the regularly changing line up.
Fill your plate!
To help you truly relax, almost everything is included in the Cora Cora Gourmet Meal Plan. You're free to choose from the huge selection of food and drinks on all the main menus and bars, including three-course meals, grab-and-go snacks, ice cream, tea and coffee, plus cocktails, wines, bubbly, and your favourite brand-name beverages.
I don't really drink much, if any, alcohol so I definitely didn't make the most of all the free champagne on offer (at breakfast – how decadent) but tried a fair few of the zero proof drinks. In all bars, there's a diverse range of alcohol-free beverages, including alcohol-free beer, Lyre's non-alcoholic spirits, and de-alcoholised wine made with fermented grape juice.
Four restaurants are: Aquapazza beach club serving Italian delights – pastas, risottos, seafood, meat, and vegetable-based dishes; Tazäa with a tasty melting pot of flavours inspiring their east-meets-west menu; Ginger Moon offering the sizzling energy of an Asian street market serving up platters and bowls of vibrant vegetables, tender meats and zingy herbs prepared in front of you in the open kitchen; and Teien, a romantic Japanese restaurant serving up dishes that are as beautiful to look at as they are to eat.
There's also the non-stop MYCOFFEE bar serving coffee, tea, ice cream and snacks 24/7. If you're a fan of coffee, you'll appreciate the barista freshly roast green coffee beans roasted on site from all around the world. Choose from the house espresso roast, decaf espresso roast, coconut espresso roast and chocolate-chilli espresso roast, coffee, chocolate, and a subtle chilli taste.
Reducing your salt and sugar intake
Cora Cora emphasises seasonality and the benefits of sustainable eating. Guests are guided and supported to make healthy choices. Sea salts and other high-quality salts such as Himalayan and gomasio are used.
One of Cora Cora's philosophies is saying no to refined sugar and so the resort will not offer white or brown sugar sachets or sweeteners as a first option, instead providing rich, sweet, and syrupy reductions from fruit sources like monk fruit, pomegranates, coconuts, and dates.
They also offer other alternatives such as stevia powder, agave nectar and coconut sugar. Their ice cream is handcrafted on-site using fresh and organic ingredients and a range of natural sugars. You can also choose vegan and sugar-free ice creams in ginger, banana and coconut flavours – my son ate these every day! Drinks are made with a range of syrups, and all the resort's desserts are made without white refined sugar.
Vegan and free-from dishes at Cora Cora Maldives
The culinary team has veganised dishes from around the world, ranging from Western classics to Japanese, Sri Lankan, Indian, Turkish, Italian and traditional Maldivian cuisine. If you have a sweet tooth, indulge in the resort's vegan ice cream or one of their vegan desserts such as sweet potato chocolate cake or coconut panna cotta.
And if you want high-protein, low-carb or gluten-free options, you'll find delicious dishes on every menu, with any other diets happily catered for too.
Unhealthy trans-fat and saturated fats are avoided completely. On the dairy front, goat yoghurt, goat cheese, and nut and seed milks are offered, and dishes can also be made low in dairy to minimise the use of butter. Low carb choices can also be created to suit your lifestyle.
Exquisite pizzas
You're in for a treat if you love pizza too as Aquapazza serves up authentic, delicious Alla Pala Roman-style pizza made in an oven that was shipped over from Rome! Cora Cora's chefs stretch the dough lengthwise to make an oval shape – after a long, natural rising time. The classic flatbread is topped with cured meats, artisan cheeses and the finest vegetables.
Unlike its wood-fired Neapolitan relative, Pizza Alla Pala is baked in an electric oven and then transferred to a wooden pala. It is then topped with the freshest herbs and complementary ingredients and finally served.  I had rather a few too many of these hence returning home slightly wider around the middle!
Our son loved these pizzas and his request was to have them with bacon (which wasn't on the menu but the chefs do everything they can to accommodate your request) and he was pleased with the strips of prosciutto that you normally get in carbonara – I think we ate their entire stock of it in two weeks!)
Discovering wellness at Cora Cora Maldives
Unwind and destress in the MOKSHA spa where you can first have a cooling drink or warming tea, then enter one of the seven serene treatment rooms – four over-water, three on the island, with a mix of couples' and singles spaces.
I had a wonderful massage with Meggie, who really got into the knots in my shoulders. I asked for her to tailor it to my needs and she did a great job, I almost felt embarrassed at the end when the crunchiness was still present – nothing to do with her lack of talent and all to do with my months/years of working hunched at a screen!
There was a lovely touch of a foot bath to begin with, which was very relaxing – I felt very well taken care of.
The huge massage table was covered in what felt like a deep mattress, with a calming glass bowl full of sand with some beautiful shells placed in it to look at through the head hole. I could really drift off listening to the crashing waves outside.
Perhaps equally enjoyable was the time spent relaxing in the spa reception afterwards where there are ample contemplative and self-development books to peruse on huge sofas. I sat there sipping spiced tea made with cinnamon, star anise, cloves and runny honey for around two hours after one treatment, losing myself in a book and allowing the relaxation to seep into my bones before heading back to what I knew would be an exuberant and demanding child!
There's also a separate room for candle making workshops and pumice making workshops – those bundles of herbs tied into muslin cloth used to press warm oil into you as part of some treatments.
Comfort Zone is the beauty brand of choice with a wide array of creams and lotions including sunscreen if you run out.
Daily yoga classes take place in the yoga pavilion at the end of the spa treatment rooms, facing out to the sea. There's also meditation, qigong, tai chi, breathwork, sound healing and more.
And if you want to work off all those pizzas, you can get moving on your own in the Fitness Centre, which is open 24/7, or join a small group session including kick boxing and more. I managed to fit in a couple of workouts, and my PT husband went there daily – sometimes twice – and rated the gym equipment.
Culture galore in the museum
It's worth taking some time to visit the resort's Museum of Island Heritage with more than 400 fascinating relics from across the Maldives. When you arrive for check-in, take time to look around the museum gallery in the lobby. There, you'll see 17th-century porcelain from China's Qing dynasty, an oil lamp thought to be around 1,500 years old from the Early Byzantine era and impressive cowrie shells, which were used as currency in the 17th century.
In the centre of the island, explore the outdoor site, where you'll discover ancient memorials dating back 500 years, and perhaps the most extraordinary find on the island – two temple tanks thought to be around 900 years old. These shallow wells were used for bathing and ceremonial purposes and are remarkably well preserved. Finally, visit the 120-year-old traditional Maldivian house, with displays of traditional island life in the 1900s, to get a feel for what it might be like to live on Maamigili year-round.
Fun activities for kids
You can relax while your little ones have fun in the activity-filled Cora Kids Club. Open to children aged 3-12 and split into three age groups, the Club offers drop-in sessions from 10-12pm and then from 2-6pm. The island's natural beauty will come alive for kids in these nature-focused sessions that look at the plants, animals, and landscape of Cora Cora Maldives.
Sleeping well at Cora Cora Maldives
There are several accommodation options to suit everyone from beach villas with a private pool and the beach at your feet, to those with wide ocean views or garden view suites.
We stayed in one of Cora Cora's beach pool villas that sleeps three adults (or two adults and a child in our case). With ample room and a comfy king-sized bed, this thatched roof villa complete with sun deck was the perfect spot for accessing the beach and watching the sunrise and sunset over the sea, with birds flitting overhead between the palm trees. Bliss. It was lovely to have our own mini pool so our son could get used to the water on his own.
I would, however, advise choosing a villa on the north side of the island, if you can, as though the beach is flatter and wider on the south, the sea planes take off and land on this side, and they start up at about 7am, which can disturb you if you're trying to sleep.
All in the app
You can explore Cora Cora Maldives, plus plan your visit and activities as well as book your restaurant slots all from their app, which you can download before you arrive. Contactless check-in can be done before your arrival at your convenience. You can also chat with the resort directly before your stay, explore the services and facilities available, book all restaurants, excursions, spa treatments and more.
We didn't find this to be a problem, and it was good to have our itinerary all in one place. All the menus are also on the app, although some of the restaurants do have printed ones. I'm sure apps are the future of all hotel businesses; however, the drawback is that if you've gone away to have a complete tech detox, which I had, you, or someone in your party (in this case my husband) still needs to be connected. And when you're on your phone to use the Cora Cora app, it could be too tempting not to then check your email, Instagram or other messages.
I managed not to – I only used my phone to take pictures and video to be posted later on – but I can see that some guests might find it annoying to always be directed to an app if they want to do things the old-fashioned, paper way. You can also communicate with your "Freedom Coach" via WhatsApp. This means you needn't keep ringing reception if you need something – you can simply message them.
Our Freedom Coach, Eamon, was very friendly and helpful and sorted out our requests within a few hours. Our son also took a liking to him, virtually trailing him around the resort on the last few days! He was most upset when we had to leave, as was I. We hope to one day return for more "Freedom Time" – and more delicious vegan ice-cream!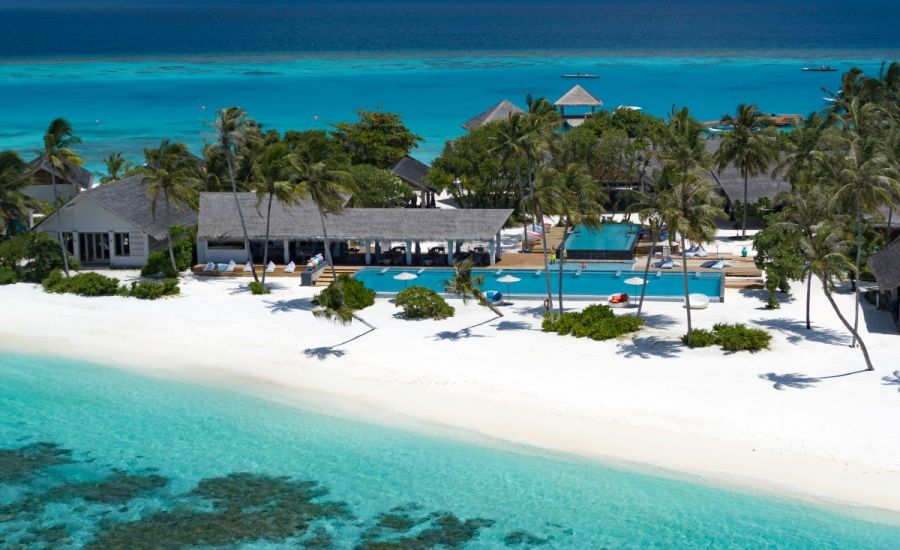 5* Cora Cora Maldives offers seven nights on Premium All Inclusive in a Beach Villa from £2,819pp including Seaplane Transfers and International return flights on Qatar Airways from London Gatwick – To book call 0800 408 8015 or go to southalltravel.co.uk.