The island off the east coast of Africa offers plenty to give body and mind a healthy boost, and on a trip to the Long Beach Mauritius resort, deputy editor Yvonne Martin found there are many ways you can bring some of that Mauritian magic home.
A magical place to stay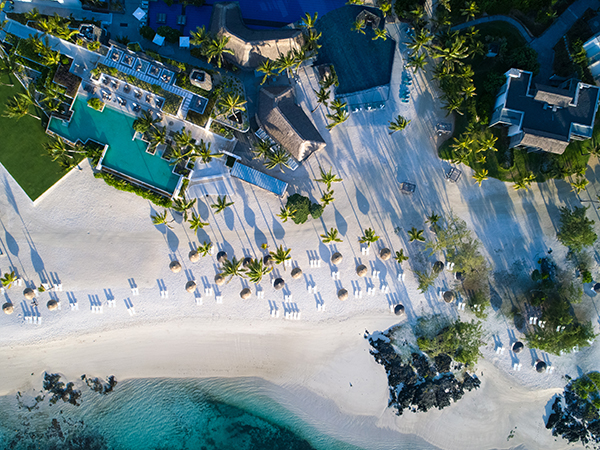 The Long Beach Mauritius resort on the beautiful east coast of the island (longbeachmauritius.com) is an indulgent place to enjoy a week or so of wellbeing treats, from spa treatments to lounging by a stunning beachside pool, to delicious food prepared with great care. It's spacious, yet it maintains a friendly, cosy atmosphere.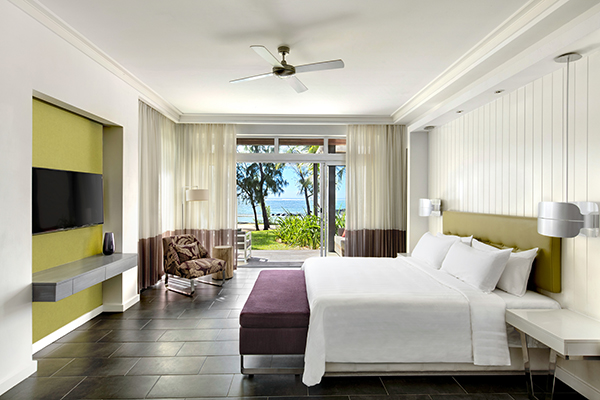 I stayed in a suite that looked straight out onto the beach. The room was tastefully and airily decorated, and had the most comfortable king size bed and a generous bathroom.
The central areas of the resort are cleverly designed to give the feel of a pleasant town square, where there is a range of high quality restaurants ranging from Japanese to Italian cuisine.
There is also a more casual dining area on the beach where you can enjoy the freshest of fish and seafood. During my stay there was a Mauritius day celebration – a party on the beach with the most extensive buffet of Mauritian food, local crafts to buy and a display of dancing to the island's signature sega music.
Beach yoga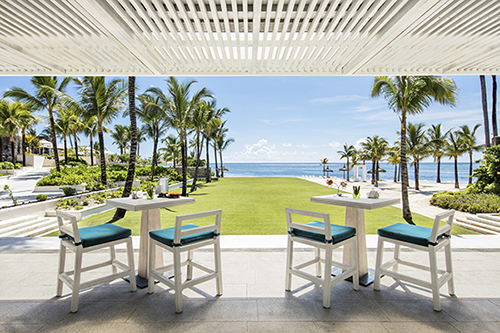 Long Beach Mauritius has a lawn right in front of the beach where 'Guru Raj' gave our group a yoga lesson. He took us through some great twists and balances with a humorous twinkle in his eye.
His top tip for getting through a long flight was to warm up and do some yoga twists before and after your journey.
TAKE IT HOME: Raj recommended keeping a flexible mind as well as body and regaled us with a series of riddles to keep us on our toes. Challenge your grey matter with a riddle of the day from riddles.com
Push out the tension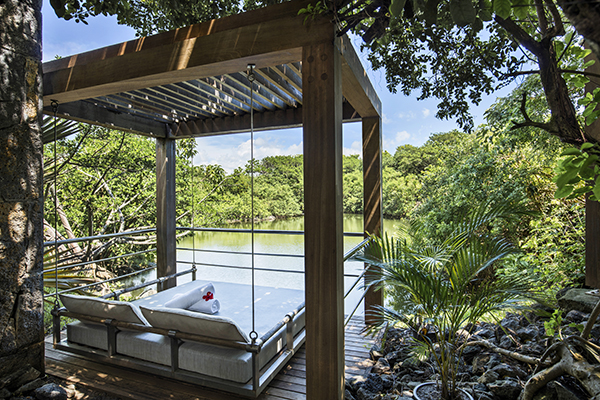 The Cinq Mondes spa is a beautifully-designed, tranquil space at Long Beach Mauritius, with lapping water and beautiful gardens all around.
The products take inspiration from all over the world and are made with natural ingredients.
I tried the Detox Udarabhyanga Treatment, which is inspired by Ayurveda. It was a massage covering my stomach, head, back and legs, followed by a detoxification wrap.
The massage was firm and relaxing and the wrap definitely flattened my tum at least for the rest of the day.
It felt very relaxing and the secluded chill-out area at the spa certainly added to the winding down.
TAKE IT HOME: Give yourself a detoxifying mud wrap at home with Dead Sea Mud from Westlab (£6.75, westlabsalts.co.uk)
Let the water strengthen you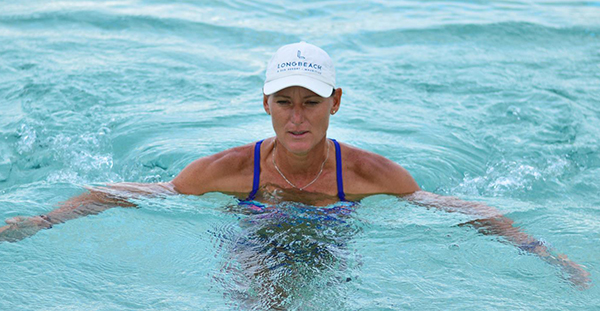 A major highlight of the trip was a session with French Olympic swimmer Cecile Jeanson, who teaches at Long Beach Mauritius. Cecile has developed a fantastic pool-based, body strengthening system, which she shows to guests.
And Cecile is the greatest advertisement for its benefits as she developed it to deal with her own serious back condition. The problem left her in excruciating pain and virtually unable to walk.
However, by using the exercises she developed in the pool she has returned to fitness and loves to play golf. It was a remarkable turnaround, which she achieved by slowly building up repetitions of the exercises.
At first she did just 10 in the morning and 10 in the evening but over time she built up to 1,000 in the morning and 1,000 in the evening.
She says one of the best things about exercising this way is you can only do what you can do, so it's pretty much impossible to overdo it as you might in a gym if you were to try working with too heavy a weight. It's still challenging though, and the more you do it, the more you will be able to do.
TAKE IT HOME: Why not try some of Cecile's body strengthening exercises for a great upper body workout? These are all done with your body immersed in water from the neck down. For these exercises, splay your fingers apart and keep your wrist firm and straight (don't let it flop about). This will allow you to get the right level of resistance from the water. Start with 10 repetitions and build it up during your sessions at the pool.
HEART SHAPE
Stand with your feet in a lunge position and move your arms in front of you to follow the shape of a heart. This will look a bit like breaststroke but by doing it this way you will be able to put much more energy into the movement than you would if you were actually swimming.
TENNIS STROKE
Stand with your feet in a squat or sumo type position. Start with your right arm across your body, then sweep it in a semi circle from left to right, just like a tennis backhand. Alternate your strokes with your right and left arms. Then try it going forwards.
BIRD HANDS
Still with feet in a squat position, stretch your arms out in front of you and link your thumbs together as if you were making a bird shape with your hands. Push your arms down, then back up through the water.
Some ayurvedic advice
Long Beach Mauritius has its own ayurvedic specialist, Vishal Panchoo, who gave me an assessment and some health advice. He's been helping people feel their best for more than 20 years and it didn't take him long to pinpoint the areas I need to focus on.
His expert eye quickly noted my many years of desk-bound work, the aches in my neck and shoulder and my emphasis on listening rather than speaking. He could even tell from a glance which side I sleep on at night.
His advice? If I want to ask my body to do things for me I need to do more to care for my body. His top recommendation was to truly look after myself by going for a regular massage.
TAKE IT HOME: Vishal explained that keeping your body hydrated, particularly at bedtime, is vital. Drinking enough water helps your body repair itself as you sleep and this will help ease aches and pains. So top up on that H2O!
Get golden slumbers with Lait d'or
At Long Beach Mauritius I was treated to a soothing Lait D'or, which was brought to my room at bedtime – so comforting.
TAKE IT HOME: Try making your own at home. Warm 350ml of a plant-based milk such as almond milk, with 1tsp honey and a ¼ tsp each of turmeric, ground ginger and cinnamon whisk it all together in the pan. Pour into a mug and sprinkle with a little more cinnamon if you like.
Get in the swing of it with golf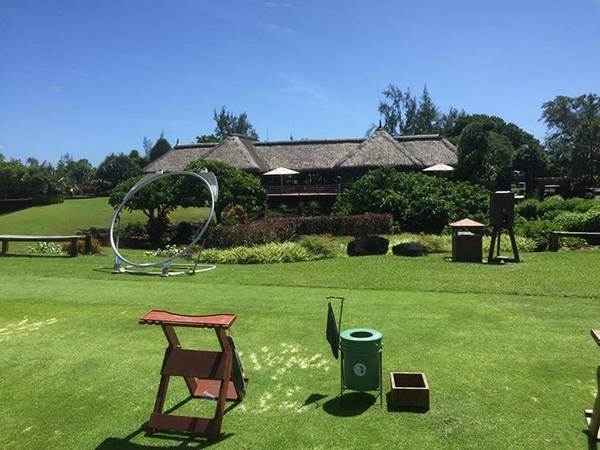 We hopped on the shuttle bus from the resort and then on a short boat ride for a golf session at Ile au Cerfs, (which means Deer Island).
I had never played golf before, but my goodness this was the place to start. It's stunning. All 18 holes of this island course – designed by Bernhard Langer – have spectacular sea views.
There are lakes and lush tropical vegetation alongside the impeccably cared-for greens. Attempting to play the course would have been rather wasted on me as anything that involves directing a ball of any kind is not my forte. So I took part in a beginners' golf lesson instead and I can see how the game gets you hooked.
I must have aimed my club perhaps 200 times and most of those swings resulted in flying grass or a short and bumpy journey for the ball. But the handful that actually sent the golf ball into the air gave me enough hope to continue, and try to do better next time.
A study by Swedish medical university, the Karolinska Institutet found that golf may prolong players' lives by as much as five years, so perhaps I should stick with it!
TAKE IT HOME: If you want to give golf a try at home visit englandgolf.com walesgolf.org scottishgolf.org or golfnet.ie to find out about local courses, schemes, lessons and tips.
Travel information
Prices at Long Beach Mauritius start from £224 per room per night, based on two sharing a room on a half-board basis. To book, visit longbeachmauritius.com/en. I flew with Air Mauritius, for information on up-to-date flight prices and booking, visit airmauritius.com.
Find out about another great wellbeing destination here.