Can a health retreat help heal your digestion? Fitness writer Nolan Sunnassee heads to Parkhotel Igls, a Mayr health centre in Austria, to find out.
It's said the route of good health begins in the gut. This was certainly the philosophy of Dr FX Mayr, who more than a century ago founded the first centre for modern Mayr medicine in Austria. He was clearly ahead of his time, as his unique health system focused, and still does focus, on the cause of illness not the symptoms.
One of the crucial elements of Dr Mayr's system is gut health and the ability to effectively absorb and process nutrients. His six key principles for improving health and wellbeing are: cleansing and detoxification, rest, education, substitution (supplementation of diet), self-discovery and exercise.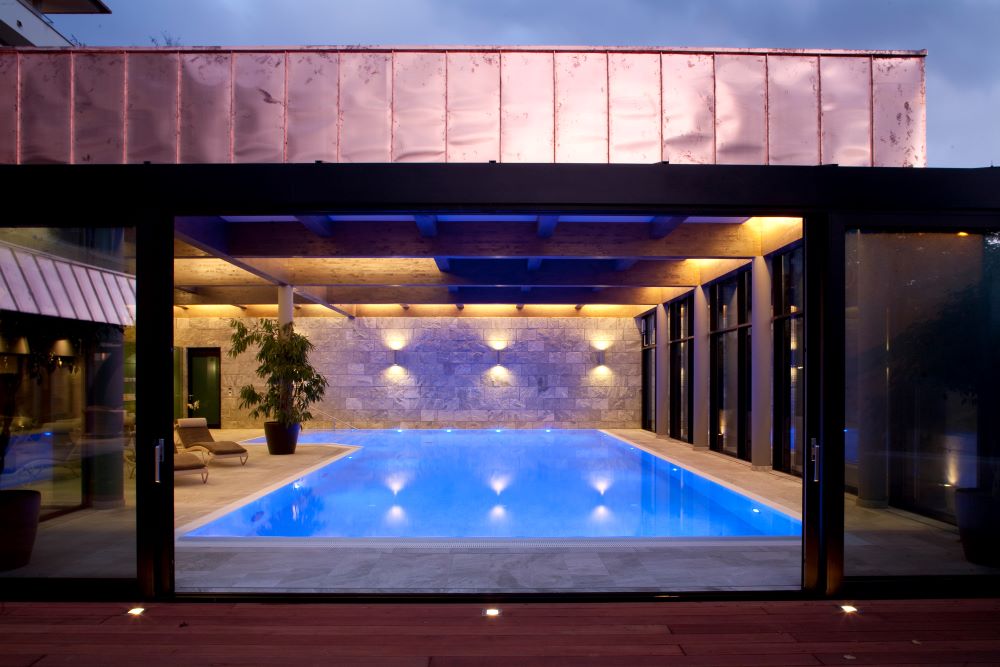 There are now two Mayr clinics in Austria, and I stayed at the newer Parkhotel Igls, in the city of Innsbruck. It's a unique facility offering medical check ups and treatments, as well as holistic therapies. Despite being in a city only 15 minutes from the airport, there is stunning Alpine scenery as far as the eye can see, which in itself is a tonic for the soul, providing pristine mountain air to breath while on walks around the grounds, or while out hiking if you are so inclined.
If peace and tranquility are top of your wish list, this hotel ticks those boxes.
The journey begins…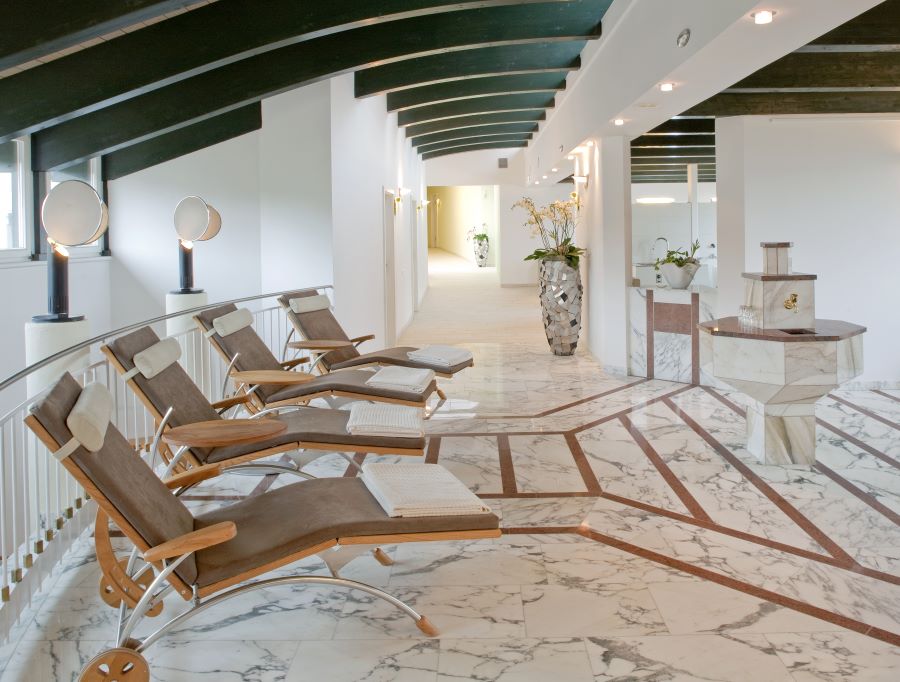 On arrival, you're taken through the Mayr principles of healing. You get a comprehensive consultation with a doctor who goes through your medical history. He or she also asks what your goals are from visiting the clinic. From there, they formulate your weekly, or longer, plan, deciding which treatments you'll have and which therapies will be best for you. These could include therapies for the gut, metabolism, cardiovascular system, musculoskeletal system, skin, liver kidneys as well as psychological and emotional therapies.
You also have a whole schedule of options you can add on, at an extra cost, such as ozone therapy, IV vitamins, physiotherapy, medical massage, detox baths, heat packs, liver compresses, haemo-Laser therapy, reflexology, lymphatic drainage, laser acupuncture, osteopathy, physiotherapy and Kneipp baths, which are hot and cold foot baths designed to boost circulation.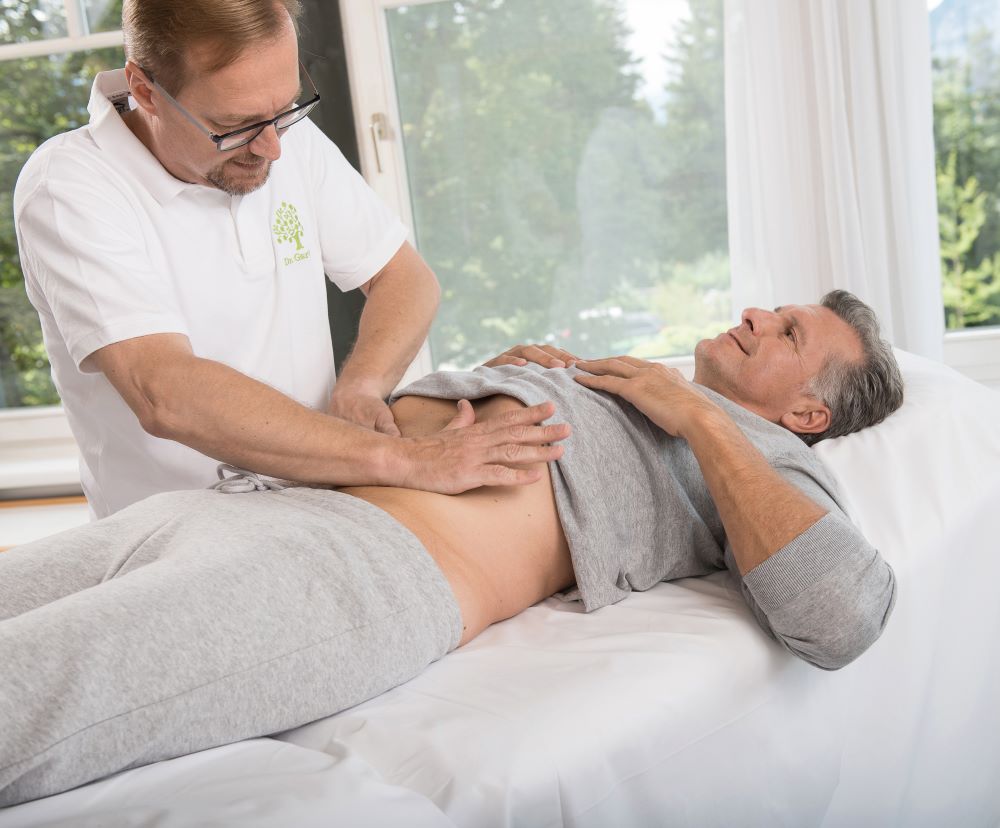 The doctors can also perform advanced functional medical tests, food intolerance tests, ultrasound diagnostics and there's also a sleep lab.
The doctor also determines at which level of eating you'll start (there are eight), which for some could be fasting completely (level zero). I began on level one, eating only buckwheat toast and yoghurt. I could also choose a soup – a lot of the meals and drinks are based on a broth recipe (see box).
After a day or so you move up a level and might introduce a protein, which include fish and milk-based proteins. In essence, the programme is based on eliminating most foods to begin with, and then introducing them gradually throughout your stay. I was also given some sort of Epsom salts to put into water to drink first thing in the morning, which help to cleanse the system.
Chew chew chew!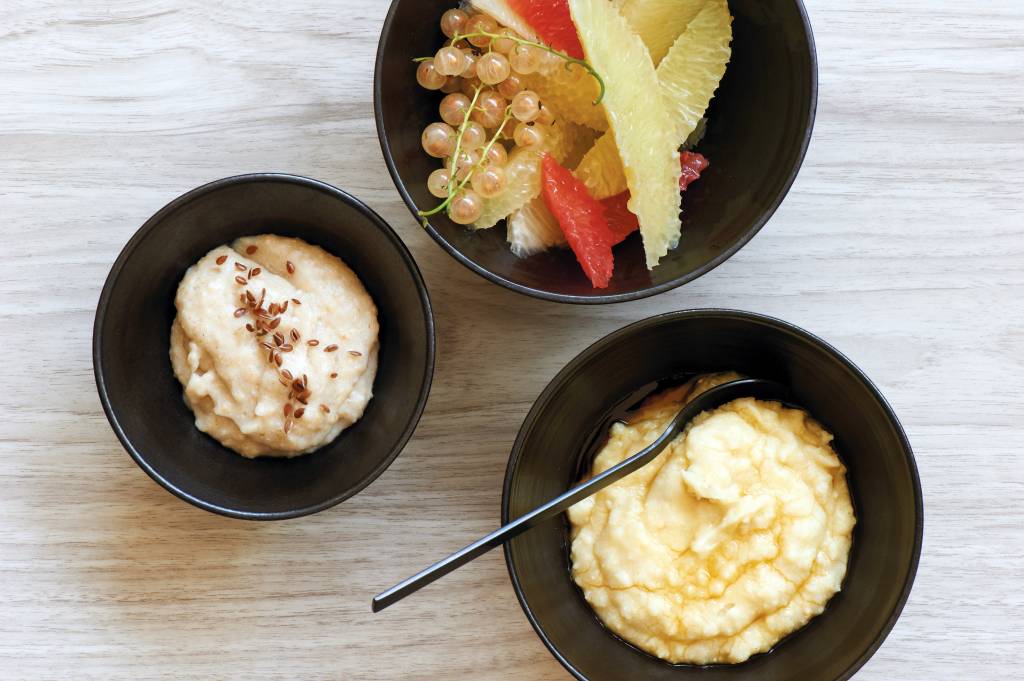 Because of the strong focus on gut health, meal times are a slow and peaceful affair. Guests are encouraged to relax and chew well. Eating in this relaxed manner and chewing lots of times – 30-50 times per mouthful! – not only helps your stomach work less hard as you've already done the bulk of breaking down the food in your mouth, but it maximizes the absorption of nutrients when food actually does hit your stomach. You're also only meant to sip water during meals so as not to dilute digestive juices.
Although talking isn't banned, it's difficult to have conversations due to the amount you're meant to chew, so the restaurant is a pretty quiet place as everyone is focused on mindfully eating their meals.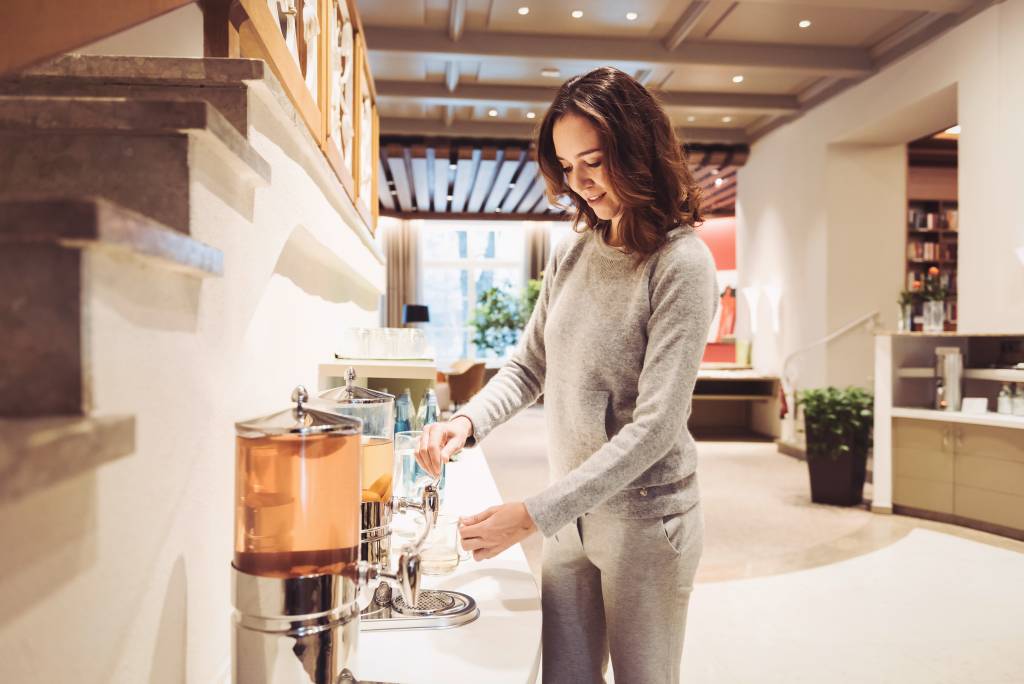 You don't get very much to eat – portions are very small – and although you initially think you'll go hungry, the slow way of eating does, oddly, fill you up. I was amazed at how full I felt from eating so little, simply by taking longer to eat and chewing thoroughly.
Another benefit of this is that you don't get much bloating or gas, and for me I didn't feel as if I had to go and lie down afterwards, which I pretty much always do after each meal at home.
Knowledgable instructors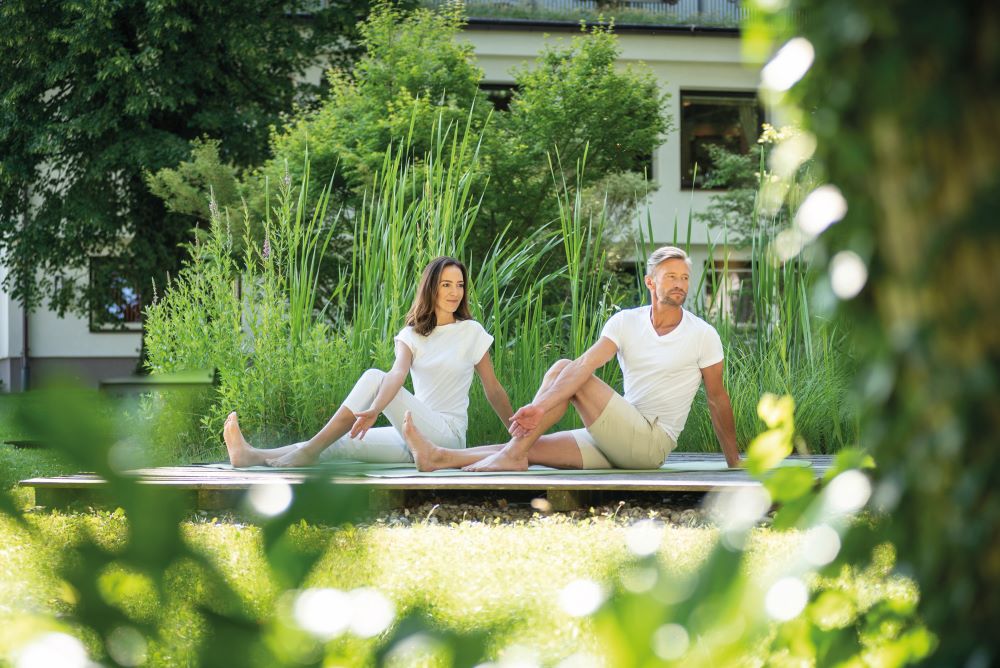 The therapists at Park Igls are all highly qualified. My craniosacral therapist was particularly impressive as she could identify where I had pain and discomfort in my body and was able to help it relax. The fitness professionals were excellent too. There are physios and trainers and yoga teachers and you can attend classes throughout the day or pay extra for one to ones.
As a PT, I have very high standards when it comes to teaching fitness and at the classes I attended, I was impressed by the level of knowledge of the instructors' as they all picked up on people's imbalances and went round correcting people's technique.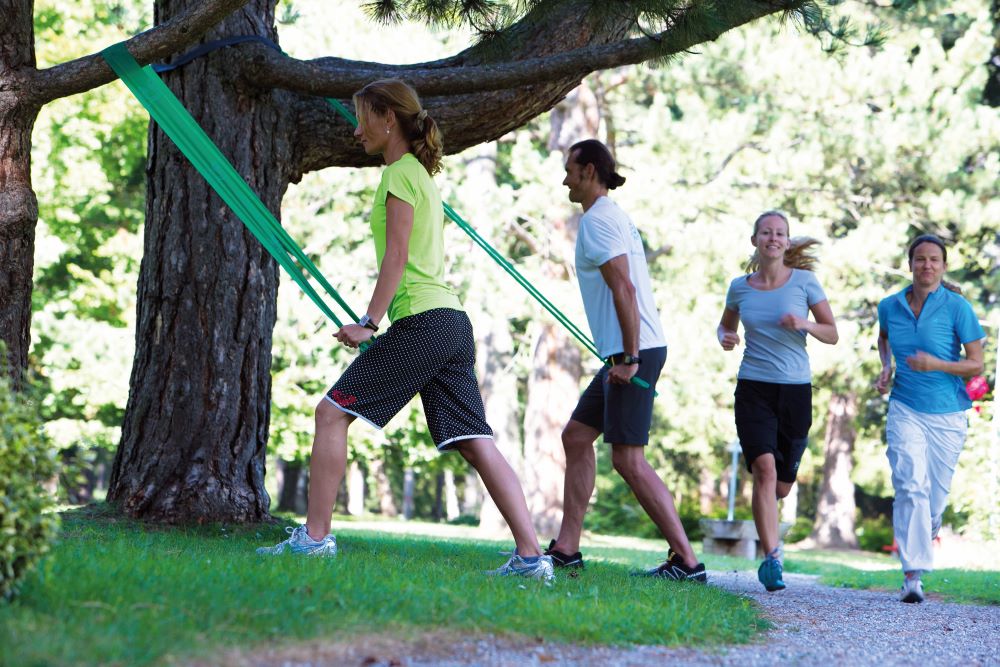 The facilities are second to none and the panoramic pool with views of the Alps adds to the relaxation at this scientific health tourism destination. So whether it's weight loss you're after or sorting out a chronic gut issue, this is the place to come. By the end of the week I felt more relaxed than I had in years, sharper mentally, a few pounds lighter, my digestion had improved and I felt more energised.
Retreat details…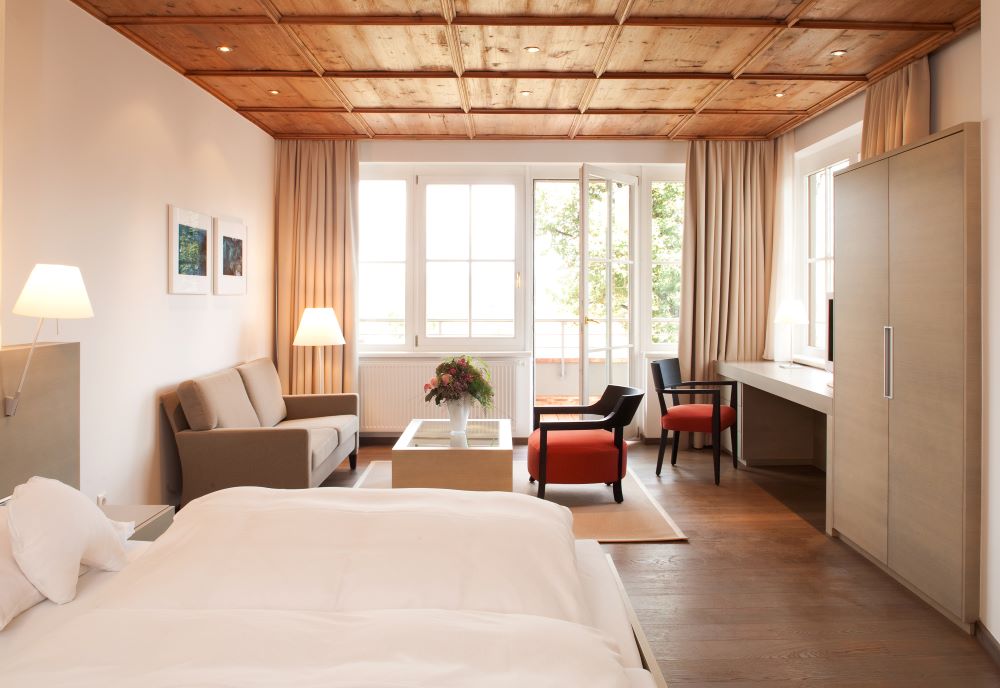 Nolan stayed at Parkhotel Igls Mayr Clinic (+43 512 377 305). Double rooms from €152 pppn based on two sharing. Single rooms from €157 pn. Prices include breakfast and parking (terms & conditions apply).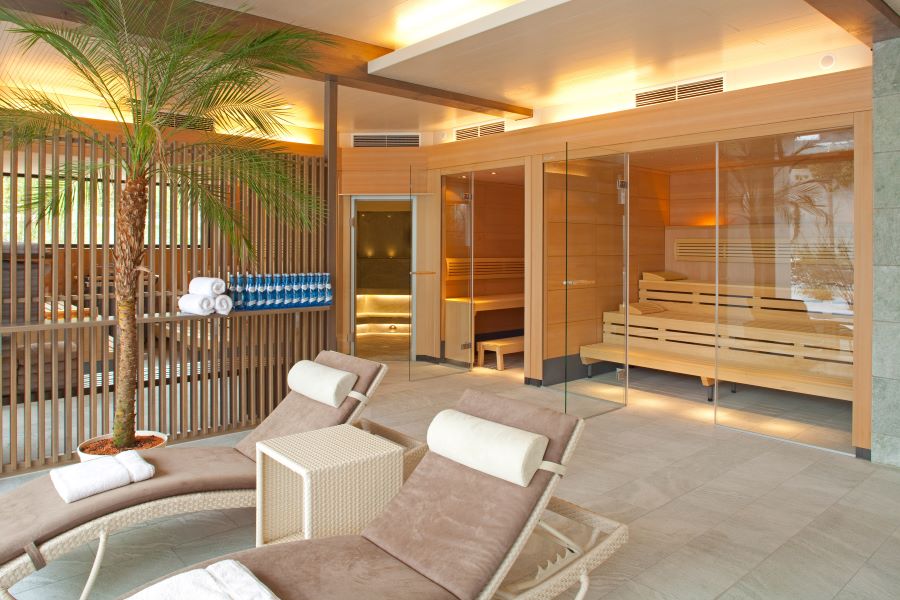 The Mayr Basic Programme is €1,042 per person over one week's stay. The basic programme is a fixed component of the stay. Includes initial examination/integrated health check (30 mins), 1 medical examination/manual abdominal treatment (20 mins), concluding examination (30 mins), daily Kneipp treatments, personal Modern Mayr diet plan, mineral water/herbal tea/base broth, group exercise sessions, lifestyle management and mental coaching, lectures and presentation, use of pool/sauna/panoramic gym. Further therapeutic and diagnostic modules available at additional cost.
Fly to Innsbruck with EasyJet or British Airways, year-round flights available.
Heal your gut at home with this gut-healing broth…
VEGETABLE BASE BROTH (Makes 3 litres)

Ingredients
Carrots 400g
parsnips 200g or root parsley
fennel 200g
celeriac 150g
celery 100g
leeks 100g
organic lemon 2 slices
rock salt or Fleur de Sel 10g
bay leaves 2
juniper berries 2-4
coriander seeds 2 tsp
ginger 1 tbsp, finely chopped
lemon grass ½ a stalk, finely sliced
Fresh herbs of your choice
Method:
Wash and chop the vegetables.
Gently dry fry the bay leaves, coriander seeds and ginger with some salt and pepper in a frying pan, stirring all the time.
Crush the fried spices in a mortar.
Place vegetables and spices in 3.5 litres of water and bring to the boil.
Simmer for 1.5 hours, then add the fresh herbs and leave to infuse for 30 minutes.
Strain and enjoy.
Tip: Base broth de-acidifies and assists the detoxification process. Enjoy as a main meal or as a hot alkaline drink between meals. The broth will keep in the fridge for 3-4 days. For variety, add boiled potatoes, a tiny dash of cream, Chinese mushrooms and herbs, or coconut milk, pumpkin and curry leaves.