Can working with a health coach, either in a group or one to one, really make a difference to your wellbeing and get you to make positive changes to your habits and lifestyle? Top Santé Editorial Director Katy Sunnassee joins a health coaching course to find out.
Have you ever worked with a coach? Perhaps a personal trainer, or a business coach? If so, you'll know how helpful it can be. There are numerous types of coaches, and perhaps the best-known one is a life coach. Life coaching originated, as with most popular health trends, in the USA back in the 1980s.
It rose to popularity here in the UK in the 1990s, when a wealth of these (mostly) newly trained cheerleaders sprang to prominence, all offering to improve our lives in various ways, from getting organised, to focusing on our goals or feeling happier.
What is health coaching?
While you've probably heard of a life coach, how about a health coach? This relatively new branch of coaching sprang up – you guessed it – in the USA a few years ago. Over there it's taken off and, although still relatively new in the UK, the number of health coaches is growing exponentially by the year – but what is it, exactly?
'Health coaching differs from life coaching in that, as you'd expect from the name, we focus on empowering people to make small, sustainable changes to their lifestyle that lead to a transformation in their physical, mental and emotional wellbeing,' says Suzy Glaskie, a functional medicine health coach and founder of Peppermint Wellness.
'Life coaching can be pretty broad in terms of what you cover, but with health coaching it's more targeted to how the person is feeling both in body and mind, and about finding workable strategies they can implement to make healthy habits stick. These could be simple things such as creating cues to remind them to drink enough water, or creating a new habit of putting away their phone an hour before bed. Or it might be setting a challenge to eat a greater variety of different-coloured vegetables and fruit each day,' says Suzy.
So far so obvious, right? I mean, we all know we're meant to drink 1.5 litres of water a day, and "eat the rainbow". If you're a regular reader of this magazine, you'll know all these things, as well as why it's important not to look at a screen close to bedtime (just in case you're a new subscriber and have missed those articles, it's due to the blue light they emit, which interrupts your production of the hormone melatonin, inhibiting you from sleep).
Is health coaching effective?
If you're already pretty clued up on how to be healthy – and let's be clear, the information is out there, it's not like we're not swimming in a sea of health tips online, on social media and in traditional magazines – why can't we just make these changes ourselves? Why pay someone to tell us what we perhaps already know? Especially as health coaches aren't quite the same as dietitians or functional nutritionists, for example. However, some coaches are more akin to a doctor, in a way.
'Functional medicine health coaching grew out of two fields: functional medicine and positive psychology (stemming from humanistic psychology). It was first pioneered in 2014, and there are now more than 4,000 certified functional medicine health coaches, including
60 in the UK,' adds Suzy.
And while GPs and other health specialists who train in one modality might have a more specific view, health coaches take a wide-angle lens to consider a variety of lifestyle factors, which can either support or undermine health. 'A health coach will look, for example, at what, when and how you eat; whether and how you move, sleep, rest and play; how you manage stress; the impact of your relationships and social connections; the nature and quality of the environment in which you live; and even whether you have purpose or meaning in your life,' says Suzy.
Taking action
Having now notched up around 16 years editing women's magazines, I've amassed a fair amount of knowledge on health and nutrition. And so, because I write about it all the time, part of me felt as if I ought to know how to be healthy. But here's the kicker – and slightly embarrassing to confess: although I may "know" a bit more about health-related issues than the average person, I don't necessarily always (or even often!) "do" these things.
And there's a huge difference between knowing and doing. As I once read – probably in one of the many self-help books I've amassed over the course of my career – an ounce of action is worth more than a 100lbs of knowledge, or words to that effect.
'People at any level benefit from coaching. You generally know what you're meant to be doing to get yourself healthy, but putting that knowledge into action is a whole other ball game. Coaching is having someone there to hold your hand through making sustainable changes and keeping you accountable,' says Suzy.
And that's the key: accountability. While none of us may "need" a coach in any area of life – we can all muddle along just fine – if we want to make progress and breakthrough to a better place, be that in business, relationships, finances or improving health, it makes sense to consult an expert not only for their knowledge but for their role in keeping you on track.
Benefits of group health coaching
But what if you can't afford a one-to-one coach? It's often not cheap, after all. That's where the power of group coaching comes in, which can sometimes be even more effective than solo sessions. The online group health coaching programme HealCommunity, founded by James Maskell, takes small groups through its signature 24-week process led by certified health coaches. Participants are given support across multiple areas of their lives, with results showing a 67.9 per cent improvement in their physical and mental health.
'Health coaching proves that working with small groups of people, all on the same journey, leads to better health outcomes than just going it alone,' says Suzy. 'Group health coaching has taken off so much in the USA because it's getting real results. When people join together, say once a week, and share their failures and successes, they feel both supported by and motivated by others, and it helps them stay on track,' she adds.
Suzy says her own life has radically changed too, since becoming a health coach. She used to head up a busy PR consultancy and struggled to juggle work stress with raising three kids. When her dad passed away 10 years ago, it was the catalyst for her decision to walk away from PR and follow her heart into holistic health.
'Health coaching proves that working with small groups of people, all on the same journey, leads to better health outcomes than just going it alone.'
'I feel immeasurably calmer, more energised, fitter and happier in my 50s than I did in my 40s, 30s or even 20s. That's the magic that happens when we're able to ditch self-sabotaging habits and start to embrace the positive self-care habits that allow us to thrive,' she says. 'Being part of a group helps you stay accountable as the power of the community gives you momentum, alongside gentle hand-holding from me. We start small and celebrate each little win as everyone makes small changes that add up to a huge transformation in how they feel.'
Her group coaching membership, called Freshly Minted, blends online group coaching sessions with self-paced learning via an app, as well as offering continual support and encouragement via a dedicated WhatsApp group chat to help keep you motivated and on track with your habit changes.
Friendly competition
Over six weeks, I joined forces with half a dozen other ladies, all of us looking to make lasting health changes and create healthy new habits. I enjoyed watching the short videos each week that set the theme and then having "homework", but it was quite simple. The whole idea was that this wasn't meant to be burdensome or taxing – if things are too difficult we don't do them.
The idea was to make small, incremental changes that add up (much like we state in the Top Santé manifesto about baby steps). After all, it's the things we do on a daily basis that set the tone and the outcomes for our lives – not the large but infrequent efforts, such as a huge gym workout only once a week, or getting only a few good nights' sleep but more often staying up past midnight.
One of the challenges was to eat many colours of the rainbow at each meal, and to add healthy fats, such as a sprinkling of nuts or seeds. I think it helped seeing other people posting their meals, as some looked really good, and it made me want to make more effort – I guess a healthy level of competition can be good, in that it helps us want to do better.
'It's not about achieving perfection. It's about congratulating ourselves when we make healthy choices but being kind to ourselves when we reach for the chocolate bar that's nearby when we're feeling tired or stressed.'
And in the weekly group coaching calls, I often found that someone else's struggles would be mine, too, or that by admitting where I'd "failed" that week, others would sympathise and make me realise we're all human, and that, as Suzy always stresses, it's not about achieving perfection. It's about congratulating ourselves when we make healthy choices but being kind to ourselves when we reach for the chocolate bar that's nearby when we're feeling tired or stressed.
And Suzy has advice for those very situations: 'You have to set up your environment for success. If you know you have a weakness for chocolate, keep it out of sight and reach. If you have some stashed in an easy-to-reach cupboard then, in all likelihood, if you're triggered to be upset or stressed and you know you're an emotional eater, you'll go open the box. You have to prepare for when things happen that will trigger you and have a back-up plan.'
And I did manage this a few times. I did have chocolates in a cupboard in my office, and one day was so tempted to get them, but managed at least three times to distract myself with a different behaviour, including getting a drink of water – often we're thirsty when we think we're hungry – and tidying a drawer or going downstairs to do something else to diffuse the stressful situation.
Maintaining healthy habits
I was sad when the programme ended as it felt like a lovely support group, so to keep up the momentum I booked further one-to-one sessions with Suzy, knowing that without that accountability I'd most likely revert to my old ways! And it did help. I am now drinking more water, I've become better at stopping work earlier (though I still work late on occasion), and I'm much better at turning off my phone around 8pm so it doesn't impact on my sleep.
Now I've done the programme, I'd recommend joining a health coach group if you want to make positive changes. Going it alone is difficult and you have to be motivated and disciplined which, in general, I'm not. Being part of a group was great and I'd be up for doing it again!
Katy's new healthy habits
These three seemingly small changes sound simple, and yet often the simplest things are the most difficult to implement. Knowledge is nothing if not put it into action…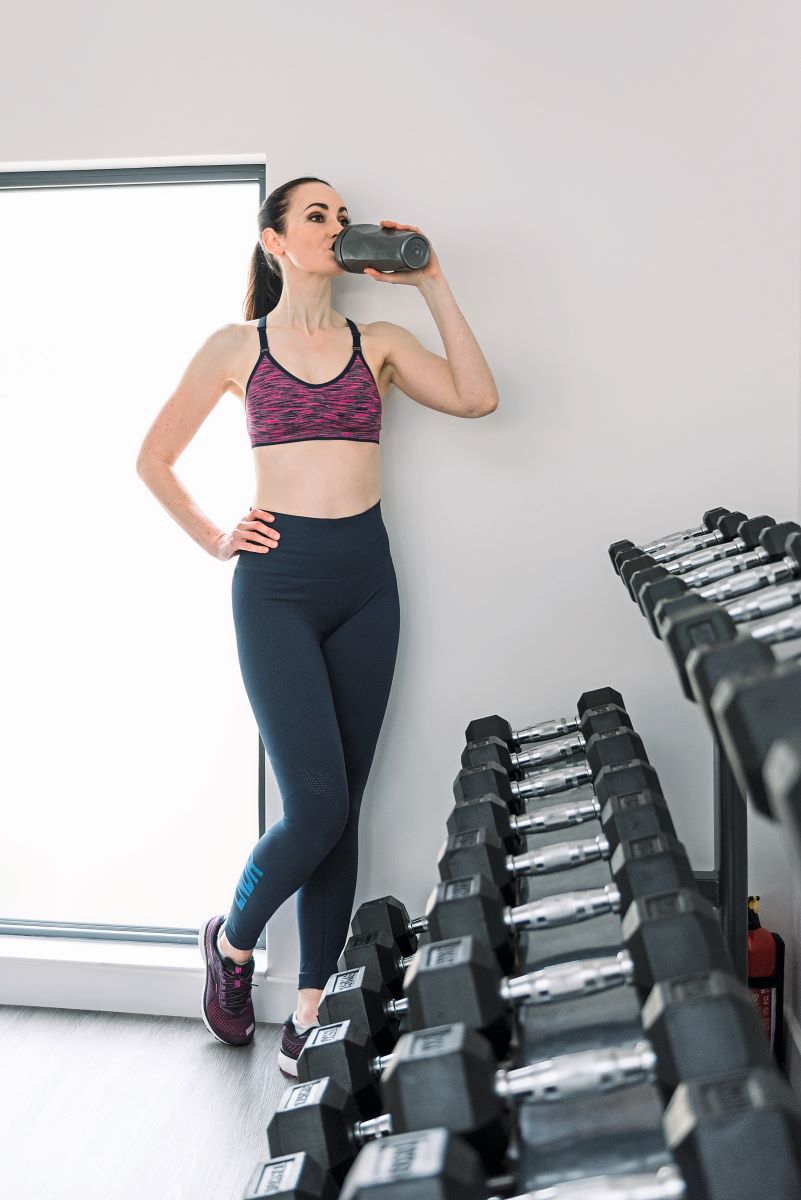 1. Increasing my water intake
Drinking water is so key to health and yet it's easy to forget to do it – especially if you're like me and get engrossed in what you're doing and don't remember to stop and sip. Suzy helped me create prompts and reminders to fill a glass and have it with me throughout the day. After all, it's not rocket science to suggest drinking water, but it's about ingraining the habit to actually do it.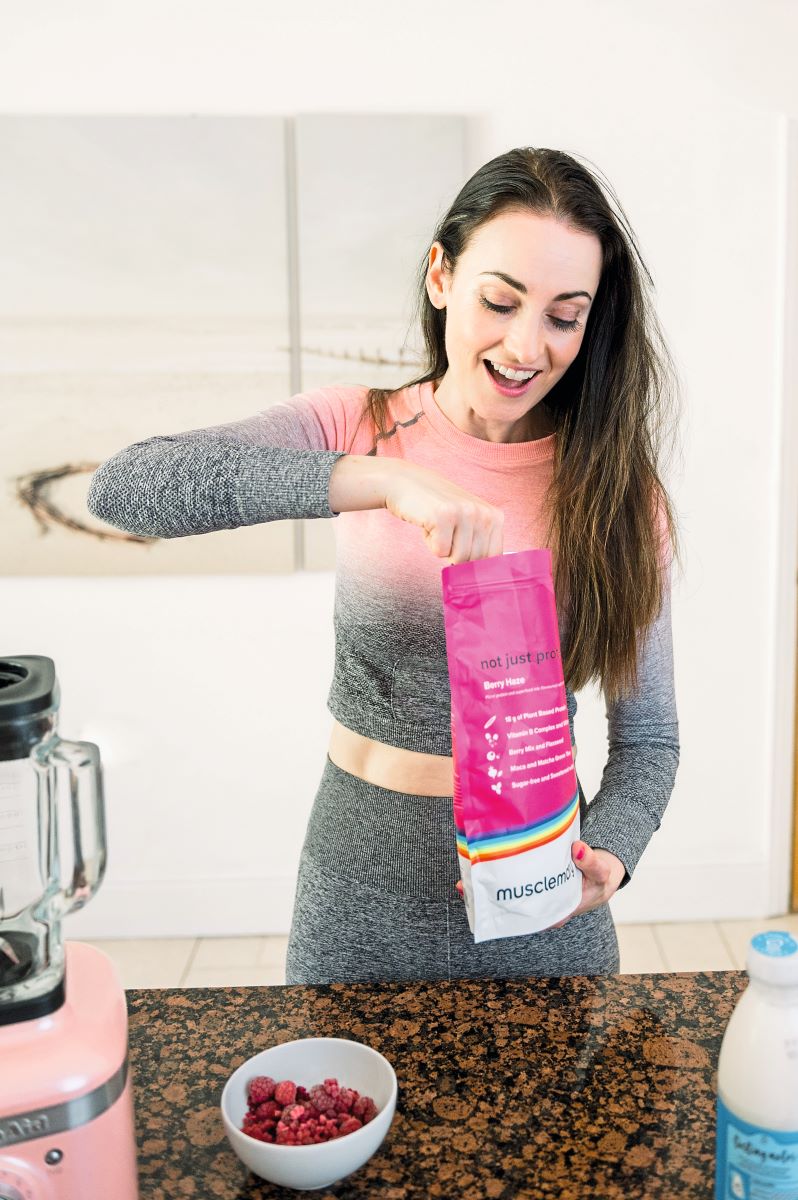 2. Prioritising protein
I'm a self-confessed carb queen – always have been. Remembering to add protein to each meal isn't always easy, but during the six weeks I more often had eggs and salmon on toast for breakfast than porridge, which although healthy because of the fibre in the oats, is still very carb-heavy so will leave you hungry again mid-morning. If I did have porridge – after all, we do need that fibre – I'd try to at least add flaxseeds and nuts for fats, and a scoop of protein or collagen powder.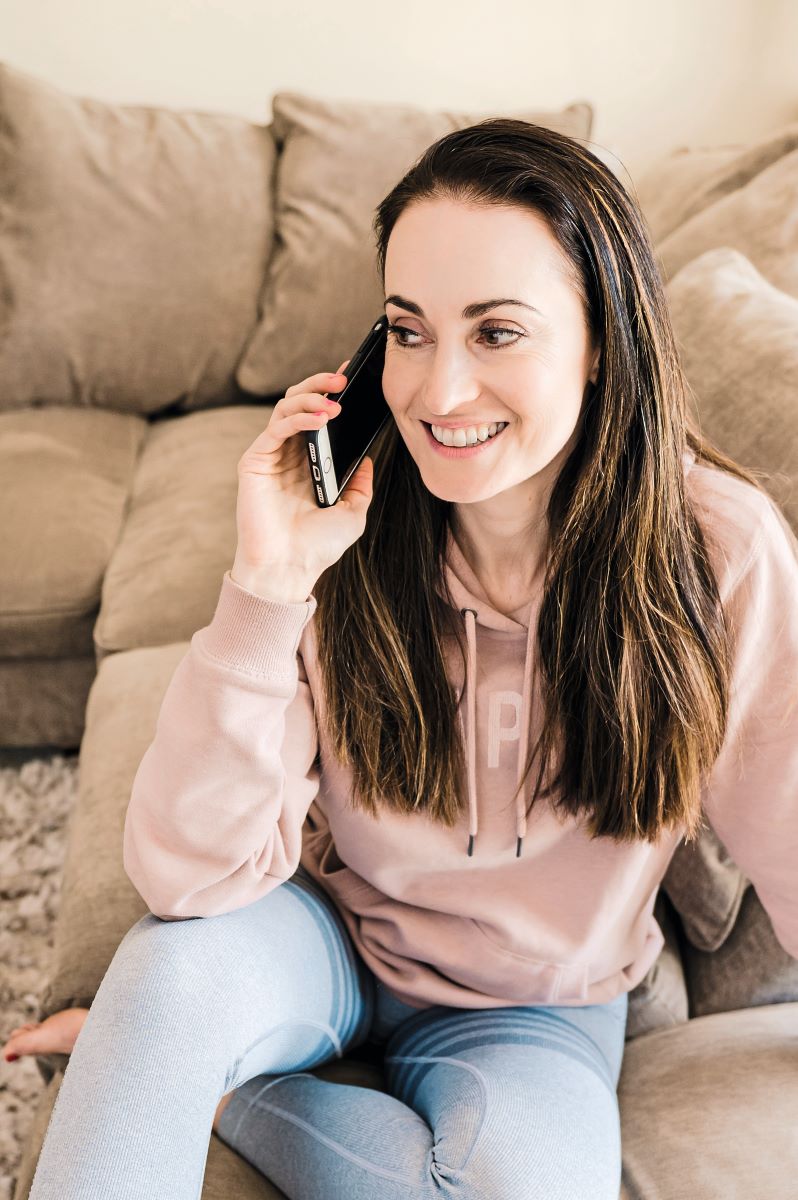 3. Switching off my phone
This was a key one for me. And it wasn't until my penultimate one-to-one session with Suzy that she said, 'how can we get you to put your phone away', saying the last four words in such a manner that the rhythm reminded me of the Fraggle Rock theme tune that begins "Dance your cares away!".
I'm very musically minded and am always making up alternative lyrics to well-known songs – I pretty much have a playlist going round and round in my head all day – so I penned a little ditty about putting my phone away (yes, technically I know it should be "putting away my phone", but then that doesn't rhyme with the Fraggle tune!). Listen to it at instagram.com/thehealtheditor – I'd love to know whether it helps you, too!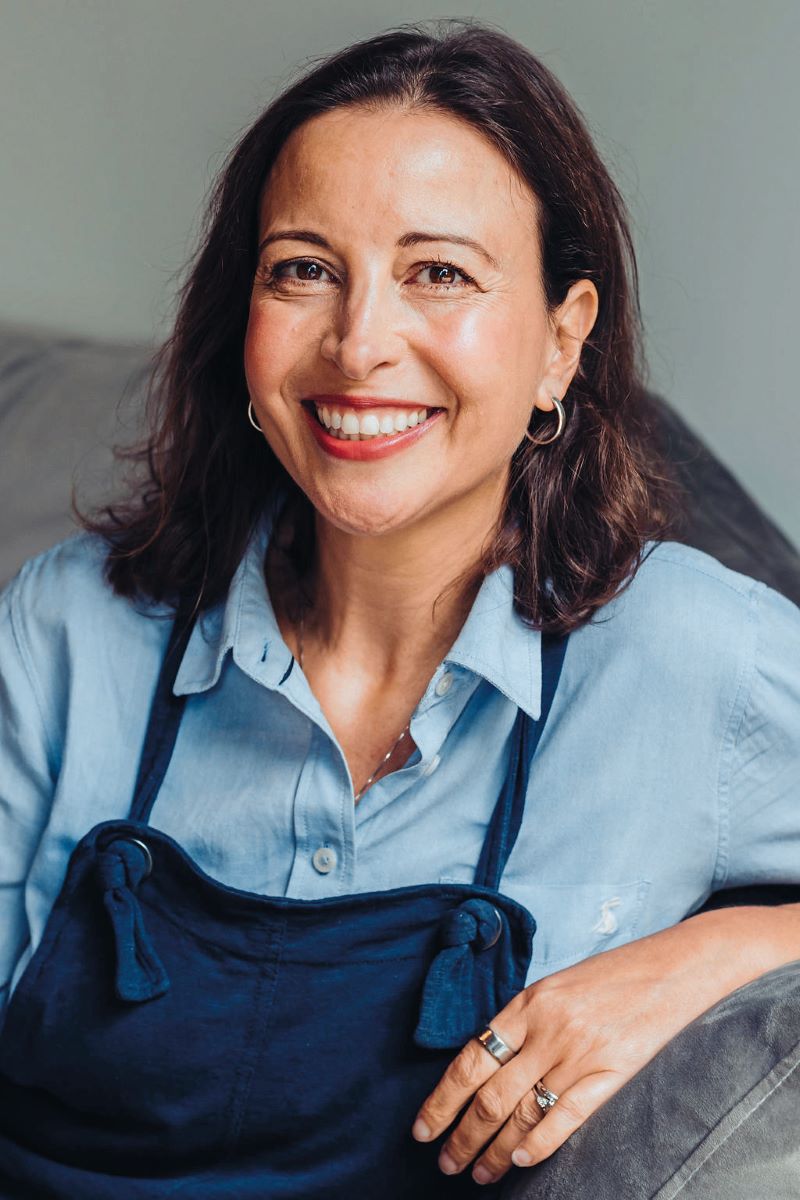 Suzy Glaskie's membership programme Freshly Minted, launches this spring, priced £50 a month for rolling membership, so people can join any time. Visit peppermintwellness.com. Suzy's podcast has just relaunched as Midlife Illuminated, with each episode providing straight-talking wisdom for a more radiant midlife. Find Suzy at instagram.com/peppermintwellness.
Words: Katy Sunnassee. Images: Shutterstock and Georgina Little Photography (images of Katy).