Ready for a midlife makeover? Top Santé editor, Katy Sunnassee, caught up with Jenni Falconer, Gia Mills and Dr. Raj Arora for an exclusive panel discussion: 'Midlife Makeover'. Whether you're trying to reduce hot flushes, replenish your dry skin or boost your low mood, our midlife experts are here to offer a range of wisdom to help you feel your best as you navigate this new stage of your life.
Many women report feeling stuck or lost when they reach midlife. Between your kids flying the nest and you battling the various symptoms of menopause, it can be a difficult time – but you're not alone.
Here at Top Santé UK, we've spent the past few years paving the way for more healthy and positive conversations around the menopause. Whatever you're struggling with, we want to help. That's why we recruited some of the top midlife experts to bring you Midlife Makeover, an exclusive panel event featuring Jenni Falconer, Gia Mills and Dr. Raj Arora.
WATCH: Midlife Makeover: Top Santé Panel Discussion with Jenni Falconer, Gia Mills and Dr. Raj Arora
In this video, our experts discuss how women can best overcome some of the challenges they face when reaching midlife. Jenni Falconer, Gia Mills and Dr. Raj Arora all share their top tips on how to boost your confidence and feel the best you can, inside and out.
If you're struggling with dry and fatigued skin, our experts also discuss the benefits of collagen, plus simple ways to improve your skin, hair and make-up during this stage of your life.
Related: Best collagen supplements for skin, hair, nails & gut health
Meet the experts:
Get to know the Midlife Makeover panel…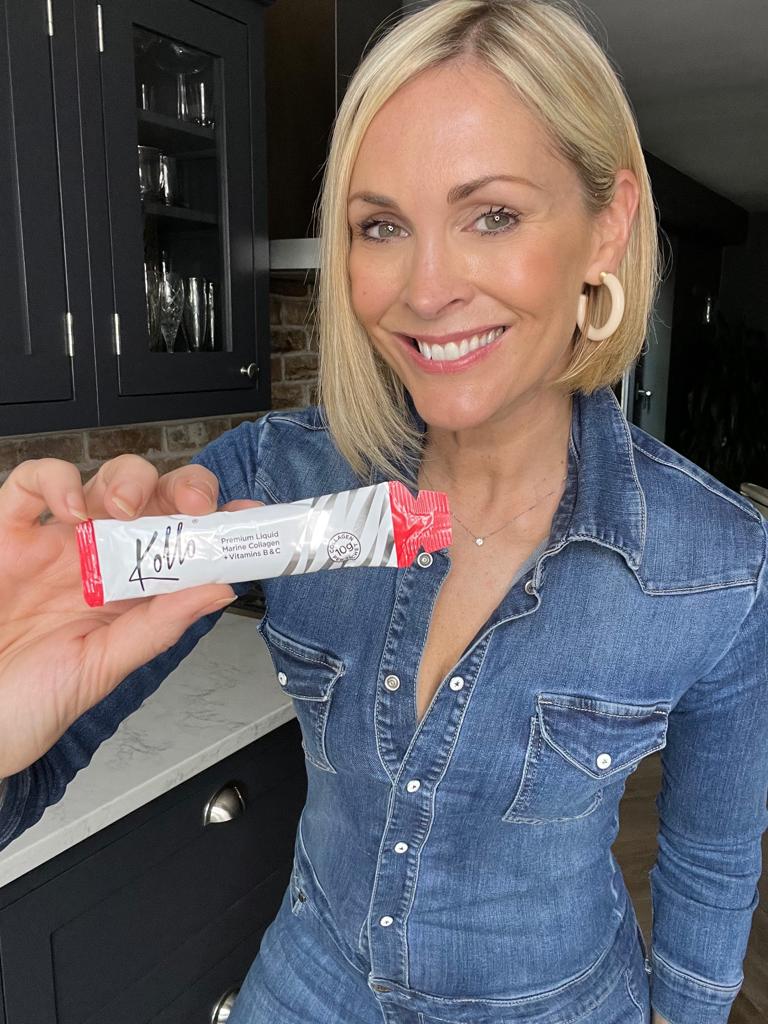 Jenni Falconer: Radio & television presenter and co-founder of Kollo
Related: Jenni Falconer on running, nutrition & the benefits of collagen
Radio and television presenter, Jenni Falconer, is a huge believer in the benefits of collagen – so much so, she decided to launch her own collagen brand!
Kollo is a premium liquid marine collagen supplement, which contains a 10g dose of highly bioavailable, clinically studied marine collagen peptides alongside B vitamins, vitamin C and l-lysine in an easy-to-digest liquid form. Whether you're struggling with your joints or your skin is looking lackluster, numerous reviews show that Kollo is a highly effective tool for midlife women.

Gia Mills: Make-up artist and founder of Skin In Motion
For the past 15 years, Gia, who is currently perimenopausal, worked with Hollywood actors on the red carpet, fashion brands and magazines as a pro makeup artist. She is also a huge fan of being active and keeping healthy. Combining her belief in the confidence-boosting powers of makeup and her passion for encouraging others to keep active, Skin In Motion was born.
Skin never stays the same, so Skin In Motion's multi-purpose formulas match the needs of different life stages, including the menopause or midlife. The 'life-proof' skincare products are perfectly formulated for the varying symptoms of the hormonal changes of midlife, from hot flushes and night sweats to anxiety and dry complexion.
Dr. Raj Arora: GP & Aesthetic Doctor and founder of The Facebible Clinic
Dr. Arora is a GP and Aesthetic doctor based in the new Fairmont Windsor Park Hotel. She has over 10 years experience as a doctor and founded The Facebible Clinic 5 years ago, after completing the Level 7 Aesthetics Diploma and numerous advanced aesthetic courses.
The Facebible Clinic, which has a particular emphasis on holistic health and wellness, offers a number of world class rejuvenation treatments, from skin resurfacing to body sculpting treatments. With a keen passion to empower and educate her clients to take control of their own skin, health and wellness, Dr. Arora is an advocate for ethical aesthetic treatments and is keen to push for patient safety in a largely unregulated aesthetic industry.