We speak to three inspiring women who all find a sense of achievement, as well as a range of physical and mental health benefits, thanks to rock climbing…
'Rock climbing gives me mental strength'
Hazel Jones, 65, from Sheffield, explains why women can excel at rock climbing and reap the mental and physical health benefits…
Watching dolphins splash about off the Pembrokeshire coast as gannets take to the skies, I never want to be anywhere else. Pembroke is my favourite place to sea-cliff climb and I also love multi-pitch mountain routes such as on Tryfan, Snowdonia. Both are forms of what's called trad climbing, but you have to multi-pitch up a mountain because the ropes aren't long enough to climb it all in one go. We climb 30 metres, anchor, then do that again until we reach the top.
I started climbing in my 20s and, back then, my local climbing club was all men; I had to find the courage to walk into a pub and introduce myself. It was intimidating but they showed me the ropes. However, it wasn't until another woman joined the club and we were able to go on routes on our own that I felt I really progressed and felt the mental and physical health benefits of rock climbing.
My career took me to Thailand and Vietnam for 20 years and, when I returned, approaching age 50, I felt like a beginner again and struggled to find people with whom to climb. I joined the Pinnacle Club, a sociable, supportive community of women climbing with women. Everyone wants everyone to do well, enjoy themselves, get the most from the climb and stay safe.
You can enjoy climbing at any age. Although you need a certain level of strength, women often excel because they don't rely solely on arm strength. We are more precise with our feet and have strong balance and coordination. The social aspect of climbing is essential, too, and I love sharing the experience with others, then debriefing in the pub afterwards.
When I'm climbing, I feel physically strong, but there's a mental strength, too. You have to concentrate, because your partner is relying on you, so your thoughts cannot be elsewhere. I always feel better at the end of a day spent climbing. When I'm on a hard-to-reach cliff or mountain, in a place only other climbers and seagulls can reach, I feel privileged.
'Rock climbing gives me a sense of achievement'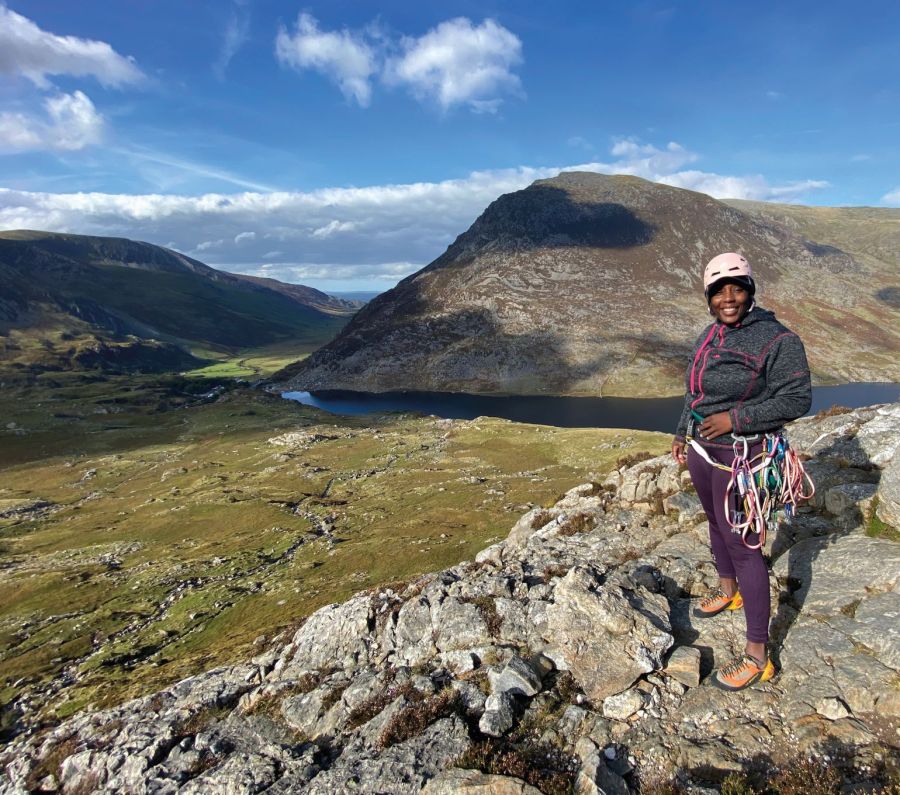 Kumbi Kariwo, 38, from Birmingham, takes time at the end of every rock climbing to soak up her achievement.
Growing up in Zimbabwe, I had a lot of energy and needed to be entertained. My parents threw me into all things outdoors, including climbing. When I moved to the UK for university 20 years ago, I didn't climb for a few years and when I got back into it in my late 20s I wasn't as fearless as I had been as a child.
I'm less impulsive now and prefer my partner, Andy, to lead our climbs, but I find mindfulness helps my anxiety. If I'm trying to carry out a manoeuvre several hundred metres up the side of a mountain and I start to panic, I take a deep breath, remind myself I'm safe and secure, and take it one step at a time.
Despite the fear, there's something wonderful about rock climbing, and there are a range of mental and physical health benefits. When we reach the top, the view is so magnificent. I like to take 20 minutes to soak up what we just achieved, looking back down the side of the mountain we climbed to really take stock before we leave. It is so important to take time to appreciate the moment.
I am a senior nurse in the NHS and, while it's my calling and I love what I do, especially during the past two years I have needed to find ways to take a break. When I'm climbing, I have no choice but to leave work behind. We love to climb in the Ogwen Valley in North Wales and it's so still, peaceful and calm – a long way from Birmingham. I feel grounded, recharged, reconnected to nature and ready to return to work feeling better prepared.
'I've transformed my health with trad climbing'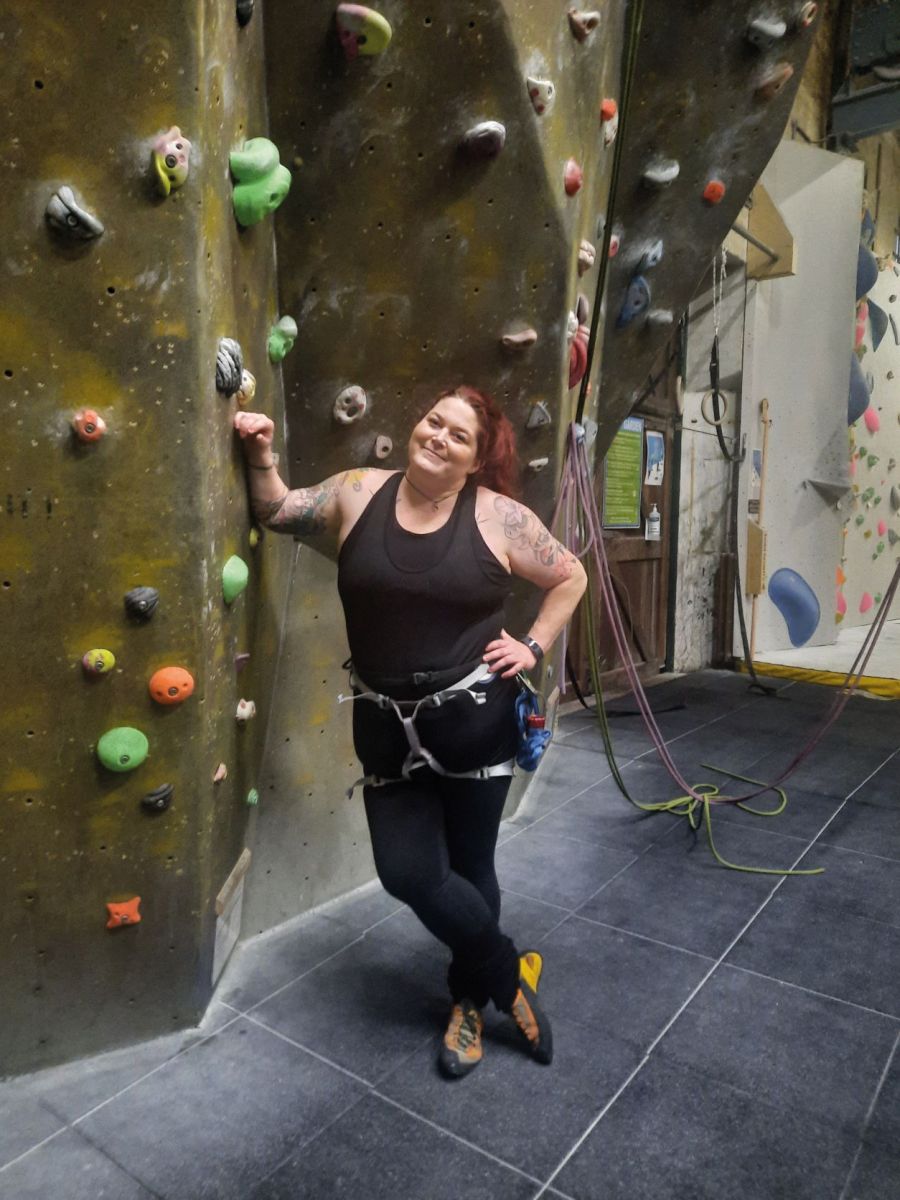 Michelle Nevill, 41, from London, tells us how climbing helps her thrive.
I'd always liked the idea of climbing but presumed I couldn't do it. I thought I wasn't the right shape, athletic or strong enough. Five years ago, I passed by The Castle Climbing Centre in London and felt a pull to try it. I booked a taster session, which triggered every fear I had: heights, falling, brutal injury and risk of death. I cried, but laughed, too!
By the end of that week, I was a member of the climbing centre and the proud owner of my own pair of climbing shoes. It's like I don't have a choice. My soul makes me climb. It's scary, but it's worth the fear. By training four times a week and making tweaks to my diet, I have reversed my type 2 diabetes and become fitter and healthier. I am now training to climb outdoors, too.
As my climbing journey grows, so too do the life lessons it teaches me. I live in chronic pain due to fibromyalgia. However, climbing teaches me I am capable, and my body is as well. In life, as in climbing, there will always be obstacles, problems and challenges. But, by learning to solve the puzzle on the wall, I learn to solve the puzzles of life. Some days we succeed, some days we fail, but we should never stop trying. Rock climbing has benefits for my mental, physical and emotional health and has enlightened my life in ways I never could have imagined.
What is trad climbing?
Trad climbing describes a style of adventurous climbing in which climbers place gear cracks in the rocks as they climb to protect them in case of a fall. The last climber in the group takes the gear back out, so no trace of their journey is left behind.
The Women's Trad Festival 2022 takes place in the Peak District on July 29-31. Founded on values of mental wellbeing, sustainability and accessibility, the festival provides courses for progression, and aims to encourage women to work in the climbing profession. Expect talks, yoga, workshops, and great food, too. Find out more at womenstradfestival.co.uk.
Words: Kim Willis | Lead image: Shutterstock | Additional images: Jessie Leong and Charlie Low (for Hazel Jones images)