We all know that what we eat can contribute – or not! – to our longevity. Nutritionist and author Rob Hobson is here to explain how mixing and matching certain food combinations can help you stay feeling good and ageing well, thanks to synergy… 
Nature is full of synergies, such as the relationship between bees and flowers. Bees rely on flower nectar for food, and in return transport pollen to fertilise other flowers. The human body is also reliant on synergy. Enzymes react with food to facilitate digestion, while bacteria in your gut work in synergy to break food down into nutrients to be delivered to your cells.
What is a food synergy?
Synergies also happen in your diet when certain foods are paired together. The concept can be described as how foods interact with each other to incur a health benefit greater than that offered by each single food alone. Many of these occur without you realising – drizzling olive oil over a salad it helps your body absorb vitamin A from tomatoes.
Food synergy can be used to enhance the absorption of many nutrients. This is great for overall health and can help treat deficiency-related symptoms, such as iron and anaemia. Food interactions can also be used for health goals such as improving bone health by combining foods rich in vitamin D with those rich in calcium.
Gut health is another good example as certain fibres in the diet (prebiotics) can help to 'feed' bacteria in the gut helping it flourish, supporting a healthy microbiota which is linked to myriad health benefits, including immunity.
Many examples of food synergy have been identified by research. Some work in a negative way such as tannins in tea preventing the absorption of iron but the majority have a positive impact. Here are some good food synergies that help ward off certain diseases and health conditions…
Best food synergies for longevity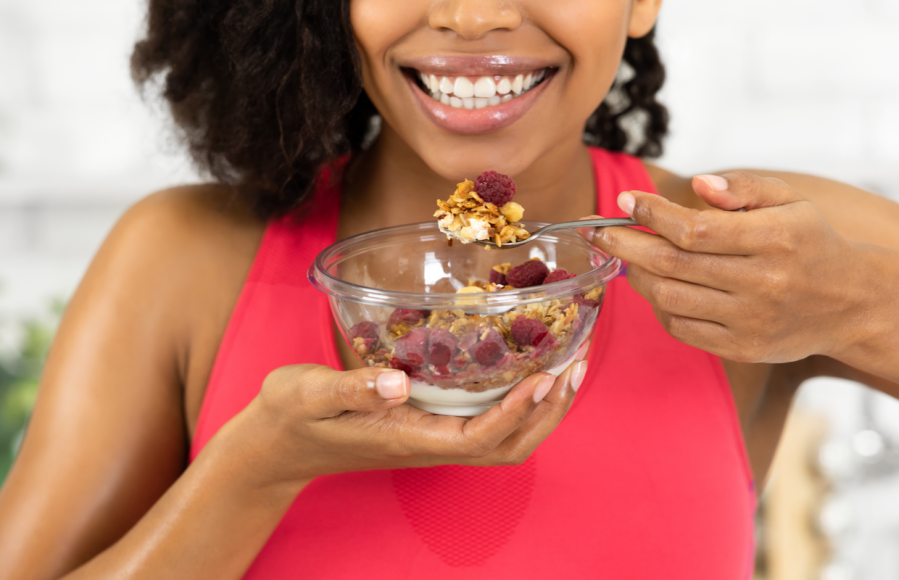 Best food synergy for gut health
Prebiotics are fibres that pass undigested through to the colon, where they are fermented by gut bacteria, helping them flourish to support a healthy microbiota. Bananas contain prebiotics and are perfect paired with natural yoghurt.
Related: 10 ways to improve your gut health
Best foods to combine for heart health
Black grapes are rich in catechins, a type of antioxidant that helps prevent cardiovascular disease, cancer and neurological disorders, and weight management. Together, onion and grapes inhibit blood clots and boost cardiovascular health. Studies have shown that this combination helps to improve cardiovascular protection by improving circulation (see recipe on p47).
Tomatoes are also a winner, especially when combined with olive oil. Lycopene in tomatoes is an antioxidant linked to a reduced risk of heart disease. Tomatoes are the richest source of lycopene, which is better absorbed when combined with fat such as olive oil. Olive oil has many health benefits for supporting good heart health, including reducing inflammation and increasing HDL cholesterol. Together they make a top team!
Related: 7 nutrition and lifestyle tips to improve your heart health
Best food combination for strong bones
Minerals are essential for bone health, which is crucial as we age, especially during menopause. Combine vitamin D-rich foods (salmon, mushrooms, fortified foods) with calcium-rich foods (dairy products, green vegetables, pulses) and phosphorus foods (poultry, seafood, seeds, nuts, and wholegrains).
Related: How to strengthen your bones naturally as you age
Best food synergy for reducing inflammation
Turmeric has lots of research indicating it reduces inflammation, with some studies putting it on a par with pain pill, ibuprofen. The active compound in turmeric is curcumin, but this is poorly absorbed in the body. Combining turmeric with black pepper has been shown to increase the absorption of curcumin significantly, due to pepper compound, piperine.
Another good combo is raspberries and dark chocolate. This pairing increases the antioxidant capacity in cocoa, plus polyphenols and flavonoids, according to the Journal of Food Composition and Analysis. Antioxidants reduce the effect of excess free radicals, protecting you from inflammation and disease.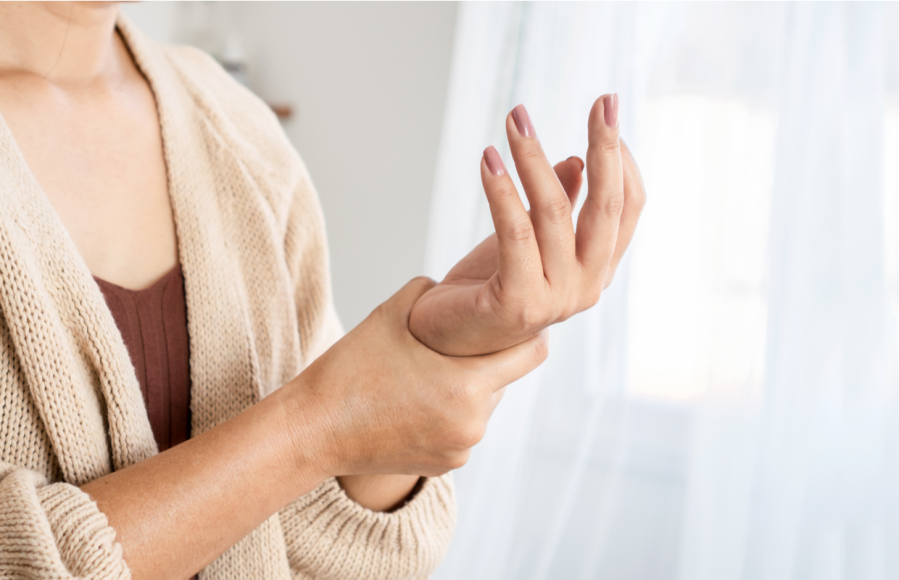 Best food combination for healthy joints
Research has shown that curcumin in turmeric is effective at reducing the pain associated with knee osteoarthritis. Again, consuming turmeric with black pepper will aid absorption due to active ingredient, piperine.
Related: Best foods for reducing arthritis, joint pain and inflammation
Best food synergy for anaemia and low energy
Iron is lacking in the diet of more than a quarter of adult women, which can increase the risk of anaemia, leading to fatigue and low mood. It affects more women than men as a result of menstruation, but dietary intakes have been shown to be low amongst women. The latest National Diet and Nutrition Survey from the government showed 25 per cent of adult women do not get enough iron from their diet.
Even those with enough dietary iron may still be low in iron if their diet is mostly plant-based. Non-haem iron from plant foods is less easily absorbed by the body. However, non-haem iron is more readily absorbed alongside vitamin C. Plant sources of iron include beans, pulses, lentils, dark green leafy veg, nuts and dried fruit. Red peppers are the richest dietary source of vitamin C but others include berries, broccoli, citrus fruits, and potatoes.
Combine copper-containing foods (seeds, dark chocolate, chickpeas, cashew nuts, lentils, dried fruit) or vitamin C foods (berries, red pepper, citrus fruits such as oranges, broccoli, and potatoes) with plant-based iron-rich foods (green vegetables, oats, beans, pulses, lentils, quinoa) to help improve mineral absorption if you are a vegetarian or vegan.
NOTE: Post-menopause, your iron requirement dips from 18mg per day to 8mg because you're no longer menstruating. If you take iron supplements, you could end up with too much of it in your body, which can be toxic. Get your levels checked by a GP or nutritionist.
Best foods to combine for cognitive function and mood
Apples are a good source of flavonoids and, when combined with green leafy veg, which is rich in nitrate, have been shown to increase production of nitric oxide. Research shows when flavonoid-rich apples are eaten in combination with green leafy vegetables, such as spinach, this could improve cognitive function and mood by increasing production of nitric oxide, which improves blood pressure and, therefore, heart health.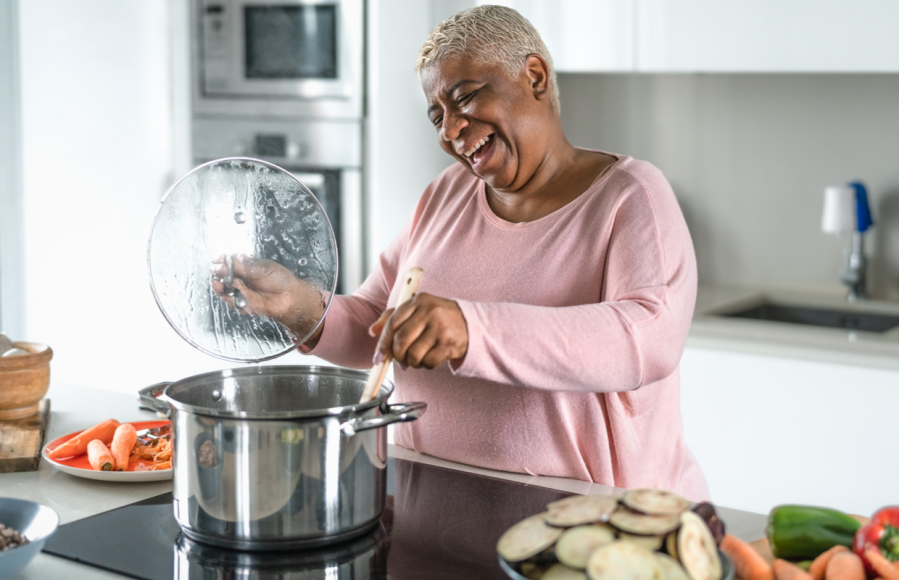 Food synergy recipes and meal ideas
Rob's tasty recipes help you create food synergies in your daily diet to feel great inside and out. Choose one breakfast, lunch and dinner each day. We'd love to see what you make! Tag us on instagram.com/topsanteuk or at facebook.com/top.sante.magazine to share the love.
Best breakfast recipes with food synergies
Apple and kiwi Bircher muesli: oats soaked in apple juice and oat milk, topped with grated apple, kiwi fruit, almonds, lime zest and cinnamon.
Avocado smash: scooped avocado, nuts, seeds and lentil sprouts combined with lemon juice and olive oil.
Probiotic yoghurt topped with sliced bananas, nuts and seeds.
Super green smoothie made with apple, spinach, kale, avocado, parsley and lemon juice.
Scrambled eggs with turmeric and black pepper served on wholegrain toast.
Smoked salmon and light cream cheese on dark rye bread.
Porridge topped with berries, nuts and seeds.
Best food synergies to try for lunch
Baked eggs in a spicy tomato and red pepper sauce.
Roquefort and grape salad with caramelised pecans (see full recipe below).
Tomato, avocado and chickpea salad (see full recipe below).
Mushroom omelette topped with sunflower seeds, and served with fresh salad.
Apple, walnut and green leaf salad dressed with lemon juice and olive oil.
Baked aubergine spiced with paprika and topped with fresh tomato sauce, yoghurt and pomegranate, and served with brown rice.
Quinoa salad – avocado, spinach, edamame beans, red pepper, dried apricots, olive oil and lemon juice.
Best food combinations to try for dinner
Black bean chilli with red peppers (see full recipe below).
Spicy chicken baked rice.
Salmon, prawn and almond curry (see full recipe below).
Lean beef stir-fry served with red peppers, broccoli, courgettes, and served with brown rice.
Paprika and turmeric chicken thighs (see full recipe below).
Grilled salmon topped with crushed hazelnut pesto and served with a green bean, rocket and orange salad and dollop of light crème fraîche.
Lean turkey meatballs served in a spicy turmeric and black pepper broth with sliced vegetables.
ROQUEFORT AND GRAPE SALAD WITH CARAMELISED PECANS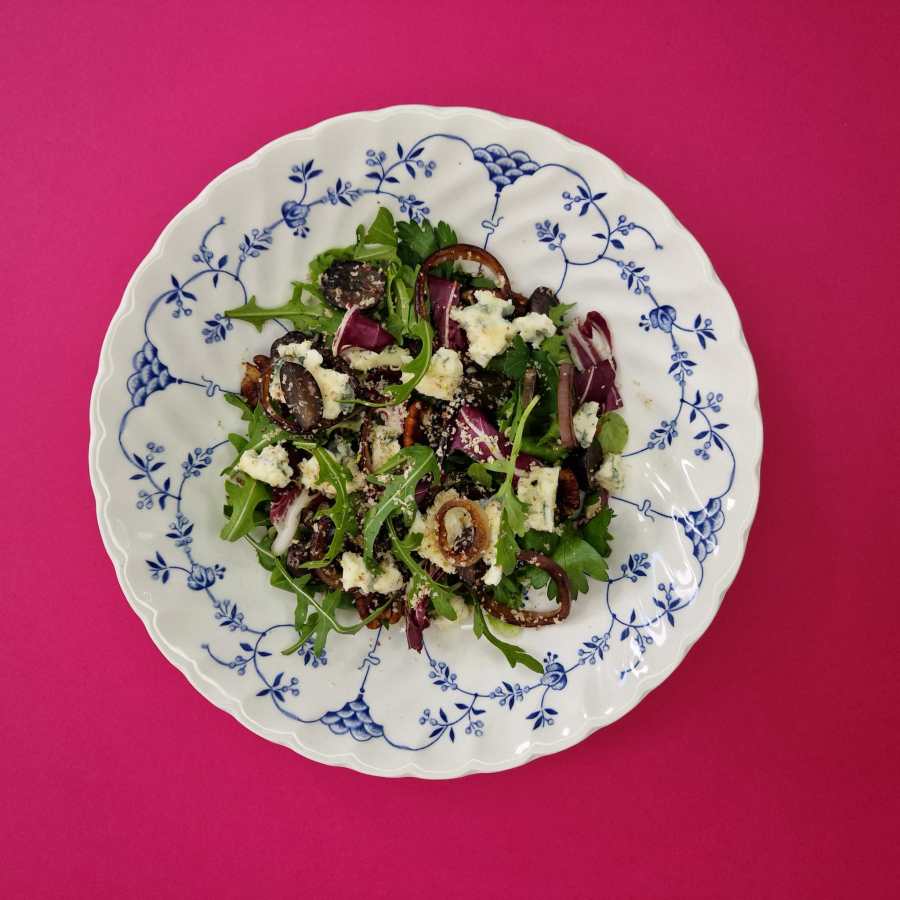 Food synergy: Black grapes + onions.
Helps with: Heart health, blood pressure and circulation.
Serves: 4
Ingredients:
Knob of butter
2 tbsp caster sugar
75g pecans
1 tbsp balsamic vinegar
2 tbsp olive oil
2 heads of radicchio lettuce
100g bag rocket
50g black grapes, cut in half
140g Roquefort cheese
Method:
Heat the butter and sugar in a small frying pan then add the pecans. Cook over a low heat for 5 mins until the nuts are crisp. Transfer to a lined baking sheet to cool before chopping.
Combine the balsamic and olive oil, season with salt and pepper.
Place the radicchio and rocket in a bowl and add the grapes and dressing. Toss to combine well.
Arrange the salad onto 4 plates and top with crumbled Roquefort and pecans.
TOMATO, AVOCADO AND CHICKPEA SALAD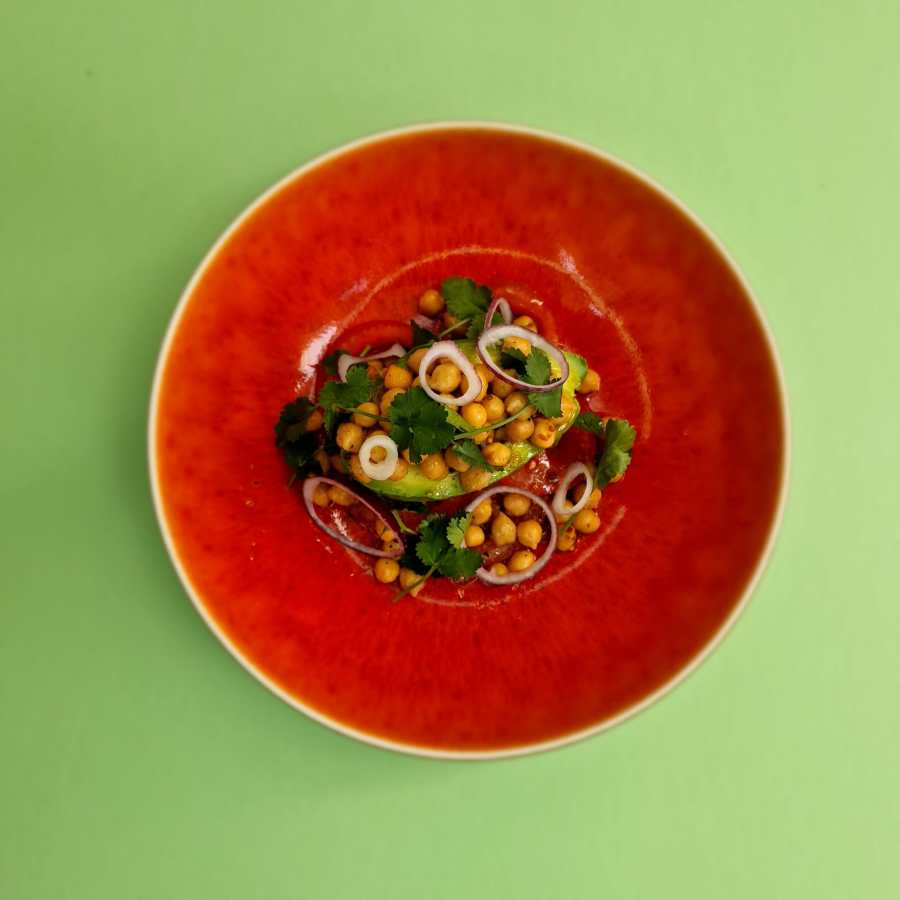 Food synergy: Tomatoes + olive oil.
Helps with: improving your heart health.
Serves: 4
Ingredients:
4 large ripe tomatoes, chopped
2 large ripe avocados, cubed
½ small red onion, finely sliced
1 handful coriander, chopped
1 lime, juiced
2 tbsp olive oil
½ can chickpeas, drained and rinsed
Salt
Pepper
Method:
Place all the ingredients in a large bowl and mix well. Season to taste before serving – simple!
SALMON, PRAWN AND ALMOND CURRY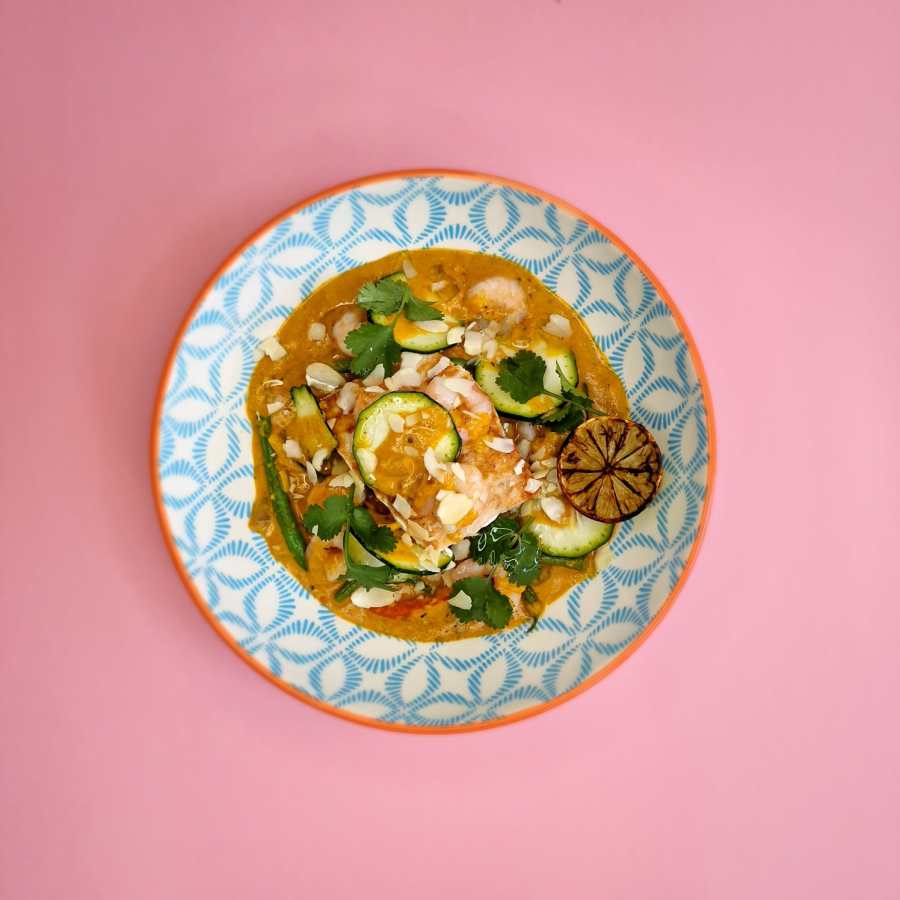 Food synergy: Salmon + almond.
Helps with: Calcium absorption for strong bones.
Serves: 2
Ingredients:
2 tbsp light olive oil
1 large onion, chopped
2 garlic cloves, crushed
1 red pepper, sliced
1 courgette, sliced
½ tsp ground turmeric
2 tsp cumin
2 tsp ground coriander
1 tbsp tomato purée
80g ground almonds
1 chicken stock cube (reduced salt)
2 tbsp double cream
250g green beans, chopped
2 salmon fillets, cut into chunks
150g king prawns
½ lime, juiced
Handful coriander, chopped
Salt
Pepper
Method:
Heat the oil in a pan then add the onions and cook for about 10 mins until soft. Add the garlic and cook for another minute. Add the pepper, courgette, spices, tomato purée and a splash of water, and cook for 1-2 mins until the veg has softened.
Add the almonds, stock cube and 500ml water. Check for seasoning then simmer for 10 mins. Add the beans and salmon to the sauce and simmer gently for 3 mins then add the prawns and cook for a further 1 min until they turn pink. Remove from the heat and add a little lime juice.
Serve the curry with brown rice.
BLACK BEAN CHILLI WITH RED PEPPERS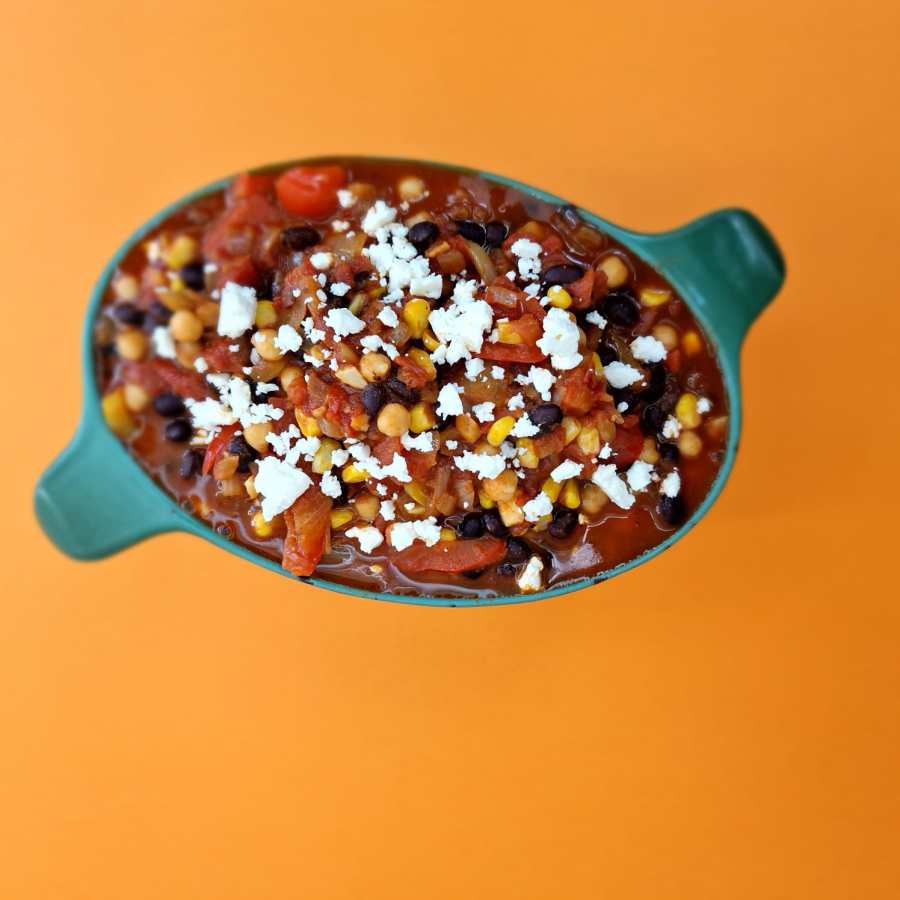 Food synergy: Black beans + red peppers.
Helps with: Iron absorption to improve your energy levels.
Serves 4
Ingredients:
2 tbsp light olive oil
2 large onions, chopped
4 garlic cloves, finely chopped
2 tbsp mild chilli powder
1 tbsp sweet paprika
3 tbsp ground cumin
2 tbsp bottled lime juice
2 tsp cocoa powder (unsweetened)
2 x 400g canned chopped tomatoes
2 x 400g canned black beans, rinsed and drained
2 red peppers, sliced
400g can sweetcorn, rinsed and drained
1 avocado, sliced (optional)
Salt
Method:
Set a large saucepan over a medium heat and add the olive oil. Now add the onions and garlic and fry for about 5 mins to soften. Add the spices and cook for 2 mins until they become fragrant.
Add the lime juice, cocoa powder and tomatoes then cook for 10 mins. Now add the beans, peppers and sweetcorn to the pan and cook for another 10 mins.
Serve the chilli in bowls and top with crumbled cheese. Add sliced avocado, if you like.
PAPRIKA AND TURMERIC CHICKEN THIGHS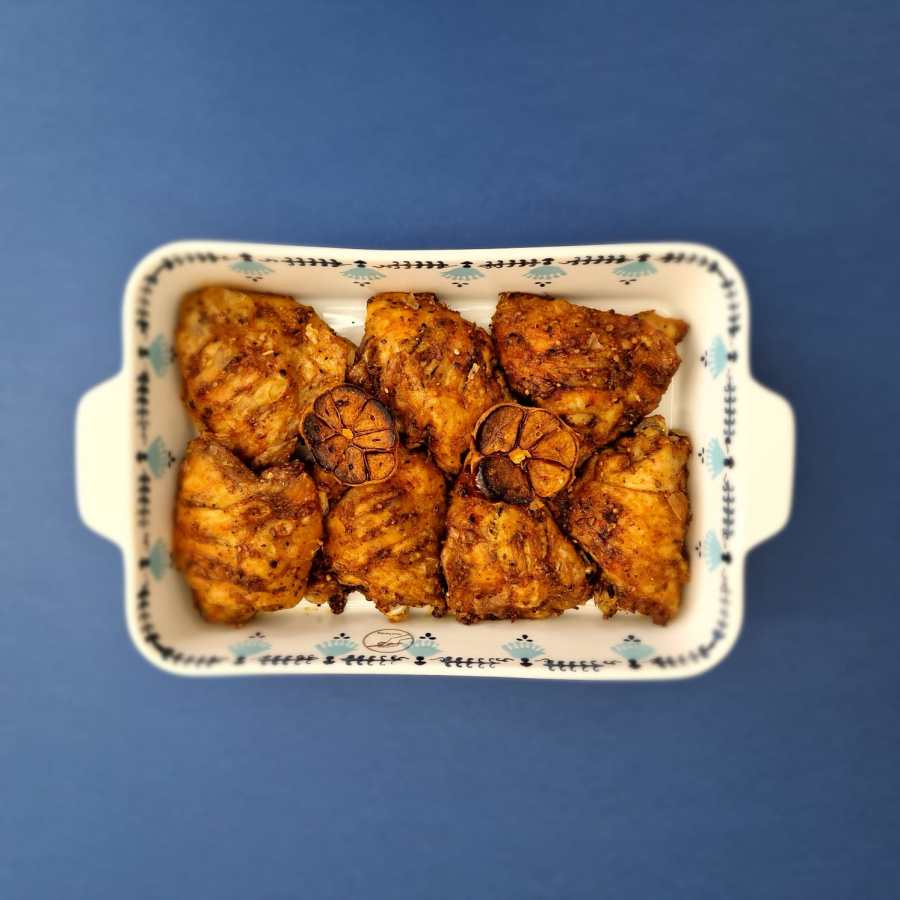 Food synergy: Turmeric + black pepper.
Helps with: Absorbing curcumin from turmeric to reduce internal inflammation.
Serves 4
Ingredients:
1 tbsp hot paprika
1 tsp ground turmeric
½ tsp of Lebanese 7 spice or Baharat
2 tbsp olive oil
Salt
Black pepper
8 chicken thighs (skin on)
1 bulb of garlic, cloves removed and bashed (leave the skin on)
Method:
Place the spices, olive oil, salt and black pepper in a large bowl and whisk.
Prick the skin of the chicken thighs with a sharp knife then place in the bowl and rub mix all over the chicken, making sure to get under the skin. Add the garlic cloves to the bowl and combine with your hands.
Cover the bowl and place in the fridge for at least 4 hours or overnight.
Remove the chicken from the fridge an hour before cooking.
Heat the oven to 200 degrees C, 180 degrees C fan, gas 6, then, once at temperature, place the chicken on a baking sheet and cook for about 45 mins.
Once cooked, remove from the oven and serve with salad and coleslaw.
Rob Hobson is head of nutrition at Healthspan. He is also a registered sports nutritionist in private practice. Visit robhobson.co.uk.