Get ready to serve up a hearty Italian feast, powered by juicy British tomatoes, with this fresh tomato puttanesca recipe…
Originating in Naples, puttanesa is a basic Italian pasta sauce that combines tomatoes, garlic, olives, capers and anchovies. The resulting flavour packs a punch, thanks to the contrasting sweet and savoury flavours. The addition of chili flakes also adds a welcome kick!
You've probably made the cooked version of this, but have you tried the fresh one? Here you're harnessing the wonderful, perky sweetness of British tomatoes and combining them with the deep, savoury flavours of anchovy and capers. You just need to make sure the pasta is hot when you add it to the sauce.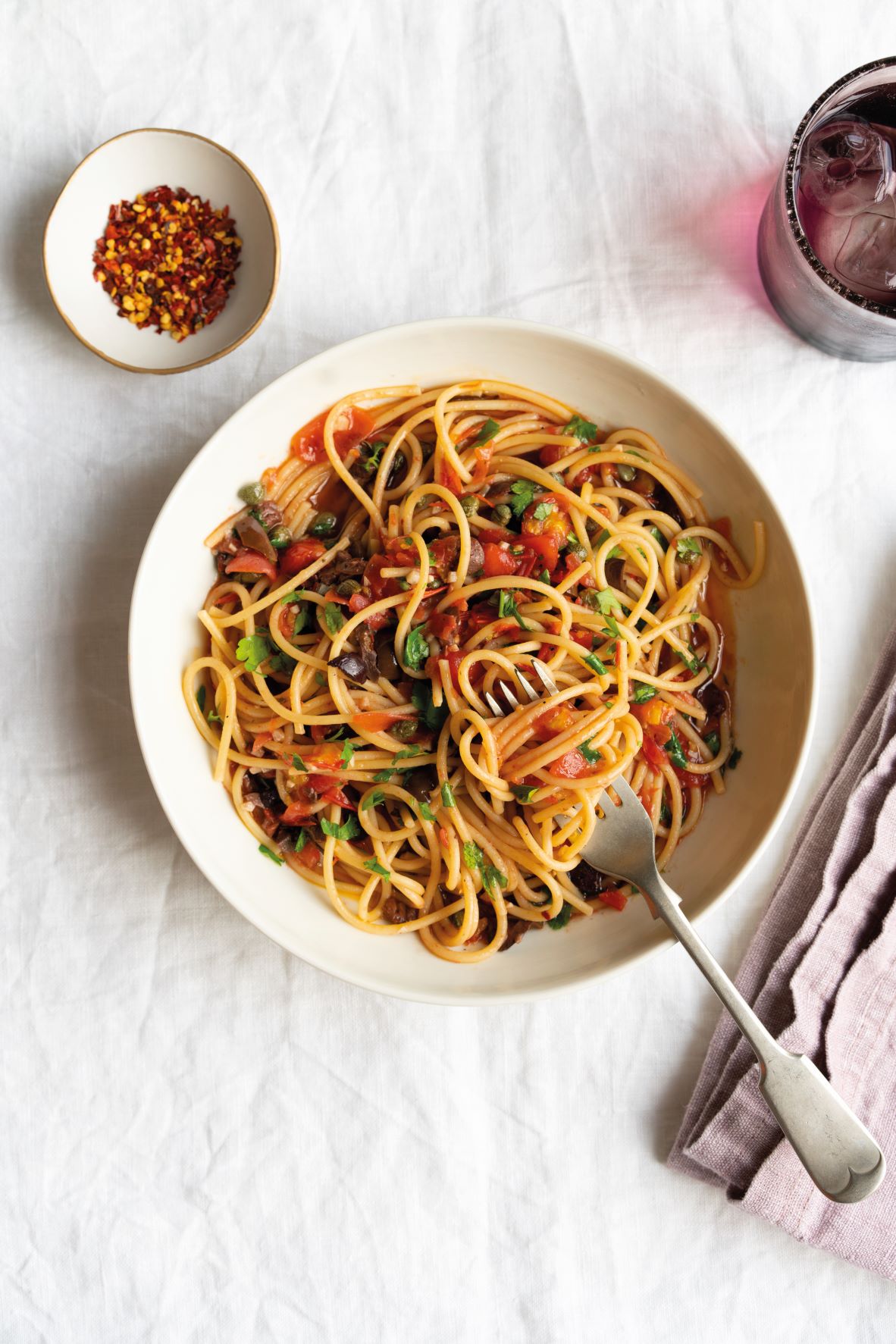 Fresh tomato puttanesca recipe
Serves 4
Ingredients for puttanesca:
500g baby tomatoes
6 tbsp olive oil, plus extra to serve
4 garlic cloves, chopped
8 anchovy fillets, chopped
½ tsp chilli flakes (or a little more if you like)
3 tbsp capers
4 tbsp pitted black olives, roughly chopped
350g spaghetti, fusilli or penne
2 handfuls of parsley leaves, chopped
How to make this fresh tomato puttanesca recipe:
Bring a pan of salted water to the boil. Halve the tomatoes, then squeeze out and discard the seeds. Roughly chop them and transfer to a large bowl.
Add your pasta to the pan and cook until al dente, or however you like it.
Meanwhile, add the oil to a medium frying pan over a low heat, and warm the garlic, anchovies and chilli, cooking gently until the garlic begins to turn a light golden colour.
Turn the heat up to medium and add the capers and olives. Once everything is hot and sizzling, take off the heat and stir in the tomatoes so they get covered in the delicious oil. Add the parsley and season well.
Drain the pasta, reserving a cup of the pasta water. Pour the hot pasta straight onto the tomatoes, stirring well so every bit of pasta is coated. Add a dash of cooking water if you need to loosen the sauce.
Immediately transfer to plates and serve with an extra pinch of chilli flakes and a drizzle of oil, if you like.
Reap the health benefits of tomatoes:
Get the most from your tomatoes by cooking them before eating, as research suggests this can increase their antioxidant properties and your ability to access their lycopene compounds. Eating tomatoes whole, along with a source of fat, such as olive oil, also helps you better absorb these protective carotenoids!
Words and images: British Tomato Growers' Association