Looking to naturally balance your blood sugar and prevent type 2 diabetes? Here are some of the best supplements to balance your blood sugar levels, support your metabolism, and help you maintain a healthy weight…
It's estimated that diabetes is now affecting almost 5 million people in the UK. New analysis from Diabetes UK shows that more than 4.9 million people are currently living with the condition, with 90 per cent of those having type 2. The charity's new figures show that almost 4.1 million people are now living with a diagnosis and that there are an additional 850,000 have type 2 diabetes who have yet to be diagnosed.
While cases have doubled over the past 15 years, research consistently shows that, for some people, lifestyle interventions combining improved diet, physical activity and sustained weight loss, can halve the risk. There are also certain supplements that can help to improve your glycaemic control and reduce your diabetes risk.
8 best supplements to balance your blood sugar levels
Probiotics protect your gut. But did you know they may also decrease blood sugar? It's thought probiotics protect pancreatic cells, which make insulin, by reducing inflammation. These capsules contain six strains of friendly bacteria to support your metabolic processes and wellbeing.
These high-strength tablets contain 2,000mg of turmeric providing 58mg of active ingredient, curcumin, per dose. Curcumin is a phytochemical (plant chemical) that is the active ingredient in bright yellow curry spice, turmeric.
Used widely in ayurvedic medicine, it has powerful anti-inflammatory effects, which can bring your body back into balance. Lowering inflammation is key to reducing symptoms, or even preventing, chronic disease, such as diabetes, irritable bowel disease and heart disease, as well as osteoarthritis and Alzheimer's disease.
Reduce excess sugar cravings and support your metabolism with this targeted supplement designed to aid the metabolism of glucose, carbohydrates, lipids and proteins, all while balancing blood sugar levels. Chromium, magnesium and zinc assist in the metabolism of glucose, carbohydrates, lipids and proteins, while cinnamon and gymnema support healthy blood sugar.
Bursting with nutrients, such as B vitamins, calcium, magnesium and protein, moringa tree leaves also contain antioxidant quercetin, which helps control blood sugar. Quercetin regulates glucose metabolism, improving insulin resistance and decreasing hyperglycaemia, according to scientific studies.
These supplements help to balance your blood sugar levels thanks to a blend of amla fruit extract, pterostilbene, chromium and alpha lipoic acid (ALA). Saberry amla extract can help reduce glucose levels in both healthy and diabetic people, while Silbinol pterostilbene is an extract from the Indian Kino tree, which helps maintain healthy blood sugar and cholesterol levels.
Add in antioxidant ALA, which can restore vitamins E and C levels, and chromium to regulate insulin and glucose metabolism, and you've got a powerful sugar-balancing supplement.
Best chromium supplements to balance blood sugar levels: Higher Nature Chromium (£7.80 for 90 tablets)
These handy supplements help to balance blood sugar levels to ensure sustained energy throughout the day. Chromium helps the body use insulin, which transfers glucose to the cells, but your levels of this mineral tend to drop as you age.
Vegan-friendly, these tablets contain 200ug of chromium, as well as vitamin B3, to help balance normal glucose blood levels and support your energy levels
These supplements could reduce the risk of developing Type 2 diabetes for those who are obese or overweight. This is down to the supplement's unique New Zealand blackcurrant extract.
Blackcurrants include a potent polyphenol group of compounds, called anthocyanins, which improve glycaemic control and insulin sensitivity. After taking CurraNZ for seven days, a UK study found that insulin resistance was improved by 22 per cent.
Click here to find out more about how blackcurrants can reduce your risk of type 2 diabetes.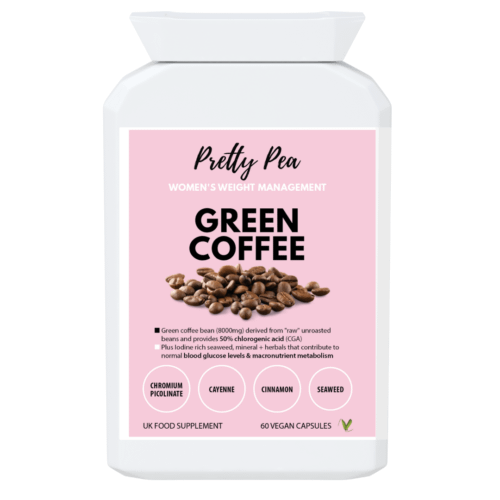 Best supplements to boost energy and balance blood sugar: Pretty Pea Green Coffee Bean (£24.99)
This supplement includes chromium picolinate, green coffee bean extract which contains chlorogenic acid – thought to affect how the body handles blood sugar – kelp, cinnamon, and cayenne.
Combined, the ingredients in these supplements help to balance blood sugar levels and your thyroid, as well as boost energy levels and metabolism.
Words: Angela Kennedy & Lily Smith | Lead image: Shutterstock