Giving up alcohol in the new year isn't new. 'Dry January' only added momentum to the already popular health-kick habit. But with the continued rise in popularity of non-alcoholic drinks, we look at why giving alcohol the boot is a good thing if you're leading up to or through the menopause…
We've all been there: a night of having one too many drinks and then feeling terrible the next day. Many wake up on January 1 determined to quit alcohol. Indeed, Dry January was started to help people give up booze for the month, with some carrying it on for longer.
The effects of alcohol can be seen throughout your body, from how it hinders your physical health to having a negative effect on your mental wellbeing. This is ironic since it's often, initially at least, something used to help people feel calm and happy.
Indeed, a glass of bubbly can be a lovely thing to toast the new year, or to celebrate with friends at a birthday party. While the odd glass of wine, especially red, can be part of a healthy lifestyle, when alcohol becomes too frequent, or misused, it can have knock-on effects beyond the individual.
In fact, a recent survey of more than 2,000 UK adults revealed that almost half said they didn't like who they became after they'd had alcohol, with 86 per cent saying that was because they ended up saying things they didn't mean and, subsequently, ruining relationships.
Best friends were most likely to suffer the fall out when someone was under the influence (31 per cent), followed by a spouse (28 per cent) then relatives (21 per cent). 27 per cent said they still don't talk to someone they fell out with following a booze-fuelled argument.
'Alcohol affects each person differently. It completely gets rid of any anxiety you have been feeling and makes you more confident, so you can end up saying or doing things you wouldn't usually say or do when sober,' says Carmela Coop-Rodia, co-founder of Totiuss, an alcohol-free community and wellness coaching programme.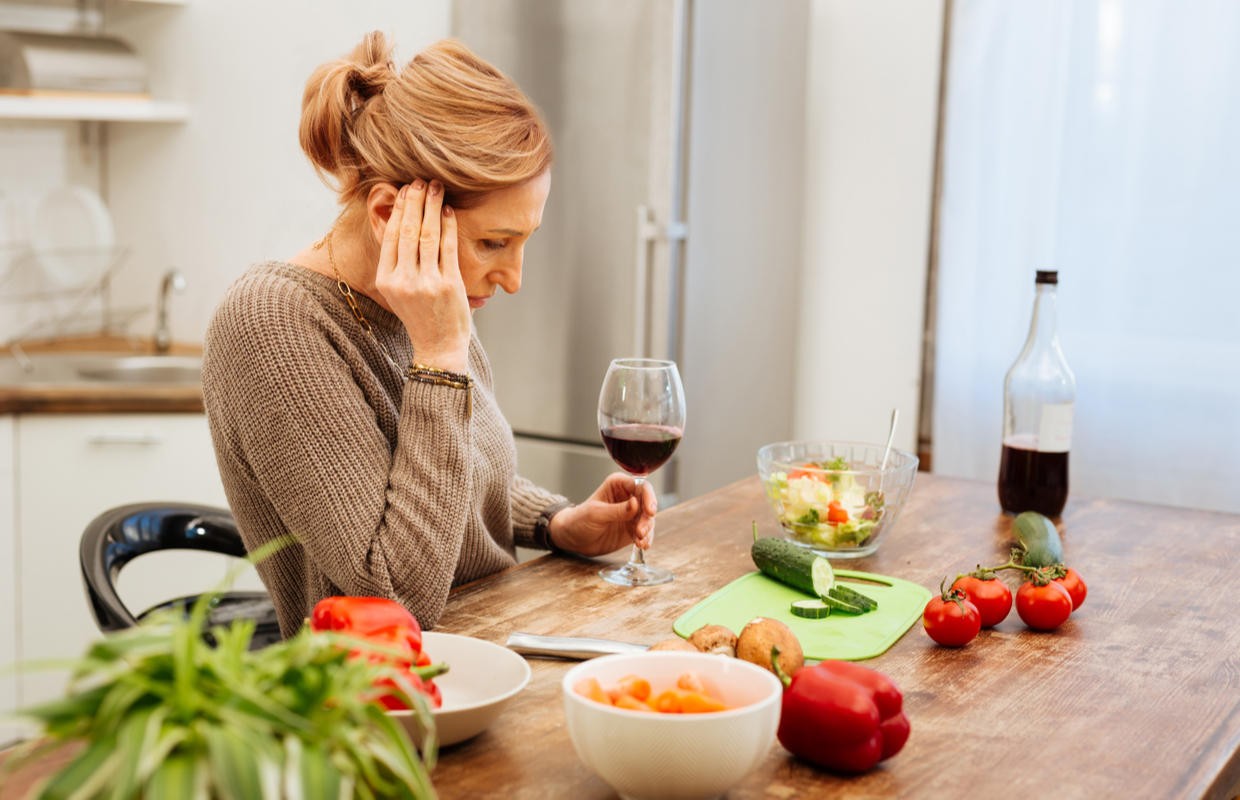 How does alcohol affect women during menopause?
But while people tend to think of adolescence and anyone below what could be termed 'midlife' as the ones most likely to binge on booze, other research shows that may not be the case. In a 2020 study by the Edith Cowan University in Australia, women in the age group 50-69 were found to more likely exceed alcohol guidelines than younger women.
Perimenopause has been identified as a time when heavy drinking can worsen symptoms such as hot flushes. 'As you get older, the amount of alcohol you can tolerate is less than when you were younger,' says consultant gynaecologist, Tania Adib.
'The hangover will be a lot worse, leaving you feeling tired, dehydrated and nauseous. 'Alcohol consumption can raise oestrogen levels, too, leading to a hormonal imbalance – this can worsen menopausal symptoms and increase the risk of breast cancer.
'It can also increase the risk of osteoporosis and make joint pain worse, as well as depleting the body of nutrients such as calcium and magnesium, which are important at menopause,' she says.
Another factor is your mental wellbeing, as women approaching menopause can be more susceptible to depression and anxiety, which alcohol can worsen. 'Initially, alcohol releases brain chemicals called endorphins that make you feel good, but too much drinking can ultimately make you feel depressed,' says Dr Adib.
If cutting down, or out completely, is something you want to do, there are people and groups able to support that. We've also rounded up some tasty virgin tipples to ensure you don't feel deprived…
7 best alcohol-free drinks for Dry January
Cotswold Green No:1 (£23.80) is a blend of botanicals with juniper and citrus, making it similar to gin. It's also free from sugar and artificial flavours or sweeteners.
Lyre's Classico Grande (£9.99) is an award-winning Italian sparkling drink – but without the alcohol. With notes of fresh peach and Granny Smith apples, this is delightfully dry when served chilled in a flute.
Everleaf Forest (£19) is a bittersweet aperitif containing 14 botanicals. This includes vanilla, orange blossom and saffron. Mix with tonic water and ice.
Belvoir Farm Mulled Winter Punch (£2.70) is bursting with blackcurrant and orange flavours, mixed with aromatic spices. Available throughout Jan, simply warm this rich, fruity punch up in a pan.
The Bath Alchemist Apple Cider Vinegar Wellness Tonic N°3 (from £12.95) includes turmeric, black peppercorns and apple cider vinegar for an earthy taste that's not overly sweet.
Three Spirit Livener (£24.99) is an ideal party pick-me-up. Containing antioxidant rich guayusa leaf, palate stimulating schisandra berries and refreshing watermelon, this is big on flavour. Simply top up with tonic water and enjoy.
Pri Secco Organic Cuvée no. 25 (£6.99) is a delightful mix of apples, pears and blackcurrants, paired with sloes, spices and stewed plums for a soft, spicy and woody flavour that's perfect for celebrating something special (or just the end of the week).